Bubble Buzz is an online bubble shooter game that you can play for free on your compatible iOS device. The game has you compete against other players using the in-game currency or actual money that you deposit yourself.
We found the game to be fun and easy to play. We also thought the optional cash component of the game was interesting, but it's unfortunate that you can only participate in cash games in certain states.
In our Bubble Buzz review, see how the game works, whether it's worth playing, and how much money you can earn.
Key takeaways
You can play free or paid games depending on where you live.
You have to be at least 18 to register an account and play Bubble Buzz.
Games are based on skill rather than chance.
Bubble Buzz has an overall rating of 4.8 out of 5 on the App Store.
You can withdraw your winnings with PayPal ($10 minimum), while deposit methods include Apple Pay, credit card (Visa), and Venmo.
Bubble Buzz: Is it worth it?
Pros
Cons

Highly-rated on the App Store
You can play for free or for real money in most states
You're matched against other players of a similar skill level

Cash games aren't allowed in Arizona, Arkansas, Delaware, Louisiana, Montana, South Carolina, South Dakota, Tennessee, or Vermont
You typically have to deposit your own money to participate in cash games

Our verdict: Bubble Buzz is a simple and fun app that's based on the popular bubble shooter variety of games. You can play for free or deposit your own money (depending on where you live) to compete in cash games against other players. It could be difficult to make decent money playing this type of game unless you play a lot to increase your skill.
What is Bubble Buzz?
Bubble Buzz is a legit money making game app available for download on the App Store for iOS devices, including compatible iPhones, iPads, and iPods. We couldn't find any availability for an Android app on the Galaxy Store or Google Play.
Bubble Buzz was created by AviaGames, Inc and has an overall rating of 4.8 out of 5 on the App Store, with over 7,000 ratings and reviews.
AviaGames, Inc is a mobile games company based out of Mountain View, California, that was founded in 2017 by Ping Wang and Vickie Chen. Other popular games from AviaGames include Solitaire Clash, Bingo Clash, and Fruit Frenzy.
How much can you earn with Bubble Buzz?
There's no guarantee that you'll earn anything for playing Bubble Buzz, as it depends on a variety of factors, including your skill level and how often you play. As a skill-based game, this isn't a scam. Rather, you're heavily favored to earn money with Bubble Buzz if you're good at the game.
Using actual data from the game and our experience, let's explore an example of how much you might be able to earn playing Bubble Buzz.
All Bubble Buzz games have a prize pool that's typically split between the top three players of each match. We found the largest prize pool during our experience was $55. With this prize pool, first place would receive $27, second would receive $16, and third would receive $12. The entry fee for this game mode was $9.
So after you account for the entry fee, first place would win $18, second place would win $7, and third place would win $3. Everyone else in this nine-player game would receive nothing.
Considering each game has a three-minute timer, you could potentially play 20 games per hour. If you placed first in every single one of those games, you would profit $360.
But the chances of winning every game, especially if you're new to bubble shooters, are likely low. Having played a bunch of games ourselves, we didn't place first one time. And that's with previous experience playing bubble shooters.
Knowing this, Bubble Buzz isn't likely a way to earn loads of money in your free time unless you're very good at the game. Still, it's a fun game and one of many ways to learn how to make money if you don't have much time to spare.
Withdrawals and deposits
You can't deposit money or make withdrawals unless you register a Bubble Buzz account. This can be slightly confusing because you can play the game for free without actually creating an account.
For instance, we were able to download and install the app and start playing free games using gems (the in-game currency) without linking an email address or creating a password.
But if we tried to select the "Withdrawal" option from the menu, we were prompted to register our account.
Registering an account doesn't take more than a few minutes and involves inputting an email address and password. See the full steps on how to get started with Bubble Buzz below.
You can request a payout at any time if you have at least $10 in your available account balance. Withdrawal requests can take up to 15 days to process. Bubble Buzz uses PayPal for secure withdrawals.
Cash deposits can be made using Apple Pay, Visa, and Venmo.
How to make more money with Bubble Buzz
Use these tips to help improve your chances of earning money with Bubble Buzz:
1. Practice
Bubble Buzz is a skill-based game, which means you're matched against other players of a similar skill level. We don't know the details of how Bubble Buzz determines the skill level of each individual player, so that's generally out of your hands.
But something you can control is how often you play the game and try to improve your skill level. As you play more, you're likely to better understand how the different power-ups and the scoring system work. And this knowledge could help you get better, which might increase your chances of winning games.
2. Use power-ups and bonuses
Bubble Buzz gameplay provides fun features in the form of different power-ups and bonuses that you can strategically use to increase your points:
Rainbow Bubble: Clears two or more bubbles of different colors at once.
Bomb: Clears all bubbles within a certain area.
Rocket: Clears all bubbles that it touches.
Lightning: Clears up to nine bubbles in the same row.
2X points: Provides double points for a certain amount of time.
Power-ups can easily clear large portions of your board and help you quickly earn more points. But you want to use them strategically for them to be more effective.
For example, using a Rainbow Bubble in an area with only one color of bubbles likely wouldn't be as useful as clearing an area with multiple colors of bubbles.
Note that the 2X points bonus appears as a bubble with a "2X" icon on it. If you pop that bubble, you'll earn double points for a short period of time. You can tell the 2X bonus is active because your screen will take on a glowing effect, there will be a 2X icon by your total points, and there will be a countdown bar indicating when the 2X bonus ends.
3. Play quickly
Playing as quickly as possible can open up opportunities to earn more points by getting a time bonus. You earn a time bonus if you clear the board with time still remaining on the clock. The bonus is bigger the more time that's left.
4. Go for big combos
Bubbles are generally cleared if you match three or more bubbles of the same color. It can be useful to clear a small group of three bubbles, but clearing larger groups of bubbles can help you clear larger portions of your board.
Note that you can also clear groups of bubbles that are behind bubbles of a different color. Using this strategy can help you clear the bubbles of the color you shoot at, but also any bubbles in front of that group that are attached.
5. Bank your shots
You can bank your shots off the sides of the board to allow for more strategic placements. For example, there might be a group of bubbles in a hard-to-reach location that you can hit if you use a banked shot.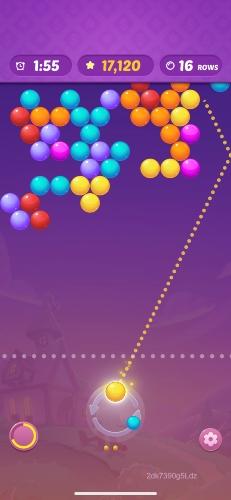 6. Swap your bubble
You can always see the bubble you're about to shoot and the next bubble up in line. If you select the refresh circle, you'll swap to the bubble that's next up. This can be useful if you would rather shoot a bubble of a different color first.
7. Clear the board
You'll receive a 1,500 extra bonus for clearing the board. You can see this added onto your score at the end of the game.
How to get started with Bubble Buzz
You must be at least 18 to register an account to play Bubble Buzz. Cash tournaments aren't allowed in Arizona, Arkansas, Delaware, Louisiana, Montana, South Carolina, South Dakota, Tennessee, Vermont, or U.S. territories, including Puerto Rico.
Setting up and registering a Bubble Buzz account is simple and straightforward. Follow these steps to get started:
Download Bubble Buzz from the App Store.
Open the app and choose a username and avatar.
Play the tutorial to learn the controls.
Play a real match against other players.
Select "Save Account" from the in-game menu.
Register your account by entering an email address and creating a password.
Turn on location services to see if you can participate in cash tournaments.
Alternatives to Bubble Buzz: Bingo Clash and Solitaire Cash
If Bubble Buzz doesn't seem like the right fit for you, consider these other mobile game apps.
Bingo Clash is a skill-based mobile game that uses elements of classic bingo to create a fun gaming environment. You can play against other real players in a variety of game modes and decide whether you want to play in free or fair skill-based cash games.
Learn more in our Bingo Clash review.
Solitaire Cash brings the fun of classic Klondike Solitaire game elements to your mobile device with engaging multiplayer tournaments and the chance to earn real money. Even better, you're matched with other players of a similar skill level, so there's a fair chance of winning.
Check out our Solitaire Cash review.
FAQs about Bubble Buzz
Is Bubble Buzz safe?
Bubble Buzz works with trusted and reliable partners to make depositing and withdrawing money safe and easy. These partners include PayPal, Apple Pay, Visa, and Venmo. There's also no chance of you losing any real money playing Bubble Buzz unless you decide to deposit actual cash into your registered account and play in cash tournaments.
How do you score high on Bubble Buzz?
Follow these tips to score high on Bubble Buzz:
Play a lot and practice to get better.
Use power-ups and bonuses.
Play quickly.
Go for big combos to clear more bubbles.
Make strategic shots, including bank shots.
Clear the board for an extra bonus.
Wait to clear the board if you only have a few colors left.
What is the best bubble shooter game?
It depends on your preferences, including how the scoring works, which power-ups are available, and whether you like competing against other players. But some popular bubble shooter games on the App Store include:
Bubble Buzz review: Bottom line
Bubble Buzz is a fun mobile game that you can play for free, or you can deposit cash to compete in paid games for real money. We like how Bubble Buzz pits you against other players of a similar skill level because it gives you a chance to learn the game without constantly losing to better players.
Like many similar games, Bubble Buzz doesn't guarantee that you'll win cash prizes for playing. But it could be fun to play and try to earn some extra money in your free time, especially if you like bubble shooters.
For more ways to try and pad your wallet, check out our best side hustles.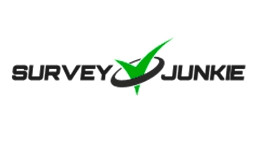 SurveyJunkie Benefits
Over $55,000 paid to members daily
Earn up to $130 a month taking 4 or more surveys daily
$76 million paid out to date
20M+ lifetime members and BBB accreditation