Since 2020, the housing market has been challenging, to say the least. After the COVID-19 crisis sent housing costs sky-high, you may have given up on your dream of homeownership altogether.
However, according to a recent report from the National Association of Realtors (NAR), it's actually cheaper to buy than to rent in several key U.S. cities.
If you've been struggling to find ways to pay your rent, buying a house in one of these five areas might just be the solution you've been looking for. On the other hand, there are several cities where you should absolutely keep renting instead of buying — at least, if saving money while living in a city you love is your top priority.
Baltimore, Maryland
Median cost to rent: $1,749/mo.
Median cost to buy: $1,684/mo.

Rent in Baltimore has been impossibly high for years, and the price has only gotten worse since the pandemic. In June 2022, The Baltimore Sun reported that a newer apartment complex planned to charge $1,875 a month for a one-bedroom apartment and a three-bedroom apartment starting at $3,750. With housing occupancy at 95.2% in some downtown areas, the low inventory and high demand will likely continue to keep rental costs high in Baltimore.
St. Louis, Missouri
Median cost to rent: $1,211/mo.
Median cost to buy: $1,128/mo.
During the pandemic, St. Louis's rental prices increased much less dramatically than those in the rest of the country. Redfin reported that St. Louis rents rose only 3.3% year-over-year compared to the national average increase of more than 15.5%. But a below-average increase is still an increase, and buying a home in St. Louis instead of renting can save you as much as $80 a month, or almost $1,000 for the year.
Birmingham, Alabama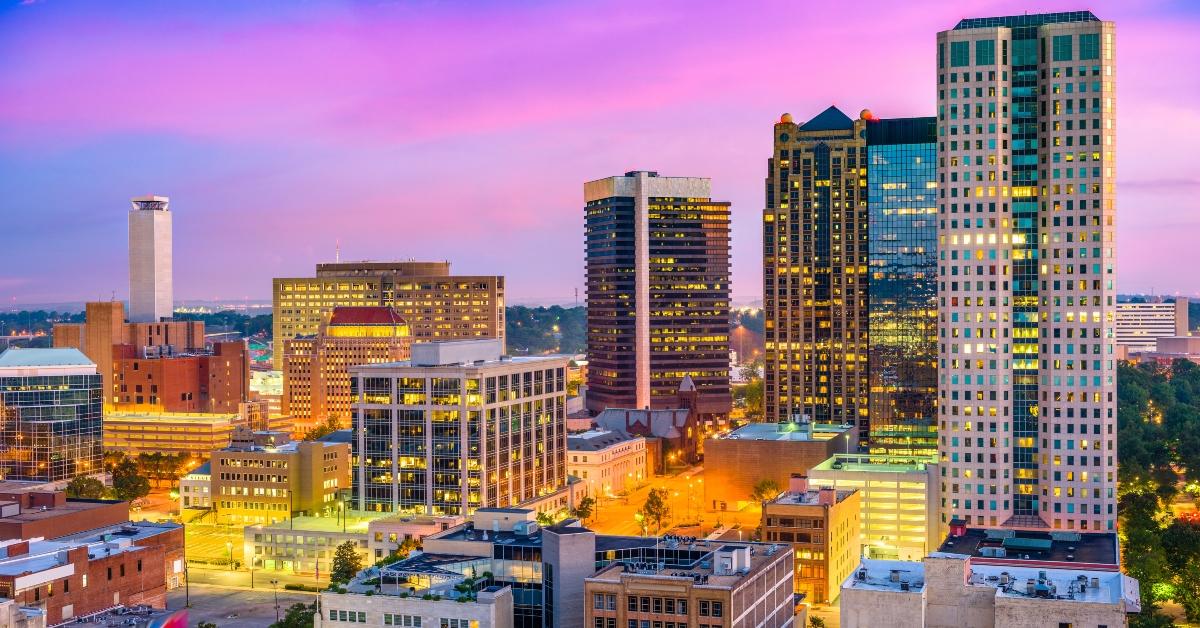 Median cost to rent: $1,149/mo.
Median cost to buy: $879/mo.
You might have to look for some ways to make extra money if you want to afford rent in Birmingham — which you wouldn't necessarily have to do if you bought a house instead. In June 2022, 1819 News reported that while rents and mortgages both increased during the pandemic, rent went up 90% more in Birmingham than housing prices did. Almost a year later, renting in the city still costs almost $200 more per month than paying a mortgage.
Pittsburgh, Pennsylvania
Median cost to rent: $1,445/mo.
Median cost to buy: $1,097/mo.
Median rental costs went up across Pennsylvania during the pandemic, but the Pittsburgh metro area was hit the hardest. Last June, rates in the city had gone up 15.5% year-over-year and 6.9% throughout Allegheny County. As in other cities around the country, rising demand helped spur the rent hike: In 2021, Pittsburgh's population increased by 2.2% — the first time the city's population hasn't declined year-over-year since the 1960s.
Memphis, Tennessee
Median cost to rent: $1,258/mo.
Median cost to buy: $847/mo.
Per the most recent Redfin data, Memphis's median housing price went up 4.6% between January 2022 and January 2023. That's a pretty mild increase compared to the rest of the country. Yet even if costs keep rising, homebuyers may spend around $400 less on housing in Memphis than renters in the same area do.
Portland, Oregon
Median cost to rent: $1,750/mo.
Median cost to buy: $2,996/mo.
Even though Portland is the cheapest PNW capital city for homebuyers, homeownership in the city isn't exactly cheap, especially compared to renting. The average cost of living in Oregon is nearly 25% higher than in the rest of the nation, and housing costs are a key contributor to that above-average rate. However, Portland's population dropped for the first time in three decades last year, so there might be some space for homebuyers who hope inventory in the city opens up soon.
Boston, Massachusetts
Median cost to rent: $2,868/mo.
Median cost to buy: $4,965/mo.
With almost 700,000 people living within city boundaries, Boston is definitely one of the most densely populated areas in the U.S. The high population and high demand for housing help keep housing costs high for renters and buyers alike, but Boston's homeowners pay over $2,000 more a month than its renters do.
Seattle, Washington
Median cost to rent: $2,059/mo.
Median cost to buy: $3,831/mo.
Redfin reports that the median sale price for a Seattle home in January was $760,000, which is 4.1% higher than homes in the area were a year ago. In other words, unless you're making bank (and a lot of Seattlites who work for tech companies like Microsoft and Amazon do), it's nearly impossible to buy a big house in the big city. Fortunately, while Seattle's housing market is definitely competitive, it's far from the most competitive in the nation — just one of the most expensive.
San Francisco, California
Median cost to rent: $2,943/mo.
Median cost to buy: $5,798/mo.
It's been impossible for all but the richest (or the most willing to be house-poor) to buy a house in San Francisco for the last several decades. Even a single-family home can cost three-quarters of a million dollars. Renting in the area isn't exactly affordable: At almost $3,000 a month, San Francisco's rent is the most expensive on our list, but buying a house is nearly twice as expensive.
Austin, Texas
Median cost to rent: $1,659/mo.
Median cost to buy: $3,672/mo.
The most expensive city to buy instead of rent isn't on the East Coast or Pacific Northwest: It's in the heart of Texas. In 2022, Austin was ranked as the second fastest-growing U.S. city, and the ever-increasing demand for housing definitely makes itself clear in Austin's median housing prices. In contrast, Austin's rent costs are finally starting to drop, making renting the cheaper option by far.
Bottom line
Whether you rent or own, you'll almost always have to funnel extra cash from side gigs and tax refunds into housing: It'll probably be your biggest monthly expense for the foreseeable future.
However, renting isn't always the cheapest option and buying isn't always the most expensive. The cheaper choice depends in large part on where you live, so if you'd rather rent than buy (or vice versa), comparing the data can help you decide where — and how — you actually want to put down roots.

Compare Quotes Benefits
Get quotes in 60 seconds
Compare rates from top insurers
Coverage you need at an affordable price
It's free and fast to compare quotes