Online shopping portals can be a fantastic tool for earning extra rewards on your purchases. These rewards are considered extra because you can already earn credit card points by using one of the best travel credit cards and cashback credit cards on every online purchase you make — but now you can stack extra rewards on top of that by shopping through a portal. In essence, you get to double dip on rewards when you combine online shopping portals with rewards credit cards. If you wondering how to save money when shopping, this is a great tool.
Shopping through an online portal is simple. You visit the portal's website, search for the merchant you're interested in, and then click through to the merchant's website. From there you go through your online shopping experience like normal — except that you earn extra rewards from any purchases you make, usually in the form of cash back.
If you use the popular Rakuten shopping portal, you can take advantage of its partnership with American Express to earn valuable Amex points instead of cash back. A tool like this can be helpful when you're learning how to manage your money. In this guide we'll show you step-by-step how to leverage the Rakuten Amex combo to start earning tons of valuable Amex Membership Rewards points.
What is Rakuten?
Rakuten, formerly known as Ebates, is an online shopping portal that offers cash back and other shopping rewards from many of the world's most popular stores and retailers. To date about 12 million U.S. members have used Rakuten to earn nearly $2 billion in cash back.
Getting started with Rakuten is easy:
Visit its website through a web browser or download the app to your phone
Sign up for Rakuten (more on this below)
Search for the store where you want to shop
Click on the link to open the store's website
Shop as usual and earn cash back on purchases you make
Get paid by PayPal or check
There's no minimum purchase amount needed to earn cash back through Rakuten and it's free to sign up. Cashback earning rates can vary, but it's not uncommon to see rates from 4% to over 10% cash back from well-known brands. During special deals and promos, you may see even higher cashback percentages. Certain retailers, such as Xfinity and AT&T, may even offer a fixed cash amount that you earn on a purchase instead of a percentage.
Install the Rakuten browser extension and mobile app
You can earn rewards through Rakuten more easily if you install the Rakuten browser extension and/or mobile app.
Browser extension
The Rakuten browser extension places the Rakuten Cash Back Button into your preferred internet browser's toolbar, usually in the upper rightmost corner. You can install the Rakuten button on Chrome, Edge, Firefox, or Safari. Just search within your browser's extension store to find and install the Rakuten extension.
Once you have the extension, you don't need to visit the Rakuten website first to see what deals are available. You can go straight to your chosen retailer's website and the Rakuten extension will tell you if and how much cash back is available. Then you click on the red activate button and you're ready to shop.
Mobile app
It's easy to earn cashback rewards from anywhere when you use the Rakuten mobile app (available on both Google Play for Android and the App Store for iOS). In the app, you can search for your favorite retailers, see trending stores, and see the current Double Cash Back stores available.
To earn cash back, just click on the store link through the app and then make your purchases. The mobile app is also the only place where you can earn Rakuten cash back from mobile-focused platforms such as Uber Eats.
Why use Rakuten to earn Membership Rewards points
In February 2019, Rakuten started allowing new members the option to earn American Express Membership Rewards points instead of cash back. In October 2019, Rakuten expanded the Membership Rewards earning option to existing members as well.
For many online shoppers and travelers, adding the option to earn Membership Rewards through the popular cashback portal was a huge deal. Cash back is great because you're getting a set amount of money back for purchases you're planning to make anyway. But Membership Rewards have the potential to be worth even more than that cash back.
You can redeem Membership Rewards points for flights and hotels through Amex Travel and get up to 1 cent per point — so 10,000 points would be worth up to $100. This 1:1 value is essentially the same as earning cash back on your online purchases.
But even more valuable redemption options show up when you use the Amex transfer partners. You can transfer your Amex MR points to more than a dozen loyalty programs with different travel partners, such as Delta Air Lines, Emirates, Hilton Honors, and Marriott Bonvoy. This allows you to find better than 1:1 redemption rates, especially if you search for saver fares during off-peak times or find sales and promotions.
For example, I found a one-way flight on Singapore Airlines, an Amex transfer partner and one of the best rated airlines in the world, from New York to Frankfurt for $385.10 or 22,500 KrisFlyer miles.
You can transfer Membership Rewards points to your KrisFlyer account at a 1:1 ratio, so that ticket would cost me 22,500 Membership Rewards points. That's a 1.7 cent per point value redemption when you divide the cash price of the ticket by the number of points needed ($385.10 / 22,500 points = $.017), compared to the 1 cent value you get from cash back.
All this to say: If you take a little time to find good travel deals, the Rakuten Amex combo can offer terrific value and it's incredibly easy to take advantage of.
How to sign up for Rakuten
You can sign up for Rakuten with your Google, Facebook, or Apple login, or you can just use an email and password. Starting a new account is easy and only takes a few minutes.
Use these steps to quickly go through the free sign-up process on any internet web browser:
Go to the Rakuten.com website and click the "Join Now" button.
Choose your sign-up option and create your account. Remember to click on the "Did someone refer you?" button to add a referral email if someone did indeed refer you.
Log in and start earning cash back on your online purchases through Rakuten.
And don't forget to log in and use the Rakuten app on your phone when you're on the go and don't have access to a computer. It's an easy way to continue earning rewards on purchases no matter where you are.
How to get Amex points from Rakuten
After you've signed up for a free Rakuten account, you can change your payout method from cash back to Membership Rewards points with these quick steps:
Log in to your Rakuten account and click on "Account Settings," located in the upper-right dropdown menu by your name.
Scroll down to the "How would you like to get paid?" section and choose "Switch to Membership Rewards points."
You'll be asked to log into your American Express account and choose an eligible American Express credit card to link with Rakuten.
Once you link your Amex card, you'll be able to immediately start earning Membership Rewards points on your purchases through Rakuten.
Membership Rewards points will transfer to your American Express account according to the Rakuten payment schedule shown below. Payout typically occurs 1 1/2 months after the end of each quarter. So if you earn points through Rakuten anytime between April 1 to June 30, you should see the Membership Rewards post to your Amex account around August 15.
How to earn the most rewards with Rakuten
With online shopping portals like Rakuten, there are often additional offers and promotions you can use to earn even more rewards. The four ways you can earn even more rewards are:
Credit card offers
In-store offers from Rakuten
Limited-time offers from Rakuten
Refer family members or friends
Credit card offers
Chase and Amex both offer discount programs, called Chase Offers and Amex Offers, respectively. These offers are free to use for eligible cardholders and can be found within your online account with either of these credit card issuers. You don't need to use the Amex shopping portal or Chase shopping portal to access these offers. This is good news because if you do use either of those portals, you can't also use Rakuten.
To find the Chase Offers available to you, just log into your Chase online account through an internet web browser or the Chase mobile app on your phone. The offers should be located below where your Chase credit card accounts are listed.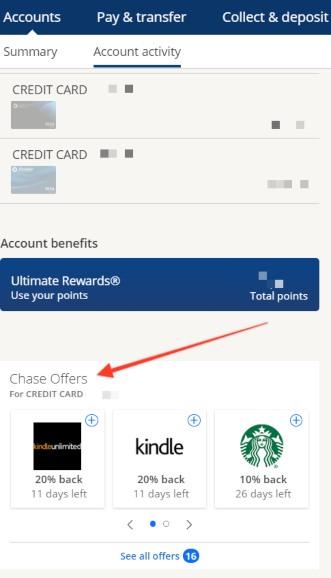 Here's how the Chase Offers look when you click to see all of them at once in your online Chase account through an internet web browser.
And here are the Amex Offers. They can be found if you scroll down on the internet browser homepage of your Amex online account.
If you're using the Amex mobile app on your phone, there's an "Offers" tab that will show all the available Amex Offers.
With either of these methods, once you find an offer you want to use, you just click to add it to your credit card. These credit card offers work with Rakuten because the discount is applied to your statement after the transaction. Just keep in mind, you have to pay for your purchase through the Rakuten portal using the credit card with the activated offer.
For some people this strategy has an added bonus — this can also be a simple way to earn both Chase Ultimate Rewards and Amex Membership Rewards at the same time. You'll receive Chase points from using a Chase card for the purchase and Amex points for making a purchase through Rakuten.
So, in summary, here are all the rewards you can earn from this online shopping strategy:
Credit card rewards from the purchase
Cash back or points from Rakuten
Additional cash back from Chase or Amex offers once the transaction posts
This is such an easy way to triple dip on rewards!
In-store offers from Rakuten
Many of Rakuten's coupons and offers can be used for online shopping via web browser or phone app, but you can also take advantage of its in-store offers. To get started with Rakuten in-store cash back, follow these steps:
Navigate to the "In-Store Cash Back" section on the Rakuten website or the "In-Store" section in the Rakuten app.
Search through the deals and click "Get Deal" or "Link Offer" on the ones you want.
If you haven't linked a credit or debit card to your Rakuten account yet, you'll be prompted to link one.
Once you have a card linked to the offers you want to use, go to the applicable stores in person and use the linked card to make purchases and earn cash back or points.
Note: Offers will no longer be linked to your card after you make an eligible purchase. You will need to relink offers after a purchase if you want to make another purchase at the same store.
You can use the map functionality on the Rakuten website or in the Rakuten app to see which participating stores are near you and how much cash back they offer.
Limited-time offers from Rakuten
Rakuten regularly promotes limited-time deals and bonus offers to its members, so if you see an offer pop up, you'd do well to take advantage of it while it lasts. Its recent birthday event saw stores offering up to 15% cash back (or 15X Amex points), which is well above typical rates.
Even if there's no specific event or promotion being touted, I recommend regularly checking for any great deals happening by going to the top of the home page where it says "Double Cash Back Stores" and "Hot Deals."
In the Double Cash Back Stores section, you can see featured stores that are offering at least double the cashback rate of previous offerings.
In the Hot Deals section, you can find a variety of coupons, promo codes, and daily deals. Featured deals may have increased cash back, clearance sales, seasonal coupons, and more.
Refer friends or family members
A simple and effective way to earn plenty of rewards from Rakuten is by referral bonuses. For every friend you refer to Rakuten who uses the platform to make purchases, you'll earn money. With the current referral offer you'll earn $25, and the friend earns $10. For either of you to earn this money, your friend first has to spend $25 through Rakuten.
Recently, there was even a limited-time offer for $30 refer-a-friend bonuses for both you and whomever you referred after the new member spent at least $30 on purchases through Rakuten. If you have your Rakuten account set to earn Amex Membership Rewards points, that's a bonus of 3,000 points for both you and a friend.
You can invite friends by email, through Facebook, on Twitter, and by using a unique link. Your unique link and sharing options can be found when you click on the "Refer & Earn" button at the top of the Rakuten website (shown in the screenshot above) or in the Rakuten app.
Because there's no limit to how many friends you can refer to Rakuten, there's also no limit to how many rewards you can earn through this method.
Noteworthy reminders
There are a few essential pieces of information about Rakuten that can help you avoid missing out on potential rewards:
To earn cash back or points through Rakuten, you have to visit the merchant through a link from Rakuten — this can be through the website, the Rakuten web extension, or the mobile app.
Do not switch to another browser, window, or tab once you've opened up a merchant's website through Rakuten. This could cause tracking issues for your purchases, which could mean you may not earn your rewards.
You cannot use other online shopping portals with Rakuten — only one will work at a time. This includes the Chase shopping portal and the American Express shopping portal.
Rakuten provides free coupons that you can use with many retailers. If you try to double up by using or attempting to use coupons that aren't provided by Rakuten, your rewards may be voided during that Rakuten session.
If you have an ad blocker installed on your browser, make sure Rakuten isn't blocked because this could cause tracking issues on any purchases you make through Rakuten, and you risk not getting your rewards.
Make sure your shopping cart is clear when you click on a merchant link through Rakuten. If you put items in that retailer's cart before you clicked on Rakuten's link, you may lose out on rewards.
The best credit cards for pairing Amex with Rakuten
American Express credit cards are excellent options to use with Rakuten because you can effectively double up on rewards by using them. You can earn points from Amex for making the purchase and then additional points from Rakuten, so this pairing is a lucrative method of quickly building Membership Rewards points.
Here are the best reward cards from Amex that we recommend:
Card name
Welcome bonus
Earnings rate
Annual fee
The Platinum Card® from American Express
Earn 80,000 Membership Rewards points after spending $8,000 on purchases on your new card in the first 6 months
5X points per dollar spent on eligible airfare (on up to $500,000 per calendar year, after that 1X) and eligible hotel purchases, and 1X points per dollar on all other eligible purchases
$

695

(terms apply)
American Express® Gold Card
Earn 60,000 Membership Rewards points after you spend $4,000 on eligible purchases within the first 6 months of card membership
4X Membership Rewards points at U.S. supermarkets (up to $25,000 per year, after that 1X) and at restaurants, plus takeout and delivery in the U.S., 3X on flights booked directly with airlines or on Amextravel.com, and 1X on all other eligible purchases
$

250

(terms apply)
Amex EveryDay® Preferred Credit Card
Earn 15,000 points after spending $2,000 in the first 6 months
3X points at U.S. supermarkets (up to $6,000 in purchases per year, after that 1X), 2X at U.S. gas stations and AmexTravel.com, and 1X on all other eligible purchases
$95 (terms apply)
Amex EveryDay® Credit Card
Earn 10,000 Membership Rewards Points after making $2,000 in purchases in the first 6 months
2X points per dollar (on the first $6,000 spent at U.S. supermarkets each year, after that 1X), and 1X on all other eligible purchases
$0 (terms apply)
All information about Amex EveryDay® Credit Card has been collected independently by FinanceBuzz.
All information about Amex EveryDay® Preferred Credit Card has been collected independently by FinanceBuzz.
The Platinum Card from American Express is a premium travel card that offers frequent travelers plenty of value. Amex Platinum benefits include fee reimbursement of up to $100 every 4 years for Global Entry or up to $85 every 4.5 years for TSA PreCheck, access to Amex Centurion Lounges and Priority Pass lounges, and much more. Note that certain benefits require enrollment.

Another travel card option is the American Express Gold Card. In addition to travel benefits like paying no foreign transaction fees, you can also receive up to $120 in dining credits each year and earn 4X Membership Rewards points at U.S. supermarkets (up to $25,000 per year, after that 1X) and at restaurants, plus takeout and delivery in the U.S., 3X on flights booked directly with airlines or on Amextravel.com, and 1X on all other eligible purchases. The added dining and bonus points benefits make this card an ideal option for someone who wants to earn rewards from multiple options, though select benefits require enrollment.
For everyday purchases, you might consider the Amex EveryDay Preferred Card. You can earn 3X points at U.S. supermarkets (up to $6,000 in purchases per year, after that 1X), 2X at U.S. gas stations and AmexTravel.com, and 1X on all other eligible purchases. Plus, if you use your card at least 30 times on purchases in one billing period, you'll earn 50% extra points on those purchases.
If you want to avoid an annual fee, the $0 annual fee Amex EveryDay Card could be a better fit. You can earn 2X points per dollar (on the first $6,000 spent at U.S. supermarkets each year, after that 1X), and 1X on all other eligible purchases. The rewards are still decent, and you won't have to worry about spending enough to offset an annual fee. Check out our list of the best cashback credit cards for more options.
You can also use Chase credit cards, the Rakuten Cash Back Visa credit card, or other credit cards for your purchases through Rakuten and still receive Amex Membership Rewards points when Rakuten pays you. If you set up your Rakuten account to receive Membership Rewards points, it doesn't matter what brand of credit card you use for the purchase, you will receive Membership Rewards from Rakuten.
Bottom line
The Rakuten Amex partnership is unique because Rakuten is one of the only online shopping portals that allows you to earn Membership Rewards points. There are many shopping portals that offer cash back or bonus miles for your favorite airline, but a smart shopper can get a lot more value out of Amex points than those other reward options.
As you use Rakuten, remember to watch out for limited-time offers and keep track of hot deals at your favorite stores. If you do this and link an eligible Amex card to your Rakuten account, you could be earning a lot of bonus Membership Rewards points in no time. Consider pairing this shopping app with a budgeting app to save even more money every month.
Big Rewards at Restaurants
Current Offer
Earn 60,000 Membership Rewards points after you spend $4,000 on eligible purchases within the first 6 months of card membership
Rewards Rate
4X Membership Rewards points at U.S. supermarkets (up to $25,000 per year, after that 1X) and at restaurants, plus takeout and delivery in the U.S., 3X on flights booked directly with airlines or on Amextravel.com, and 1X on all other eligible purchases