In 2018, third-party sellers raked in $160 billion selling on Amazon, according to the company's 2019 Small Business Impact Report. This is up from $100 million just 20 years prior. And out of Amazon's total sales in 2018, small businesses accounted for 58%, making more than $90,000 in sales on average.
These numbers sure are remarkable. And although you can't expect to generate $90,000 a year when you're just learning how to start a business, the point is that Amazon has grown — and continues to grow — as a favorable marketplace where sellers can generate some serious cash. This goes for side hustlers and full-timers alike.
If you're thinking the way you want to make money is to sell items on Amazon, then here's how to get started and our recommendations on what you could be selling.
How to sell on Amazon
Sellers who choose to join the Amazon marketplace gain access to more than 150 million monthly visitors to get their product(s) in front of. And if you choose to use Amazon's fulfillment service, you can have your products picked, packed, and shipped for you so you can focus on growing other aspects of your business. Amazon's fulfillment service will even handle customer service and returns.
But first you have an initial decision to make. Amazon offers two plans for selling on its platform: individual and professional. Here's what you need to know about each.
Jungle Scout Benefits
Learn from industry-leading professionals
Find products and suppliers
Manage inventory and analyze sales
14-day money back guarantee
Amazon individual plan
The individual plan is best for those who expect to sell fewer than 40 items a month. It doesn't come with a monthly subscription fee, but sellers are charged 99 cents per item sold, plus referral fees (based on the category of the product) and closing fees. Referral fees are essentially commission paid to Amazon for using its platform to connect to your buyers, whereas closing fees apply only to the sale of media items, such as books, DVDs, CDs, etc.
With more than 15 categories available to individual sellers to list their products — categories such as books, clothing, and personal care items — the individual plan might be the most suitable option if you want to get your feet wet and see how quickly you can sell items on Amazon without having to commit to a monthly fee.
Product categories open to both individual and professional sellers
According to Amazon, the following categories are considered open and are available to both individual and professional sellers:
Amazon device accessories
Amazon Kindle
Baby products (excluding apparel)
Beauty
Books
Camera and Photo
Cell Phones
Clothing and accessories
Electronics (accessories)
Health and personal care
Home and garden
Musical instruments
Office products
Outdoors
Software and computer games
Sports
Tools and home improvement
Toys and games
Video games and video game consoles
Amazon professional plan
Amazon's professional plan does come with a monthly subscription fee, but professional sellers don't have to pay a per-item fee for each item sold. The subscription fee costs $39.99 a month. Under this plan, professional sellers are still subject to referral and closing fees.
Sellers who choose the professional plan have access to the same 15-plus listing categories on Amazon as the individual sellers, plus at least 10 more categories available only to professional sellers. The professional plan is ideal for those who plan on selling more than 40 items a month.
Product categories open only to professional sellers
The following product categories are open only to professional sellers. Some require further approval to verify that you're an honest, legitimate seller. In other words, Amazon doesn't want people selling counterfeit coins or jewelry, for example.
Automotive and powersports (approval required)
Business products (B2B)
Collectible coins (approval required)
Fashion jewelry
Fine jewelry (approval required)
Fine art (approval required)
Grocery and gourmet food (approval required)
Industrial and scientific (approval required)
Luggage and travel accessories
Professional services (approval required)
Shoes, handbags, and sunglasses
Sports collectibles (approval required)
Video, DVD, and Blu-Ray (approval required)
Watches (approval required)
Before you pick between the individual and professional plans
Before you even sign up for either plan to sell items on Amazon, it's recommended you have a strategy in place as a new seller. Determine the following essentials before you sign up to sell:
You have a product ready to sell
You've selected a selling plan
You're able to meet the requirements for any items needing approvals (certain categories and products may require additional qualifications)
You have IDs for all your products (a Global Trade Item Number (GTIN), such as a UPC, EAN, or GCID)
You have a plan for fulfilling orders (ship your own or Fulfillment by Amazon)
So how do you find products to sell? That's where things get difficult. Ideally, you want to sell a product in high demand, but with low competition. This is basic economics 101 and applies to anyone who wants to sell anything online.
There are paid tools that will help you find profitable niches and products to sell on Amazon, such as Jungle Scout, if you want to get serious about your business. These tools generally provide features such as product research, keyword research, inventory management, and more. They can range from free to $49 a month for a browser extension to upward of $120 a month for some of the highest plans.
How to set up a seller account on Amazon in 5 steps
Whether you've decided to start small or go big, the next step to start selling on Amazon is to register for an Amazon seller's account. This section will walk you through the steps of registering for either an individual or professional account.
Go to the main page for Amazon Services. From here, click the orange Start selling button if you want to sign up for a professional account.
If you don't want to commit to the professional plan, scroll down and look for the option to sign up as an individual seller.

Step 2: Complete the seller agreement form
The next step is to complete the account setup process. The first section will ask you to input your legal name. If you're registering as an individual seller, you will enter your full legal name in this field. If you're registering as a business, enter the business name and your legal name. After that, check the box to accept the seller agreement. Click Next when you're finished.
Step 3: Enter your seller information
The next step is to provide some details about your business. This includes your address, business display name, website (if applicable), and phone number. Click Next when you're finished.
Step 4: Set up your billing method
Next, enter your billing and deposit information. This is to pay for things such as fees, upgrades, etc. and to receive payment for the items you sell. Once you enter your credit card and bank account information, click Next.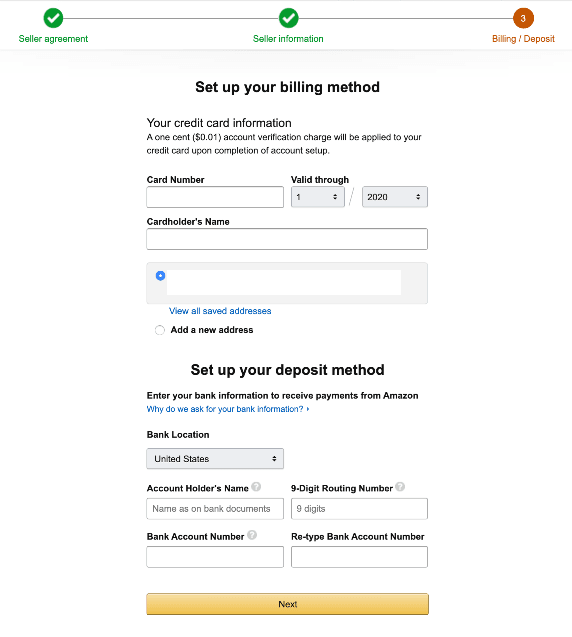 Step 5: Verify your identity
The next screen is used to verify your identity. First, select the country where your business is located and then click Next.
Then you'll need to enter either your passport or driver's license information to proceed. Once you're finished, click Submit.
On the next screen, you will be required to upload photos of the front and back of your driver's license or passport, as well as an additional document. The additional document varies by country and state, but can be something such as a utility bill or bank statement, and is often used to verify the validity of your business, for example. You can upload either a scan or a photo taken from your phone. Once these are uploaded, click Submit
.Once you've submitted all this information, it may take a couple business days for Amazon to verify it. If everything is found to be correct, you'll officially have an Amazon seller's account.
How much does it cost to sell items on Amazon?
Amazon offers two plans for sellers — a paid monthly subscription plan for those planning to sell more than 40 items a month (professional), and a per-item plan for those who plan to sell fewer than 40 items a month (individual).
Depending on which plan you choose, you can expect to pay somewhere between 99 cents per item sold, plus fees; and $39.99 a month, plus fees:
Per-item fee: Applies to Individual plan; 99 cents per item sold
Monthly fee: Professional plan only; $39.99 a month
Referral fees: Applies to both plans; amount varies by product category
Closing fees: Applies to both plans; $1.80 per media item sold (books, DVDs, etc.)
Fulfillment by Amazon Program vs. shipping my own items
When it comes to how you choose to warehouse and ship your items, you'll have the choice between managing the shipping and handling yourself or signing up for Fulfillment by Amazon.
Fulfillment by Amazon (FBA) allows you to store your products in Amazon's fulfillment centers, where Amazon then picks, packs, and ships your products. It also handles customer service and returns. In addition to the fees associated with your chosen seller plan, you will be charged for order fulfillment, storage, and any optional services you choose. FBA fulfillment fees will vary depending on the category of your product (mobile device, apparel, etc.) and the size of the product. You can see the full list of FBA fulfillment fees in the Amazon seller help section. The same goes for storage fees. These vary by the space your inventory occupies. You can see the breakdown of FBA storage fees in the help section as well.
When deciding whether FBA is right for you, consider how much product you plan on selling. If you're signed up for an individual seller account and don't plan on selling more than 40 items a month, paying the extra cost for FBA might not make sense. However, if you plan to sell more and want to focus solely on growing your business and replenishing your inventory, FBA could be a good idea.
How much can you earn selling on Amazon?
Exactly how much you can earn selling on Amazon is up to you and how much you want to commit to growing your business. Selling on Amazon can be a great side hustle where you sell items here and there to make some extra cash. Or you can go full time and sell professionally. For instance, a seller who focuses on baby items might build an entire brand out of it, designing and sourcing items, and signing up for FBA to warehouse inventories of thousands of items.
According to Jungle Scout, an Amazon selling tool, most Amazon sellers make at least $1,000 per month in sales. Some super-sellers, however, make upwards of $250,000 each month in sales.
The best items to sell on Amazon
This is the big question: what to sell? Instead of simply guessing and wasting money on a product that won't sell, why not start with the Amazon Best-Sellers list to get some ideas of which product categories are most popular? This is a list of Amazon's most popular products based on sales — and it's updated hourly.
Books
Just as Amazon started by selling books, you too can get started as an Amazon seller with books. This is a popular category on Amazon, especially as physical bookstores continue to go out of business. This is a viable option to get started selling because you can buy books in bulk from local bookstores or sites like Bulkbookstore.com and resell them on Amazon for a decent profit. Just compare prices beforehand to see which books can actually turn a profit.
Toys & Games
Whether card games or children's toys, these items typically do well. If you're able to spot a trend forming for a particular toy — one that every kid will end up wanting — this can be profitable. As of Feb. 14, 2020, the No. 1 seller in Toys & Games is Cards Against Humanity. No. 2? An assorted 10-pack case of Play-Doh.
Clothing, Shoes & Jewelry
From exercise clothing to underwear to sunglasses, the Clothing, Shoes & Jewelry category is undeniably a popular one. However, it's also oversaturated with items. If you're able to offer something unique and for a good price, this could be a prime idea for how to make money. Want to be truly unique? Start your own clothing line. You'll need to source your own product from manufacturers, but you can buy wholesale and sell retail. For a domestic manufacturer, try a directory such as Thomas. For an overseas manufacturer, start with Alibaba.
Electronics
Another always-popular category, the electronics section on Amazon often displays some of the best prices on some of the world's most popular devices. If you're able to buy electronics in bulk, this is a promising category. You can get started by trading in electronics collecting dust around your house with the Amazon Trade-In Program, or you can source electronics from a manufacturer such as Alibaba and sell them as private-label (you put your own branding on the product).
4 tools for succeeding on Amazon
Selling on Amazon is competitive, so to have the best shot at building a successful store, you may want to consider additional tools to help you get there.
Other things to do once you've started selling on Amazon
Once you've got your Amazon business up and running, there are still some things you can do to optimize your business. Consider the following to get the most out of your new business:
Apply for a business credit card. Opening a business credit card can help you in several ways. Not only will you be able to earn rewards on all your business spending, but using a business credit card will keep your personal and business expenses separate, which is useful come tax season. When looking for the best card, consider those that align with how your business spends. The Ink Business Preferred® Credit Card, for instance, pays 3X points on the first $150,000 spent in combined purchases on travel, shipping purchases, Internet, cable and phone services, advertising purchases made with social media sites and search engines each account anniversary year.
Open a business bank account. You're going to need a bank account to attach to your Amazon Seller's Account, so it's a good idea to open a business banking account. This will also help you keep your personal and business expenses separate, which will make bookkeeping much easier.
Get an EIN: If you're operating your business as a sole proprietor, you don't need an EIN, but you may want to consider getting one. Having an EIN allows you to hire employees, open a solo 401(k) retirement plan, form an LLC, and generally makes your business look more professional.
Commonly asked questions about selling on Amazon
Is it profitable to sell on Amazon?
Unfortunately, there are too many factors that go into whether you will be profitable selling on Amazon to give a short answer. You will need to find a product that's in demand and put time and money into your business, and even then, there are no guarantees you will be profitable.
Do you need a business license to sell on Amazon?
Whether you need a business license to sell on Amazon depends on the cities or towns where you want to operate your business and what products you intend to sell online. It's best that you check with your specific state, city, or town to find out if a business license is something you need.
Do you need a website to sell on Amazon?
Generally speaking, you don't need a website to sell most products on Amazon. However, certain product categories, such as Clothing & Accessories, require sellers to provide a website or image hosting site with product images to be considered for approval to sell on Amazon. This is to ensure your items conform to Amazon's standards.
Do I need a tax ID to sell on Amazon?
Yes, you are required to submit a Taxpayer Identification Number (TIN). This can be something as simple as your Social Security number. If you have an EIN for your business, you can use your EIN.
Is it better to sell on Amazon or eBay?
Selling on Amazon might be easier than selling on eBay if you take advantage of Fulfillment by Amazon. This makes selling much more convenient because it handles all picking, packing, and shipping of your products, as well as customer support and returns. However, to know which platform is truly best, you should conduct thorough product research on what you want to sell. This will help determine which platform the product sells best on.
Bottom line on selling items on Amazon
Amazon is a huge marketplace that attracts millions of buyers each month, which means you can get your products in front of a large number of people. With that in mind, selling items on Amazon is no cakewalk. It takes thoroughness to identify products that sell, time and money to grow your business, and strategizing to succeed. That being said, making money selling on Amazon is not impossible.
Before you sign up to sell items on Amazon, cover your bases. Identify a product to sell and make sure you meet all the requirements needed to sell it. And then, of course, take some time to bask in the thrill of making a sale. With a plan in place, you'll have the best chance of earning some extra money reselling on Amazon.
Current Offer
Earn $900 bonus cash back after you spend $6,000 on purchases in the first 3 months from account opening
Rewards Rate
5% cash back on the first $25,000 spent in combined purchases at office supply stores and on internet, cable and phone services each account anniversary year; 2% cash back on the first $25,000 spent in combined purchases at gas stations and restaurants each account anniversary year; and 1% cash back on all other purchases