Who doesn't want to get the best price on airfare? Although everyone loves a great deal, finding one takes a lot of time and effort. 
The founders of Hopper had been there and done that, and they ended up asking the question: what if a single app could give an accurate prediction of the best time to buy a ticket? They used this supposition to create Hopper, a travel app that uses artificial intelligence to give you not only timely insights as to when to book flights to get the best price, but also when not to spend your hard-earned money. In this Hopper app review, learn how it's making it easier than ever to find cheap flights, hotels, and more.
Hopper: Is it worth it?
Pros
Cons

Offers recommendations for when to book
Calendar shows when you'll find the cheapest flights

Poor customer reviews on TrustPilot (2.5 stars out of 5)
No customer support phone number

Our verdict: Hopper's recommendations on when to book flights and hotel stays are useful, but you may be better off using that information to book directly with the airline or hotel instead of through Hopper. If you do book through Hopper, be aware that Hopper customer service options are limited, and there is no phone support. 
What is Hopper?
If you've traveled before, you know that making reservations far in advance helps keep costs down. But figuring out exactly when is optimal to book has always been a challenge. That's where Hopper comes in.
Headquartered in Montreal, Hopper was launched in 2009 with the sole focus of predicting the best time to find the most affordable airline fares for a specific trip. Just enter some information about where and when you'd like to fly, and the app will give you advice on the best times to book. It also tells you when to wait, sends updates through push notifications, and allows you to watch specific trips.
How does Hopper do it? It uses historical data, proprietary algorithms, and artificial intelligence programming to make its price predictions, which it claims are 95% accurate for flights up to a year in advance. 
When you're ready to book a flight, you can do so through the app and its secure payment system. To simplify things, you can also add and save credit cards and track your booking details using the trips feature. If you're not ready to book right away, you can set up a watch, which will keep tabs on the flight you searched for and send you notifications when prices change.
Hopper has expanded beyond flight deals. It also allows you to book hotels, rental cars, and homes for vacation rentals. It shows hotel deals and cheaper times for hotel booking, similar to its flight deals, but didn't show similar data for rental cars and homes. 
Price freeze
The Hopper app also has a feature called Price Rreeze. When you book flights, Price Freeze gives you the option to lock in your fare for a fee. The fee does not count toward the cost of your flight — it just locks in your price for a set period, and Hopper will cover the difference up to a certain limit. 

For example, for a round-trip flight from Detroit to Las Vegas, I can lock in a $178 fare for 7 days for $48 per person. Hopper says it will cover up to $300 per traveler if the price goes up, and if the price drops, I'll pay the lower flight price. The Price Freeze fee is not refundable, so if I decide not to book the flight ticket in that time, I won't receive a refund. 
Hopper may refund the fee if the flight you have a Prize Freeze on sells out or is canceled. It may also offer you a similar flight and pay the difference up to the stated limit. So if my flight from Detroit to Las Vegas is canceled, it might refund the fee, or it might offer me a similar flight and pay the difference (up to $300). 
Carrot Cash
Hopper also offers Carrot Cash, which is Hopper's travel credit program. You earn Carrot Cash when you book travel that you can apply to future travel plans. The in-app Hopper Wallet holds your Carrot Cash along with other promotion opportunities. 
How to use Hopper
Hopper is available for both Android and iOS. Go to either the App Store or Google Play Store and search for "Hopper." Tap the "Install" button to download and install the app on your phone.
Once the app is installed, find it in your list of apps and tap to open. You'll be asked to either login or create an account. If you don't have an account, follow the prompts to create one.
Once you're signed in, you can search for flight information or other travel deals. Start with a departing airport, a destination, and the number of travelers. After setting a destination, you'll get a calendar listing of color-coded fares: green for least expensive; orange for the next level up; orange/red for the next most-expensive; and red for most expensive.
From there, you can play with dates and see what range of flights are available. When you select a specific range of dates, you'll be provided with the current lowest price available, as well as an assessment as to whether this price is good or if you should wait. You'll also find predictions for when the prices will go up or down, plus a time frame for booking.
If you want to watch these dates, you can tap "Watch This Trip" and get updates about prices and when to book. If you like what you see, you can click on "View Flights" to choose specific departure dates, times, and carriers. You'll be given options to choose different fare classes and passengers for each ticket. You'll also be asked whether you want to purchase a refund option in case you need to cancel your reservation.
After all of these selections are made, you'll get a summary of the total charges for your tickets and can add a method of payment or choose a saved credit card. Once your payment is finalized, you'll be able to track your booking through the Trips feature at the bottom of the screen.
The process for booking hotel rooms, rental cars, and homes is similar to the process for booking a flight ticket. 
Alternatives to Hopper
While Hopper has useful information, some might not want to deal with the pressure to book through the app and add its insurance options. Here are alternatives to consider. 
Other options for researching travel
Google Flights: Google Flights offers similar recommendations to Hopper, letting you know whether to book immediately or wait. It also has a calendar of flight prices so you can find the cheapest travel dates. 
Kayak: This travel search engine and booking site is similar to Hopper, but also allows you to search trains and buses. You can also use Kayak on a computer, while Hopper is limited to a mobile app. 
Expedia: This site shows a wider range of airlines and can be used on a computer. 
Use the Ultimate Rewards portal to save on airfare
Although Hopper can help you get a good deal on airfare, you may be able to save even more by using the travel booking tools offered by your credit card. If you're a Chase Sapphire Reserve® or Chase Sapphire Preferred® Card customer, you can use Hopper to track prices and figure out when to book, then login to the Chase Ultimate Rewards portal to purchase your flights.
First, you may find the prices offered through Chase Ultimate Rewards match or are better than what you find on Hopper. Second, you can use your Ultimate Rewards points to pay for some or all of your airfare. This results in even more savings, and here's why. When a Sapphire Preferred cardholder books a flight with points through the Ultimate Rewards portal, each point is worth 1.25 cents. For Sapphire Reserve customers, each point is worth 1.5 cents. If you multiply these values by the thousands needed to pay for an airline ticket, you can rack up substantial savings.
This is one of the reasons the Chase Sapphire cards are among the best travel credit cards around. The Sapphire Preferred card is the entry-level option that gives massive benefits for a low $95 annual fee. You can earn 60,000 bonus points after you spend $4,000 on purchases in the first 3 months from account opening. 
When spending with the Sapphire Preferred, you earn 5X points on travel purchased through Chase Ultimate Rewards®; 3X points on dining, select streaming services, and eligible online grocery purchases; 2X points on all other travel purchases, and 1X points per $1 on all other eligible purchases. Each year on your card anniversary, you will also earn bonus points equal to 10% of the total purchases you made in the previous year. And you get a $50 annual credit on hotel stays purchased through Chase Ultimate Rewards.
The Sapphire Preferred also offers travel, car rental, and purchase protection, as well as no foreign transaction fees.
The Chase Sapphire Reserve is for frequent and discerning travelers who like to have some luxury while on the road. Although the annual fee is a high $550, you get a $300 annual credit for travel expenses and 50% more value on points in the Chase travel portal. 
Reserve members earn 5X points on flights and 10X points on hotels and car rentals when you purchase travel through Chase Ultimate Rewards® immediately after the first $300 is spent on travel purchases annually; 3X points on other travel and dining & 1X points per dollar on all other purchases. 
Plus, Sapphire Reserve cardholders get complimentary airport lounge access through Priority Pass Select; free upgrades and perks through the Luxury Hotel & Resort Collection; up to $100 credit for Global Entry or TSA PreCheck every four years; and all the perks of the Preferred card.
FAQs about Hopper flights
Is the Hopper app trustworthy?
The app has been around since 2009 and has served millions of customers. Hopper is certified as an accredited travel agency and provides multiple layers of protection for your personal and financial information.
Does the Hopper app cost money?
The app itself is free. You may be asked if you want to add coverage that will enable you to collect a partial refund if you cancel your trip or opt for a Price Freeze. 
Does Hopper have hidden fees?
Hopper does have fees, but they are for optional services, such as refund protection.
Can you choose your seats on Hopper?
You can't make seat selections through the app. However, you may be able to with the airline your tickets are issued from, depending on the carrier's policies and the class of ticket.
How does Hopper make money?
Hopper asks customers if they want to leave a $5 tip after booking a flight. The fee is optional and users can opt out during the booking process. Hopper also gets a 1-4% commission from the airlines for tickets booked using its system. 
The final word on Hopper
I like Hopper as a research tool for my trips. It's user-friendly, and I've used it while researching flights for places I plan to go, but I haven't booked with it yet. Thanks to the information I got from the app regarding a trip I needed to make, I was able to find a lower price on airfare. But, because I'm also a Sapphire Preferred customer, I booked my flight through the Chase Ultimate Rewards portal and used my points to reduce my fare considerably.
The moral of the story here is that whenever you're shopping for flights, use the right tools for your specific situation to get the best deals. It may be one, two, or several that get you to the lowest bottom line.
Easy-to-Earn Unlimited Rewards
Earn 25,000 online bonus points after you make at least $1,000 in purchases in the first 90 days of account opening - that can be a $250 statement credit toward travel purchases
Earn 1.5 points per $1 spent on all purchases
Longer intro APR on qualifying purchases and balance transfers
No foreign transaction fees
Earn unlimited 1.5 points per $1 spent on all purchases, with no annual fee and no foreign transaction fees and your points don't expire.
25,000 online bonus points after you make at least $1,000 in purchases in the first 90 days of account opening - that can be a $250 statement credit toward travel purchases.
Use your card to book your trip how and where you want - you're not limited to specific websites with blackout dates or restrictions.
Redeem points for a statement credit to pay for travel or dining purchases, such as flights, hotel stays, car and vacation rentals, baggage fees, and also at restaurants including takeout.
0% Introductory APR for 15 billing cycles for purchases, and for any balance transfers made in the first 60 days. After the intro APR offer ends, 18.24% - 28.24% Variable APR will apply. A 3% fee applies to all balance transfers.
If you're a Preferred Rewards member, you can earn 25%-75% more points on every purchase. That means instead of earning an unlimited 1.5 points for every $1, you could earn 1.87-2.62 points for every $1 you spend on purchases.
Contactless Cards - The security of a chip card, with the convenience of a tap.
This online only offer may not be available if you leave this page or if you visit a Bank of America financial center. You can take advantage of this offer when you apply now.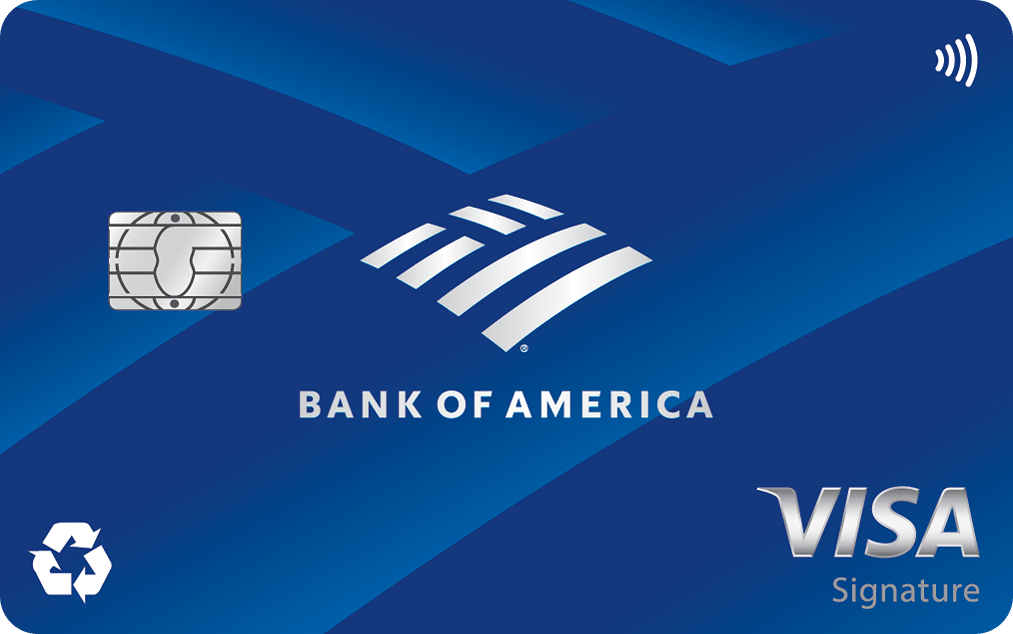 Apply Now
on Bank of America's secure website
Read Card Review
Intro Offer
Earn 25,000 online bonus points after you make at least $1,000 in purchases in the first 90 days of account opening - that can be a $250 statement credit toward travel purchases