Market research firm Opinion Outpost may pay you for giving your opinions on various goods and services, as well as testing products and watching advertisements. This gives you a way to make a bit of money while giving your two cents.
You can answer surveys in your free time and cash out your points via PayPal or by receiving gift cards. This makes Opinion Outpost an easy platform to use while you're home or during a public transport commute.
In this Opinion Outpost review
Opinion Outpost: Is it worth it?
Pros
Cons

Simple and easy-to-use platform
Opportunity to cash out via PayPal
Can be done from home on a flexible schedule
Additional options to earn points other than surveys

Low pay rate
Reports of suspended accounts without warnings
Limited redemption options for gift cards

Verdict: Opinion Outpost can provide a way to earn a little money on the side without too much effort. However, it can take a while to earn a good amount of cash since the pay rate is low. This platform probably works better as a side hustle than a replacement for your full-time job.
What is Opinion Outpost?
Opinion Outpost is a market research platform and paid survey site owned by parent company Dynata, LLC — previously known as Survey Sampling International, LLC — a data insight company headquartered in Shelton, Connecticut.
Opinion Outpost works with major brands and companies to help them improve their products and services. When you join the platform, you can provide your feedback on products and services. Opinion Outpost delivers your opinion to the companies that need various consumer viewpoints. In other words, your opinion helps shape these products and services.
Opinion Outpost states that it has more than 2 million members worldwide. To become a member and take a survey, you need to provide your personal information, such as where you live, what you do for work, where you went to college, and how many children you have.
The information you share remains completely private and confidential. It is used to match you with appropriate surveys. Opinion Outpost follows the codes of conduct of various market research governing bodies to instill trust in their users.
Year founded
2003
Type of surveys offered

Advert reviews
Product tests
Focus groups
Diary studies
Location-based services
Ad survey studies

Minimum redemption
$5
Redemption methods

PayPal
Gift Cards for Amazon.com, Target, CVS Pharmacy, The Home Depot, Nike, Apple iTunes, Domino's, Chili's 3-choice, GameStop, Macy's, and Pack & Go

Customer support
Contact via the help button on the homepage
Visit Opinion Outpost
How does Opinion Outpost work?
Opinion Outpost offers opportunities for companies and brands to create surveys around the products or services they want to improve. Opinion Outpost then invites users, also known as panel members, to participate in these surveys.
The survey invitation contains the topic and the length of time it may take to answer the survey. Topics usually revolve around consumer behavior, such as the types of products you purchase, new technologies you're interested in, and other topics.
1. Find available surveys
As a panel member, you can access available surveys in your Opinion Outpost account by clicking on the surveys tab. The survey list shows each survey's topic, reward amount, and estimated completion time.
note
While surveys in the platform may be of any length, most surveys typically last 15 to 20 minutes.
In addition to product surveys, panel members can earn points for:
Testing out products they get for free
Giving their opinion on advertisements that haven't aired yet
Logging their daily routines over a certain time period
Participating in location-based surveys about in-store experiences
Answering surveys based on ads that you may have seen online
2. Complete your first survey
Once you have selected a survey, you can complete it by answering several questions, either multiple choice or short answer, and hit submit.
Remember that the number of surveys you get depends on your profile. Opinion Outpost uses the information you provide when you sign up to match you with surveys that fit your interests. This means you may get more surveys when you include more information about yourself.
If you've finished all available surveys for the day, try out one of the best side hustles for more ways to make extra money.
3. Receive points for each survey
Opinion Outpost rewards you with points when you complete a survey. The number of points you get will depend on the survey's topic and length. On average, Opinion Outpost pays 10 points, but some surveys may reward you up to 250 points.
Note
Opinion Outpost occasionally runs sweepstakes where you can enter to win prizes by taking surveys.
You can redeem these points for cash or gift cards at a rate of $0.10 per point. This means that 10 points equal $1, and 100 points equal $10.
4. Redeem your points
Most redemption options on Opinion Outpost have a minimum requirement ranging between 50 and 100 points, or $5 to $10.
You can cash out your points as:
Cash to your Paypal account
Amazon gift card
Apple gift card
Chili's 3-Choice gift card (Chili's, On The Border Mexican Grill, and Maggiano's Little Italy)
CVS Pharmacy gift card
Domino's gift card

GameStop gift card
Macy's gift card
Nike gift card
Pack & Go gift card
Target gift card
The Home Depot gift card
Additionally, you can donate your points to aid the American Red Cross in its efforts to provide humanitarian relief in the wake of Hurricane Ian.
After you redeem your points, you should receive an electronic gift card in your email within 24 hours.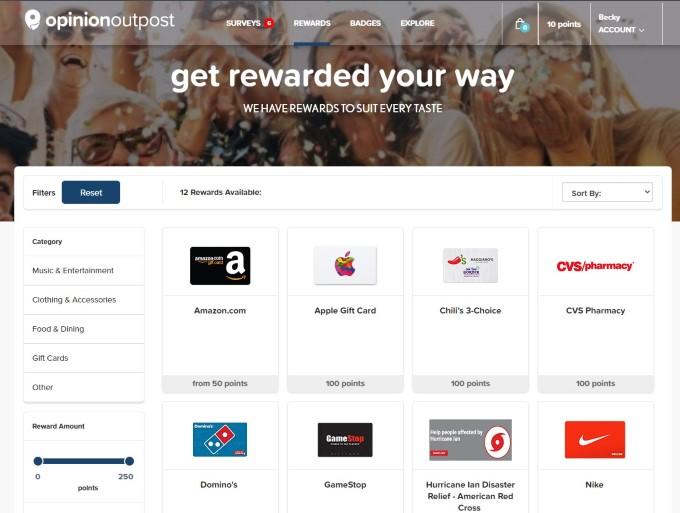 How much can you earn with Opinion Outpost?
The amount of money you earn on Opinion Outpost depends on how many paid online surveys you can complete and the number of points you make per survey.
The longer an Opinion Outpost survey takes to complete, the more points it may award. More specialized surveys may also give you more points when you complete them. On average, each survey pays 10 points, but some may pay as much as 250 points. Each point is worth 10 cents.
You may earn anywhere between 0.35 points per minute and 8 points per minute, depending on the surveys available. In theory, this translates to an hourly rate between 21 points and 480 points, or $2.10 to $48.
However, you may not always have surveys to do. Additionally, surveys with higher values are rare and difficult to qualify for.
Keep in mind
You may pass the initial survey qualification and begin the survey, then find out that you do not qualify while answering more specific demographic information.
In reality, most average surveys pay about 20 points for about 20 minutes, which works out to just about $6 per hour.
For example, if you completed all of the surveys shown above but didn't qualify for the 200-point survey, you would earn 73 points in about an hour and a half. This is a rate of about $4.76 per hour.
Take Online Surveys and Get Paid
Learn More
Maximizing your earnings with Opinion Outpost
There are several factors that can help you increase the points and money you earn on Opinion Outpost:
Complete your profile: This may qualify you for more surveys.
Be consistent with your answers: This can make you a more reliable panel member.
Check your email regularly: This is where Opinion Outpost sends invitations for new surveys.
Login to your account frequently: This will help you notice new surveys soon after they become available.
How to sign up for Opinion Outpost
Creating an account with Opinion Outpost is a quick and easy process that includes providing personal information that helps match you with relevant surveys. When you provide more information, your chances of qualifying for surveys improve.
Begin the sign-up process by clicking the join button on OpinionOutpost.com. Fill in your information, including your name, address, age, and gender.
Use the activation email to complete the sign-up process.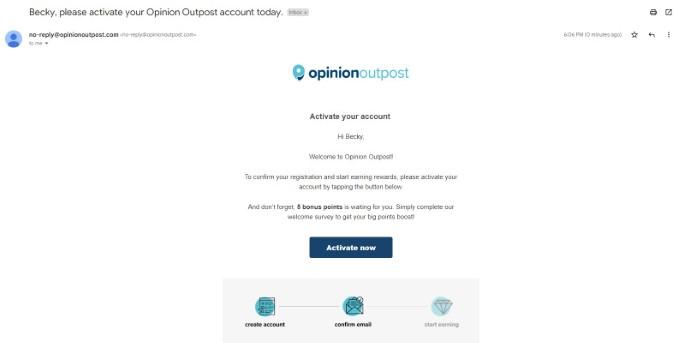 Your account is now created. You can add more information to your profile to qualify for more surveys.
Opinion Outpost FAQs
How reliable is Opinion Outpost?
Opinion Outpost is a legitimate paid survey platform. While the platform is not a scam, it has mixed reviews on Trustpilot. Opinion Outpost has a rating of 3.5 out of 5 stars, with common negative feedback about accounts getting restricted or banned without warnings from Opinion Outpost.
How many surveys can you do a day on Opinion Outpost?
There isn't a fixed number of surveys you can do each day on Opinion Outpost. The survey number you can do depends on how many available surveys you qualify to take. You can increase the number of surveys available by including more information in your profile.
How many points do I need to cash out on Opinion Outpost?
Most redemption options on Opinion Outpost require between 50 points and 100 points to cash out, equivalent to $5 to $10. You can cash out to Paypal or receive a gift card to Amazon, Apple, Target, and several other options.
Other side hustles to consider
Opinion Outpost can offer a way to get paid to voice your opinion on goods and services. It's a legitimate survey platform, although its hourly rate can be low, and qualifying for higher payouts isn't easy.
There are other ways to figure out how to make money online, including these platforms:
Survey Junkie is a reputable survey company. Due to its reputation as a survey site that pays well, the website has amassed more than 20 million users. Anyone can join Survey Junkie for free to start earning a bit of extra cash during their free time.
Learn more in our Survey Junkie review.
InboxDollars is a digital rewards program launched in 2000 that offers its members cash payments when they complete surveys, play games, and shop online. InboxDollars collaborates with well-known businesses to offer discounts, member-only deals, and other perks.
Find out more in our InboxDollars review.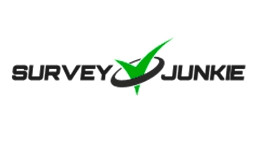 SurveyJunkie Benefits
Over $1 million paid out to Survey Junkie members monthly
Completing three surveys a day can earn you up to $40 a month
Trustpilot rating of 4.5/5 with over 30,000 reviews