Buc-ee's, the travel center with a larger-than-life reputation, has steadily built a devoted following of customers trying to avoid wasting money on the road.
However, beyond the sparkling bathrooms and friendly employee smiles, there are intriguing secrets that Buc-ee's employees want you to know.
They might even make you an even bigger fan of the beaver than you were before.
Get a protection plan on all your appliances
Did you know if your air conditioner stops working, your homeowner's insurance won't cover it? Same with plumbing, electrical issues, appliances, and more. Not being able to make repairs could leave you in a bad situation — but a home warranty could protect you against surprise expenses.
Whether you're a brand-new homeowner or you've owned your home for years, a plan from Choice Home Warranty could pick up the slack where homeowner's insurance falls short.
If a covered system in your home breaks down, you can call their hotline 24/7 for assistance to get it repaired. They have a network of over 15,000 technicians that can assist you, making sure any issue can be taken care of swiftly — without breaking the bank.
Not sure if it's for you? Rest easy: they were named one of the "Best Home Warranty Companies" by US News 360 Reviews and were awarded Best Company's 2020 Consumer's Choice Award. For a limited time, you can get your first month free when you sign up for a Single Payment home warranty plan.
You can snag free samples
Buc-ee's employees are known for providing food samples to customers upon request, which means you don't have to spend the money to determine whether you'll like something.
You may even stumble across an employee offering a tasty treat. They know first-hand how good the food is, so don't be surprised if you try, then buy.
Buc-ee's doesn't sell Pepsi products
While Buc-ee's has an extensive beverage selection, you won't find Pepsi products on their shelves; the store has an exclusive contract with Coca-Cola.
Note that this agreement went into place all the way back in 1997, long before Buc-ee's was a roadside juggernaut.
Will that change in the future? It's not likely, given their reputation for loyalty, but it's also not impossible.
Workers train extensively to master the brisket techniques
Employees undergo extensive training to ensure the barbecue offerings are prepared entirely by the book, maintaining the store's reputation for drool-worthy meats.
That includes smoking it low and slow, slicing it on a carving table in-store, and announcing "Fresh hot brisket on the board!" every few minutes.
Then they sauce the brisket dramatically before putting it onto a sandwich. It's a whole show.
Stop overpaying when you shop online
Shopping online has its perks. It's super convenient, but it can be time consuming to find the best deals. Instead of hunting for coupon codes (that don't always work!) and opening tons of browser tabs comparing prices, you can try Capital One Shopping.
Capital One Shopping makes saving money effortless. Just add the browser extension and when you check out, it'll scour the internet for coupon codes to help you save cash. And before you check out at 25+ major retailers, Capital One Shopping will notify you with a friendly pop-up if the item you're buying is available cheaper somewhere else.
Capital One Shopping is free to use and won't show you ads. Add it today and stop overpaying!1
Be prepared for spontaneous customer photo shoots
While Buc-ee's is first and foremost a stop for weary and hungry travelers, it's a fun place to take pictures on special occasions for some.
Some high schoolers stopped in for a prom photo shoot on at least one occasion, dressed to the nines in formal wear.
Another couple decided it was the perfect destination for a romantic photo escapade. Who knew posing with Beaver Nuggets was so relatable?
Buc-ee's hires employees just to clean the bathrooms
When it comes to cleanliness, Buc-ee's isn't lying when they say they've set a new standard. Their bathrooms have earned the Cintas title of "Cleanest Restrooms in America" — and rightfully so.
You might not know just how hard employees work to maintain those spotless facilities to make your pit stop a pleasant experience.
In fact, some Buc-ee's workers are hired to do only that, day in and day out.
Buc-ee's is huge… really, really huge
Anyone who's seen a Buc-ee's from behind a car window can tell you that their stores are giant. However, the true scale of some of these outlets requires a bit of fact-finding.
For years the biggest Buc-ee's was in New Braunfels, Texas, and spanned a whopping 66,335 square feet.
However, a recent addition to the chain's growing family of stores has clinched the new title: the Sevierville, Tennessee location is 74,000 square feet total!
It's obvious who first-time visitors are
For first-time visitors, Buc-ee's can be something of a revelation. Its colossal size, seemingly endless selection of items, and buzzing atmosphere often leave newbies agape.
Imagine folks walking around with eyes wide, marveling at the endless selection of seemingly everything, and commenting that the roadside bathrooms aren't neglected.
You can imagine this is an amusing sight if it's just where you work every day.
They hire a lot of employees
You've probably noticed a lot of staffers on the floor when you stop at a Buc-ee's, more than you might see at a different travel center or convenience store.
As it turns out, a single Buc-ee's location can have as many as 250 individual employees! Given that the average (and likely) smaller gas station has about eleven, that's a huge difference.
You can make good money at Buc-ee's
Buc-ee's takes care of its employees, offering wages higher than industry standards. The company broadcasts this proudly on signs at all locations, paying far more than minimum wage in many cases.
If you're promoted into management, you can stand to do exceptionally well for yourself; managers are paid over $70,000 per year.
And in corporate, you might make over an impressive $200,000 annually.
Earn 2% cash rewards at grocery stores and Costco
The Wells Fargo Active Cash® Card(Rates and fees) is a powerful rewards card that allows you to earn unlimited 2% cash rewards on purchases — including on groceries, even at warehouse stores like Costco.

New cardholders can also earn a one-time cash rewards bonus — $200 cash rewards bonus after spending $500 in purchases in the first 3 months!
If you're looking for a powerful rewards card that offers an extended intro APR period, look no further, the Wells Fargo Active Cash® Card checks that box too!
This card also offers an intro APR of 0% for 15 months from account opening on purchases and qualifying balance transfers (then 20.24%, 25.24%, or 29.99% variable). Which is great for someone who wants a break from high interest rates, while still earning rewards.
The best part? There's no annual fee.
Click here to apply for the Wells Fargo Active Cash® Card now.
The selection of foods is staggering
Buc-ee's is a paradise for food lovers, something employees know well. There are entire walls dedicated to salty snacks, taffy, and gummy candy.
Perhaps you prefer a healthy option? Dig into bins of beef jerky or end caps stocked with fresh fruit.
They also offer prepared hot foods like Reuben sandwiches and breakfast tacos. Don't forget to grab a jar of pickled quail eggs on the way out. And for dessert, you can take your pick from 24 flavors of fudge.
Some of the foods have a cult following
Some foods at Buc-ee's have achieved cult status thanks to their addictive flavors and good quality.
For example, any employee can tell you that Beaver Nuggets are one of the most popular treats, thanks to their sweet and salty crunchiness. But don't sleep on Buc-ee's barbecue sandwiches.
While food critics may point out that you can get better from down-home mom-and-pop shops, Buc-ee's serves up arguably the best in the travel center ecosystem. Try one and see.
The beverage selection is impressive
Quenching your thirst at Buc-ee's is an adventure in itself, with a massive selection of beverages ranging from classic colas to ICEEs to Buc-ee's exclusives like cherry lime soda.
You can also find any number of standard canned and bottled beverages, running the gamut from energy drinks to beers to a decent selection of wine.
They're a coffee lover's paradise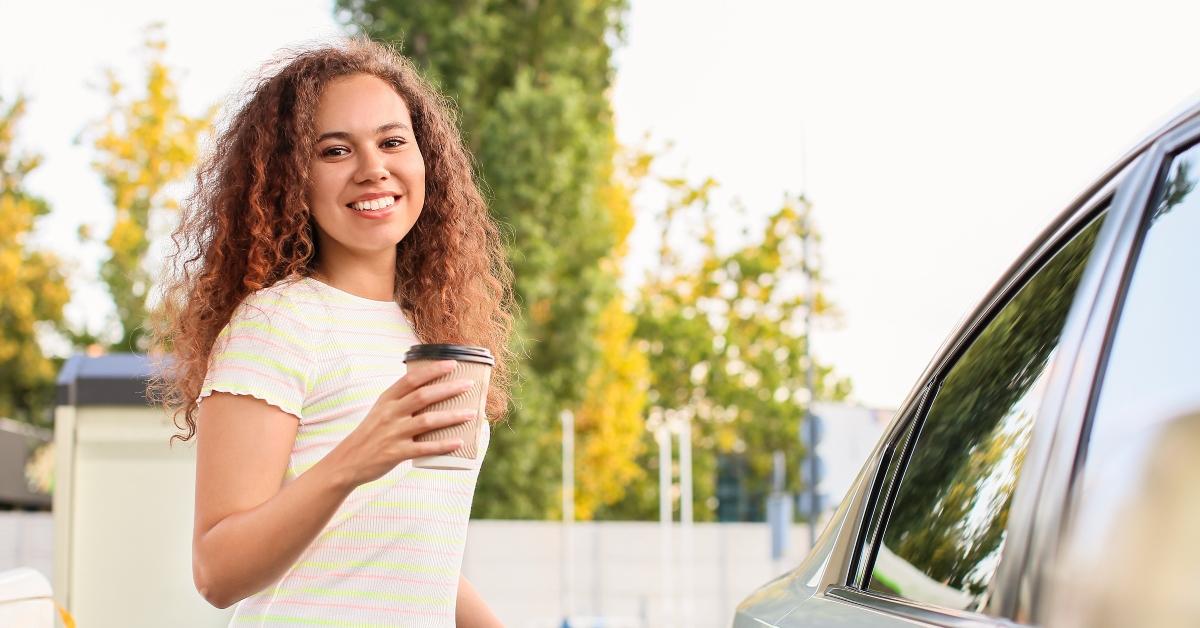 Coffee lovers will be delighted to discover the wonders of Buc-ee's coffee stations.
The store stocks an impressive array, including heavy cream, whip cream, and assorted flavored sweeteners to customize your perfect cup of joe.
The coffee is hot and delicious, thanks to the fact that there's a dedicated employee who tends to the coffee station. They may even make a fresh pot for you if you're there long enough.
There is probably more merch than you expect
Beyond the endless snacks and convenience items, Buc-ee's sells an impressive array of branded merchandise and souvenirs.
From quirky apparel to fun trinkets, you can leave with new items to profess your Buc-ee's love when you're at home.
You can also find fun seasonal gifts on the higher end, which can surprise new visitors. Don't forget the impressive selection of kid's toys, either.
Pro tip: If you're going to buy merchandise then you may want to use a credit card that enables you to earn rewards, like cash back, in order to save as much as you can.
If you pull up in a semi-truck, you'll be asked to leave
Despite their enormous footprints and parking lots, Buc-ee's stores don't accommodate 18-wheel trucks.
They say this policy allows for smoother traffic flow and ensures a more comfortable experience for customers driving standard vehicles.
While many truckers take umbrage at being excluded, Buc-ee's employees will indeed tell you to leave if you pull up in a rig. They don't make the rules; they just have to enforce them. Sorry.
You're being watched... a lot
If you step inside a Buc-ee's, know you are being watched in every corner of the store. For one, employees will have their eyes on customers, naturally.
However, each Buc-ee's location is also outfitted with a surprising number of high-tech security cameras. One Houston store had over 200 installed.
 Add to that the fact that managers can watch the activity from their phones, so you can enjoy a pretty secure environment while you're keeping more money in your wallet. 
Bottom line
Buc-ee's is more than just a convenience store; it's an experience that leaves an impact on visitors and helps you keep more money in your pocket.
But just because Buc-ee's is a chain doesn't mean the customer and employee experience will be the same at every location. Each has its local nuance and flavor, and the people are very much a part of that.
Lucrative, Flat-Rate Cash Rewards
Current Offer
$200 cash rewards bonus after spending $500 in purchases in the first 3 months
Rewards Rate
Earn 2% cash rewards on purchases