Life is full of unexpected events and complications, and that doesn't stop just because you're traveling. If anything, travel may have even more surprises than your day-to-day life at home.
Travel insurance can help you avoid wasting money if you have to cancel a trip due to illness, need medical coverage while you're traveling, or send you home for medical reasons.
However, it may not always be necessary and can sometimes be a waste of money. Keep reading to learn when you should and shouldn't opt for travel insurance.
Safety net for international travel
The number one reason people buy travel insurance is to cover an expensive trip. And if you're traveling overseas, chances are your travels will cost a lot of money.
In addition, there are potential complications when it comes to international travel, from losing luggage during connecting flights, missed or canceled flights, sickness, and more.
And if something catastrophic happens in a foreign country, travel insurance provides evacuation so you can get home safely.
Medical coverage
Getting sick or injured is unpleasant enough when you're in the comfort of your home, but it's a new beast entirely when you're abroad.
Generally, you can expect basic medical expenses to be covered through your travel plan, often including dental. Medicare will not cover medical expenses in a foreign country. If you're traveling overseas, travel insurance for potential medical costs is worthwhile.
Cover rental car mishaps
Renting a car is a great way to get around when traveling because you can explore a place on your own. Using taxis or ride-share services may cost more money. However, even the best drivers make mistakes, and no one can protect themselves from reckless drivers.
Your U.S. car insurance won't cover you when driving in a foreign country. So choosing the car-rental insurance option when you buy travel insurance may be a good move.
Be aware that most travel insurance rental-car plans cover collisions and may not cover medical expenses, damages to other cars or property, or personal property damage or loss.
Pre-existing conditions often aren't covered
Unfortunately, as with many health insurance plans, travel insurance often won't cover pre-existing conditions. Travel health insurance is usually meant for unforeseen illnesses or injuries instead of complications due to an existing medical issue.
Even travel insurance companies that cover pre-existing issues often only cover physical maladies and exclude mental conditions and typical pregnancy-related symptoms and complications.
Protect lost luggage
A big fear for travelers is losing their luggage, either having it not arrive at the destination or stolen during their trip. Most airlines will offer reimbursement for luggage they lose, but it can take quite a while for this to process.
Travel insurance will cover the cost of replacing your clothing and other items while you wait for your luggage to be located and can also cover theft and damage.
Cover valuable items and gear
You should consider buying travel insurance if you're traveling with valuables, including expensive jewelry, art, or even pricey sporting or adventure gear.
You'll need to talk to the insurance agency specifically about covering your valuables, as they may need to be insured separately. Depending on your homeowners insurance policy, your jewelry may be covered even when you travel.
Sporting goods, including golf clubs, will not be covered by your homeowners insurance if you're traveling, so you will need travel insurance to replace them if they're lost, damaged, or stolen.
Emergencies happen
While we do our best to prepare for the worst-case scenario, we can't stop life from happening. Things like medical emergencies, a death in the family, or other catastrophes can halt your travel plans.
If you have travel insurance, rescheduling or cancellation fees will be covered, allowing you to deal with the emergency at your own pace. You won't have to worry about losing the money spent on the trip and subsequent fees.
Natural disaster coverage
Are you planning a fall trip to the Gulf Coast or Florida? Consider your travel destination and the time of year you're going.
If you're visiting someplace prone to natural disasters, especially seasonal occurrences like tornadoes, hurricanes, wildfires, and such, travel insurance can help you recoup your money should these events interrupt your travel plans.
Similarly, if a natural disaster occurs during your trip, often, insurance will pay to move you to a more secure location.
Extreme adventures may not be covered
Your insurance will most likely cover typical travel-related injuries but don't expect your medical bills to be covered if your itinerary involves extreme adventures or dangerous exploits.
Surfing, sailing, kayaking, bungee jumping, scuba diving, skiing, snowboarding, and other extreme sports do not fall into everyday illnesses or injuries. For these activities, consider getting a specific plan for adventure activities.
Shaky travel companies
If you booked your trip through a travel company and it goes bankrupt, travel insurance may provide a safety net to ensure you get your money back.
Airlines, cruise ships, travel companies, and other travel-related businesses suffered during the pandemic, and many may not be on solid financial ground yet.
This may not be covered in a basic insurance plan, so make sure your agent adds financial default coverage if you are concerned about the health of your travel provider. 
In the situation any company or organization closes or is otherwise inoperable during your trip, you'll be covered.
Now let's look at times you may not need travel insurance.
Your credit card offers travel protections
Before purchasing travel insurance, consider which credit card you have. Many of the top credit cards offer travel protections.
Some protections you may already have include lost luggage, rental car insurance, trip delay, and trip interruption or cancellation.
Credit card programs often don't cover medical or other interruptions, so consider your priorities before choosing this option.
You have a domestic trip
If you're traveling within the U.S. and its territories, travel insurance may not be necessary. For example, you won't need medical coverage as your health insurance should be honored nationwide.
Domestic travel is also usually much less expensive. If you're taking a cheap, last-minute, or nonstop flight and staying at an inexpensive hotel or rental, the cost of travel insurance may not be worth it.
One exception might be a family trip to Disney World. The estimate for a trip for a family of four in 2023 is more than $6,000, so travel insurance might be money well spent in this case.
Don't add expense to cheap trips
Not all travel is planned. Whether traveling for work, a family emergency, or just a last-minute vacation, you likely don't need insurance in these circumstances. Odds are, you're packing light, and both your flight and hotel are relatively inexpensive.
In these scenarios, the things insurance covers won't be relevant, including baggage loss, flight cancellations, hotel issues, and so on. 
Not only will these costs likely be minimal, but they can be disputed with your airline or hotel, although it may take a little while to get your money back.
The airline has a flexible rebooking policy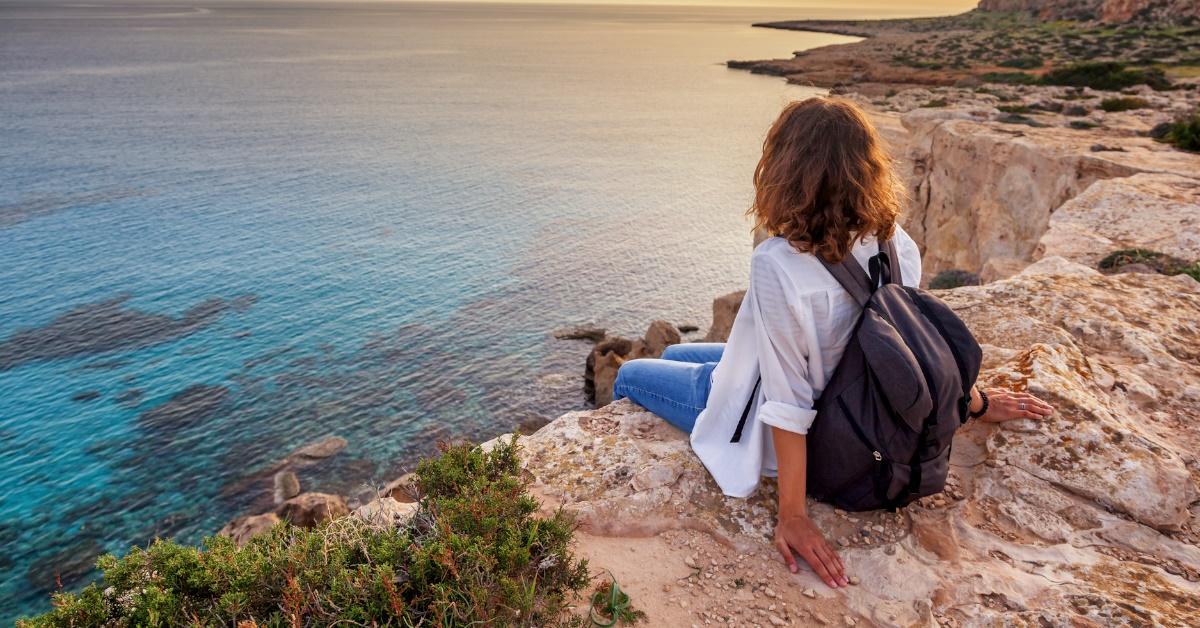 If you're buying travel insurance to cover the cost of rescheduling a flight, you're better off purchasing a refundable ticket at a higher price. And some airlines have more flexible policies now.
Many airlines allow last-minute ticket changes and will even help you reschedule your flight within a specific timeframe. The timeframe and policy vary by airline, and you may be subject to a nominal cancellation or rebooking fee, but it will be significantly less than insurance.
Insurance will not cover political unrest
One emergency situation insurance probably won't cover is war or political unrest. If you're visiting a location with political tensions and your trip is canceled as a result, don't expect your insurance to cover the costs.
Insurance companies generally follow the travel advisories the U.S. State Department issued for medical and political situations.
Similarly, insurance won't cover these costs if you have to leave your trip early for safety concerns. Consider your destination's political environment before booking your travel or buying insurance.
Your hotel may cover cancellations
Many hotel cancellation policies have tiers depending on the booking you make. For example, some may have free cancellation within a specific period, while others charge different rates for rooms booked as non-refundable or partially refundable.
If your sole reason for purchasing insurance is hotel flexibility, consult with the hotel before you book. They may have a policy as flexible as your insurance or can work with you should something unexpected arise.
Penalty-free cancellations for major hotels tend to be around 24-48 hours prior to arrival.
Bottom line
Travel insurance may be pricey, but it's a lifesaver in many situations. However, in others, it's overkill and a waste of money.
Every travel situation is different, so consider your specific needs when purchasing. And, if you want more money to cover your insurance, consider these ways to make extra cash for travel funds.
Easy-to-Earn Unlimited Rewards
Earn 25,000 online bonus points after you make at least $1,000 in purchases in the first 90 days of account opening - that can be a $250 statement credit toward travel purchases
Earn 1.5 points per $1 spent on all purchases
Longer intro APR on qualifying purchases and balance transfers
No foreign transaction fees
Earn unlimited 1.5 points per $1 spent on all purchases, with no annual fee and no foreign transaction fees and your points don't expire.
25,000 online bonus points after you make at least $1,000 in purchases in the first 90 days of account opening - that can be a $250 statement credit toward travel purchases.
Use your card to book your trip how and where you want - you're not limited to specific websites with blackout dates or restrictions.
Redeem points for a statement credit to pay for travel or dining purchases, such as flights, hotel stays, car and vacation rentals, baggage fees, and also at restaurants including takeout.
0% Introductory APR for 15 billing cycles for purchases, and for any balance transfers made in the first 60 days. After the intro APR offer ends, 18.24% - 28.24% Variable APR will apply. A 3% fee applies to all balance transfers.
If you're a Preferred Rewards member, you can earn 25%-75% more points on every purchase. That means instead of earning an unlimited 1.5 points for every $1, you could earn 1.87-2.62 points for every $1 you spend on purchases.
Contactless Cards - The security of a chip card, with the convenience of a tap.
This online only offer may not be available if you leave this page or if you visit a Bank of America financial center. You can take advantage of this offer when you apply now.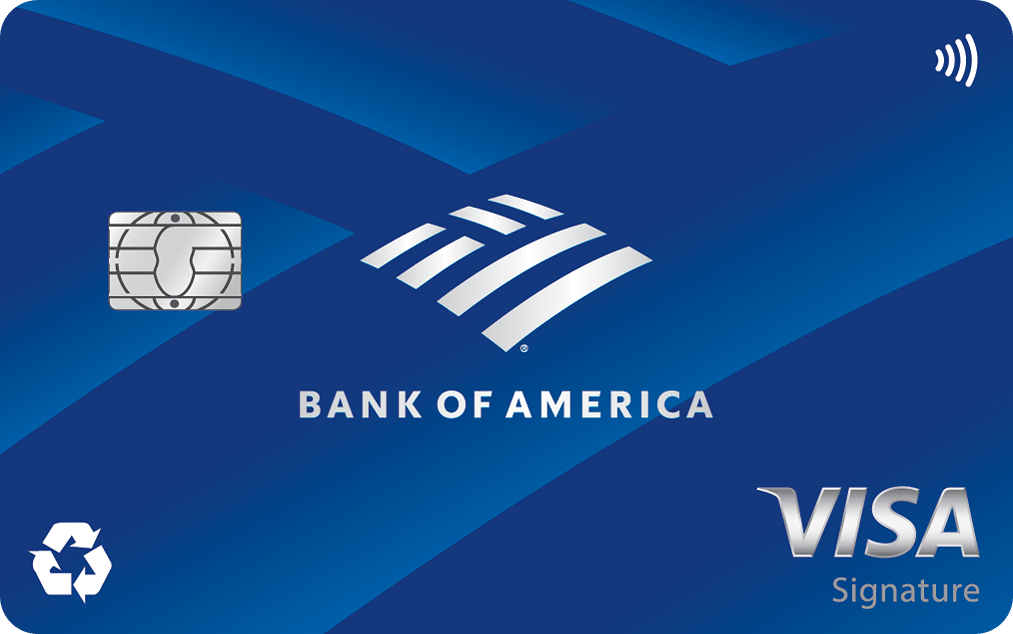 Apply Now
on Bank of America's secure website
Read Card Review
Intro Offer
Earn 25,000 online bonus points after you make at least $1,000 in purchases in the first 90 days of account opening - that can be a $250 statement credit toward travel purchases