While a traditional vacation may seem like a costly and out-of-the-question investment right now, there are many valuable reasons to vacation, including for your overall mental health.
The question is, if you are going to put in the work to make extra money for vacation travel, you want to get the most bang for your buck.
Here are some simple, straightforward strategies to create special summer adventures for less.
Stick to a budget
Set and stick to a budget so you don't spend your vacation worrying about money. Be realistic in determining how much you can afford to spend.
When it comes to making a budget, do some research for each fun event. Is there a way to have a similar experience at a lower price? That could stretch your budget further, creating a more enjoyable time.
Stay close to home
The farther you travel, the more you spend on fuel and transportation. While there are times when a week at a beach resort can be ideal, if you're focused on saving this time around, keep it close to home.
Staying close to home doesn't mean staying home, though. Even if you travel an hour or two away, you may be able to enjoy a hotel night, even upgrading to a nicer one since you can drive instead of fly.
Travel when others don't
Although you want to travel during the summer, try to be flexible with your timing. It's less expensive, for example, to travel during the mid-week instead of over the weekend because deals tend to be better.
Summer extends into September, and if you wait until after Labor Day and when the kids in the area go back to school, that could help you to save money, too.
Track your spending
If you have one of the best travel credit cards in your wallet, use that as your only way to pay for your trip. Many offer bonus points for travel-related expenses and have travel insurance protections. You may even have enough rewards for free nights at a hotel.
The other benefit of using a single card is that you can easily track your spending. That makes it easier to stick with your budget during the trip and to see where you might save money on another trip.
Look for a destination with a discount
One of the ways you can drastically save money is by being less picky about where you travel and where you stay. 
Instead of choosing a destination, look for the best deals and discounts on sites like Booking.com or Kayak. Also, explore package vacations that may save you money.,
You may find this is a fantastic way to have some fun and try something new, experience a new culture, or visit a new city on a whim.
Take advantage of your credit card rewards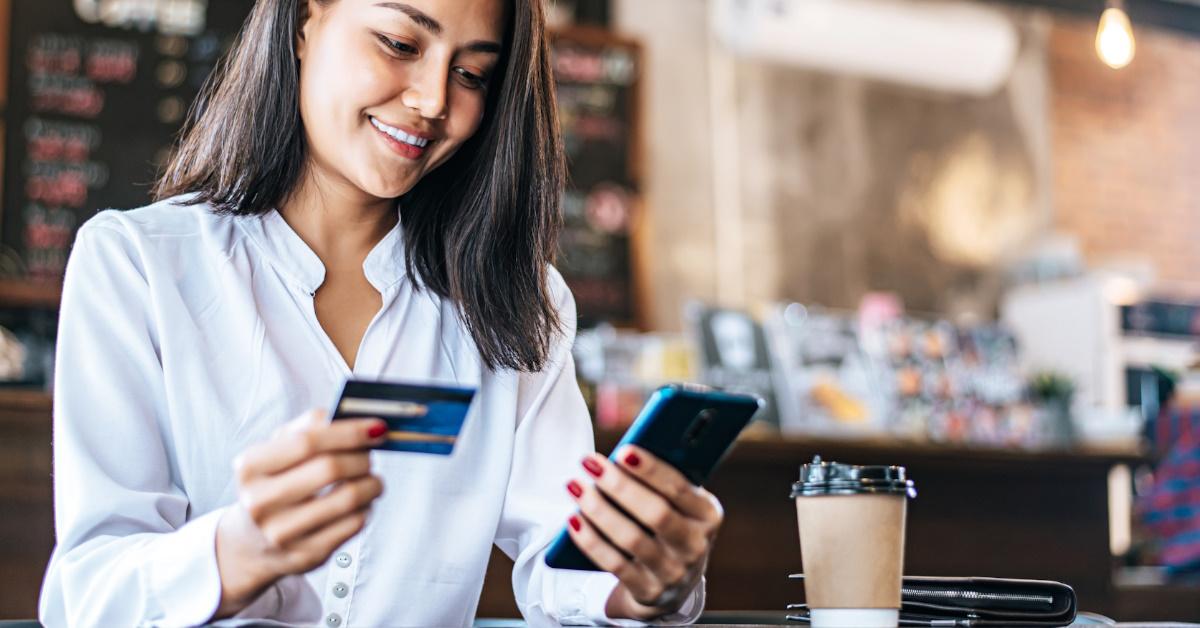 Take a closer look at your credit cards. Some top credit cards offer excellent travel-related rewards, including discounts for flights and hotels.
If you don't have a rewards credit card yet, consider obtaining one (considering your financial well-being and qualifications) and then use this trip to help you earn points and rewards for your next vacation.
If you're flying, make the extra stop
A direct flight will often cost substantially more than one with a short stopover. Look at all of your flight options carefully.
You don't want to wait too long in an airport, but some flights don't require you to disembark. It may be a 20- to 60-minute stop before you're back in the air with more money in your pocket.
Keep the cost of food down
There are numerous costs associated with travel, but food can quickly get out of hand, especially if you're eating two or three meals a day at a restaurant. Find ways to keep costs down instead.
For example, choose a hotel with a complimentary breakfast and bring snacks instead of buying them. Pack water bottles to reuse instead of buying one at the destination for $6 to $10 each.
This will save a substantial amount of money over time. Some restaurants may even offer a kids-eat-free discount. Go there instead of elsewhere.
Find free activities
As you plan your vacation, look for free ways to engage in the area. That could include looking up free educational programs, visiting area public parks instead of amusement parks, and participating in local community events.
Many people will find a few simple ways to have fun while traveling that cost nothing extra. If there's a pool at the hotel, use it. Does the hotel offer any kids' activities? What about community festivals and church events while you're there?
Find free things to do close to home
What if you don't want to spend much but still want to have an adventure? Start with a call to the largest parks system in your area and find out about available programs, junior ranger programs, guided hikes, fishing areas, and other planned activities that may cost nothing.
Look for other free activities taking place locally, too. Are there splash pads in your area? You may be able to cash in on a local deal, such as a buy-one-get-one offer for an adventure park. 
Local recreation centers (even those not directly in your community) may offer free or low-cost activities.
Avoid luggage fees
Many airlines charge exorbitant fees for bringing luggage on a flight. Read and follow the rules, but also take full advantage of them.
If you're allowed a carry-on and a personal item, for example, be sure that individual item isn't your purse but rather a bag big enough to carry some of your gear. 
If you can't bring a carry-on, pack as lightly as possible to keep costs low, and wear layers to have a few extras with you.
Skip the big cities and head to a small town
Not only are you doing something great to support the community, but you'll likely have a better experience in a small town than in a big city with lots of tourists and high costs. 
Look for interesting experiences, such as historical tours, local parks for long hikes, and towns with fantastic restaurants like a soda shop.
If you are visiting a big city, you may want to choose a hotel that is within 30 to 40 minutes of the city center. That way, you benefit from being close enough to the activities but far enough away to take advantage of lower costs.
Bundle your trip when it makes sense
One easy way to save money is by bundling your hotel, car rental, and plane tickets. Use one of the online services to help you do this.
If you can't find a deal you want, call the hotel and ask for a savings opportunity. They may be able to offer a discount on last-minute trips. Remember, a hotel's inventory is a room and a night. If the room is empty for one night, the hotel loses money.
Think about where you're going and why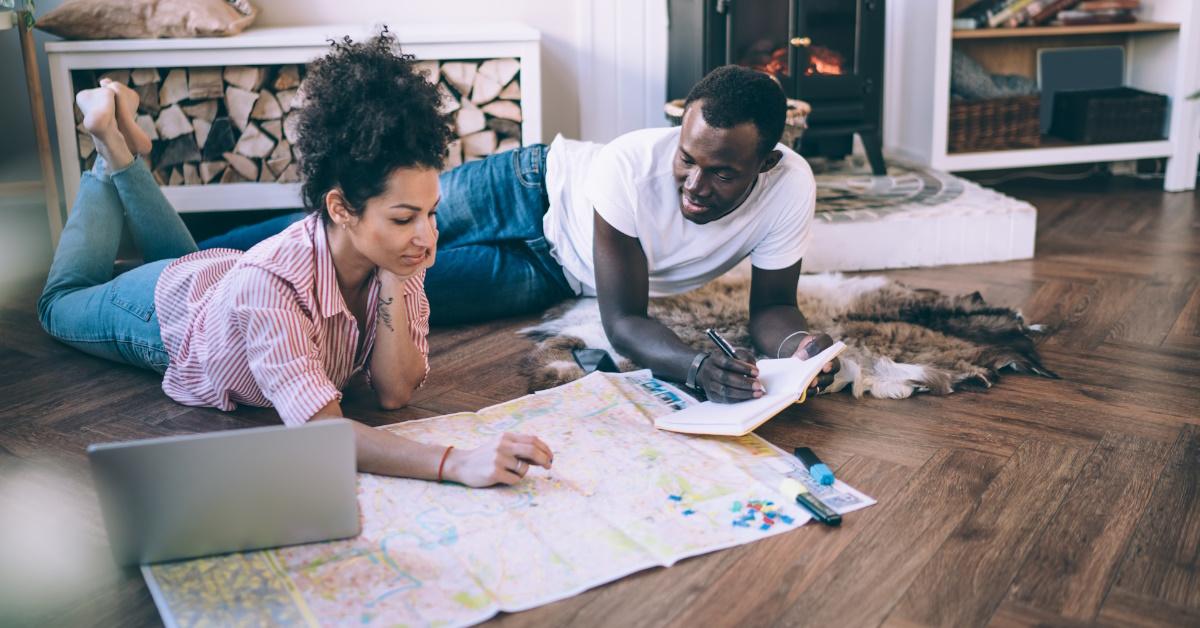 It's easy to be enticed by deals at highly commercialized destinations, like theme parks with characters or all-inclusive resorts in beach towns where luxury is the name of the game. 
While these trips can be fun, when you need to save some money, it's often best to choose a trip that will provide you with a more personally valuable experience.
That could mean recharging your batteries in a more relaxed environment, for example, instead of racing from one theme park to the next. It may mean a closer-to-home beach trip that doesn't require expensive airfares and dealing with crowds.
Take a day trip
There will be times when you can't afford a long trip. Plan a day trip to a destination you've never been to within an hour or so of home. 
There's no need to worry about hotels or flights, and you may uncover history, a haunted adventure, an incredible view, stunning architecture, and lots of great culture.
Bottom line
Traveling is a luxury that can be hard to justify sometimes, but when you plan it wisely, you can reduce your financial stress and still enjoy yourself. Keep an open mind and focus on what you can do instead of what you can't.
Most importantly, work on saving now for a big vacation next year. With a few tips and strategies, 12 months from now, you'll have a great trip plan without the budget strain.
Easy-to-Earn Unlimited Rewards
Earn 25,000 online bonus points after you make at least $1,000 in purchases in the first 90 days of account opening - that can be a $250 statement credit toward travel purchases
Earn 1.5 points per $1 spent on all purchases
Longer intro APR on qualifying purchases and balance transfers
No foreign transaction fees
Earn unlimited 1.5 points per $1 spent on all purchases, with no annual fee and no foreign transaction fees and your points don't expire.
25,000 online bonus points after you make at least $1,000 in purchases in the first 90 days of account opening - that can be a $250 statement credit toward travel purchases.
Use your card to book your trip how and where you want - you're not limited to specific websites with blackout dates or restrictions.
Redeem points for a statement credit to pay for travel or dining purchases, such as flights, hotel stays, car and vacation rentals, baggage fees, and also at restaurants including takeout.
0% Introductory APR for 15 billing cycles for purchases, and for any balance transfers made in the first 60 days. After the intro APR offer ends, 18.24% - 28.24% Variable APR will apply. A 3% fee applies to all balance transfers.
If you're a Preferred Rewards member, you can earn 25%-75% more points on every purchase. That means instead of earning an unlimited 1.5 points for every $1, you could earn 1.87-2.62 points for every $1 you spend on purchases.
Contactless Cards - The security of a chip card, with the convenience of a tap.
This online only offer may not be available if you leave this page or if you visit a Bank of America financial center. You can take advantage of this offer when you apply now.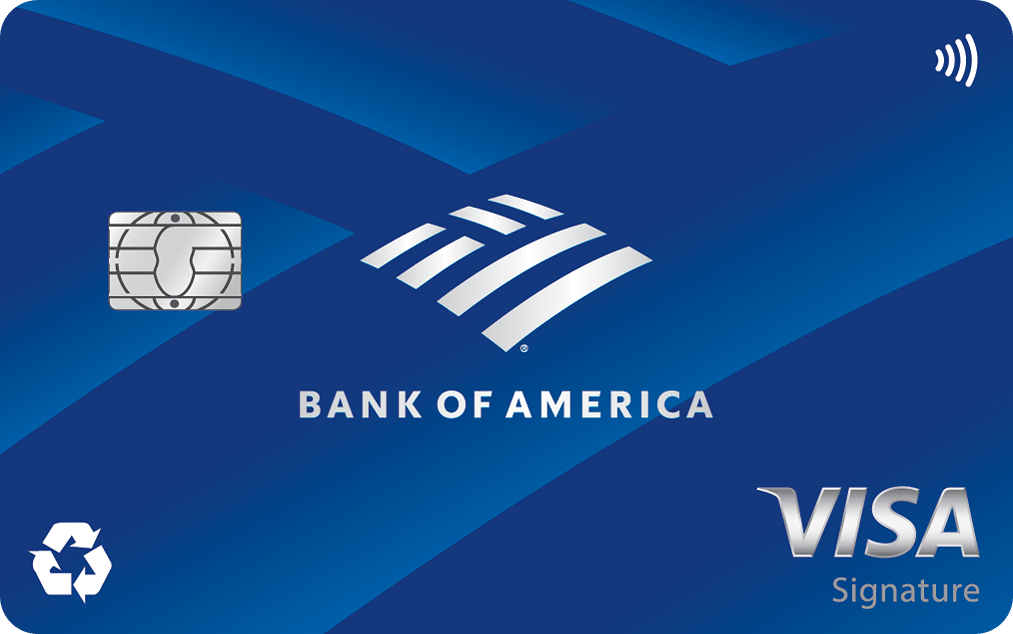 Apply Now
on Bank of America's secure website
Read Card Review
Intro Offer
Earn 25,000 online bonus points after you make at least $1,000 in purchases in the first 90 days of account opening - that can be a $250 statement credit toward travel purchases