You can feel like you're traveling first class without spending thousands of dollars.
By earning travel rewards and making savvy decisions, you can find plenty of ways to elevate your travel experience while keeping your wallet intact.
Let's explore how to boost your flights and hotel stays so that you can travel in comfort and style.
Book travel with points and miles
To start, there's typically no easier way to save money on travel than by using credit card rewards.
Rather than dishing out loads of cash for your next flight or hotel stay, consider lowering the cost with valuable points and miles. Then you can relax, knowing your bookings didn't break the bank.
Pro tip: The top travel credit cards make it easy to earn points and miles on purchases you already make, such as gas and groceries.
Sign up for Global Entry, TSA PreCheck, or CLEAR Plus
If you want to help reduce the hassle of airport security lines, look into Global Entry, TSA PreCheck, and CLEAR Plus.
Being a member of one of these programs could help reduce your time in airport lines. You'll also feel like a mini-celebrity as you walk past people in the general line through a reserved lane.
The Global Entry program includes TSA PreCheck, giving you access to two different programs. And depending on the airport, you can use CLEAR Plus and TSA PreCheck program benefits to reduce your time further.
Take advantage of airport lounge access
Many travel credit cards provide airport lounge access, which can completely change how you spend your time at the airport.
Your waiting experience at the airport usually consists of loud and busy waiting areas, expensive food, and searching for a place to sit.
Instead, enjoy the semi-private atmosphere of an airport lounge, where you'll typically enjoy free food and drinks in a comfortable chair.
Use airline or travel credits
Some travel credit cards provide airline credits you can use toward incidental purchases on flights, like checked bags and in-flight refreshments.
Other cards provide travel credits that work toward just about any travel-related purchase, including flights, hotel stays, and car rentals.
These credits help you avoid paying more out of pocket and elevate your experience, like picking preferred seats ahead of time.
Use hotel credits
Similar to airline credits, hotel credits are designed for use on applicable hotel stays. That could mean using a hotel credit to lower the cost of your room or towards a room upgrade.
You might also consider using a credit card hotel credit to do something out of the ordinary, such as paying for dinner at the fancy in-hotel restaurant or raiding your room's minibar.
Pro tip: Keeping track of your points and credits while making plans on how to maximize your use of them can eliminate some money stress from your trip. 
Qualify for flight upgrades
Some credit cards qualify for free seat upgrades over other passengers. That could be huge if we're talking about moving into a business or first-class cabin from economy.
You may also qualify for free seat upgrades if you have a certain elite status with specific airlines.
And you don't necessarily have to travel or spend money like crazy to earn elite status. It could be as simple as using online shopping portals (like AAdvantage eShopping) for purchases you have already planned.
Apply free hotel night awards
You might not want to spend hundreds of dollars on a hotel night, but what about using a free hotel night award or certificate you receive each year from a credit card?
In most cases, you must pay an annual fee for a credit card with this type of benefit. But the free night award can easily offset the yearly cost if you remember to use it.
Get priority boarding
Something doesn't feel quite right about being the last person to board a flight and having to check your carry-on bag because "there's no more room."
To help avoid this situation, consider airline credit cards with priority boarding benefits. This could help you get on your flight faster, giving you time to find space for your bags and settle in.
Check your bags for free
As if paying for a flight wasn't expensive, you must also pay checked baggage fees with many airlines. But that's not the case if you have a credit card with a free checked bag benefit.
This benefit typically applies to the first checked bag for you and a specific number of people traveling on the same reservation.
That means you could be the hero for the whole family or group of friends on your next flight. Not to mention, you'd avoid a potentially hefty baggage fee.
Relax in your room with late checkout
With specific credit cards and elite status benefits, you could find yourself checking out of hotels at 4 p.m. or a similar time.
Late checkouts are especially welcome if you've enjoyed a hotel stay and don't have any urgent reason to leave.
That could be the case if you have a later flight to catch or want to soak up as much hotel time as possible on your vacation.
Enjoy free or discounted breakfast
Some hotels already offer complimentary breakfast to guests, but many don't.
Rather than spending a potentially outrageous amount of money to start the day, consider leveraging credit card benefits to discount the cost of your hotel breakfast.
Use an elite status benefit to access a club lounge serving free breakfast to certain guests or simply receive an allotment of breakfast credit each morning at a hotel restaurant.
Choose the right seat
Traveling on an economy fare won't typically compare to business or first class, but that doesn't mean you can't be comfortable.
If you research your upcoming flight ahead of time — including checking out the seat map for your plane — you might be able to find seats that are preferable to others.
That could mean more legroom or not being close to loud parts of the cabin, such as bathrooms or crew areas.
Bring your own snacks
Having your own food on hand could make all the difference if you tend to get peckish or don't like airplane food. 
Rather than being hungry and uncomfortable, you can reach into your bag of goodies whenever you want to satisfy your cravings. Plus, it can help you keep more money in your bank account if your other option is buying premium foods.
Pack first-class gear
Pack a travel pillow for more comfort, and consider noise-canceling headphones to help yourself relax. If you know you get cold on planes, bring a small blanket to keep you warm.
You might already have some or all of these things, so it's a matter of remembering to pack the right gear before you're tempted to spend a small fortune at an airport store.
Travel during the off-season
Depending on your destination, traveling during peak season can be a lot busier. That could include having fully-booked flights, giving you no option of moving around.
Traveling during the off-season could give you some space on your flights, letting you spread out in empty rows or at least have an open seat next to you. Plus, you can get better rates and keep more money in your wallet.
Bottom line
Traveling on a budget can provide a first-class experience if you follow tips and tricks to elevate your experience.
It's a win-win situation because you enjoy your trip even more without paying absurd amounts of money.
One of the first steps to starting with points and miles is checking out the top credit cards to see what makes the most sense in terms of helping you earn the most rewards for your next trip. 
Easy-to-Earn Unlimited Rewards
Earn 25,000 online bonus points after you make at least $1,000 in purchases in the first 90 days of account opening - that can be a $250 statement credit toward travel purchases
Earn 1.5 points per $1 spent on all purchases
Longer intro APR on qualifying purchases and balance transfers
No foreign transaction fees
Earn unlimited 1.5 points per $1 spent on all purchases, with no annual fee and no foreign transaction fees and your points don't expire.
25,000 online bonus points after you make at least $1,000 in purchases in the first 90 days of account opening - that can be a $250 statement credit toward travel purchases.
Use your card to book your trip how and where you want - you're not limited to specific websites with blackout dates or restrictions.
Redeem points for a statement credit to pay for travel or dining purchases, such as flights, hotel stays, car and vacation rentals, baggage fees, and also at restaurants including takeout.
0% Introductory APR for 15 billing cycles for purchases, and for any balance transfers made in the first 60 days. After the intro APR offer ends, 18.24% - 28.24% Variable APR will apply. A 3% fee applies to all balance transfers.
If you're a Preferred Rewards member, you can earn 25%-75% more points on every purchase. That means instead of earning an unlimited 1.5 points for every $1, you could earn 1.87-2.62 points for every $1 you spend on purchases.
Contactless Cards - The security of a chip card, with the convenience of a tap.
This online only offer may not be available if you leave this page or if you visit a Bank of America financial center. You can take advantage of this offer when you apply now.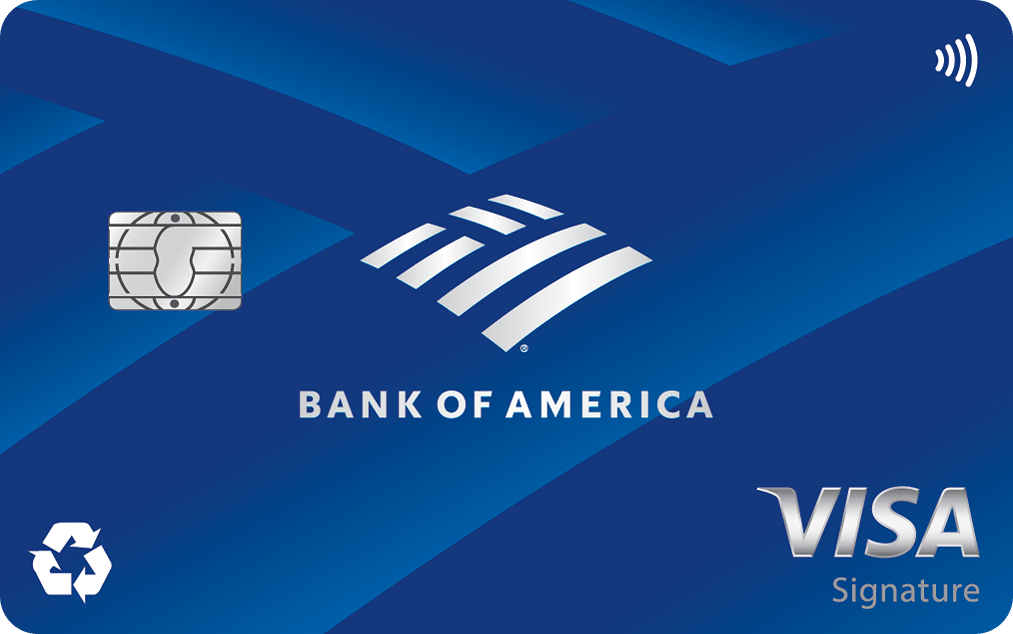 Apply Now
on Bank of America's secure website
Read Card Review
Intro Offer
Earn 25,000 online bonus points after you make at least $1,000 in purchases in the first 90 days of account opening - that can be a $250 statement credit toward travel purchases