Active-duty service members can enjoy a wide range of perks and benefits, including discounts at different businesses across the country. In addition, members of the military can save big on credit cards. Credit card issuers are required to offer military members certain benefits as outlined in the Servicemembers Civil Relief Act and Military Lending Act.
Many major credit card companies go beyond what's required of them in these acts and provide additional credit card benefits to military members. Because of this, popular card issuers like Chase offer some of the best credit cards for military members.
Here, we'll walk through the military benefits provided with Chase credit cards and see which ones offer you the best value.
What benefits do the SCRA and MLA offer?
The SCRA was enacted in 2003 as a way to help reduce the financial burden of service members on active duty in the Air Force, Army, Coast Guard, Marine Corps, National Guard, or Navy. Similarly, the MLA was enacted in 2006 to protect active-duty service members and certain dependents from specific lending practices. Both of these laws were designed to alleviate financial stress, though they accomplish this in different ways.
With the SCRA, the main benefit for service members with credit card accounts is a cap of 6% interest on any pre-service debt. This means any credit card debt from before entering active duty can't accrue interest at a rate higher than 6%. Any excess (more than 6%) interest accrued is forgiven completely.
With the MLA, there's a limit on how much creditors are able to charge active-duty military members in total annual interest, fees, and other charges. Called the military annual percentage rate, this total rate cannot exceed 36%.
The process of obtaining these benefits depends on the credit card company. Major card issuers typically have a dedicated team to take care of any questions you may have about their military benefits.
With Chase, you can visit the Chase SCRA page online or contact its toll-free number at 1-877-469-0110 (international calls at 1-318-340-3308). You can also submit a secure message through your online Chase account. MLA benefits are automatically reviewed and applied by Chase when you sign up and qualify for a new Chase credit card.
3 best Chase military credit card benefits
Before we dive into Chase military credit card benefits, it's essential to know how these benefits work with Chase. As a rule of thumb, SCRA benefits typically apply only on Chase credit card accounts that were opened before you entered active-duty military service. With the MLA, these benefits apply to Chase credit card accounts you open while an active-duty service member. Also, MLA benefits are for Chase consumer credit accounts, not business accounts.
Although it may technically be possible (you'd have to discuss it with a Chase representative), don't expect to have benefits from both the SCRA and MLA applied to the same credit card account at the same time. Chase SCRA benefits typically apply to the active-duty military members only, whereas their MLA benefits can apply to the service member, their spouse, their children, and other dependants.
Chase, like many popular card issuers, offers military credit card benefits that go beyond the legal requirements of the SCRA and MLA. This can provide active-duty military members with a lot of value.
Here are the best Chase military credit card benefits:
Waived fees
Capped interest rate
Bonus benefits
1. Waived fees
Eligible military members can have Chase credit card fees waived. With the SCRA, all your fees are waived, including late fees, annual fees, and foreign transaction fees. This is a hugely beneficial perk because it means you get to use Chase credit cards without having to worry about added fees.
With the MLA, the majority of your fees are waived. The only fees not waived are late fees and return check fees. So this means you still get annual fees and balance transfer fees waived.
Avoiding credit card fees can be very lucrative, especially if you have a card with a high annual fee. Without fees, you can focus on paying off credit card debt at a quicker rate. On the other hand, it shouldn't be an excuse to rack up more debt. Just because you don't have fees doesn't mean you can't carry a balance. Ensure you're still making smart financial decisions while taking advantage of these benefits.
2. Capped interest rate
The SCRA says your existing pre-service credit card interest can't exceed 6%. With Chase, this same cap is decreased to 4%. It may not seem like a huge move, but interest can accrue quickly, so any decrease in the rate is beneficial.
As mentioned above, the MAPR associated with the MLA is capped at 36%. This doesn't change with Chase, but the fact Chase voids most of your credit card fees does go beyond what the MLA legally requires.
3. Bonus benefits
Perhaps the most important Chase military credit card benefits are the ones not officially offered by Chase. You won't hear Chase talk about specific card benefits because they simply come included with any Chase cards you have.
For instance, we can take a look at the The World of Hyatt Credit Card. This card typically has a $95 annual fee, but it's waived with either SCRA or MLA benefits. This means you receive all the valuable Hyatt credit card benefits for no additional cost. These benefits include:
Getting free hotel nights and elite loyalty status isn't a bad deal when you aren't paying an annual fee. The best part, though, is you can apply the same SCRA or MLA benefits to any personal Chase credit card account. So depending on the card, you can get massive bonus benefits.
Consider these Chase cards for active-duty military
Chase Sapphire Reserve®
Chase Sapphire Preferred® Card
Chase's best travel credit cards are also the best Chase cards for active-duty military members. They include the Chase Sapphire Preferred and Chase Sapphire Reserve. These cards have the best benefits for travelers, and they both earn flexible Chase Ultimate Rewards points. You can transfer these points to Chase transfer partners or redeem them directly for travel through the Chase travel portal.
Both cards normally have annual fees, but with those fees waived, you get amazing value from their free benefits. Overall, when you don't have to worry about annual fees, the Chase Sapphire Reserve is a better deal than the Chase Sapphire Preferred because it offers lots of premium benefits.
Chase Sapphire Reserve®
The Chase Sapphire Preferred is usually a safer bet than the Chase Sapphire Reserve because it has a lower annual fee. But with Chase military credit card benefits, the Sapphire Reserve's $550 annual fee doesn't matter — which puts both Sapphire cards on equal terms. Because they cost the same, the Sapphire Reserve wins out with its slew of luxury benefits.
The Sapphire Preferred is still a good option, but the Sapphire Reserve provides a lot more value in this situation. In addition to offering similar benefits to the Sapphire Preferred, the Sapphire Reserve also gives cardholders these top perks:
This card is a great fit for travelers. With its premium perks, you can take full advantage of the travel credit and better airport experience. Plus, due to the pandemic, Chase is also offering limited time benefits for Sapphire cardholders. With no annual fee, this card offers tremendous value, even if you aren't traveling frequently.
Learn more about this card with our Chase Sapphire Reserve review.
Chase Sapphire Preferred® Card
Active-duty military service members can enjoy the benefits of the Chase Sapphire Preferred while avoiding its $95 annual fee. This credit card offers these benefits:
$50 annual hotel credit for purchases made through Chase Ultimate Rewards
Purchase protection
Extended warranty protection
Generous sign-up bonus
If you like to travel or shop online, you can take advantage of these benefits. You can save money at the rental car counter on insurance and have protection on most items you purchase.
Learn more about this card with our Chase Sapphire Preferred review.

FAQs about Chase credit card benefits for service members
Does Chase waive annual fees for military members?
Yes, Chase waives credit card fees for active-duty military personnel. If you already had an open Chase credit card account before entering active duty, you can get fees waived through the SCRA. If you open a Chase account while an active-duty service member, you can get fees waived through the MLA.
What is the best Chase credit card for military members?
Because Chase waives annual fees for eligible Chase accounts, the best Chase credit card for active-duty military members is the one that offers the most benefits. The Chase Sapphire Reserve typically has a large annual fee ($550), but with that waived you get free perks like:
A $300 annual travel credit
Priority Pass Select membership for free entry into more than 1,300 Priority Pass airport lounges and restaurants
Up to $100 fee reimbursement for TSA PreCheck or Global Entry membership
Exclusive benefits with The Luxury Hotel & Resort Collection
With no annual fee, the Chase Sapphire Reserve offers the most value for military members, though the Chase Sapphire Preferred is another decent option.
Which credit cards waive fees for military members?
Many popular credit card issuers offer military credit card benefits, including Chase and Citibank. Both credit card companies offer to waive credit card fees for eligible military members, which can yield great value with premium travel cards.
The best Chase credit card for military members is the Chase Sapphire Reserve. It includes premium benefits, such as $300 annual travel credit and Priority Pass Select membership, at no additional cost. If you want to use Citibank credit card military benefits, the Citi Prestige® Card is a top choice. It's a high-end card with a $250 annual travel credit and airport lounge access.
The bottom line
Credit card companies are required to provide active-duty service members with certain benefits, according to the SCRA and MLA. Still, companies like Chase give more benefits than they have to.
If you're an active-duty service member (or about to be), make sure you look into Chase's military credit card benefits. They can save you a lot of money in fees and offer additional value through the bonus benefits you receive.
Easy-to-Earn Unlimited Rewards
Earn 25,000 online bonus points after you make at least $1,000 in purchases in the first 90 days of account opening - that can be a $250 statement credit toward travel purchases
Earn 1.5 points per $1 spent on all purchases
Longer intro APR on qualifying purchases and balance transfers
No foreign transaction fees
Earn unlimited 1.5 points per $1 spent on all purchases, with no annual fee and no foreign transaction fees and your points don't expire.
25,000 online bonus points after you make at least $1,000 in purchases in the first 90 days of account opening - that can be a $250 statement credit toward travel purchases.
Use your card to book your trip how and where you want - you're not limited to specific websites with blackout dates or restrictions.
Redeem points for a statement credit to pay for travel or dining purchases, such as flights, hotel stays, car and vacation rentals, baggage fees, and also at restaurants including takeout.
0% Introductory APR for 15 billing cycles for purchases, and for any balance transfers made in the first 60 days. After the intro APR offer ends, 18.24% - 28.24% Variable APR will apply. A 3% fee applies to all balance transfers.
If you're a Preferred Rewards member, you can earn 25%-75% more points on every purchase. That means instead of earning an unlimited 1.5 points for every $1, you could earn 1.87-2.62 points for every $1 you spend on purchases.
Contactless Cards - The security of a chip card, with the convenience of a tap.
This online only offer may not be available if you leave this page or if you visit a Bank of America financial center. You can take advantage of this offer when you apply now.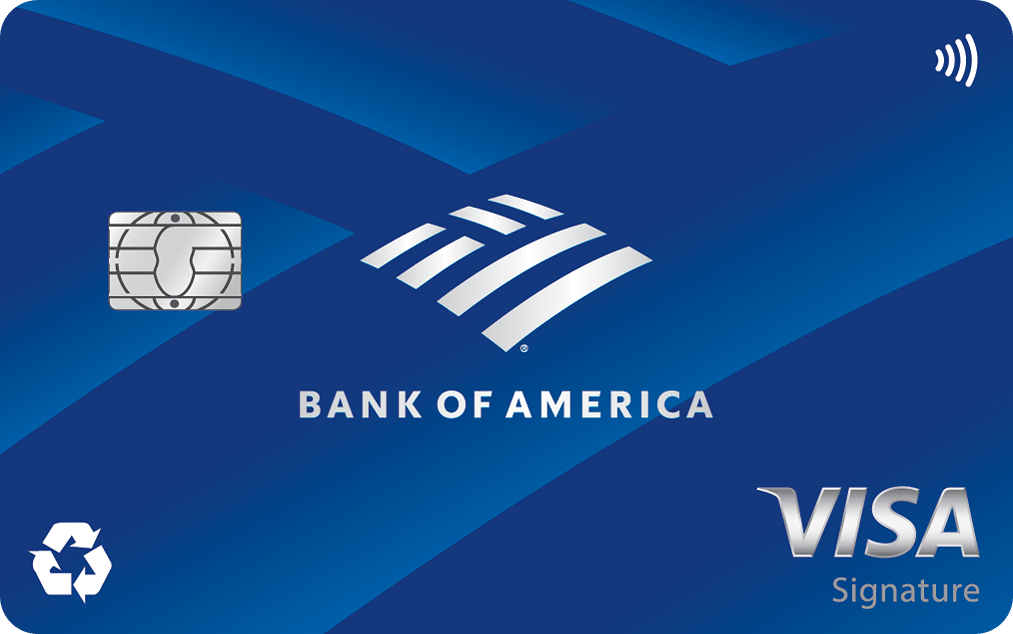 4.1
FinanceBuzz writers and editors score cards based on a number of objective features as well as our expert editorial assessment. Our partners do not influence how we rate products.
Apply Now
on Bank of America's secure website
Read Card Review
Intro Offer
Earn 25,000 online bonus points after you make at least $1,000 in purchases in the first 90 days of account opening - that can be a $250 statement credit toward travel purchases