Chase Sapphire Lounges, also known as Sapphire Lounge by The Club, are a bold initiative by Chase to provide certain cardmembers and guests with an elevated airport lounge experience. By the looks of it, these lounges, and their food from award-winning chefs, are going to be a real hit.
Let's explore how Chase Sapphire Lounges work, including who can access them and their locations, to see if they fit into your upcoming travel plans.
How to access Chase Sapphire Lounges
To enter a Chase Sapphire Lounge (Sapphire Lounge by The Club), present your physical or digital Priority Pass membership card and a valid boarding pass that leaves within three hours.
General entry criteria
You might be surprised that anyone with a Priority Pass membership and valid boarding pass can enter Chase Sapphire Lounges. But before you start getting worried about overcrowding, let's look at the rest of the requirements.
Yes, Priority Pass members can access the Sapphire Lounge by The Club. But they can only do so once per calendar year if they don't also have one of these credit cards:
J.P. Morgan Reserve® Card
Ritz-Carlton™ Credit Card
Cardholders of these cards (as well as their authorized users) who have enrolled in Priority Pass have unlimited complimentary access to Chase Sapphire Lounges. So there's still plenty of exclusivity.
Tip
The
Chase Sapphire Preferred® Card
has "Chase Sapphire" in its name, but it, unfortunately, doesn't provide any access to the Chase Sapphire Lounge network. Out of the Chase Sapphire cards, only the Chase Sapphire Reserve has airport lounge access benefits.
Guest policy and conditions
If you have one of the above cards, you receive these guest access privileges to Chase Sapphire Lounges:
| | | | |
| --- | --- | --- | --- |
| | Chase Sapphire Reserve® | J.P. Morgan Reserve® Card | Ritz-Carlton™ Credit Card |
| Guest access privileges | Up to two guests per Priority Pass membership card, per visit, for free | Up to two guests per Priority Pass membership card, per visit, for free | Unlimited guests at no charge |
| Charge per additional guest | $27 each | $27 each | None |
The Ritz-Carlton card is clearly the best credit card for Chase Sapphire Lounge guest access because there's no limit on the number of guests you can bring in. In theory, you could bring every single person you see at your gate into the lounge if you wanted (please don't).
Unfortunately, the Ritz-Carlton Credit Card is no longer open for applications, so it's challenging to add to your wallet. But if you're eligible for a product change from another credit card, the Ritz-Carlton Card has plenty of worthwhile perks and benefits.
Note that there's no additional charge for children under two to enter Chase Sapphire Lounges.
Locations of Chase Sapphire Lounges
Airports with Chase Sapphire Lounges
| | | | |
| --- | --- | --- | --- |
| | Boston Logan International Airport (BOS) | Hong Kong International Airport (HKG) | Austin-Bergstrom International Airport (AUS) |
| Location | Near gate B40 | Terminal 1 | In the mezzanine level of the Barbara Jordan Terminal |
| Hours of operation | 5 a.m.-11 p.m. daily | 6 a.m.-12 a.m. daily | 10 a.m.-8 p.m. daily |
Data as of 07/26/2023.
Chase, in partnership with The Club, has already opened Chase Sapphire Lounges in Boston (BOS) and Hong Kong (HKG).
Sapphire Reserve and J.P. Morgan Reserve cardholders also receive complimentary access for themselves and up to two guests to the Sapphire Terrace at Austin-Bergstrom International Airport (AUS). Here, you can enjoy grab-and-go bites, beverages, games, and seating.
Upcoming Chase Sapphire Lounge locations
Chase has announced or is looking into opening Chase lounge locations in:
Harry Reid International Airport - Las Vegas (LAS)
New York LaGuardia Airport - New York (LGA) in Terminal B
Philadelphia International Airport - Philadelphia (PHL) in the Terminal D to E connector
Phoenix Sky Harbor International Airport - Phoenix (PHX) in Terminal 4 South 1
San Diego International Airport - San Diego (SAN) in Terminal 2 West
Dulles International Airport - Washington, D.C. (IAD) in Concourse A
Dallas/Fort Worth International Airport - Dallas (DFW) in Terminal D
Note that Chase doesn't typically provide exact opening dates well ahead of time for new lounge announcements.
What are the benefits of Chase Sapphire Lounges?
Sapphire Lounge by The Club locations provide an elevated airport lounge experience for eligible travelers in select cities. In general, this means you get a comfortable place to sit and relax (or work) while enjoying complimentary food and beverages.
Food and beverages
We recommend visiting airport lounges as much as possible with complimentary access to help you avoid paying for expensive airport food.
But the Chase Sapphire Lounge takes the food and beverage experience up a notch by employing award-winning chefs and providing a curated selection of beverages. So it's like you get somewhat of a fine-dining experience while you wait for your flight.
Here are some examples of what you might find at the Chase Sapphire Lounge at Boston Logan International:
Gourmet coffee from a local company (Atomic Coffee Roasters)
Seasonal dining options created by award-winning Boston chef Douglass Williams
Artisanal cocktails
A curated wine list
A taproom with local beers
Resting space
Chase Sapphire Lounges emphasize comfort and style by offering different types of spaces throughout each lounge.
At the lounge in Boston Logan International, there are spaces for relaxing, such as a wellness area with massage chairs and spaces for working. It's also common to have convenient spots for dining.
Wi-Fi and other digital services
Chase doesn't talk much about the Wi-Fi in Chase Sapphire Lounges, but the customer reviews are good.
For example, a post by a Redditor this year noted that the Wi-Fi at the Chase Sapphire Lounge in Boston "is insane" and "crazy fast." With a screenshot showing speeds of over 650 Mbps download and over 550 Mbps upload, we're inclined to agree.
Although most airport lounges provide complimentary Wi-Fi access to their guests, these types of speeds are much higher than what we've experienced.
Other lounge services
Specific services and amenities can vary by lounge location. The Sapphire Lounge at Boston Logan International provides private bathrooms with showers, nursing rooms, and direct views of the airfield and Boston Harbor.
How do Chase Sapphire lounges compare to other credit card lounges
Many of the best travel credit cards provide some type of airport lounge access and earn travel rewards, such as Chase Ultimate Rewards or Amex Membership Rewards.
That airport lounge access could include entry to Chase Sapphire, Capital One, Amex Centurion, or Priority Pass Lounges. Here's how the different lounges compare.
Comparison of entry requirements
All information about The Centurion® Card from American Express has been collected independently by FinanceBuzz.
Keep in mind that every Priority Pass member receives one complimentary visit to a Chase Sapphire Lounge per calendar year. But only cardholders and authorized users of these cards receive unlimited complimentary visits:
J.P. Morgan Reserve® Card
Ritz-Carlton™ Credit Card
For Capital One Lounges, the only card that gives unlimited complimentary access is the Capital One Venture X Rewards Credit Card. The Capital One Venture Rewards Credit Card and Capital One Spark Miles for Business receive two complimentary visits per year to Capital One Lounges.
Note that Priority Pass isn't a credit card issuer lounge network, but many cards provide a Priority Pass benefit, which is why we included it in this comparison.
Comparison of amenities and services
You can expect food (not just snacks) and drinks from Centurion, Chase, and Capital One Lounges. With Priority Pass, it depends on the lounge. Other amenities, such as showers and luggage lockers, can vary by lounge.
Since the Chase and Capital One Lounges are new initiatives, they're very nice and have received rave reviews. The Capital One Lounge grab-and-go food section is especially unique and useful for travelers who don't have much time to spend in the lounge. The nursing rooms at the Sapphire Lounge by The Club in Boston are certainly welcomed by nursing mothers.
But it's difficult to compare entire lounge networks against each other because individual lounges can be very different from one another.
For example, should you base the reputation of the Amex Centurion Network on its mega location in New York (JFK), which is over 15,000 square feet? Or should use the Amex Centurion Lounge in London (LHR), which is about 7,000 square feet and doesn't have windows, for comparison?
It's hard to say. But, in general, we recommend Amex, Chase, and Capital One Lounges over Priority Pass lounges because they tend to have better food options and more amenities. Also, Priority Pass lounges can get crowded.
And, you might not always be allowed into a Priority Pass lounge, even if you have a legitimate membership. That's because many of the lounges in Priority Pass have their own rules, which they can enforce themselves.
That being said, overseas Priority Pass lounges often provide nicer experiences than Priority Pass lounges in the U.S.
FAQs
Does Chase Sapphire have lounge access?
The Chase Sapphire Preferred doesn't provide a lounge access benefit, but the Chase Sapphire Reserve does. If you have the Sapphire Reserve, you can access Chase Sapphire Lounges, as well as Priority Pass lounges if you've enrolled in a complimentary Priority Pass Select membership.
Is there a time limit for how long you can stay in the Chase Sapphire Lounge?
The maximum time you can stay in a Chase Sapphire Lounge is three hours. You can only enter if you have a valid boarding pass for a flight that leaves in the next three hours. You must also present your physical or digital Priority Pass membership card to enter.
Can Chase Sapphire Reserve get into Delta Lounge?
No, the Chase Sapphire Reserve doesn't provide access to Delta Sky Club Lounges. However, Sapphire Reserve cardholders can access Chase Sapphire and Priority Pass Lounges. You must enroll in a Priority Pass Select membership to access the Priority Pass lounge network.
What are the operating hours of the Chase Sapphire Lounges?
It depends on the specific Chase Sapphire Lounge, but their hours are typically from early in the morning until later in the evening. For example, the Boston location's operating hours are from 5 a.m. to 11 p.m. daily, and the Hong Kong location operates from 6 a.m. to 12 a.m. daily.
Bottom line
We like what we see from Chase and The Club about Chase Sapphire Lounges. They're sleek, spacious, and exclusive enough that we shouldn't see overcrowding issues of certain Priority Pass and Amex Centurion Lounges.
But is it worth applying for the Chase Sapphire Reserve Card and its $550 annual fee if you primarily want to access Chase Sapphire Lounges? Likely not, unless you travel a lot through applicable airports.
If Chase Sapphire Lounges don't align with your current lounge access or upcoming travel plans, compare credit cards and credit card offers to find a card that makes more sense for you.
Easy-to-Earn Unlimited Rewards
Earn 25,000 online bonus points after you make at least $1,000 in purchases in the first 90 days of account opening - that can be a $250 statement credit toward travel purchases
Earn 1.5 points per $1 spent on all purchases
Longer intro APR on qualifying purchases and balance transfers
No foreign transaction fees
Earn unlimited 1.5 points per $1 spent on all purchases, with no annual fee and no foreign transaction fees and your points don't expire.
25,000 online bonus points after you make at least $1,000 in purchases in the first 90 days of account opening - that can be a $250 statement credit toward travel purchases.
Use your card to book your trip how and where you want - you're not limited to specific websites with blackout dates or restrictions.
Redeem points for a statement credit to pay for travel or dining purchases, such as flights, hotel stays, car and vacation rentals, baggage fees, and also at restaurants including takeout.
0% Introductory APR for 15 billing cycles for purchases, and for any balance transfers made in the first 60 days. After the intro APR offer ends, 18.24% - 28.24% Variable APR will apply. A 3% fee applies to all balance transfers.
If you're a Preferred Rewards member, you can earn 25%-75% more points on every purchase. That means instead of earning an unlimited 1.5 points for every $1, you could earn 1.87-2.62 points for every $1 you spend on purchases.
Contactless Cards - The security of a chip card, with the convenience of a tap.
This online only offer may not be available if you leave this page or if you visit a Bank of America financial center. You can take advantage of this offer when you apply now.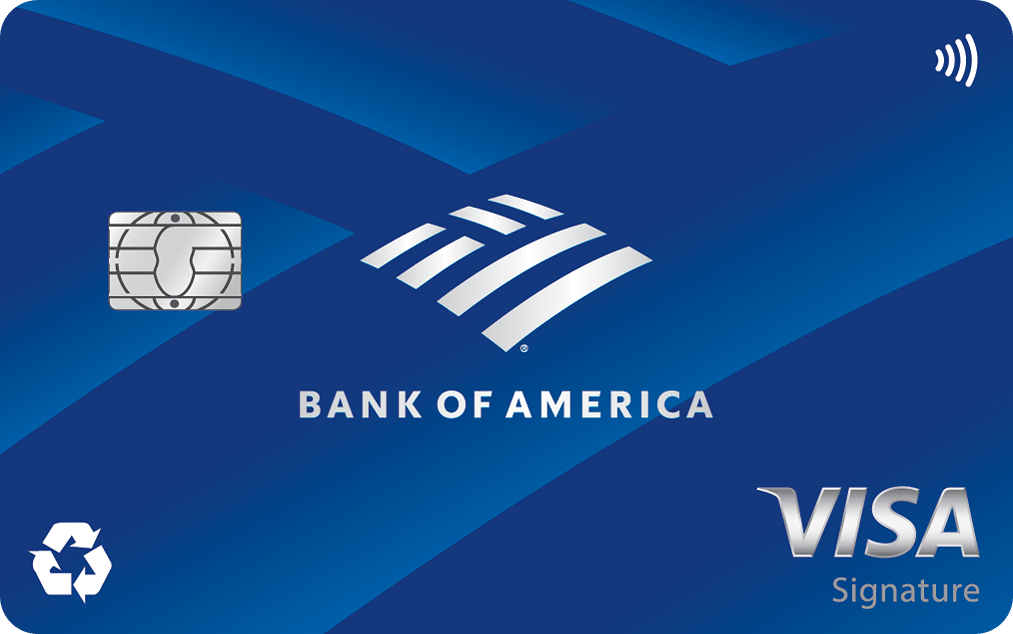 Apply Now
on Bank of America's secure website
Read Card Review
Intro Offer
Earn 25,000 online bonus points after you make at least $1,000 in purchases in the first 90 days of account opening - that can be a $250 statement credit toward travel purchases