Airport lounges often provide frequent travelers an oasis away from the crowded and busy terminal gates. But what if the lounge is just as crowded as the gate?
Priority Pass offers its members access to one of the largest airport lounge networks in the world, but access is relatively easy to gain and has led to some overcrowding issues. See why certain Priority Pass lounges are crowded and what some alternative options could be.
What are Priority Pass lounges?
Priority Pass is an airport lounge network consisting of over 1,300 lounges worldwide. The network advertises that its lounges offer "more places to relax, work and connect in." This often rings true for many airport lounges because they typically provide a private area away from the public terminal gates and food courts.
Different brands
You're likely to see a wide range of different airport lounge brands within the Priority Pass network. These are all brands that partner with Priority Pass to allow members access to their lounges. Depending on each specific lounge, you might find different amenities. You may even find different amenities for lounges from the same brand but in different airports.
Some of the different lounges and experiences you might encounter with Priority Pass include:
Air France Lounge
Be Relax Spa
British Airways Lounge
Gameway
Lufthansa Business Lounge
Minute Suites
The Club
Amenities
Here are the typical amenities you'll find in Priority Pass lounges:
Wi-Fi
TV
Refreshments (snacks or meals)
Drinks (alcoholic and non-alcoholic)
Seating
Flight information
Business centers
Food and drinks are often welcome amenities because airport food prices could be expensive. And if you typically have a lot of air travel involving long layovers, having access to airport lounge amenities could help you save money.
In some cases, you might find additional amenities such as showers, massage chairs, prayer rooms, luggage storage, and more. The size of each lounge varies and could range from a few rooms to multiple floors of space.
Access to Priority Pass lounges
You need a Priority Pass membership to access Priority Pass lounges. If a lounge is full, you might be asked to wait until there's space available, even if you have a membership. You typically need to show your membership card or digital membership card, which is available on the Priority Pass app.
Priority Pass offers three types of paid memberships, including:
Standard: $99 annual membership that allows you and your guests access to Priority Pass lounges for $32 per person.
Standard Plus: $299 annual membership that offers you 10 free visits per year. After your 10 free visits, it's $32 per visit. It's also $32 for each guest you bring in.
Prestige: $429 annual membership that offers you unlimited free visits to Priority Pass lounges. You can bring in guests for $32 per guest per visit.
If you want to avoid these paid memberships, it's typically more cost-effective to get a credit card with Priority Pass included as a benefit. Most credit cards that offer Priority Pass benefits provide you with a Priority Pass Select membership. This type of membership gives you free unlimited access to Priority Pass lounges worldwide and often includes free access for one or two guests as well; it varies by the credit card issuer and each lounge's guest policy.
To research different Priority Pass lounges, use the Priority Pass app or Priority Pass website. This will give you information about specific lounges and their amenities, including for major airports such as Seattle (SEA), New York (JFK), Los Angeles (LAX), Miami (MIA), and San Francisco (SFO).
Why are Priority Pass lounges so crowded?
Priority Pass lounges are likely crowded because so many people have access to them. What was once an exclusive benefit on specific premium travel credit cards has now become an increasingly common perk on loads of credit cards.
Priority Pass was founded in 1992 by a traveler who observed premium ticket holders enjoy the benefits of different airport lounges while he was stuck suffering the experience of waiting at the terminal gate. The founder wanted to offer an affordable way for frequent travelers to gain access to similar airport lounge benefits and improve their travel experiences.
And, for some time, Priority Pass has led the way in providing millions of members access to over 1,300 airport lounges worldwide. Priority Pass was initially introduced as a benefit on a few premium travel credit cards, including the Chase Sapphire Reserve®, Citi Prestige® Card (not currently available), and The Platinum Card® from American Express (select benefits require enrollment).
High annual fees kept many travelers away from these cards, but over the years, more and more cards have added Priority Pass benefits. Also, cardmembers found that the benefits and rewards found on these travel cards often more than outweighed any annual fees.
If you compare credit cards, you're able to find loads of options for airport lounge access, especially among travel credit cards.
Credit cards that offer Priority Pass benefits
What started as a few credit cards with Priority Pass benefits has grown to a sizable list. Here are some of the cards that provide Priority Pass lounge access (depending on the card, select benefits require enrollment):
All information about Hilton Honors American Express Surpass® Card has been collected independently by FinanceBuzz.
All information about Hilton Honors American Express Aspire Card has been collected independently by FinanceBuzz.
Many of these cards offer a complimentary Priority Pass Select membership, but a few cards might only provide a select number of free lounge visits per year. Additionally, certain cards also allow you to eat for free at
Priority Pass restaurants
if available.
American Express credit cards
don't typically offer the restaurant benefit.
Alternatives to Priority Pass lounges
If you're ready to leave Priority Pass behind or simply want more options for lounges, consider a few alternatives, such as using another lounge network or program. Some of the best travel credit cards offer airport lounge access that isn't necessarily through Priority Pass.
Here are Priority Pass alternatives to consider.
Centurion Lounge
The Amex Centurion Lounge network has long been thought of as an upgrade over Priority Pass, but without as large of a footprint. Many of these lounges are spacious, and they typically offer elevated food and beverage options. The Centurion network, which includes Escape Lounges, has over 40 locations worldwide and limits access to these cardholders:
Amex Platinum (including business and corporate versions)
Check out our full Amex Platinum Card review.
All information about The Centurion Card from American Express has been collected independently by FinanceBuzz.
Chase Sapphire Lounge
Chase is set to open seven airport lounges in partnership with The Club in these locations:
New York (LGA)
San Diego (SAN)
Phoenix (PHX)
Philadelphia (PHL)
Las Vegas (LAS)
Boston (BOS) — open now

Hong Kong (HKG) — open now

News reports indicate the following details about Chase Sapphire lounge access: 
Chase Sapphire Reserve, J.P. Morgan Reserve, The Ritz-Carlton Credit Card primary cardmembers, and authorized users who have activated their complimentary Priority Pass membership will have lounge access.

Sapphire Reserve and J.P. Morgan Reserve cardmembers may bring up to two guests per Priority Pass Membership card, per visit, for free, and additional guests for $27.
Ritz-Carlton cardmembers may bring unlimited guests at no charge.
There's no additional charge for children under two.
Priority Pass members receive one complimentary visit per calendar year.
No complimentary access for Chase Sapphire Preferred® Card users.
Check out our full Chase Sapphire Reserve review.
Capital One Lounge
Capital One has an airport lounge in Dallas/Fort Worth (DFW) and plans to open locations in Denver (DEN) and Washington, D.C. (IAD). These lounges are open to any traveler for a $65 fee per visit. These credit cards also offer specific lounge benefits:
Airline lounge memberships
Many major airlines have their own lounge networks that you can join. Here are the costs for some of the more popular lounge memberships, including Delta Sky Clubs and United Clubs:
Keep in mind that certain premium fares, such as first-class or business class tickets, could get you into different airline lounges as well. Additionally, having elite status with a certain airline might provide airline lounge benefits.
Lounge programs
Certain travel programs also offer access to specific lounges and networks. Here are a few other options for gaining access to different lounges:
LoungeBuddy: Pay a fee (starting from $25) to access specific airport lounges worldwide. LoungeBuddy is owned by American Express, and its booking services are reserved for Amex cardmembers.
Plaza Premium: Plaza Premium is a brand of airport lounges that offers different membership plans to access its lounges. Certain Plaza Premium lounges are also available to access through other programs.
DragonPass: DragonPass offers membership plans to access airport lounges in over 770 airports worldwide.
FAQs
What are the advantages of Priority Pass?
Priority Pass memberships offer the advantage of being able to access Priority Pass lounges around the world. With over 1,300 available lounges, having a membership could be helpful for frequent travelers who want a place to wait for flights away from the terminal gates. Many Priority Pass lounges offer free Wi-Fi, food, drinks, and seating for their guests
What are Priority Pass lounges like?
Priority Pass lounges often provide a welcome retreat from busy terminal gates. This could include having a more comfortable space to sit and relax before your flight, and certain lounges also provide complimentary food and drinks. Special amenities such as showers and massage chairs might also be available at specific lounges.
Are Priority Pass lounges overcrowded?
It depends on the location, but it's not uncommon for Priority Pass lounges in busy airports to be overcrowded. This is likely because access to Priority Pass lounges is a common benefit on many popular travel cards. Also, certain lounges might not offer much space to begin with, so the lounge could quickly become crowded during busy times.
Bottom line
Priority Pass lounges are often busy, but they could still be a better option than waiting for your flight at the gate. Terminal gates typically have little to no amenities and are often more crowded than airport lounges. It also doesn't hurt to check a Priority Pass lounge to see exactly how busy it is, especially if you have a credit card with Priority Pass as a benefit.
But if you want to open up more lounge options, consider other airport lounge networks that might not be as busy as Priority Pass. Depending on your typical travel routes, different lounges could offer you more flexibility and benefits. Check out these credit cards with lounge access.
Easy-to-Earn Unlimited Rewards
Earn 25,000 online bonus points after you make at least $1,000 in purchases in the first 90 days of account opening - that can be a $250 statement credit toward travel purchases
Earn 1.5 points per $1 spent on all purchases
Longer intro APR on qualifying purchases and balance transfers
No foreign transaction fees
Earn unlimited 1.5 points per $1 spent on all purchases, with no annual fee and no foreign transaction fees and your points don't expire.
25,000 online bonus points after you make at least $1,000 in purchases in the first 90 days of account opening - that can be a $250 statement credit toward travel purchases.
Use your card to book your trip how and where you want - you're not limited to specific websites with blackout dates or restrictions.
Redeem points for a statement credit to pay for travel or dining purchases, such as flights, hotel stays, car and vacation rentals, baggage fees, and also at restaurants including takeout.
0% Introductory APR for 18 billing cycles for purchases, and for any balance transfers made in the first 60 days. After the intro APR offer ends, 17.99% - 27.99% Variable APR will apply. A 3% fee applies to all balance transfers.
If you're a Preferred Rewards member, you can earn 25%-75% more points on every purchase. That means instead of earning an unlimited 1.5 points for every $1, you could earn 1.87-2.62 points for every $1 you spend on purchases.
Contactless Cards - The security of a chip card, with the convenience of a tap.
This online only offer may not be available if you leave this page or if you visit a Bank of America financial center. You can take advantage of this offer when you apply now.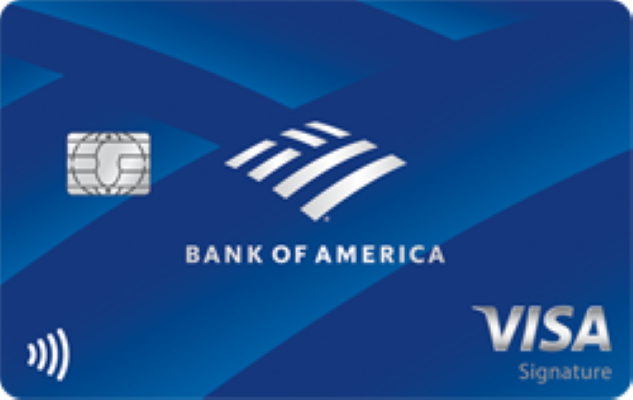 Apply Now
on Bank of America's secure website
Read Card Review
Intro Offer
Earn 25,000 online bonus points after you make at least $1,000 in purchases in the first 90 days of account opening - that can be a $250 statement credit toward travel purchases