Cheapskates find plenty of ways to save extra cash, knowing that every little bit adds up to big savings.
While you may not want to go to the extremes that cheapskates might, you might be able to adopt frugal habits to stop living paycheck to paycheck.
Check out these hidden habits of cheapskates to see if you can pick up a few tips to save money.
Resolve $10,000 or more of your debt
Credit card debt is suffocating. It constantly weighs on your mind and controls every choice you make. You can end up emotionally and even physically drained from it. And even though you make regular payments, it feels like you can never make any progress because of the interest.
National Debt Relief could help you resolve your credit card debt with an affordable plan that works for you. Just tell them your situation, then find out your debt relief options.
How to get National Debt Relief to help you resolve your debt: Sign up for a free debt assessment here. (Do not skip this step!) By signing up for a free assessment, National Debt Relief can assist you in settling your debt, but only if you schedule the assessment.
SPONSORED
Don't upgrade so often
You might want to get the newest electronics like smartphones or tablets even though you already have one that works well. But are you really missing out on anything if you wait another year or two?
Skip the costly upgrade when what you already own is still operating well. It's better to hold on to those items that are still working than constantly spending cash every time you want to upgrade.
Get a water bottle
It's OK to splurge on a nice water bottle if you're going to use it to save money.
Using a water bottle means you don't have to spend money on bottled water, which lets you keep more cash in your pocket and less plastic in landfills. You can also replace expensive sodas and juices with water instead.
Buy a smaller house
Sometimes, you might need that extra bedroom for your growing family or more space to work from home. But you can also find smaller places that fulfill your needs without going overboard.
A smaller home will cost less and be more affordable in terms of maintenance or everyday costs like utilities. Property taxes and major repairs will likely be cheaper on smaller, more affordable houses.
Don't let home repairs drain your bank account
Did you know if your air conditioner stops working, your homeowner's insurance won't cover it? Same with plumbing, electrical issues, appliances, and more. Not being able to make repairs could leave you in a bad situation — but a home warranty could protect you against surprise expenses.
Whether you're a brand-new homeowner or you've owned your home for years, a plan from Choice Home Warranty could pick up the slack where homeowner's insurance falls short.
If a covered system in your home breaks down, you can call their hotline 24/7 for assistance to get it repaired. They have a network of over 15,000 technicians that can assist you, making sure any issue can be taken care of swiftly — without breaking the bank.
Not sure if it's for you? Rest easy: they were named one of the "Best Home Warranty Companies" by US News 360 Reviews and were awarded Best Company's 2020 Consumer's Choice Award. For a limited time, you can get your first month free when you sign up for a Single Payment home warranty plan.
Put quality over quantity
It can be tough to buy an expensive item on a limited budget, but a cheapskate knows where to spend money properly.
These include items like shoes, clothes, or home goods that could be a little more expensive but will last you much longer.
Do the math when it comes to different purchases and consider splurging a little more on things like new boots or a new sofa in exchange for not constantly spending money to replace them.
Try used before new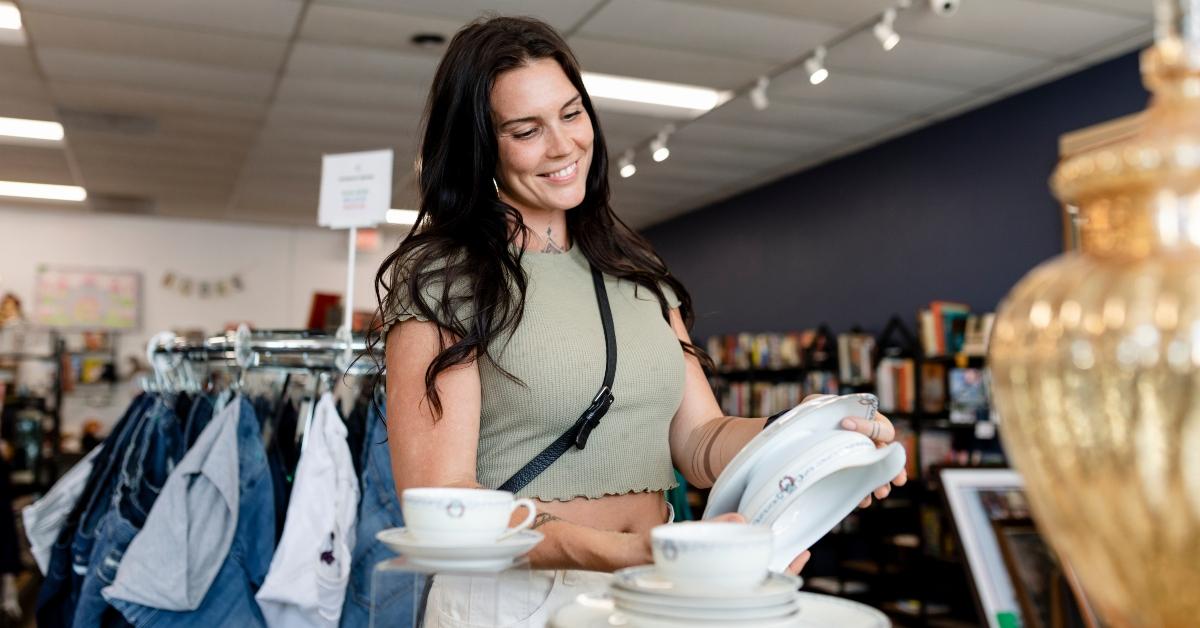 There are plenty of places to sell your used items and make money, but those places are also great spots to save money on purchases.
Consider buying something used instead of new, especially if you can find unique items or give like-new things a new life for less money than buying them straight out of the box.
Cook at home more
Cheapskates aren't afraid to stay home for dinner since the cost of eating out regularly can add up. Using delivery services can also be more expensive.
Instead, try cooking at home more, which can save you money and help you build your cooking skills. Try new dishes or learn how to make your favorites so you don't spend money on takeout.
Skip the impulse buys
You may want to wander local shops to find something to buy or go online and select several items before quickly pressing the "Buy" button.
But these impulse buys can add up, so try to avoid them. Make a list of what you need before shopping and then stick to it so you don't overspend, or let the items sit in your online cart for a few days to decide if you need them.
Review fees
When was the last time you looked over your bills instead of just paying them? Cheapskates aren't afraid to get on the phone and haggle for a better deal.
Check your cable, internet, and cell phone bills to see if your providers have snuck in extra fees you shouldn't be paying. Call providers and ask them to remove those fees. It might save you a little each month, but those extra dollars can add up.
Go for a walk
Gym memberships can be expensive, and getting out of those contracts is hard. You also may not be using it often enough to justify the costs.
You can cancel that membership and start doing more outdoor activities like walking or hiking. You can also try free exercise videos to replace classes you may have been paying for to get healthier.
Find cheap or free local events
Cheapskates are always on the lookout for affordable entertainment. You may have to do a little digging, but there are probably places near you that have free or low-cost entertainment.
You can save money at your local movie theater on days or times when ticket prices are reduced. Additionally, you can check out your community's calendar for events or concerts that may be cheap or free. 
You could also check with local museums to see if they have free events, during which you can enjoy their collections without paying to enter.
Work from home
Commuting can be tedious, frustrating, and expensive. Try to get a job where you can work from home or talk to your employer about telecommuting. 
You can save on gas and any extras, like coffee or lunch at your office.
Pay off your debt
One of the hidden issues with debt is the extra cost you can incur from interest.
It's a good idea to pay off things like credit cards in full so you don't rack up interest. You also may want to pay off debt with a high interest rate or see if you can get a lower rate.
Cancel subscriptions
You may have a subscription to a hobby box that shows up each month with items you might like, or you have streaming services that you pay for.
Try to cancel some of these subscriptions to keep more money in your pocket. Streaming services, for example, are charged per month, so you can rotate your services and only pay for one each month.
Sell your stuff
It can be frustrating to look around your home and see things you don't use anymore, but that are still taking up space.
Declutter your life and stuff your wallet by selling some of your items. You can use online marketplaces to sell certain items or do an old-fashioned garage sale to get rid of things.
Drive a cheaper car
Car prices have fluctuated in recent years, and you may find that even used car prices are higher than you expect.
You don't have to buy a used car to get the most affordable option, but you should compare prices and avoid going overboard. 
Choose a reliable car you can afford so you can build your wealth with the money saved. A more affordable car may also help you save money on auto insurance and personal property taxes.
Bottom line
You don't have to make big changes to save money. Sometimes, little cheapskate habits can give you enough extra money so you're not worried about living paycheck to paycheck.
Try different habits to see which ones work for you, and don't be afraid to fail if something doesn't work. There are plenty of options that can fit into your budget.
You may also want to put your savings into a high-yield savings account so you can build up your savings while living a more frugal life.
National Debt Relief Benefits
No upfront fees
One-on-one evaluation with a debt counseling expert
For people with $7,500 in unsecured debts and up