If you've ever stood at your flight's gate and begrudgingly eyed the early boarders while you patiently stood to the side, that's understandable. However they earned it, it's tough not to wish it were you who had the privilege of boarding first. But for those who just don't fly enough to receive the perks reserved for the most frequent of flyers, things are about to change — for Delta flyers, at least.
Delta Airlines recently rolled out a new service designed to elevate any SkyMiles member to the next level. It's called SkyMiles Select, and when you purchase this benefit bundle for $59, you get a year's worth of Priority Boarding and eight drink vouchers you can redeem on any flight. Delta is even throwing in a "limited-edition" bag tag, so you can show off your newest membership on your travels.
Though it sounds like a nice perk to have, it doesn't put you at the front of the line. After the pre-boarding group, you still need to wait for Delta One, first-class, Delta Comfort+, and Sky Priority members to board ahead of you.
Even so, if you normally book Basic Economy fares, the SkyMiles Select program moves you up three boarding positions. See if this special service could be worth it for you and how might be able to qualify with the right credit cards in your wallet.
Delta SkyMiles Select: What's included? 
In addition to getting Priority Boarding for a year when you purchase SkyMiles Select, you receive eight drink vouchers to redeem on board your flight and a bag tag to showcase your SkyMiles Select membership. This benefits package is available no matter what fare you purchase. Delta values the perks of this program at $100, but it will only cost you $59 annually.
Priority Boarding will be available within 24 hours of your membership purchase and will automatically appear on your boarding pass for one year from the date you purchased it. If you're traveling with a group on the same reservation, up to eight companions can also board with you.
Drink vouchers are good for one year as well and can be redeemed for beer, wine, or spirits. You'll have access to these vouchers on the Fly Delta app. While you can purchase SkyMiles Select for any U.S.-based SkyMiles Member who is 21 or over, drink vouchers are non-transferrable. You can, however, redeem them for drinks for traveling companions who are over 21.
To be eligible for the SkyMiles Select program, you must be a U.S. resident and a SkyMiles member.
Is a SkyMiles Select membership worth it?
The SkyMiles Select membership can deliver a lot of value, but it really depends on the type of flyer you are. For instance, if you only fly on Delta a few times a year and usually purchase Basic Economy tickets, you might find this membership worthwhile. Purchasing Priority Boarding as a standalone extra will run you $15 each way — add that cost to two roundtrip flights and you've already spent more than it would have cost if you purchased SkyMiles Select.
You might also find SkyMiles Select worthwhile if you frequently fly on Delta with children and need extra overhead space. Getting to your seat ahead of a majority of the other travelers, especially with kids in tow, might be worth $59 for the year.
If you fly enough with Delta to earn even the lowest Silver Medallion status, on the other hand, you automatically get Priority Boarding, and, yes, a luggage tag. In this case, SkyMiles Select probably wouldn't add any value. Unless, of course, the eight drinks vouchers are worth the $59 price tag to you (and with most alcoholic drinks costing about $9 on Delta, it might be).
Consider how much flying you do, and, specifically, how often you fly with Delta. If you don't fly enough to earn any of Delta's elite statuses, but prefer to board ahead of most, it might be worth picking up SkyMiles Select. Also, consider the perks you can pick up with the best travel credit cards co-branded by Delta. 
Bottom line
Delta flyers who see value in Priority Boarding but are on the fence about the SkyMiles Select program may consider applying for a Delta-branded credit card, most of which include Priority Boarding as well as additional travel benefits.
The Delta SkyMiles® Gold American Express Card, for instance, comes with perks like Priority Boarding and one free checked bag, to name just a couple. While there's a $0 intro annual fee for the first year, $99 per year thereafter, it's not much more than SkyMiles Select and you get much more in return. If you fly Delta frequently or are thinking about it, this could be one of the best airline credit card options. 
Also, new cardmembers can nab a special bonus: Earn 40,000 bonus miles after spending $2,000 in purchases in the first 6 months. And for purchases made directly with Delta, restaurants worldwide, plus takeout and delivery in the U.S., and at U.S. supermarkets, you'll earn 2X the miles.
Great Welcome Offer and Continuing Rewards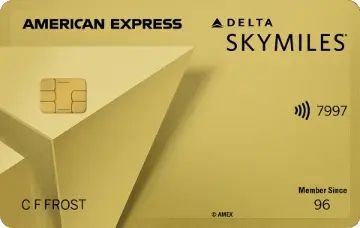 4.6
FinanceBuzz writers and editors score cards based on a number of objective features as well as our expert editorial assessment. Our partners do not influence how we rate products.
Current Offer
Earn 40,000 bonus miles after spending $2,000 in purchases in the first 6 months
Annual Fee
$0 intro annual fee for the first year, $99 per year thereafter
Rewards Rate
2X miles on qualifying Delta purchases, at restaurants worldwide, plus takeout and delivery in the U.S., and at U.S supermarkets; and 1 mile per $1 spent on all other eligible purchases