One of the things we love most at FinanceBuzz is the opportunity to share incredible travel stories from our readers, like Sarah. She and her husband managed to book a recent family trip to Maui with the points and miles they earned from their travel credit cards. By maximizing their rewards they saved $8,175 and stayed in one of the nicest resorts on the island.
Here's a quick breakdown of what they could have paid:
Airport Parking - $90

Flights - $3,675

Rental Car - $250

Hotel & Misc. - $4,160+

Total savings = $8,175

Her story is a great example of how anyone can take advantage of traveling on points and miles with a carefully crafted strategy. In fact, it's probably the most talked about topic in our FBZ Elite - Travel and Points Facebook group.
So, without further ado, here is Sarah's story!
7 Glorious Days in Maui for Free: How a Family of 4 Saved $8,175
Ever get so obsessed with a vacation spot that you can't imagine going anywhere else? That's how my family and I feel about Hawaii. In fact, over the last 18 years, we've planned nine vacations there using points and miles. It's no secret a lot of people love Hawaii as much as we do (as they should!). 
The warm weather, gorgeous beaches, and fun activities make it easy to plan our next trip back since we never run out of things to do. To date, almost all of our family trips have been within the U.S. and they always involve warm weather and beaches, so I guess you could say Hawaii is our gold standard for measuring all other vacations up against.
Another reason we love going back – we've figured out the best ways to maximize our points and miles to cover big portions of the trip. This is a huge benefit, as any family of four or more knows the costs of planning vacations can add up fast and can easily go over budget.
To help fellow vacationers plan their next trip, I'm sharing the details of our most recent stay in Maui. This particular seven-night vacation was unique because we paid for nearly all of it using points and miles. A vacation that should have cost us more than $8,000, ended up being next to nothing out of pocket. It's our highest value points and miles travel redemption to date!
Here's how we did it:
Getting to the airport (and why flexibility pays off)
I have to preface this section by saying flexibility is key. Our family flew from O'Hare Airport in Chicago to the Kahului Airport on Maui with one connecting flight each way. The reason why I emphasize flexibility is that even though we flew out of Chicago, that's not where we live. We live about 3.5 hours away in Indiana.
As we were researching award flights to Maui out of Indianapolis, we realized availability was quite limited. Plus, it would have required more than one connecting flight, which we like to avoid when possible. Instead, we decided to drive 3.5 hours to Chicago which offered more availability and one layover.
Another bonus for finding award flights was that our children had two weeks off from school for spring break so we had the ability to travel in the middle of the week. This helped tremendously when searching for award flights since not everyone can fly in the middle of the week. We ended up leaving on a Tuesday and returning the following Tuesday/Wednesday. 
After researching our parking options, we decided to park our car in O'Hare's Economy Lot G, which was $10 per night, for a total of $90. By using my husband's Chase Sapphire Reserve® to pay for parking, the cost was automatically refunded back to us since it was covered by the card's annual travel credit ($300 towards anything coded as "travel").

Airport parking could have cost: $90

What we actually paid: $0

Net cost = FREE

Pssst: I'll share more about the Chase Sapphire Reserve Card below, but I want to emphasize how amazing this card is. Our family has no problem using up the annual $300 travel credit and it tremendously helps offset the annual fee. Honestly, if you know you'll be able to use the travel credit each year, this card is a no-brainer.

Flights to Maui
We flew on American Airlines from O'Hare to Kahului and thankfully, both our outbound and inbound flights went smoothly. We did have one slight delay in Chicago as they de-iced the plane before our departure. If you've ever traveled in less than ideal weather, you know how common and annoying this kind of departure delay is, but we made the best of it by reminding ourselves of our awesome destination.
When we passed through Los Angeles for our connecting flight, the gate was literally two down from where we arrived at LAX, so we had more than enough time to catch the next flight. No complaints here though – a connection can't get much better than that!
Our return flight back from Maui was routed through DFW in Dallas. We had a 90-minute connection which gave us time to grab breakfast and hop onto another 2-hour flight to Chicago. All in all, we couldn't have asked for smoother travel days.
Now onto the details you really want to know…
How we paid using points and miles
I redeemed 162,000 miles to book flights for the four of us. My husband and I had been building our mileage account all through 2015 in order to redeem them for the full cost of our flights in 2016, and plan our actual trip in 2017. See, that's the thing about booking award travel, it takes some upfront preparation to book the best trips.
For our trip, I honestly booked our flights within a day of American Airlines' flight schedule opening up for March 2017, thanks to a reminder I had set for myself. I'm not a last-minute kind of person when it comes to booking award flights!
To earn all the points needed to make this trip happen, we used a variety of methods.
Since this wasn't the first trip we had taken to Hawaii using points and miles, my husband and I already had some US Airways Dividend Miles in our accounts from our two US Airways MasterCard credit cards and previous paid travel. Those miles transferred to American Airlines after the two airlines merged.
After the merger, each of us continued earning AAdvantage Miles by applying for the Citi® / AAdvantage® Platinum Select® World Elite Mastercard® separately. At the time, we each earned 60,000 miles after meeting the minimum spend, for a total of 120,000 miles to put towards flights for the four of us.

Each round trip economy flight was 45,000 miles, with an instant rebate of 4,500 miles back since we are American Airlines cardholders. So each flight ended up being 40,500 miles, or 162,000 miles total.
To really get an idea of how much money we saved by using miles, I searched to see how much our flights would have cost us in dollars. $900 per ticket x 4 people in economy! If we hadn't used miles to book the flights, we would have paid $3,600 for the flights alone.
On top of that, we were also able to check our baggage for free by being AA cardholders, when they typically cost $25 per bag. Essentially, we saved a ton of money by being AA cardholders and using miles to book our flights. By redeeming our AA miles, we were able to cover close to $4,000 in flights and luggage alone ($3,600 for flights and $75 to check bags).
Sure they took time to earn, but all things considered, it was pretty easy to accumulate the points. Plus, this sort of trip makes it completely worth it! 
Flights could have cost: $3,675

What we actually paid: $0

Net cost = FREE

Rental car
Once we arrived, we picked up our bags from the baggage claim area and headed to the car rental counter at the Kahului Airport, Maui's main airport (airport code: OGG). Since the airport is fairly small, getting to the rental car counter was quick and easy. I chose Dollar Rental Car because they were the least expensive option for a full-size car, and we rented the car for our entire stay.
But did I really "pay" for it? No, of course not! I used some of the bonus points earned with my Barclaycard Arrival Plus® World Elite Mastercard®* to cover the cost, which was about $250.
The signup bonus for the card was 70,000 points which was enough for a $700 travel credit, so I was happy to have points left over after paying for the rental car.
Rental car could have cost: $250

What we actually paid: $0

Net cost = FREE

*Editor's note: This card is no longer available. We recommend you use the Capital One Venture Rewards Credit Card instead.
Hotel – Maui Hyatt Regency
Our family stayed at the Maui Hyatt Regency on Kaanapali Beach for a total of seven nights, and in a nutshell, we loved it there. To book our stay, we used a combination of Hyatt Gold Passport points and my husband's transfer of Chase Ultimate Rewards points earned from his Chase Sapphire Reserve® and Ink Business Preferred® Credit Card welcome offers.
I booked a Standard room for six of our seven nights and a Regency Club Level room for the seventh night since it was the only award room available on that particular date. Standard room rates for the Hyatt at 20,000 points per night and the Regency Club Level room rates will set you back 27,000 points per night.
When I booked our room, the rate was $350 per night (including taxes and fees) plus a $30 daily resort fee. So, in other words, if we had paid cash for the hotel, it would have cost us close to $2,660!
Room: $350/night x 7 nights = $2,450
Resort fee: $30/day x 7 days = $210
All covered by points!
But, it gets even better…
We received quite the ALOHA when we checked into our hotel. Without even asking, the front desk staff told us we had Hyatt Regency Club access for our entire stay, as opposed to just the one night I had booked – we were ecstatic! Regency Club access typically comes with Hyatt's Explorist or Globalist status (which we don't have), or when you book a Regency Club Level room.
This particular hotel just had their Regency Club completely remodeled six months ago and has an outdoor stone patio that overlooks a swan pond, as well as the gorgeous ocean. The best part of having Club access for our entire stay was hands down being able to enjoy all the freebies that come with the access! They have free breakfast, coffee, soda, juices, light dinner options, snacks, and desserts every single day.
We aren't the type of family that needs to experience all the local restaurants to make our vacation complete – especially since we'd been to Maui before – so we made it a point to have breakfast and dinner in the Club for six of the seven days we were there! I'm not sure of the exact dollar value for that perk, but my husband estimates that we easily saved $1,000 just by taking advantage of this one benefit.
Restaurants in Maui are NOT inexpensive, whether you're going for formal or casual. For lunch, snacks, and beach activities, we often hung around the resort and charged the bills to our room. We purposely did this so these expenses would be coded as "travel" charges on my husband's Barclaycard Arrival® Plus World Elite Mastercard®, which had a $500 travel credit on it from his signup bonus. Again, we truly covered nearly EVERYTHING on this trip with points and miles!
Hotel and Regency Club perks could have cost: $4,160+

What we actually paid: $0

Net cost = FREE

Bonus: We got 6 extra days of access to the Regency Club even though we only paid for 1!
Total cost breakdown
| | | |
| --- | --- | --- |
| Expense Category | Could have paid | Actually paid |
| Airport parking | $90 | $0 |
| Flights | $3,675 | $0 |
| Rental car | $250 | $0 |
| Hotel and food | $4,160+ | $0 |
| Total | $8,175 | $0 |
Adding in the 6 extra days of Regency Club access that we got for free, plus this cost breakdown, our vacation could have cost us over $8,000, but we spent almost nothing after using points, miles, and travel credit. It took a lot of planning, but oh my goodness, it was worth it!
Travel cards we used
This is our list of the best travel credit cards that were absolutely key for us being able to plan our trip to Maui using points and miles.
Editor's note: This card is no longer available. We recommend you use the Capital One Venture Rewards Credit Card instead.
We love that this card is so flexible and offers such a big signup bonus (70,000 points, which is enough to redeem as a $700 travel credit!). 
Not only did we use the travel credit to help cover food and activities on our trip, we also used it to pay for things at the hotel and earned 2X miles on every purchase. Gotta start racking up miles for our next trip!
There's a lot of hype surrounding this travel card and my husband and I think it's completely warranted. It has a lot to offer and the generous welcome bonus goes a long way since points for the Chase Sapphire Reserve Card can be redeemed for 1.5 cents a piece through the Chase Ultimate Rewards portal (as opposed to 1 cent or 1.25 cents with other Chase cards).

The $300 annual travel credit is also like gold. Not only does it help offset the $550 annual fee , it seriously comes in handy when our family travels. We used our travel credit to cover parking at the airport in Chicago and then applied the rest towards our hotel stay in Maui.
Another awesome Chase card. Using the huge welcome offer my husband earned with this card, we pooled our points together with the Chase Sapphire Reserve to help book our hotel stay. 
It also comes with price and purchase protections, travel cancellation insurance, roadside assistance, and even car rental insurance. These extra benefits give me huge peace of mind when we travel.
We actually used a different card to earn AAdvantage Miles for our trip but since it's no longer available, this one is a good choice to help you earn miles.
The signup bonus is generous (a must-have), as you can earn 50,000 bonus miles after you make your first pruchase and pay the annual fee in the first 90 days. The best part about this particular signup bonus is it's so incredibly easy to earn – you just need to make any purchase in the first 90 days and pay the $99 annual fee to earn the full bonus...that's pretty much unheard of!
My husband and I each signed up for this card separately so we could earn a massive amount of points to help cover the costs of our flights. Aside from the points, being an American Airlines cardholder also meant we got to check all our bags free of charge for the entire trip.
Why we love Maui
Maui is the perfect destination for fun and relaxation, which is why we love going back. On this trip, we snorkeled with the sea turtles, played in the waves, visited with a monk seal napping nearby, and watched humpback whales jumping in the distance. We also took a road trip to Hana, visited the Maui Plantation, went wine tasting at the Maui Winery, and shopped in Lahaina.
When we weren't out and about, we were at the resort relaxing in the sun, playing water basketball at the pool, and sliding down the waterslide. Eating tropical-flavored shaved ice at Ululani's (on Hyatt's property) was a daily occurrence for both our kids and my husband and I enjoyed sipping adult beverages by the pool!
Another one of the highlights of the trip for my daughter was interacting with the various wildlife on Hyatt's property throughout our stay. She got to feed the penguins and fish, watch the swans and flamingos, and even hold a beautiful white cockatoo. She also participated in the resort's scavenger hunt and made her own lei while learning about the history of them from a local instructor.
We love that one little island has so much to offer our family and is a good mix of other vacationers, as well. As far as relaxation goes, Maui is one of the best spots to visit for real relaxation. I honestly feel it's part of the culture on the island and I know I'm not the only one.
How I got into points and miles (and my best tips for you!)
I was first introduced to points and miles in the late '90s when I traveled extensively as an IT consultant. At the time, I only earned points and miles through actual travel, not maximizing signup bonuses or anything like that.
About five years ago, I realized that if my husband and I were organized and disciplined enough, we could take advantage of the non-travel earning opportunities out there and begin "paying" for our vacations using points and miles.
Right around the same time, I met someone at work whom I like to refer to as my "points and miles mentor." He had so much more knowledge than me at the time and we would meet up periodically to discuss different approaches, offers, and techniques for earning and spending credit card rewards. I enjoyed those conversations so much because it reinforced that booking "free" travel with points and miles really was achievable.
Before we got into the points game, my husband and I were huge fans of using our debit cards for everything. We felt it was easier to track and control our expenses that way. I guess I still feel that way sometimes but realizing what we were missing out on makes us happy to continue tracking our expenses with credit cards.
When we transitioned from using debit cards to credit cards for as many expenses as possible, we made sure to use each card strategically, depending on the type of purchase. Now we very rarely use our debit cards.
We get to enjoy this hobby and earn points while maintaining NO credit card debt, ever! That's really important to remember. Going into debt to earn travel rewards doesn't make sense.
My advice is you should only consider this hobby if you:
1. Understand your finances and spending
You should have a thorough understanding of all the money you have coming in and going out each month. Without knowing these things, your spending habits can potentially spiral out of control and lessen the benefits of your points and miles (which is never fun).
2. Are disciplined and organized
This might sound extreme, and I'm not saying you have to take it that way, but being disciplined and organized with this hobby goes a long way. In my experience, staying on top of how you earn and spend points strategically always helps ensure the best points redemption. Also, if you want to be super organized about it, use a spreadsheet!
3. Are a proactive travel planner
To book the best award redemptions, you have to be proactive in your travel planning! For me, this is such an important aspect of the points game. What good are all the points and miles you earn if you can never plan ahead enough to actually spend them? I like to work on booking our family trips as soon as we have our dates set and the award flights become available.
Takeaway: traveling with credit card rewards is so worth it
Each year, I learn more and become better at researching and planning our future vacations. Keeping up with the points and miles hobby definitely requires commitment, but it's totally worth it when the time comes to reap the rewards with our family. The trips and experiences we have together will be remembered for a lifetime and it's something our family truly treasures.
Easy-to-Earn Unlimited Rewards
Earn 25,000 online bonus points after you make at least $1,000 in purchases in the first 90 days of account opening - that can be a $250 statement credit toward travel purchases
Earn 1.5 points per $1 spent on all purchases
Longer intro APR on qualifying purchases and balance transfers
No foreign transaction fees
Earn unlimited 1.5 points per $1 spent on all purchases, with no annual fee and no foreign transaction fees and your points don't expire.
25,000 online bonus points after you make at least $1,000 in purchases in the first 90 days of account opening - that can be a $250 statement credit toward travel purchases.
Use your card to book your trip how and where you want - you're not limited to specific websites with blackout dates or restrictions.
Redeem points for a statement credit to pay for travel or dining purchases, such as flights, hotel stays, car and vacation rentals, baggage fees, and also at restaurants including takeout.
0% Introductory APR for 15 billing cycles for purchases, and for any balance transfers made in the first 60 days. After the intro APR offer ends, 18.24% - 28.24% Variable APR will apply. A 3% fee applies to all balance transfers.
If you're a Preferred Rewards member, you can earn 25%-75% more points on every purchase. That means instead of earning an unlimited 1.5 points for every $1, you could earn 1.87-2.62 points for every $1 you spend on purchases.
Contactless Cards - The security of a chip card, with the convenience of a tap.
This online only offer may not be available if you leave this page or if you visit a Bank of America financial center. You can take advantage of this offer when you apply now.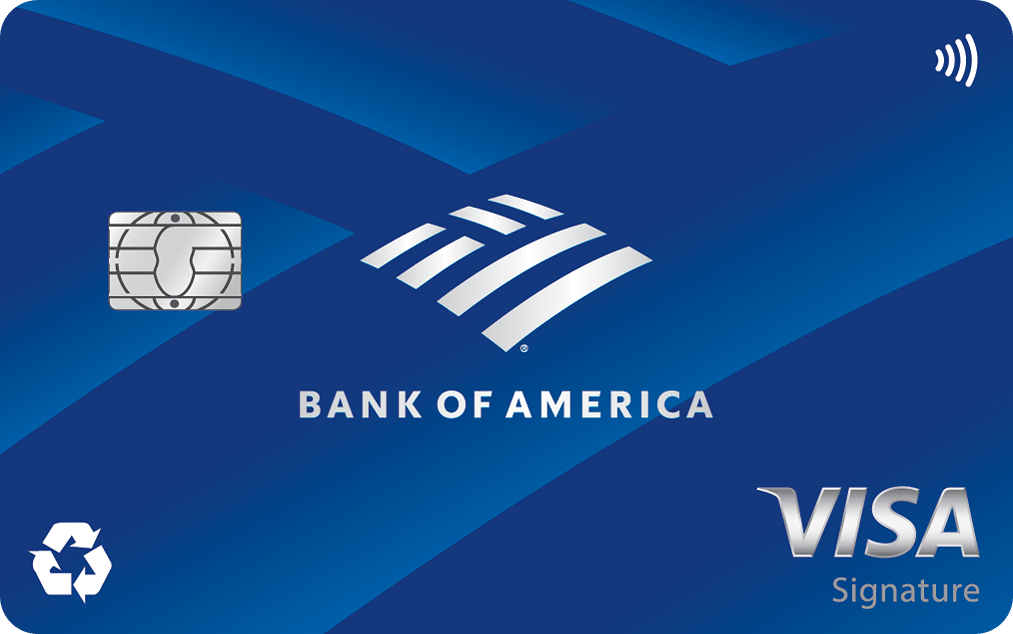 Apply Now
on Bank of America's secure website
Read Card Review
Intro Offer
Earn 25,000 online bonus points after you make at least $1,000 in purchases in the first 90 days of account opening - that can be a $250 statement credit toward travel purchases