You don't have to get a boring sedan just because you're a little older. There are plenty of options if you are looking for an SUV that also meets your needs.
For example, you might want a higher seating position but still need a vehicle that's easy to get into and out of, or you might just want to focus on the safety rating of the vehicle.
Check out some of these popular SUVs that may be perfect for seniors. They are available at a variety of price points, including affordable options that help you keep more money in your wallet.
If you're over 50, take advantage of massive discounts and financial resources
Over 50? Join AARP today — because if you're not a member you could be missing out on huge perks. When you start your membership today, you can get discounts on things like travel, meal deliveries, eyeglasses, prescriptions that aren't covered by insurance and more.
How to become a member today:
Go here, select your free gift, and click "Join Today"
Create your account (important!) by answering a few simple questions
Start enjoying your discounts and perks!
You'll also get insider info on social security, job listings, caregiving, and retirement planning. And you'll get access to AARP's Fraud Watch Network to help you protect your money, as well as tools to help you plan for retirement.
Important: Start your membership by creating an account here and filling in all of the information (Do not skip this step!) Doing so will allow you to take up 25% off your AARP membership, making it just $12 per year with auto-renewal.
Kia Soul
The Kia Soul has some good features for older drivers, and the vehicle comes at a price that can eliminate some money stress.
The Soul is easy to get into and out of and still offers plenty of interior room despite its somewhat smaller size as a crossover SUV. It also offers great visibility that makes it easier for you to maneuver in traffic.
The Kia Soul has a starting manufacturer's suggested retail price (MSRP) of $19,990, which can make it an enticing option if you're on a fixed income.
Mazda CX-5
If you are a senior who lives where the winter winds blow, consider a Mazda CX-5. 
The vehicle comes with standard all-wheel drive, which is a great option if you travel in an area with snow and ice during the winter.
The CX-5 also was named a Top Safety Pick by the Insurance Institute of Highway Safety (IIHS). You can grab one for a starting price of $29,300.
Subaru Forester
The Subaru Forester includes driver-assist technology that seniors might appreciate. It helps you navigate roads when you're behind the wheel.
Subaru also says that 97% of its Foresters sold in the past 10 years are still on the road. Such longevity can be an important perk if you are on a fixed income and like to hold on to your cars for a while.
Purchase a Forester for a base price of $26,495.
Cancel your car insurance
We've got bad news. You could be wasting $500 every year on overpriced, second-rate car insurance. And you should probably cancel your existing insurance right now, because there's something much better.
This new tool from FinanceBuzz can tell you if you're overpaying for your car insurance in just a few clicks. We match drivers with companies that report saving drivers up to $500 or more per year when they save! Each driver's savings will vary by driving history and how many discounts you're eligible for. And once you try it out, you'll never have to look for affordable insurance again because we find you the lowest rates that other companies can't match.
Oh, and it's also free. And come on — you can't tell us you don't want to save up to $500. To find out if you're losing up to $500 or more a year, just enter your zip code here, answer a few questions and see if you're overpaying. It takes less than 2 minutes.
Chevrolet Trailblazer
The Chevy Trailblazer is considered a compact SUV, so you'll have no maneuvering around in traffic while still getting the extra storage space that an SUV affords you.
The Trailblazer also earned a Top Safety Pick Plus rating, which is the highest rating a vehicle can earn from the IIHS. Seniors who are especially concerned about safety might appreciate the Trailblazer.
You can get a Trailblazer with a starting MSRP of $22,100, making it an affordable option for seniors.
Volkswagen ID.4
You always have the option to try something different at any age. Seniors who like cutting-edge technology — and who are concerned about the environment — might want to try an electric SUV.
The Volkswagen ID.4 has driver-assist features to keep you safe and is also lower to the ground compared to a bigger SUV. So, you can easily get into and out of this vehicle.
See if an electric vehicle is right for you. The starting price for an ID.4 is $38,995.
Nissan Rogue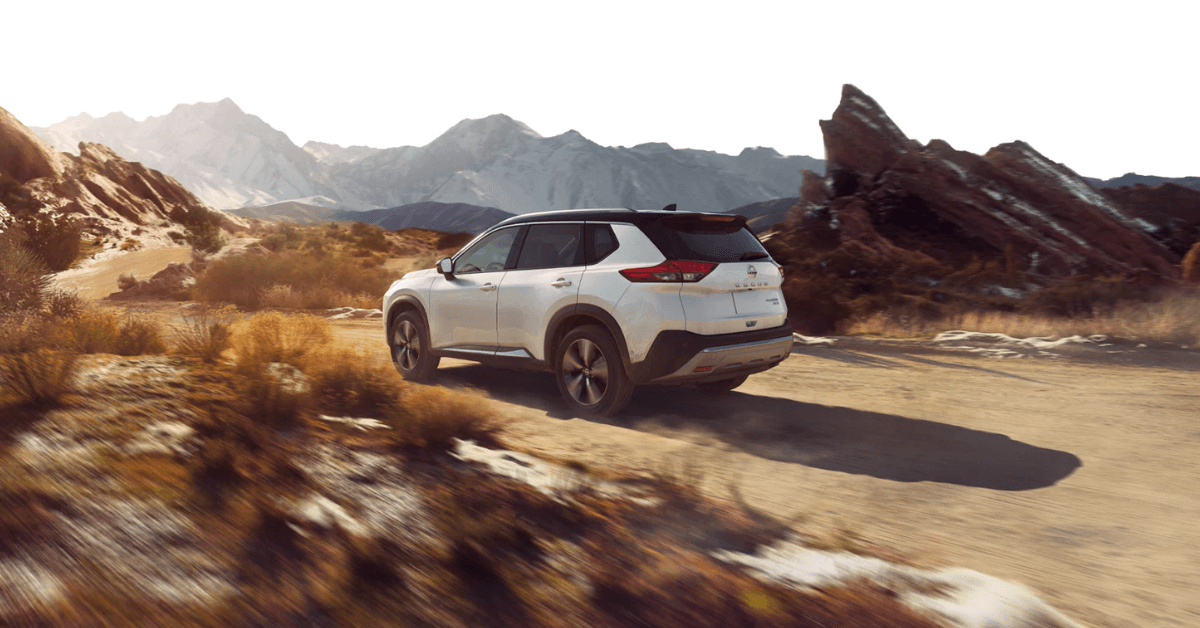 It's important to factor in extra costs you may incur as a car owner, especially if you are a senior on a fixed income. One way to save money is to cut gas costs.
The midsize Nissan Rogue SUV gets 30 miles per gallon in the city and 37 miles per gallon on highways, making it cheaper to fill up your tank, especially when compared to other SUVs.
The Rogue starts at $27,910 before adding additional features.
Toyota RAV4
Toyota's RAV4 is a compact crossover SUV with plenty of appeal when it comes to maneuverability through traffic or city streets.
The IIHS has named it a Top Safety Pick, and it earns high marks for its crash avoidance and mitigation systems.
The RAV4 has a starting MSRP of $28,275, giving you a good option if you're on a budget.
Ford Edge
The Ford Edge is another crossover SUV option. It also includes driver-assist technology for seniors who need a little help.
Seniors who like to travel get cloud-based real-time traffic and weather updates that will keep them safely on the road. Pick up a new Edge for a starting base price of $38,365.
Lexus RX
Seniors who want a luxury option can check out the Lexus RX.
The Lexus includes safety features such as pedestrian detection, lane-departure alerts, and intelligent high beams that will automatically adjust the headlights depending on whether traffic is approaching.
Check with your local dealer to see if a Lexus RX is right for you. It has a starting MSRP of $49,950.
Earn a $250 travel bonus with this incredible card
There's a credit card that's making waves with its amazing bonus and benefits. The Bank of America® Travel Rewards credit card has no annual fee and you can earn 25,000 points after spending $1,000 in purchases in the first 90 days of account opening.
You can earn additional points just by using this card for your everyday purchases — unlimited 1.5 points per $1 spent on all purchases. The 25,000 points can be redeemed for a $250 statement credit toward travel or dining purchases.
If you want to travel and dine out more, the Travel Rewards card can help you get where you want to go.
The best part? There's no annual fee.
Buick Encore
Another compact SUV you may want to consider is the Buick Encore.
It includes a standard set of safety features such as forward collision alert, pedestrian braking, and automatic emergency braking to help seniors get around safely.
The compact SUV also has a starting price of $25,600, making it an affordable option for those on a budget.
Acura MDX
Acura describes the MDX as a "premiere performance SUV." Seniors looking for a little extra zip will find plenty of power under the hood.
It also includes complimentary maintenance for the first two years or 24,000 miles, saving you some extra money on things like oil changes, tire rotation, and multi-point inspections.
As a luxury SUV, the Acura is on the higher end of the price range, with a suggested MSRP starting at $49,550.
Honda CR-V
If you are a senior who needs some extra space in your SUV, the midsized Honda CR-V may be a good option.
The SUV includes plenty of interior room and a 9-inch touchscreen to make it easy to navigate maps, music, and other options while driving.
You can get the CR-V LX model at the low end of your options with a starting MSRP of $29,500. Or, try the lowest-cost hybrid with the Sport Hybrid at $33,350.
Kia Telluride
The Kia Telluride is a midsize SUV that seats up to eight. It's a good option for seniors who are driving their kids and grandkids around or who want to go out with friends.
The Telluride also earned a Top Safety Pick Plus rating from the IIHS, scoring well for crashworthiness and crash avoidance and mitigation features.
Grab a Telluride for a starting MSRP of $35,990 from a local dealer.
Toyota Highlander
The midsize Highlander includes three rows, giving you extra space when the third row is down or seating for up to eight passengers with the third row up.
The SUV also offers safety features such as dynamic radar cruise control, lane-departure alerts, and pedestrian detection.
Get a Highlander for a starting sale price of $36,620.
Infiniti QX60
The crossover Infiniti QX60 is a good option if you don't want to climb up just to get into the driver's seat of your SUV. 
The luxury SUV also includes a 12.3-inch display screen with high-definition display capability, making it easier to read. Pick up an Infiniti with a starting MSRP of $49,200 at your local dealer.
The car also has strong safety scores so you might be able to save on car insurance, depending on what you're driving now. 
Bottom line
As with any car purchase, check out different options and test drive your favorite SUVs to figure out which one is right for you and offers the best features for your needs.
It's also a good idea to shop around for a car loan, especially if you're on a fixed income. 
The dealer might not offer the best option, so see if a bank or financial institution in your area can get you a better deal that allows you to boost your bank account.
You could save up to $500 with some companies
Compare dozens of providers in under 5 minutes
Fast, free and easy way to shop for insurance
Quickly find the perfect rate for you