When you really need a vacation but are also trying to keep more money in your bank account, a cruise may be the perfect solution. Many would-be cruisers are still nervous about hopping aboard due to lingering anxiety around the COVID-19 pandemic. 
But like the rest of the hospitality industry, cruise lines have made adjustments to keep travelers safe. Plus, when you're looking for a full vacation package, cruises are one of the best options.
Here are 16 reasons cruises are still almost always worth the splurge.
Bargains are easy to find
There are amazing cruises available for travelers on all sorts of budgets. Some even offer all-inclusive packages that come out to around $100 a night per person (or less).
You're likely to find great deals on cruises any time of year, particularly if you live near a port, so shopping around for bargains is often as simple as a quick search online.
Multiple destinations without hotel hopping
If you're planning to hit more than one destination on your vacation, a cruise is a great way to avoid unpacking, re-packing, and lugging a suitcase around from spot to spot.
When you cruise, you'll unpack your bags just once and be able to enjoy all each destination has to offer without the hassle of hotel hopping. Cruisers also have the benefit of only having to check in and check out once.
Cruise lengths for everyone
From a weekend getaway to a months-long voyage around the world, there's no shortage of options when it comes to choosing the cruise that's right for your situation (and budget).
The shorter, budget-friendly option may cost $200 or less, while a five-month trip around the world can be tens of thousands of dollars or even up to nearly $100,000 depending on the cruise line).
An eclectic array of onboard activities
One of the big sellers with cruise ships is that there really is something for everyone — a big perk if you don't always see eye-to-eye on itineraries with the group you're traveling with.
On a cruise, you can spend the day sunbathing by a pool, climb a rock wall, choose from an array of dining options, see a show, hit the gym, then check out a karaoke bar — all in one day.
It's an all-in-one deal
Cruises are like an all-inclusive vacation to the extreme. Packages often include lodging, unlimited dining access, a drinks package, access to amenities, entertainment, and more.
In addition to taking away the stress of planning all parts of a vacation, the all-inclusive nature of cruises often makes them a much cheaper option than the standard island vacation.
There are cruises all over the world
As long as you are OK with traveling to the port, you can embark on cruises that travel all over the world — and this isn't limited to the super pricey voyages around the world either.
Whether you are looking to dock at a few Caribbean islands, explore the Mediterranean, or cruise around the Maldives and Sri Lanka, you can find a package that meets your needs.
Pro Tip: If you have to fly to the port your cruise sails from, you can earn travel rewards from your trip with the right travel credit cards.
It can be romantic
Many people choose to honeymoon aboard cruises — and some even choose to get married on them. The sun, salty air, and dark, quiet nights at sea can create a delightfully romantic setting for couples.
Plus, there's no pressure to find a top restaurant to impress your sweetie since there will be plenty to choose from on board.
It's also great for families
Cruises can be great for traveling with the whole family. There are plenty of activities for kids of all ages — from pools and basketball courts to arcades and kid-friendly shows and restaurants
There's such an eclectic array of activities, that parents whose children are old enough to hang out alone for a while may be able to sneak away for a romantic dinner or walk on the beach.
Socializing is easy
On a cruise, you're all in it together so it's easy to socialize and make friends to meet up with later in the trip or even at one of the bars on board for a nightcap.
Many cruises also organize events for people looking for friends, or even dates, to link up on board.
Plenty of space to relax
Because all the basics of your vacation are taken care of on a cruise, it leaves a lot of time to simply kick back and relax.
Plus, on most cruises, there are plenty of amenities to help you find your zen no matter how you like to kick back — from hot tubs and spas to poolside bars and lounges.
Lots of entertainment
When you visit a new city, navigating shows and entertainment options can be a huge hassle, but on a cruise, it's all taken care of for you. Many ships have live bands, theaters, comedians, dancers, and the like. Entertainment options really run the gamut.
Most cruises typically also have entertainment options just for kids so parents never have to worry about the little ones getting bored.
Spa services are often available
For an extra fee, those looking to indulge in a little me time can often schedule as many spa services as they'd like — from facials to full-body massages and even mani-pedis.
Healthy dining options and gyms
An all-you-can-eat buffet may not sound like the ideal situation for the health-conscious, but modern cruises have plenty of healthy eating options, as well as full health clubs on board.
Royal Caribbean, for example, offers workout classes and a full gym for those who want to keep up their routines while out at sea.
Budget options are available
There's a cruise available for every budget — and travelers can choose to skip out or add as much as they want based on how much they'd like to spend.
Those shooting for a cheaper trip can opt out of extra services like a drinks package or spa privileges and can even request a cheaper cabin (one without a balcony, for example).
Those looking to splurge can choose from an array of add-ons or simply opt for more luxurious liners.
Great restaurants and bars
Finding a great place to eat or a nice bar to grab a few drinks can be stressful on vacation — particularly if you've never visited the destination before.
A cruise takes all the guesswork out of drinking and dining plans. The biggest decision you'll have to make is if you want to hit the buffet or make it a steak house night.
Convenience, convenience, convenience
Many people love cruises for the same reasons they love all-inclusive resorts. The bonus of boarding a ship, however, is that you don't have to stay in one place.
You get all the convenience of an all-inclusive — entertainment, amenities on board, food, and nightlife.
But you also have the advantage of traveling to a new destination or several different destinations.
Bottom line
Booking a cruise vacation can be an incredible and financially-savvy option for travelers of all sorts — from large families to young couples to those planning for retirement.
Many solo travelers enjoy the convenience and endless entertainment options on cruises as well.
Before you book, consider how much money and time you want to spend on a cruise. Going in with intentions will make the (already easy) booking process that much simpler.
Easy-to-Earn Unlimited Rewards
Earn 25,000 online bonus points after you make at least $1,000 in purchases in the first 90 days of account opening - that can be a $250 statement credit toward travel purchases
Earn 1.5 points per $1 spent on all purchases
Longer intro APR on qualifying purchases and balance transfers
No foreign transaction fees
Earn unlimited 1.5 points per $1 spent on all purchases, with no annual fee and no foreign transaction fees and your points don't expire.
25,000 online bonus points after you make at least $1,000 in purchases in the first 90 days of account opening - that can be a $250 statement credit toward travel purchases.
Use your card to book your trip how and where you want - you're not limited to specific websites with blackout dates or restrictions.
Redeem points for a statement credit to pay for travel or dining purchases, such as flights, hotel stays, car and vacation rentals, baggage fees, and also at restaurants including takeout.
If you're a Preferred Rewards member, you can earn 25%-75% more points on every purchase. That means instead of earning an unlimited 1.5 points for every $1, you could earn 1.87-2.62 points for every $1 you spend on purchases.
Contactless Cards - The security of a chip card, with the convenience of a tap.
This online only offer may not be available if you leave this page or if you visit a Bank of America financial center. You can take advantage of this offer when you apply now.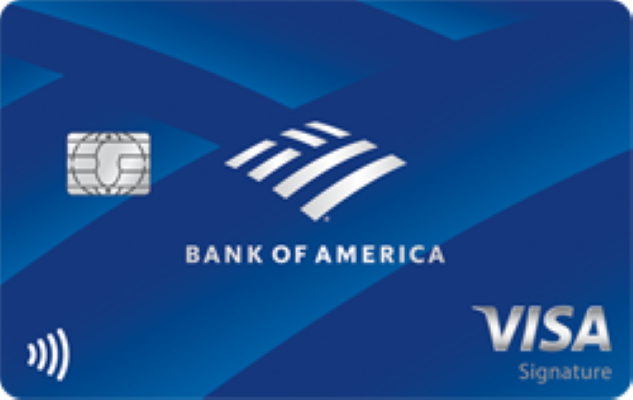 Apply Now
on Bank of America's secure website
Read Card Review
Intro Offer
Earn 25,000 online bonus points after you make at least $1,000 in purchases in the first 90 days of account opening - that can be a $250 statement credit toward travel purchases