You probably know the basic things your car insurance policy covers, from accidents with other cars to damage from a hailstorm.
But there is also a good chance your auto insurance covers more than you think it does. Following are some less-heralded types of coverage you might find in your policy.
And if you don't have these coverages but would like to get them, consider shopping around so you can save on car insurance.
Vandalism
If you have comprehensive coverage, it should protect you if vandals damage your vehicle. So, if you find your tires slashed, car keyed, or glass intentionally broken, you might choose to file a claim.
However, keep in mind that you will have to pay a deductible when doing so. If the damage is relatively minor, you might decide to pay for the costs yourself out of pocket. Doing so means you won't have to file a claim that could trigger a hike in your rates.
Damage from potholes
Potholes can damage everything from your tires to your exhaust system and shocks. A nasty pothole can also knock your car out of alignment.
Damage from potholes can create problems in the future too, such as increasing the likelihood of rust and engine issues.
A collision policy might cover costs to repair pothole damage. If you routinely drive in an area with many potholes, consider adding this coverage if you haven't already.
Travel costs
If you have an accident away from home, you might need to extend your trip while you await repairs. This generally results in more expenses, such as lodging, meals, and alternate transportation.
Some roadside assistance add-ons cover unexpected travel expenses. For example, this coverage might kick in if you are at least 100 miles from home and will be without a car for at least 24 hours.
Pro tip: Shopping around and comparing car insurance quotes at least once a year might help you save money on coverage so you can boost your bank account.
Rodent damage
Rodents can do a lot of damage when they invade a house, and they can inflict similar harm to your car.
Squirrels or other rodents may try to enter the vehicle for warmth or food. Because they chew through everything, they could damage your car's electrical system, for example.
Comprehensive coverage may cover such damaged wiring. Check with your insurance policy to see if you can file a claim. If you determine the policy covers the damage, take photos and note related issues, such as trouble with your engine.
Volcano damage
If you think about a volcano damaging a vehicle, you might picture lava completely consuming it. But some drivers in states such as Washington and Alaska have found out that volcanic ash also can create a host of problems.
Such ash can cause cosmetic damage to surfaces and clog engines. Comprehensive coverage might cover repair costs associated with ash damage.
Damage from hail and branches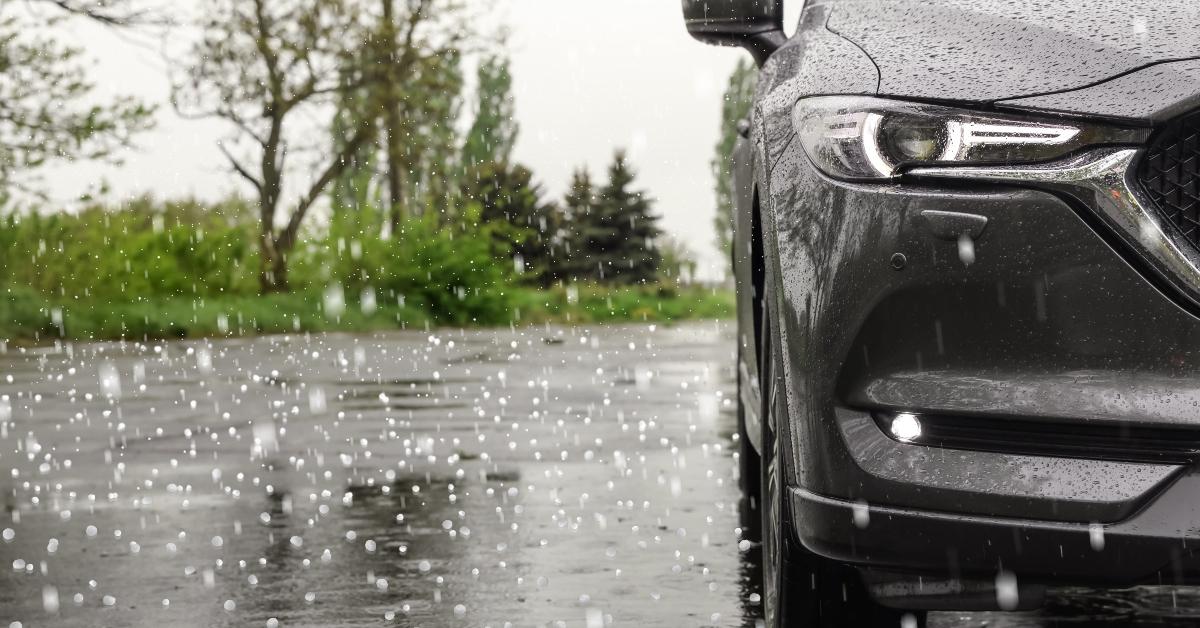 Mother Nature can cause severe damage to your vehicle. Hail can leave dents, and strong winds can cause big branches to fall on your car. These can both result in costly repairs.
If you have comprehensive coverage, you should be covered. If the hail damage is severe enough, the insurer might even total your car.
Getting hit while you are not in the car
If you are a pedestrian and a car hits you, it's possible your car insurance might ride to the rescue.
Your car insurance policy might cover your injuries even if you weren't in your vehicle at the time. If a vehicle strikes you while you're walking across the street, contact your insurance company to see if you can file a claim.
Veterinary bills
Many people like to travel with their pets. Unfortunately, pets can become injured in accidents just as people can. Veterinary bills could easily exceed your deductible, depending on the extent of the injuries.
Some policies help cover veterinary costs when an animal is injured in an accident. However, not all car insurance policies do, so you'll need to review the terms carefully when comparing options.
Damage from wildlife
Deer and other wildlife can wreak havoc on your vehicle.
Large animals such as bears might cause significant damage. While this isn't the most common occurrence, it does happen.
In addition, raccoons or possums may also scratch the exterior of your vehicle or damage the interior if they make it inside.
Keeping your car clean and free of food and garbage can lessen the chances of wildlife damage. But if it does happen, you can file a claim so long as you carry comprehensive coverage.
Lost wages
Injuries resulting from an auto accident might prevent you from going to work. In these cases, your personal injury protection coverage might cover wages lost while you recover. This coverage might even help cover the lost wages of other passengers injured in the crash.
Some states require personal injury protection, and other states might not offer it at all. When determining whether to carry PIP coverage and the amount you'll need, consider your health insurance policy and how lost wages could impact you.
Bottom line
Not all auto insurance policies will cover everything on this list. So, it's essential to know which things your car insurance covers and obtain the right coverage before you need to file a claim.
Looking for more ways to cut your auto-related costs? Use one of the top credit cards for gas so you can earn cash back or other perks.
You could save up to $500 with some companies
Compare dozens of providers in under 5 minutes
Fast, free and easy way to shop for insurance
Quickly find the perfect rate for you