8 Ball Strike is an online pool game app available on Apple's App Store for playing skill-based billiards games on your phone. You can choose between playing for free to earn tickets or competing against other players for cash prizes that you can withdraw via PayPal.

It can take some practice to get the hang of aiming at the balls on a phone screen, and the money withdrawal rules of 8 Ball Strike can be frustrating. But overall, the 8 Ball Strike app provides a good gaming experience for people who like classic pool and want to earn a little extra money.
Explore how this game app works and how much you can earn in this 8 Ball Strike review.
Key takeaways:
Play online pool on your phone for free to earn tickets or in cash games against others for a chance to earn money.
Only available on Apple iPads and iPhones via the App Store.
Not available on the Play Store, so you can't play it on Google, Samsung, or other Android devices.
A fun game, but winning games and earning money can take practice.
$2 minimum withdrawal, but a fee of $1 is added to any withdrawal under $10.
No ads within the game, and creating an account is quick and easy.
Some users may be unable to compete in cash games due to state restrictions.

Quick Summary
Play fun free games or compete against other players in cash games to win real money.
Make money playing pool in your free time
Real-money tournaments and no ads
Cash out securely using PayPal
8 Ball Strike: Is it worth it?
Pros
Cons

Players can earn money (in eligible states) by competing against other players
Low minimum cash payout via PayPal
4.9 out of 5-star rating on the App Store
No ads within the game or on the platform

Players may need to deposit their own money to cover the entry fees for cash games
Mastering aiming skills on your phone screen can be challenging
Only available for iOS devices, such as iPhones and iPads

Our verdict: We think 8 Ball Strike is a legit and fun mobile billiard app that lets you earn money by competing against other players of similar skill in cash games. You may need to deposit money to join these games and may have to spend some time practicing before you have enough skills to win them. Keep in mind that while the app is highly rated on the App Store, it isn't available on Google Play.
What is 8 Ball Strike?
8 Ball Strike is a mobile game app that AviaGames released in August 2022. It has a 4.9 out of 5-star rating on the App Store with more than 3,300 customer reviews.
8 Ball Strike offers free gameplay that lets you shoot pool on your phone. You can also compete against other players in cash games for a chance to win prizes, but these games have entry fees that typically require depositing money.
AviaGames, Inc was founded in 2017 by Vickie Chen and Ping Wang and is headquartered in Mountain View, California. AviaGames also created popular games like Bingo Tour and Solitaire Clash.
Year created
2022
Availability

Available for iPhone and iPad via the App Store
Not Available on Google Play or Samsung's Galaxy Store

Minimum withdrawal
$2 minimum
Cashout fees

0% to 15% withdrawal fees
$1 processing fee for withdrawals less than $10

Cashout methods

PayPal
Direct deposits
Paper checks

Review rating

4.9 out of 5 stars on the App Store
Not available on Google Play or the Galaxy Store
How much can you earn with 8 Ball Strike?
The amount of money you earn from 8 Ball Strike depends on your skill, the cash games you join, and the players you compete against, among other factors. The game requires a level of strategy and practice that some other online games don't.
Instead of a classic bingo game that may not take much forethought, 8 Ball Strike requires aiming accurately and calculating possible angles, just like a real pool game.
Because of this, it may take time to get good enough at the game to earn more than a few dollars.
Entering cash games
Playing and winning in the free version of 8 Ball Strike gives you golden tickets and potential bonus cash, which you can use to enter a cash game.
Earning enough tickets or bonus cash for a cash game entry fee can take a while. To join these games faster, you'll likely need to deposit your own money into the game wallet via:
PayPal
Apple Pay
Venmo
Credit card
The lowest entry fee is $1, with a potential prize pool of $5. You can also enter the same game using $0.60 and 120 golden tickets.
Potential winnings and entry fees increase as the game level gets higher. The highest prize pool is $55 for playing against nine other players and has an entry fee of $9.
Withdrawing cash
When you are ready to withdraw your winnings, you can enter the amount you want to take out in the withdrawal information section. Withdrawing prize money may result in forfeiting some bonus cash and will freeze your bonus until the withdrawal is complete.
Minimum withdrawal
$2 minimum
Cashout fees

0% to 15% withdrawal fees
$1 processing fee for withdrawals less than $10

Cashout methods

PayPal
Direct deposits
Paper checks

Inactivity fees
$2 per month after six months of inactivity
If you withdraw less than $10, you'll have to pay a $1 processing fee. You may also be subject to up to a 15% withdrawal fee if you deposited cash to enter games but used less than half of it to enter games.
Keep in mind
You may have to pay taxes if you earn $600 or more from the 8 Ball Strike app in a year. AviaGames will send you a 1099 tax form when you earn $600 or more. The form will include details on your earnings.
Keep in mind that if you don't play 8 Ball Strike for six months or more, your account may be subject to a $2 monthly maintenance fee.
All withdrawal requests undergo a three-day case review for fraudulent activities, and you'll need to provide the following to verify your identity:
Name
Phone number
Address
Once the withdrawal is approved, you can receive it via PayPal, direct deposit, or a paper check.
How do you play 8 Ball Strike?
Although 8 Ball Strike isn't hard to understand, it's not as easy as some other mobile games. It requires coordination and strategy to maximize your score and win.
Gameplay basics
To start your first turn, take your break shot using the beginner cue provided. As with a regular game of pool, the goal is to pocket the balls around the table. Each ball is assigned a number, and each pocket is assigned a multiplier.
When a ball goes into a pocket, the ball number is multiplied by the pocket multiplier, and the total is your base score. For example, if you sink the eight ball into a pocket with a two multiplier, your base score would be 16 for that shot.
To aim the cue stick, tap or drag the cue to the appropriate angle and direction you want to shoot. Pull back the power bar at the bottom of the screen to control how hard the cue hits the cue ball.
The pocket multipliers shift clockwise after each ball is pocketed, so no pocket has the same multiplier twice. Each pocket and ball also have a different bonus, and strategizing before taking the shot can reflect on your score and earnings.
Multiplayer games
When you play in multiplayer-match mode, all players race in real-time against a three-minute clock to try to sink as many balls as possible before the time is up.
You need to get the highest score using the balls and multiplies available on the pool table to beat your opponents. The person at the top of the leaderboard claims the prize pool money. However, the top three players may earn bonus cash or tickets they can use to enter a new game.
Under the triple-shot mode, your base points become higher for every three consecutive balls pocketed. You can also earn extra points with trick shots, table cleared, unused cue balls, and sinking all balls with time remaining on the clock.
Players in competitions are matched based on their skill level and game ranking to ensure fairness. Beginners start with ticketed games to help them build up their cash bonus balance, which can help them enter higher-stakes games faster.
As you earn more, you can withdraw your money, use your earnings to enter more games, or spend them on in-app purchases to get cue upgrades, such as maple or obsidian cue sticks, among other materials.
How to make more money with 8 Ball Strike
Learning how to make money from online and mobile games can take some practice. To play 8 Ball Strike effectively, you need to develop a plan to help you not only master the game but outwit your opponents.
Maximize your potential earnings by:
Playing consistently: The more you play 8 Ball Strike, the better your skills will be. This game involves much more coordination than other mobile games since you must aim the cue and line up your shot. If you check in daily, you can also claim the daily bonus, ranging from extra tickets to bonus cash and a unique pool cue.
Taking your time: Although you have a clock running down, it's essential to take your time and be strategic to have a better chance at winning. Since the number on the ball you hit and the multiplier on the specific pocket where you sink the ball affect your final score, maximizing your points based on these two factors can give you a bump.
Taking advantage of bonus cash and minigames: 8 Ball Strike is a pool game, but the creators also offer bonus cash, minigames, and special offers to help you earn more. Use the Lucky Wheel and the Daily Bonus features to earn extra tickets or bonus cash, and check in consistently to maximize your winnings.
How to get started with 8 Ball Strike
To sign up for an account with AviaGames and win real money from 8 Ball Strike, you must be at least 18 years old.
Due to state restrictions, cash games are not available in:
Arizona
Arkansas
Connecticut
Delaware
Louisiana

Montana
South Carolina
South Dakota
Tennessee
Vermont
If you live in one of these states, you can still play 8 Ball Strike for fun, but you won't be able to enter any of the cash games and play for money.
Signing up for 8 Ball Strike is simple and only takes a few minutes.
Download the 8 Ball Strike app from the Apple App store.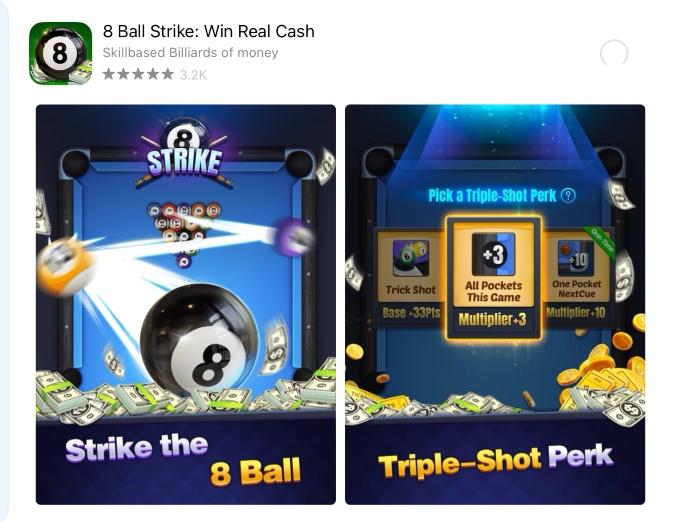 Open the app and create an account. The app will ask for your email address and the password you'd like to use to create an account.
Enter your personal information, including your date of birth, and allow the app to track your location to verify your account.
Play a few beginner rounds until you get the hang of the controls and rules.
When you've earned tickets and bonus cash, select one of the levels where you can win money. You may want to play several ticket-only games to get better before depositing your money into the wallet for entry fees.
Alternatives to 8 Ball Strike
8 Ball Strike requires particular skills to position the cue and angle it toward the correct pool ball and pocket. This game might not be for you if you find hand-eye coordination difficult or you don't generally enjoy playing pool.
If you're still interested in playing other mobile games that may reward you with cash, consider the following legit game apps.
Bingo Clash
The classic bingo game is reimagined in Bingo Clash, an app from AviaGames. It's available for Apple and Samsung devices and has high customer ratings. The basics of playing bingo are the same whether played virtually or in person, but this online game moves much faster than in real life. Like with 8 Ball Strike, start by playing beginner-level games for tickets and bonus cash. As you get better at the game and earn more, you'll be able to enter games against other players and potentially play for cash prizes.
Read our Bingo Clash review to learn more.
Cash Giraffe
If you're looking for a mobile game that you can play on an Android phone, consider using the Cash Giraffe app. This app rewards you for trying various games and apps. Once you download the Cash Giraffe app, you can select a game to download and start playing. The app will track your time in each game and award you points. The more you play, the more you could potentially earn. Players can redeem points for gift cards or cash via PayPal, and there are multiple games to choose from, including arcade, casino, strategy, and adventure.
Check out our Cash Giraffe review for more details.
FAQs about 8 Ball Strike
Does 8 Ball Strike pay out real money?
The 8 Ball Strike app rewards actual money when you win cash games against other players. The game app has a minimum withdrawal amount of $2, but you may have to pay fees or forfeit some bonus cash to complete a withdrawal. Players who want to earn money quickly may have to deposit their own money to enter bigger games.
How do I withdraw money from 8 Ball Strike?
When you have at least $2 in your account balance, you can go to the withdrawal section of the app. You'll need to enter the amount of cash you want to withdraw and select your preferred payout method. Note that only your cash winnings are available to withdraw. Any bonus cash you have can't be removed and will be frozen until your payout is complete.
What is the best game app to win real money?
Many games can help you win real money. The best one for you will likely be the one you're most interested in and will play consistently.
To get started, consider these games:
8 Ball Strike review: Bottom line
If you like playing online pool, 8 Ball Strike might be a good way to earn extra cash while you relax after a long day. If you devote the time to practicing and you understand the rules about when and how to withdraw winnings, you can play pool and earn cash without stepping foot in a bar.
But keep in mind that getting used to using a pool cue on a phone screen can take some work, and winning money is never guaranteed. Explore our list of the best side hustles for more opportunities to earn cash.