Renting a car is one of the major expenses you'll incur on vacation. But the price of a rental car can vary wildly depending on where you're traveling, the company you're renting from, and the type of vehicle you want to drive.
If you're wondering how to save on rental cars, the answer may be AutoSlash. The rental car comparison website makes it easy to shop around and compare prices based on your preferences, and also provides additional services to make it easier to save.
In this AutoSlash review, you'll learn everything you need to know about the company before you book your next car rental. We'll also share a list with you of the best credit cards to use with AutoSlash.
What is AutoSlash?
AutoSlash is far from the only way you can compare rental rates. But the website provides some features many of the larger discount travel websites don't.
The company doesn't give you a quote automatically like you'd get with Expedia, Priceline, and any number of other travel websites. Instead, AutoSlash takes an average of 15 minutes to analyze the information you provide, search its database of coupon codes and discounts based on your memberships — think AAA, AARP, and Costco — and gives you incredibly low prices.
If you've already booked your rental car, no problem. AutoSlash allows you to submit your current reservation, and it will track prices for you and let you know if it can help you save. And because you can typically cancel a rental car reservation up until a day or two before you need it, rebooking at the best rate is easy.
How I use AutoSlash to save on car rentals
Whenever I'm planning to rent a car, I get an AutoSlash quote to make sure I'm getting the lowest price available. That's because the website does so much more than many other comparison sites. Here are the different ways I've found you can save with AutoSlash:
Compare quotes across car rental companies
Access car rental coupons from different companies
Search for discounts based on my memberships
Track price drops on rental cars I've already booked
Compare quotes across car rental companies
One of the best ways to save money on a rental car is to shop around. Every car rental company has a different pricing structure, and you could save hundreds of dollars for the same destination, dates, and vehicle type by comparing multiple offers.
But visiting each car rental agency to get a quote is a time-consuming hassle. As with other travel websites, AutoSlash does the legwork for you, providing quotes from several major car rental companies. Here are the steps you'll need to take to get a quote:
1. On the autoslash.com homepage, share where you want to pick up your rental. You can choose between an airport and non-airport rental. On the next page, you'll select whether you're returning the vehicle to the same location or a new one.
2. Select your dates and times for pickup and drop-off.
3. Select your desired vehicle type or whether you want the least expensive option. Note that AutoSlash will provide quotes for your car class and higher classes, but if you want to compare different vehicle types, you'll need to submit multiple requests.
4. From a list of options, check off your association memberships, the types of credit cards you carry, the frequent flyer and car rental programs you belong to, and whether you're a member of a warehouse club.
AutoSlash asks for this information because many associations and warehouse clubs provide rental car discounts to their members. Some credit cards may also give you perks when you rent a car. Finally, with some car rental companies, you can earn points or miles with your favorite frequent flyer program.
5. Next, you'll provide your name and email address so AutoSlash can send you your quote. You can also choose to sign up for the company's newsletter and let it know where you heard about the service.
6. Once you submit your request, AutoSlash takes the information you share and analyzes it to provide you with the best possible quote. On average, you'll get your quote via email within 15 minutes. When I submitted a dummy quote to research for this article, I got quotes from 14 different car rental companies. Here's a sample of what you'll get:
You'll then have the option to complete the reservation process, or you can browse other vehicles before you make a decision.
Access car rental coupons from different companies
During the quote process, AutoSlash will automatically apply available discounts from the car rental companies it's comparing. But if you want to search on your own, the company provides those discounts directly on its website.
I found more than 60 coupons and discount codes from 11 major rental car companies, including:
Alamo
Avis
Budget
Dollar
Enterprise
Fox
Hertz
National
Payless
Sixt
Thrifty
For instance, Avis is offering 10 different coupons (as of May 6, 2022). While these coupons can change, current options include a discount when you spend a certain amount, percentage discounts, and free weekend days.
Of course, you'll likely save more by going through the quote process, so AutoSlash can also provide discounts based on your memberships. But giving you the option to do it on your own and providing some savings establishes a little more trust for me.
Search for discounts based on my memberships
During the quote process, AutoSlash reviews your loyalty program memberships and provides any discounts you qualify for based on those affiliations.
That includes memberships with:
AAA/CAA
AARP
Allied Business Network
BJ's
Costco
Sam's Club
USAA
You may also qualify for savings based on the types of credit cards you have — American Express, Mastercard, Discover, and more — and the frequent flyer programs you belong to, which are all free to join.
Just keep in mind that car rental companies can and do often ask for proof that you're a member of the organizations you claim to be. So resist the urge to check all the boxes to maximize your discounts unless you can provide evidence.
Track price drops on rental cars I've already booked
If you've already reserved a rental car, there's no reason not to double-check to make sure you're getting the best price. The company will continue to check for lower prices up until your rental date and let you know when it finds one.
To request price tracking, click on the "Track a Rental" tab and provide the company your reservation is currently through and the confirmation number. Then you'll share your pickup date and the price of your existing rental reservation, as well as your name.
Then you'll provide all the same information about your memberships, credit cards, frequent flyer programs, and car rental programs, just as if you were getting a quote from AutoSlash.
Finally, you'll provide your email address, so AutoSlash can keep you updated.
You'll get an email letting you know that AutoSlash is tracking your request with a confirmation number. You'll then get an email when it finds a lower rate. In the meantime, if you change your original reservation, you can provide updates to AutoSlash, so it can ensure it's comparing apples to apples.
AutoSlash vs. others: Which option is the least expensive?
AutoSlash won't always give you the cheapest rates on your rental car. In the past, I've found better rates from Costco and even through Expedia. But in many cases, AutoSlash can provide you with the most cost-effective option.
Even if it can't, remember that AutoSlash can and will track prices for you, just in case prices drop.
To give you more hard data about whether AutoSlash is a good option, we compared quotes from the company with quotes from other popular car rental and travel websites. Here's what we found based on a trip to Orlando, Florida, from September 17–24, 2020 with a premium car:
| | |
| --- | --- |
| Company name | Rental quote |
| AutoSlash | $242.18 |
| Priceline | $277.87 |
| Expedia | $278 |
| Costco Travel | $391.81 |
| Hertz | $418.59 |
| Thrifty | $509.29 |
| Avis | $523.60 |
FAQs about AutoSlash
As I spent time learning more about AutoSlash and how it works, I came across several frequently asked questions from other consumers. Here are some of the most common ones.
Is AutoSlash legit?
Absolutely. AutoSlash isn't a car rental company itself. Instead, it provides you with quotes from major car rental companies. Then, it allows you to apply discounts and book them directly through the rental agency or a third-party travel website like Priceline.
Although the company uses your email to send you quotes, it doesn't sell or share that information or use it for anything other than providing you with rate quotes — or promotions if you sign up for the newsletter.
How does AutoSlash make money?
It doesn't cost any money to get a car rental quote from AutoSlash. Instead, the company makes money from its partners, the car rental companies themselves. Every time you use an AutoSlash coupon to book a rental car, it receives a commission.
Fortunately, this doesn't impact the recommendations because they're sorted by price.
Do car rental prices drop?
Like hotel and flight prices, rental car prices can vary based on a variety of factors. As a result, the price you get when you reserve a vehicle won't necessarily stay the same. Depending on the different factors impacting it, the price can go up or down.
One of the benefits of AutoSlash is that it will track the price of your specific reservation for you, and if it goes down, it'll let you know so you can cancel and rebook to save money.
Of course, some car rental companies offer the chance to get a discount when you pay now instead of when you pick up the car. In these cases, there's typically a fee associated with canceling the reservation. If the new price through AutoSlash provides savings that are greater than the cost of cancellation, it's still worth it. But if not, you're better off sticking with your current reservation.
Save even more on your car rental with the right credit cards
When you rent a car, you'll be asked whether you want to purchase a collision damage waiver. What this means is that if you get in an accident, you won't have to pay for the damages and you won't need to file a claim with your personal auto insurance policy.
This CDW can be expensive, though, and if you're wondering, is rental car insurance a waste? The answer is, possibly. That's because if you have certain credit cards, you may be able to get the same type of coverage for free.
Most credit cards with rental car insurance offer what's called secondary insurance, though. This means your coverage won't kick in until after you file a claim with your personal car insurance provider. And even then, it'll only cover what your personal policy doesn't, such as your deductible.
With primary rental car insurance, though, your card's coverage kicks in first. Here are some of the best travel credit cards that offer rental car insurance:
Chase Sapphire Reserve®: Chase Sapphire Reserve benefits include a $300 annual travel credit, complimentary airport lounge access, savings with DoorDash and Lyft, and more. The card offers primary rental car insurance, plus a suite of other premium travel benefits.

The Platinum Card® from American Express: This premium travel card offers just secondary insurance, but you can purchase primary coverage from Amex for up to 42 days at a time for a maximum of $24.95 per rental period — that's a huge savings compared to what car rentals charge per day. The card also offers several travel and shopping benefits.

Chase Sapphire Preferred® Card: This card comes with a more modest annual fee but still offers primary rental car coverage. It also comes with some benefits with Lyft and DoorDash, and gives you access to arguably the most versatile travel rewards program available.
Just keep in mind that, even then, credit card rental car insurance benefits do come with exclusion and limitations. For instance, liability insurance coverage typically isn't included — so make sure you read the fine print before you use your card.
Easy-to-Earn Unlimited Rewards
Earn 25,000 online bonus points after you make at least $1,000 in purchases in the first 90 days of account opening - that can be a $250 statement credit toward travel purchases
Earn 1.5 points per $1 spent on all purchases
Longer intro APR on qualifying purchases and balance transfers
No foreign transaction fees
Earn unlimited 1.5 points per $1 spent on all purchases, with no annual fee and no foreign transaction fees and your points don't expire.
25,000 online bonus points after you make at least $1,000 in purchases in the first 90 days of account opening - that can be a $250 statement credit toward travel purchases.
Use your card to book your trip how and where you want - you're not limited to specific websites with blackout dates or restrictions.
Redeem points for a statement credit to pay for travel or dining purchases, such as flights, hotel stays, car and vacation rentals, baggage fees, and also at restaurants including takeout.
0% Introductory APR for 15 billing cycles for purchases, and for any balance transfers made in the first 60 days. After the intro APR offer ends, 18.24% - 28.24% Variable APR will apply. A 3% fee applies to all balance transfers.
If you're a Preferred Rewards member, you can earn 25%-75% more points on every purchase. That means instead of earning an unlimited 1.5 points for every $1, you could earn 1.87-2.62 points for every $1 you spend on purchases.
Contactless Cards - The security of a chip card, with the convenience of a tap.
This online only offer may not be available if you leave this page or if you visit a Bank of America financial center. You can take advantage of this offer when you apply now.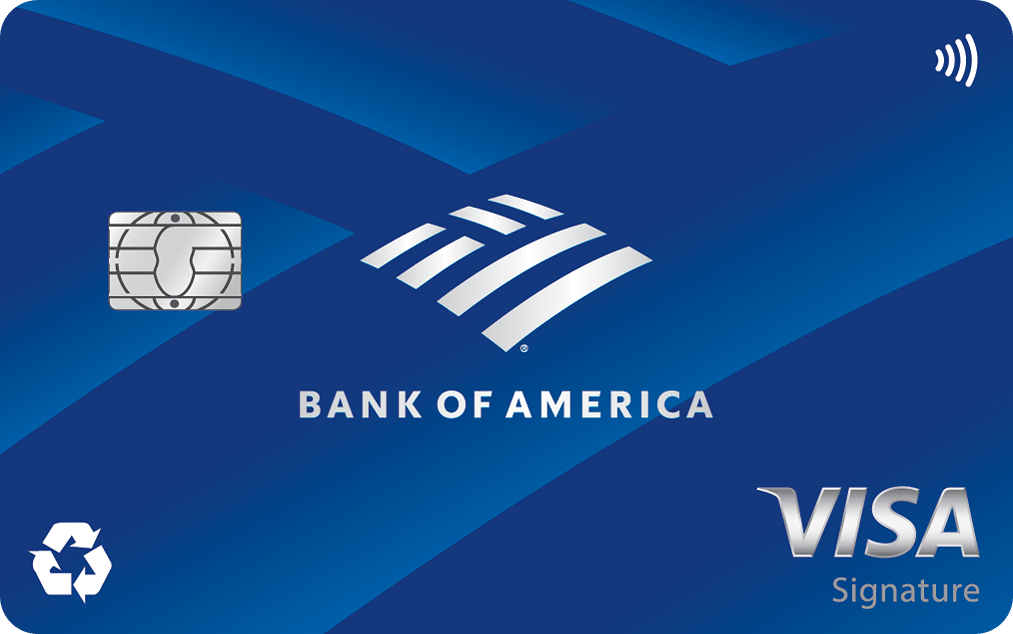 Apply Now
on Bank of America's secure website
Read Card Review
Intro Offer
Earn 25,000 online bonus points after you make at least $1,000 in purchases in the first 90 days of account opening - that can be a $250 statement credit toward travel purchases