If you're the type of person who can book a flight and head overseas at the drop of a hat with little to no planning, kudos to you. But not everyone can take a vacation without putting in some sort of research or preparation first.
Fortunately, there are plenty of apps available to help streamline your travel plans and experiences. This can range from saving money with flight deals to using an app to navigate a new city or town. Here are 25 of the best travel apps to consider for your next trip.
25 best travel apps
We picked a variety of mobile apps (for both Android and iOS devices) to suit different types of travelers and their unique needs. We decided these were the best travel apps through careful consideration of what each app excels in and what it was designed to be used for. We also considered how easy and reliable these apps are for travelers and whether we would personally use them ourselves when traveling.
1. Google Maps: Best for offline navigation
Google Maps works worldwide, making it an effective tool for getting around in other cities, states, and countries. But what if you're in an area without internet access? With offline maps functionality, simply download map areas through the app when you have an internet connection, and then you can use them offline.
Download Google Maps.
2. Instagram: Best for travel inspiration
Instagram isn't necessarily going to help you travel the world for free unless you're an influencer or have a business. But it can still provide you with useful travel inspiration for your next trip. Like the look of a certain destination? Save the photo or video portraying the location and start building your list of places to visit.
Get Instagram.
3. LoungeBuddy: Best for airport lounge research
Airport lounges can turn a dismal and tedious airport experience into one that's refreshing and relaxing. We're talking about comfortable seating, free food and drinks, and complimentary Wi-Fi. With LoungeBuddy, you can research all the available lounge options at different airports and even book some of them through the app.
Certain credit cards can also get you into airport lounges for free. Check out these credit cards with airport lounge access.
4. Priority Pass: Best for Priority Pass members
If you compare credit cards, you'll see many travel cards offer the benefit of a Priority Pass membership. This gives you free access to airport lounges and experiences within the Priority Pass network. Use the Priority Pass app to find what lounges and experiences are available in airports you're traveling through, including if you have a layover.
Check out these credit cards with Priority Pass.
5. Airbnb: Best for unique accommodations
Airbnb rental properties are everywhere, and they have plenty of variety. Want to stay in a treehouse in Atlanta or a castle in Scotland? Not a problem. You can research and book Airbnbs to your heart's content through the Airbnb booking app.
Check out the best credit cards for booking an Airbnb.
6. Vrbo: Best for renting entire homes
While Airbnb does offer entire homes as one of its rental categories, Vrbo is the king of entire home rentals. After all, you don't have any option other than renting an entire home through Vrbo. This makes it easy to find the perfect getaway for the whole family.
Check out the best credit cards for Vrbo.
7. TripIt: Best for trip organization
Wondering how to stay focused and organized when you have to book flights, book hotels, and book car rentals when traveling? Consider using TripIt to keep everything organized for you in one place so you don't have to worry about searching for your plans in different folders and inboxes.
Download TripIt.
8. HotelTonight: Best for last-minute discounts
Need a hotel room ASAP? Don't settle for paying top dollar because you're making a last-minute booking. The HotelTonight app can help you find heavily-discounted rates on hotel stays, whether you have a flexible schedule or you need to book a room quickly.
To help save more money on hotel stays, check out the best hotel credit card options.
9. MyTSA: Best for navigating airport lines
Put your airport security worries behind you with the MyTSA app. This app can tell you what items are allowed through security checkpoints and give you information about delays at different airports. You can also check forecasts to see how busy the airport is likely to be on specific days according to past data.
Get the MyTSA app.
10. Citymapper: Best for public transportation
Using public transportation while traveling is an excellent way to get to know the area while also saving money. In fact, taking public transportation instead of renting a vehicle could go a long way in helping fund your world travels. With the Citymapper app, you can route your way across cities with available public transportation options.
Download Citymapper.
11. PackPoint: Best for packing lists
What should you pack for your trip? If you tell the PackPoint app about your trip — such as where you're going, how long the trip is, and what activities you plan on doing — it'll generate a checklist of items you won't want to forget. This might not be a comprehensive list for every situation, but it can help you remember some of the necessities.
Check out PackPoint.
12. Tripadvisor: Best for travel research
Tripadvisor is a great app for researching where to stay, where to eat, and what to do in an area. Reviews for lodging, restaurants, and activities are gathered from other travelers. It can be a great resource for travel tips and finding must-see attractions in areas you're visiting.
Get Tripadvisor.
13. GasBuddy: Best for finding cheap gas
Planning a road trip in the U.S., Canada, or Australia? The GasBuddy app can help you find the cheapest gas based on your location. You can calculate how much gas will cost on a road trip and log your fuel purchases from the app.
For additional ways to save at gas stations, check out options for the best gas credit card.
14. XE: Best for currency conversions
Wondering how far your U.S. dollar will stretch in another country? Use the XE currency app for quick and easy currency conversions to make sure you're getting good exchange rates. This currency converter is most useful while you're traveling abroad, but it can be helpful for doing research before a trip as well.
Learn more about XE.
15. Roadtrippers: Best for planning epic road trips
Planning a road trip and don't want to miss out on any epic stops along the way? The Roadtrippers app can help you with trip planning and point you in the right direction for cool stops during your drive. Share your created trips with friends and family so they can see what your plan is.
Download Roadtrippers.
16. WhatsApp: Best for communicating when you're outside the U.S.
Texting might be your go-to method of communication in the U.S., but you might need to consider other options when traveling abroad. WhatsApp is a popular messaging app that's used worldwide. You can use it to send messages and make calls over Wi-Fi, which is helpful if you don't have an international data plan.
Get WhatsApp.
17. Yelp: Best for restaurant recommendations
If you're a foodie traveler, Yelp can be your best friend. It's an app that collects user reviews for different businesses, including restaurants. So if you're on the lookout for somewhere to eat, pull up Yelp to check out the local food scene. Yelp is currently available in over 200 cities worldwide, including in Europe and Asia, though it's mostly used in North America.
To help save on eating out, check out the best credit cards for dining.
18. Uber: Best for quick transportation
Sometimes you don't have the luxury of waiting for the public bus to arrive, or maybe public transportation doesn't travel where you're headed. In these and other cases, a rideshare app like Uber can come in handy for quick rides around town.
To save on your Uber rides or Uber Eats orders, check out the best credit cards for Uber.
19. AllTrails: Best for outdoor activities
Travel isn't always about traversing different cities — sometimes doing an activity outdoors is one of the best ways to explore an area. With AllTrails, you get to see a slew of available trails to walk, hike, and run worldwide. Looking for gorgeous views and pristine scenery? This is how you'll find them.
Download AllTrails.
20. Secret Flying: Best for flight deals
You have your pick of apps for flight deals, including Skyscanner and Hopper. But Secret Flying is a standout because it's simple and constantly sends you notifications for flight deals according to your specifications. It's also free to use, which your wallet will thank you for.
To help save money on airfare, check out the best airline credit card choices.
21. Waze: Best for traffic updates
Do you need both Google Maps and Waze? Possibly, depending on where you travel. In some cases, one navigation app could work better than the other. And with Waze, the focus is always getting you to your destination with as little hassle as possible. Google Maps works similarly, but Waze users actively report traffic delays and other issues, which can help you get to your destination easily.
Get Waze.
22. FlightAware: Best for flight tracking
Wondering if you're going to make that connecting flight? Look up real-time flight traffic with the FlightAware app and see where a specific flight is at any given time. Having this sort of updated information can help you make informed decisions concerning flight delays, cancellations, and rebookings.
Download FlightAware.
23. Netflix: Best for entertainment
Is Netflix a travel app? It can be. Netflix lets you download shows and movies to your phone, making it easy to access entertainment even if you don't have access to the internet. And it's also interesting to see what's available on Netflix in other countries.
Want to save money on your Netflix subscription? Check out the best credit cards for streaming services.
24. Google Translate: Best for language translation
Unsurprisingly, not everyone speaks English. This becomes apparent almost immediately when stepping foot into other countries. To help you navigate a new language, use the Google Translate app. It offers loads of useful features, including using your camera to translate, voice translations, text translations, and more.
Learn more about Google Translate.
25. CyberGhost: Best for security and privacy
If you're worried about cybersecurity and privacy while traveling, use a VPN. CyberGhost is a highly-rated option that can help keep your information safe and secure. It's also user-friendly and reasonably priced.
Check out CyberGhost.
FAQs
What do travel apps do?
Travel apps can serve a variety of purposes, including helping you navigate local roads or notifying you of discounted flights or hotel stays. Many travel apps can be downloaded to your phone for free, so you can plan without adding to your travel costs.
What is the best travel app?
There isn't an overall best travel app. Rather, there are a number of excellent apps for different scenarios. For example, Google Maps is helpful because it can download maps for offline use if you know you won't have internet access. But an app like Airbnb serves a different purpose, allowing you to book rental properties in various locations worldwide. Other helpful travel apps include WhatsApp, LoungeBuddy, Uber, and Yelp.
What is the best travel app for flights?
Some of the best travel apps for flights include Secret Flying, Skyscanner, Hopper, Going, and Kayak. These apps, along with Google Flights, can be used to find deals on flights. If you find a good deal, it's often best to book directly with an airline rather than a third-party organization to help avoid any mishaps.
Bottom line
Travel can be a big commitment, which is why it's important to be as prepared as possible for an upcoming trip. With the right travel apps by your side, you should feel ready to embark on your journeys, whether it's in the U.S. or abroad. The best apps are available on both the App Store and Google Play, so it shouldn't matter if you're using an Apple iPhone, a Samsung Galaxy, or another device.
If you want to prepare further, consider getting a travel credit card. Many travel cards offer valuable perks and benefits, and they can help offset some of your biggest travel expenses, such as flights, hotel stays, and rental cars. For more information, check out our list of the best travel credit cards.
Methodology
To choose the best travel apps, we identified apps that offer various travel benefits or features. We looked for apps that represent a variety of features, including navigation, accommodations, airport lounge access, and entertainment. We did not include all possible options.
Easy-to-Earn Unlimited Rewards
Earn 25,000 online bonus points after you make at least $1,000 in purchases in the first 90 days of account opening - that can be a $250 statement credit toward travel purchases
Earn 1.5 points per $1 spent on all purchases
Longer intro APR on qualifying purchases and balance transfers
No foreign transaction fees
Earn unlimited 1.5 points per $1 spent on all purchases, with no annual fee and no foreign transaction fees and your points don't expire.
25,000 online bonus points after you make at least $1,000 in purchases in the first 90 days of account opening - that can be a $250 statement credit toward travel purchases.
Use your card to book your trip how and where you want - you're not limited to specific websites with blackout dates or restrictions.
Redeem points for a statement credit to pay for travel or dining purchases, such as flights, hotel stays, car and vacation rentals, baggage fees, and also at restaurants including takeout.
0% Introductory APR for 15 billing cycles for purchases, and for any balance transfers made in the first 60 days. After the intro APR offer ends, 18.24% - 28.24% Variable APR will apply. A 3% fee applies to all balance transfers.
If you're a Preferred Rewards member, you can earn 25%-75% more points on every purchase. That means instead of earning an unlimited 1.5 points for every $1, you could earn 1.87-2.62 points for every $1 you spend on purchases.
Contactless Cards - The security of a chip card, with the convenience of a tap.
This online only offer may not be available if you leave this page or if you visit a Bank of America financial center. You can take advantage of this offer when you apply now.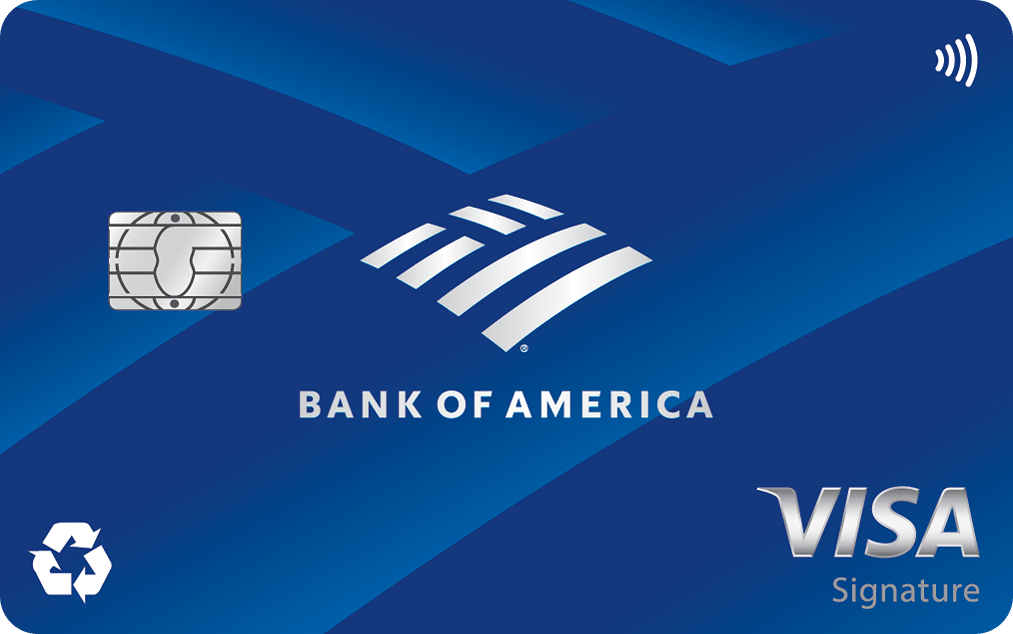 4.1
FinanceBuzz writers and editors score cards based on a number of objective features as well as our expert editorial assessment. Our partners do not influence how we rate products.
Apply Now
on Bank of America's secure website
Read Card Review
Intro Offer
Earn 25,000 online bonus points after you make at least $1,000 in purchases in the first 90 days of account opening - that can be a $250 statement credit toward travel purchases