With overcrowded gates, expensive food, and cramped seating, waiting at the airport can be downright miserable. Having access to airport lounges could make your experience much more enjoyable whether you're traveling with family or alone on business.
Capital One Lounges offer Capital One customers a welcome retreat away from the hustle and bustle of the airport crowd. Here's how to find one of these new airport lounges and the amenities they offer.
What is a Capital One Lounge?
Capital One Lounges are airport lounges provided by major U.S. bank and credit card issuer Capital One. Airport lounges are typically locations in airports that offer comfortable waiting areas away from the busy terminal gates. Some even offer access to complimentary Wi-Fi, food, beverages, and other amenities.
Airport lounges aren't often open to the general public, and each lounge has its own requirements. This may include paying an admittance fee or getting complimentary access through certain credit cards, premium fares, or airline elite status. Many lounges are also part of lounge networks such as Priority Pass or Amex Centurion Lounge.
Capital One Lounges are part of a new lounge network that caters to Capital One customers but are open to everyone for a fee. The first Capital One Lounge opened in November 2021. Located in the DFW airport, it's approximately 10,000 square feet and just steps from an American Express Centurion Lounge.
Capital One Lounge amenities
The amenities at airport lounges can vary widely depending on each lounge. This means you'll see some differences in the size of a lounge, the seating it offers, the reliability of the Wi-Fi, the food and beverages served, and the availability of other amenities.
Fortunately, Capital One has taken many of the best features from other airport lounges and included them in their lounges. Here are some of the amenities included at Capital One airport lounges:
| | |
| --- | --- |
| Ample seating | Room to spread out with dining stations, bar seating, private working spaces, and more. |
| High-speed Wi-Fi | Access to complimentary high-speed Wi-Fi throughout the lounge and plenty of power outlets to keep your devices charged. |
| Premium food and beverages | Capital One Lounges put an emphasis on offering dishes and beverages inspired by the area. This could include options from local partnerships, such as craft cocktails. Vegan, vegetarian, and gluten-free options are also available. |
| Grab-and-go food | Capital One Lounges offer grab-and-go options, including fresh fruits, nut mixes, juice shots, breakfast sandwiches, and more. Not all airport lounges offer grab-and-go food which elevates the Capital One Lounge experience even further. |
| Exercise and yoga room | These rooms offer an ideal space to get some exercise or loosen up before your flight or during a long layover. You'll have access to yoga mats, hand weights, and Peloton bikes. |
| Coffee bar | Visit the coffee and espresso bar for your favorite freshly-brewed pick-me-up. |
| Meeting room | If you need a spot to work with traveling co-workers, Capital One's meeting room provides the ideal space. |
| Shower suite | Just visited the exercise room or simply want to freshen up before a flight? Shower suites with complimentary towels and toiletries are available for use. |
| Relaxation room | Eye covers, blankets, and other comforts await you in the relaxation room so you can recharge in peace. |
| Luggage lockers | Enjoy a stress-free experience by storing your carry-on luggage and other personal items out of the way and in the available secure storage lockers. |
| Nursing room | Available nursing rooms offer a private space for taking care of your little ones. |
| Multi-faith room | Take advantage of these rooms if you want to pray or meditate in a quiet environment. |
| Family-friendly | Kids are welcome and can enjoy their own kid-sized tables and chairs. |
Keep in mind that the type and availability of each amenity may differ between lounge locations. Some amenities, like shower suites and relaxation rooms, are often available on a first-come, first-served basis.
Capital One Lounge locations
As of November 7, 2022, Capital One offers only one lounge location with two more scheduled to open in 2023.
Dallas/Fort Worth: Currently open and located in the Dallas-Fort Worth International Airport (DFW) in Texas. You can find the lounge in Terminal D by Gate D22. Hours are 6 a.m. to 9 p.m.
Washington, D.C.: Opening in 2023 at Washington Dulles International Airport (IAD) in Virginia. You'll be able to find the lounge in the Main Terminal after TSA PreCheck.
Denver: Opening in 2023 at Denver International Airport (DEN) in Colorado. You'll be able to find the lounge in Concourse A on the Mezzanine Level.
No other new Capital One Lounge locations have been announced, but more are expected to open in the future.
Who can access Capital One Lounges?
Capital One Lounges are intended for Capital One customers, but they're open to all travelers for a fee. If you have a Capital One Venture X Rewards Credit Card, you and up to two guests get free and unlimited access to Capital One Lounges. This same benefit also applies to Venture X authorized users.
Other Capital One credit cards also offer Capital One Lounge benefits. If you don't have one of the following cards, you can visit a Capital One Lounge for a $65 per visit fee.
The Capital One Venture X, Venture Rewards, and Spark Miles cards also offer a discounted rate of $45 for Capital One Lounge access. This would apply to any additional guests beyond the included two for Venture X cardholders. For Venture Rewards and Spark Miles cardholders, this rate applies for any additional visits beyond your two free annual visits.
Typically, one of the easiest ways to get airport lounge access is to qualify for a credit card that offers it as a benefit. In the case of Capital One cards, the Venture X is likely the most appealing option because it offers free and unlimited access to two lounge networks and includes guest access.
For additional airport lounges and other travel perks, check out our list of the best travel credit cards.
Capital One Lounge rules
Capital One Lounge visitors must present a boarding pass for a same-day departing or connecting flight and can enter up to three hours before their scheduled departure time. You will also need to present a credit card that offers lounge access or pay a fee to enter. Children under two can enter for free under the supervision of a parent or guardian.
Code of conduct
All visitors to Capital One Lounges are expected to treat other visitors and staff with dignity and respect. Spaces within the lounge should be used for their intended purpose and all visitors should be considerate of others. Capital One wants all lounge visitors to have an enjoyable experience, and lounge staff will address any behavior that might make someone feel unsafe or unwelcome.
Capital One Lounge pet and service animal policy
Service animals, emotional support animals, and pets are welcome in Capital One Lounges. However, the staff reserves the right to ask the owner to remove the animal from the lounge if it's exhibiting dangerous or disruptive behavior. This could include threatening the safety of a guest or staff member or continuously misbehaving.
As with most establishments, the animal is the responsibility of its owner and Capital One won't be held responsible for any issues or incidents that might arise from the animal being present in the lounge. Depending on local laws and health regulations, certain Capital One Lounges may have different requirements regarding access for service animals, emotional support animals, and pets.
FAQs
Does Capital One have airport lounge access?
Yes, Capital One offers airport lounge access with its Capital One Lounges. There is currently one lounge located in Dallas-Fort Worth (DFW), with one coming to Denver (DEN) and another to Washington, D.C. (IAD) in 2023.
Capital One Venture X cardholders receive complimentary access for themselves and two guests to Capital One Lounges. Capital One Venture Rewards and Spark Miles cardholders receive two complimentary Capital One Lounge visits per year, and then it's $45 per additional visit. Anyone else who wants to access a Capital One Lounge must pay a $65 fee per visit.
Does the Capital One Venture card get you into airport lounges?
The Capital One Venture Rewards card provides two complimentary visits to Capital One Lounges per year, and a discounted rate of $45 for each visit after. For increased airport lounge access, consider the Capital One Venture X card. This card offers unlimited access to Capital One Lounges and gives you complimentary access to over 1,300 airport lounges within the Priority Pass network.
How many Capital One Lounges are there?
There are currently three Capital One Lounges in total, with one already open at Dallas-Fort Worth (DFW) and two more scheduled to open at Denver (DEN) and Washington, D.C. (IAD) in 2023.
Bottom line
Capital One Lounges represent an exciting venture from Capital One into providing comfort and value to travelers at the airport. These airport lounges are specifically intended for certain Capital One cardholders but are open to all travelers for a fee.
Since the Capital One Lounge network is relatively small, it could make sense to explore other networks for more airport lounge availability on your travels. For more options, check out these credit cards with airport lounge access.
Easy-to-Earn Unlimited Rewards
Earn 25,000 online bonus points after you make at least $1,000 in purchases in the first 90 days of account opening - that can be a $250 statement credit toward travel purchases
Earn 1.5 points per $1 spent on all purchases
Longer intro APR on qualifying purchases and balance transfers
No foreign transaction fees
Earn unlimited 1.5 points per $1 spent on all purchases, with no annual fee and no foreign transaction fees and your points don't expire.
25,000 online bonus points after you make at least $1,000 in purchases in the first 90 days of account opening - that can be a $250 statement credit toward travel purchases.
Use your card to book your trip how and where you want - you're not limited to specific websites with blackout dates or restrictions.
Redeem points for a statement credit to pay for travel or dining purchases, such as flights, hotel stays, car and vacation rentals, baggage fees, and also at restaurants including takeout.
0% Introductory APR for 18 billing cycles for purchases, and for any balance transfers made in the first 60 days. After the intro APR offer ends, 17.74% - 27.74% Variable APR will apply. A 3% fee applies to all balance transfers.
If you're a Preferred Rewards member, you can earn 25%-75% more points on every purchase. That means instead of earning an unlimited 1.5 points for every $1, you could earn 1.87-2.62 points for every $1 you spend on purchases.
Contactless Cards - The security of a chip card, with the convenience of a tap.
This online only offer may not be available if you leave this page or if you visit a Bank of America financial center. You can take advantage of this offer when you apply now.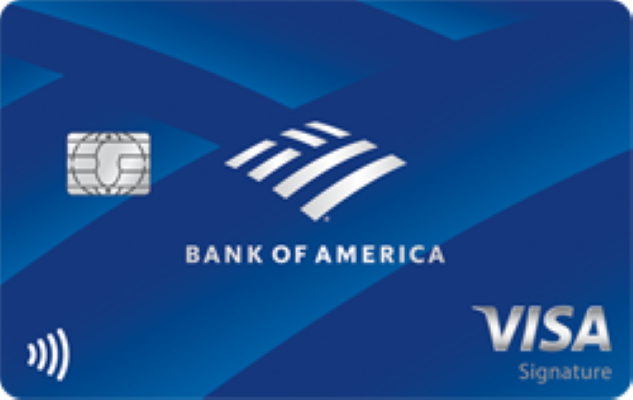 Apply Now
on Bank of America's secure website
Read Card Review
Intro Offer
Earn 25,000 online bonus points after you make at least $1,000 in purchases in the first 90 days of account opening - that can be a $250 statement credit toward travel purchases