Ask any group of Americans what's on their travel bucket list, and you'll get some incredible and diverse answers. Some dream of basking on stunning Hawaiian beaches. Some can't wait to take a trip 'down under' and see koala bears in Australia. Some long to experience the sensory thrill of standing in the middle of Times Square. Some can't die happy until they've eaten pizza in Italy.
But ask a group of "miles and points people" the same question, and you're much more likely to get a unanimous answer: luxury overwater bungalows on remote islands.
These thatched-roof water villas in far-flung places like the Maldives and Tahiti are the epitome of aspirational luxury travel. They've become so popular for those looking to take that bucket list, once-in-a-lifetime trip that there are now about 170 overwater bungalow resorts in the world, with more cropping up all the time.
While these stunning properties go for thousands of dollars per night in cash, many of the nicest overwater options can be within reach more affordably by using points to subsidize the cost.
Here's a look at some of our favorite overwater bungalow properties that can be booked using points, including the best hotel credit cards to get you on your way to paradise.
Overwater bungalows in the Maldives
Tucked between Africa and Indonesia, the Maldives are at minimum a 20-hour flight journey from the United States, plus a seaplane or speed boat to reach your resort. But by all accounts, the secluded turquoise waters that greet you are well worth the long journey to paradise.
St. Regis Maldives
Arguably one of the most luxurious properties in the world, a stay at the St. Regis Maldives doesn't come cheap. Cash rates start at $800 a night for standard villas, and can climb to nearly $7,000 a night for premium suites during peak times. Thankfully, you can use your Marriott Bonvoy points to book.
Here's the bad news: when Marriott designated the St. Regis Maldives a Category 8 and implemented its Bonvoy program peak/off-peak pricing chart earlier this year, this hotel became one of the most expensive in the entire Marriott portfolio.
The standard price for a villa at the St. Regis Maldives is now 85,000 Marriott Bonvoy points per night. It jumps to 100,000 during peak times, and down to a 70,000 if you can find off-peak space. It's important to note that a standard reward room at 85,000 Bonvoy points per night gets you a Garden Villa — not a quintessential overwater bungalow.
But, there's good news too. At the time of writing, the St. Regis Maldives calendar is wide open with award availability. And it's not all peak pricing — there's a decent amount of standard award availability and even a few off-peak dates for 2020. Just because a standard points award night gets you a Garden Villa, it doesn't mean you can't get overwater digs instead.
In this 5-night off-peak example, you could choose the "Redeem with Cash Upgrade" option for the Overwater Villa with Pool. Remember, when you book with Bonvoy points, you get the 5th night free. You'd pay the same amount of points as the Garden Villa, plus a $1,000 cash charge which works out to $200 per night.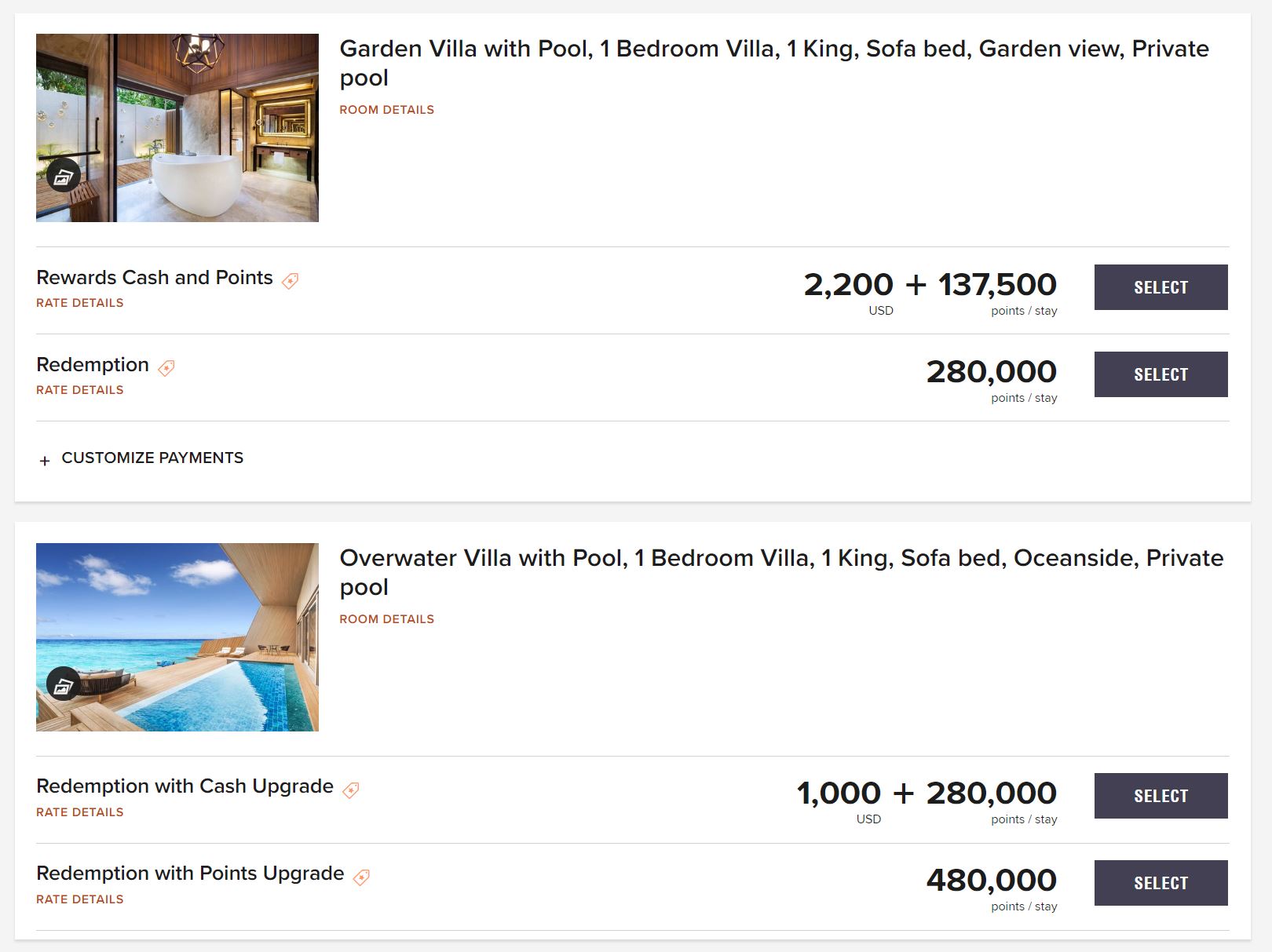 If you're willing to take a chance on visiting the St. Regis at the beginning of the rainy season, there's another deal you can take advantage of. For the entire month of May 2020, you can get breakfast and dinner included with your reservation — even points reservations. And that could add up to substantial savings on your trip.
Of course, you wouldn't expect food to be cheap at any world-class luxury resort. But, when that resort is tucked away in the most remote corner of the world, you'll pay about 3-5x more for food than you normally would. Average dinners for two at the St. Regis Maldives cost between $300-$500, or even more.
Park Hyatt Maldives Hadahaa
Hyatt ranks as the favorite hotel program for many miles and points enthusiasts, and it's easy to see why. Along with the superior treatment and generous perks given to top elites, a big reason to love Hyatt is their point redemption rates. While a top Marriott property can command 100,000 points per night, the best Hyatts in the world only cost 30,000 to 40,000 points per night.
The spectacular white sand beaches and tropical greenery at the Park Hyatt's private island do not disappoint. And did we mention this property is also on one of the largest natural reef chains in the world? While the villas are large and decked with luxurious touches like outdoor showers and sundecks, only 14 of the 50 villas are overwater.
A 30,000 point per night award booking will get you a 165 sq meter Park Villa room with direct beach access. Or, you can opt for the Points + Cash option, where you'll pay half the points plus half the going cash rate.
It is possible to upgrade to a villa with a private pool, or one of the overwater rooms, but you won't be able to do it online. Book a standard Park Villa, and then call the property directly to upgrade your booking with cash. Upgrades are contingent on room availability, so upgrading may be difficult during peak season.
Read our The World of Hyatt Credit Card review.
Conrad Maldives Rangali Island
A top luxury brand under the Hilton umbrella, Conrad properties are known for their modern spin, and the Conrad Maldives does not disappoint. Time Magazine named it one of the "World's Greatest Places", and with its breathtaking villas and innovative underwater restaurant concept, it's easy to see why.
Booking a villa with Hilton Honors points is possible, and unlike some other properties, a standard room reward actually books into your choice of a water villa or a beach villa.
Hilton's program has a dynamic point booking pricing, instead of a fixed award chart. That means that the higher the cash rate on any given day, the more points you'll pay. You can also choose a combination payment of points and cash on any Hilton booking.
While the amount of points needed may fluctuate, you can find consistent inventory of Standard Room Rewards priced at 95,000 Hilton Honors points per night. When you book with points, you'll enjoy a fifth night free if you have elite status with Hilton. (Luckily, Hilton elite status is easy to get.) That means a 5-night water villa stay at the luxurious Conrad can be yours for a total of 380,000 points. You can also redeem your Hilton free weekend night certificates at this property.
If you're saving up Hilton points for a dream trip, opening a Hilton Honors American Express Card is a great way to jump-start your balance. Earn 80,000 Hilton Honors Bonus Points after spending $1,000 in purchases in the first 3 months.
Read our Hilton Honors American Express Card review.
Overwater bungalows in the Tahiti Islands of French Polynesia
Nestled in the iconic turquoise South Pacific, 118 islands — many still uninhabited — make up a unique paradise that draws scores of honeymooners, celebrities, and bucket list adventurers each year.
Bora Bora is the most famous island of Tahiti. It's still a hike, but an 8-hour flight from L.A. makes it faster to get to. Visitors fly into the main Tahitian airport on Papeete and then take a short hop in a propellor plane to Bora Bora. The weather is warm year-round, and the high season in Bora Bora runs from May to October (opposite of peak season in the Maldives).
Conrad Bora Bora Nui
Made famous for hosting The Bachelorette, the Conrad Bora Bora is another fantastic Hilton luxury property with a modern slant. It sits on a private inlet lagoon surrounded by lush mountains and has recently undergone multi-million dollar renovations to make it a top choice property.
Standard room rewards rates start at 89,000 Hilton Honors points per night. These standard rewards book into a Garden View Suite. With Hilton's Points & Money option, you can use a combination of points and cash to book up to a water villa bungalow. Or, if you find standard award availability, you can book that with points and pay cash to upgrade, starting at about $330 per night.
Unfortunately, at the time of writing, there is extremely limited standard award availability for the foreseeable future. Most commonly you'll find Premium room reward rooms available to book, starting at 118,000 Hilton points.
Remember that the Hilton award program is dynamic, and that means it's constantly changing. If the dates you're looking to book aren't showing standard availability now, it doesn't mean that won't change if you keep checking back.
Le Meridien Bora Bora
Formerly part of the Starwood portfolio, the Le Meridien brand has a small but glamorous footprint that harkens back to the 60s era of luxury travel.
The Le Meridien Bora Bora became a Category 7 Marriott Bonvoy property when these programs merged in 2018. That means that rooms can be booked on points at rates of 50,000 per night off-peak, 60,000 standard, or 70,000 in peak times. Remember, with any Marriott point award booking, you'll get the 5th night free.
This luxury property, unfortunately, can also be tricky to find award night space with. When you can find it, standard awards book into a Classic Bungalow with beach view. You can then pay cash to upgrade to a spectacular Overwater Lagoon Bungalow, complete with turquoise water viewing spots built right into the floors.
Many times in award bookings, persistence pays off. If you can't find any available reward rooms for the dates that work for you, keep trying. Supply and demand forces prices and award availability to fluctuate all the time.
Hilton Moorea Lagoon Resort and Spa
Often overlooked in favor of its more famous island neighbor, Moorea is another French Polynesian stunner known for its volcanic mountains and picture-perfect beaches. Many claim it boasts even better snorkeling opportunities than Bora Bora, and it's a bit easier to reach after your long journey to the main airport in Papeete.
The Hilton Moorea is a luxurious resort option perched on a pristine stretch of white sand beach that caters to honeymooners and families alike. The resort has a variety of bungalow options, but only the top two tiers are the iconic overwater versions.
Standard room award rates theoretically start at 80,000 Hilton Honors points per night, but in reality, these standard awards are hard to come by. A quick skim of options for a 5-night stay at the Hilton Moorea any time in the next year showed exactly zero availability at standard rates.
Here's a tip to make searching easier: when you want to look for the best pricing across many different dates, check the "Use flexible dates" box when you start your search. You'll be able to see a weekly calendar of the best rates and availability, and you can drill down to see paid rates and award rates.
A standard award at the Hilton Moorea will book into a Garden Bungalow with a private pool, which is not shabby by any standard. But if you want the full overwater bungalow experience, you'll have to pay to upgrade. You can use points to book a room, and then pay cash to upgrade your bungalow.
Overwater bungalows in Vanuatu
If you really want to get off the beaten path, the small archipelago nation of Vanuatu in the Southwest Pacific may be just the place. The 4-hour flight from Australia is easy and affordable, and its main port enjoys a fair amount of cruise ship traffic during high seasons (December-January and June-August). Vanuatu boasts world-class diving, crystal waters, and an out-of-this-world collection of waterfalls.
Many are surprised to learn that an amazing overwater bungalow property option in Vanuatu is a Holiday Inn Resort. (Yes, I said amazing and Holiday Inn in the same sentence!) This picturesque, off-the-radar property is perfect for families and is a fantastic bargain when booking with points.
Holiday Inn is part of the IHG Rewards program, and the amount of points required for an award night varies by property. A standard reward at the Holiday Inn Resort Vanuatu runs just 15,000 IHG points per night. The standard rooms are large and perfect for families, and the resort offers a wide variety of family-friendly activities and pools. Kids even eat free for all meals at the resort with the purchase of an adult meal! Once you book a standard room with points, you can opt to pay cash to upgrade to a larger Family Suite, or to the coveted overwater villa.
New cardmembers can earn 140,000 bonus points after spending $3,000 on purchases in the first 3 months from account opening (plus, earn up to $100 in statement credits on purchases made at ihg during the first 12 months from account opening) of account opening with the IHG One Rewards Premier Credit Card. This welcome bonus could go far for a family trip to the Holiday Inn Vanuatu. Even better, you can earn a free reward night when you redeem points for a consecutive four-night stay at an IHG property, plus a free night certificate every year.
Overwater bungalows in Malaysia
Southeast Asia is famous for many things, but it's not the first place most people think of when they dream of luxurious overwater bungalows. Malaysia is an overlooked gem that boasts some of the most beautiful — and most affordable — villas that bucket list dreams are made of.
The Berjaya Langkawi Resort is a 5-star wonder set amidst both a lush rainforest and a pristine beach. Room options include Rainforest Chalets, large Family Chalets, Seaview Chalets, and of course, the Overwater Suites.
And here's what most people don't realize: even though the Berjaya Langkawi is not associated with a major chain like Hilton, Marriott, or IHG, you can still use points to reserve a room!
By using Qantas points, you can book with this luxury property and get a fantastic deal. A premier chalet over the water will cost you about 54,500 points, plus you might even get free breakfast!
And though you may not be flying the Australian airline of Qantas much, or crediting your OneWorld Alliance flights to the Qantas program, these miles became easy to get when they joined the Capital One transfer partner list. Capital One just featured a 33.3% transfer bonus when you transfer points to Qantas, so watch out for another special deal if you're looking to book this property.
The bottom line on the overwater bungalow experience
Don't write off your dream of an out-of-this-world overwater bungalow experience because you think you could never afford it. Many 5-star luxury properties all over the world are well within reach for many when using points from some of the best travel credit cards to help shoulder the cost. Take that bucket list trip and make all your friends jealous!
Easy-to-Earn Unlimited Rewards
Earn 25,000 online bonus points after you make at least $1,000 in purchases in the first 90 days of account opening - that can be a $250 statement credit toward travel purchases
Earn 1.5 points per $1 spent on all purchases
Longer intro APR on qualifying purchases and balance transfers
No foreign transaction fees
Earn unlimited 1.5 points per $1 spent on all purchases, with no annual fee and no foreign transaction fees and your points don't expire.
25,000 online bonus points after you make at least $1,000 in purchases in the first 90 days of account opening - that can be a $250 statement credit toward travel purchases.
Use your card to book your trip how and where you want - you're not limited to specific websites with blackout dates or restrictions.
Redeem points for a statement credit to pay for travel or dining purchases, such as flights, hotel stays, car and vacation rentals, baggage fees, and also at restaurants including takeout.
0% Introductory APR for 15 billing cycles for purchases, and for any balance transfers made in the first 60 days. After the intro APR offer ends, 18.24% - 28.24% Variable APR will apply. A 3% fee applies to all balance transfers.
If you're a Preferred Rewards member, you can earn 25%-75% more points on every purchase. That means instead of earning an unlimited 1.5 points for every $1, you could earn 1.87-2.62 points for every $1 you spend on purchases.
Contactless Cards - The security of a chip card, with the convenience of a tap.
This online only offer may not be available if you leave this page or if you visit a Bank of America financial center. You can take advantage of this offer when you apply now.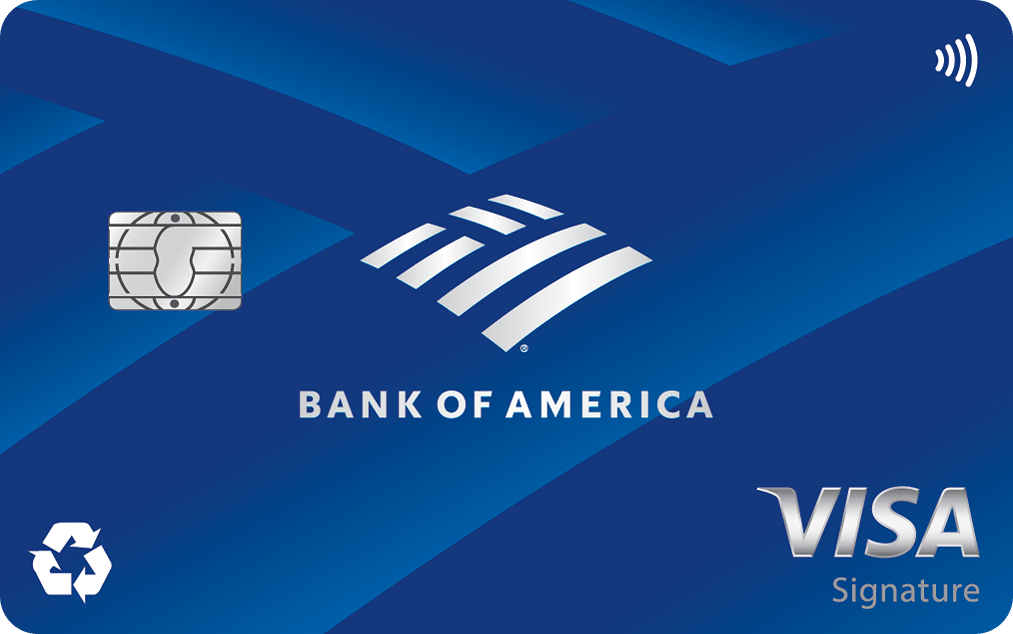 Apply Now
on Bank of America's secure website
Read Card Review
Intro Offer
Earn 25,000 online bonus points after you make at least $1,000 in purchases in the first 90 days of account opening - that can be a $250 statement credit toward travel purchases