Whether you already have a stockpile of Chase Ultimate Rewards points ready to redeem or are still earning and saving them for your next big trip, daydreaming about how you'll use them is fun.
If you need some ideas, we're about to walk you through the actual in-depth process of how you can find and redeem first-class airfare to some of the most popular destinations around the world.
When redeeming Chase points for first class makes sense
The idea of sitting up front every time you fly sounds appealing, but it would be difficult to maintain a large enough rewards balance to keep that going for long. There are two situations, however, where you'll likely want to use your Chase Ultimate Rewards points for a first-class ticket.
The first is on long-haul flights: If you're going to be sitting on the plane for more than five hours, the added legroom, complimentary meals and drinks, and general comfort of a first-class seat are tough to beat.
The other time when it's worth considering is if you're planning a bucket-list trip or a once-in-a-lifetime experience. In that situation, booking first class can add to the experience, making it much more memorable.
Transferring points to Chase travel partners
Before we get into the specifics of using your Ultimate Rewards points for first-class airfare, it's important to note that doing so can require a little more legwork than usual.
Chase credit cards allow you to book flights through the Ultimate Rewards portal, and depending on which credit card you have, you could get up to 50% more value out of your points this way.
But to get the maximum value out of your rewards on first-class tickets, you'll typically need to transfer your points to one of Chase's travel partners, which includes both domestic and international airlines.
Depending on your destination, you may need to compare redemptions with multiple airlines. But in some cases, one airline's offerings may be the clear winner.
First class to Japan with Chase points
All Nippon Airways (ANA), Japan Airlines, and Korean Air all offer great redemption options for flights to Japan. But because none of these airlines partner with Chase, you'll have to do a little more digging to find what you need.
Fortunately, though, Virgin Atlantic partners with ANA, and you can transfer your Ultimate Rewards points to the Virgin Atlantic Flying Club. To book a round-trip ticket in first class, you'll need just 110,000 miles from the West Coast or 120,000 miles from the East Coast.
According to Virgin Atlantic, however, you need to call its reservations team to check availability and book the flight. So the process can be more difficult than doing everything online through the website. That said, booking a round-trip first class fare directly with ANA costs up to 225,000 miles, so the time on the phone is well spent.
First class to Europe with Chase points
Getting to Europe in first class using your Chase Ultimate Rewards points can be tough, even with a few European-based airlines on the program's list of partners. Air France-KLM, for instance, won't allow you to use miles to book first-class tickets unless you have elite status, and United Airlines doesn't offer international first-class tickets at all.
It's possible to book first-class tickets on Lufthansa through United Airlines, which is a partner through the Star Alliance. But you can't book first class on any Lufthansa flight through a partner more than 15 days in advance.
With this example booking from New York to Berlin, you'd pay 220,000 miles, plus roughly $226 in fees for a trip on short notice.
Another option is to transfer your points to British Airways and book directly through the airline. For example, a flight from Washington, D.C. to Barcelona would only cost you 161,500 Avios, but you'll be on the hook for more than $1,600 worth of fuel surcharges, taxes, and fees.
In situations like this, you'll want to compare several of the best airline credit card and the best travel credit card options and be flexible with your destination and timing to find out how to maximize your rewards.
First class to South America with Chase points
Getting a first-class ticket to South America with your Chase Ultimate Rewards points may be a little more difficult than other regions. Many of the program's airline partners are geared toward travel to Europe and Asia, and neither JetBlue nor United offer first-class fares to South America.
You can, however, book a business-class ticket on American Airlines from Dallas to Bogotá, Colombia using British Airways Avios. We found a flight for 77,000 Avios plus about $82 in taxes and fees.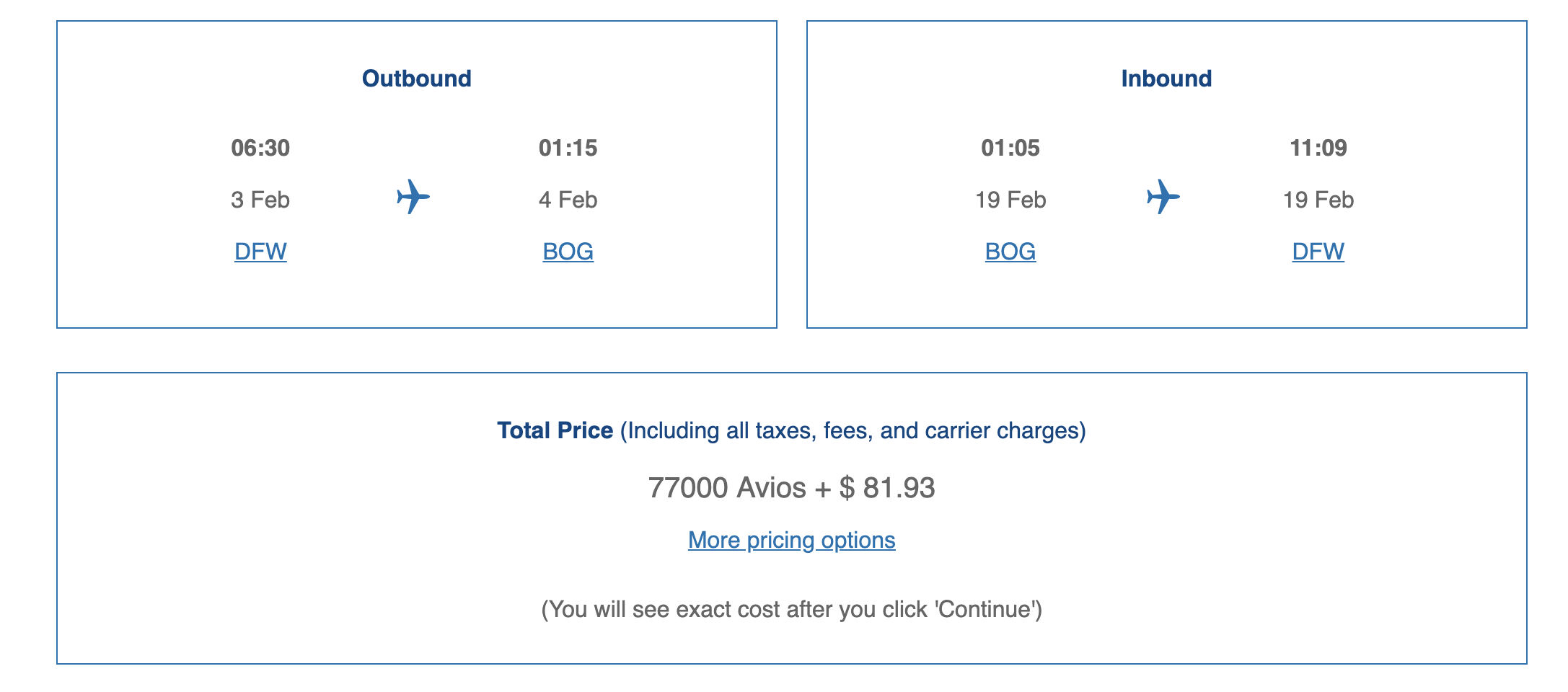 You may also be able to find award availability with Delta Air Lines through Virgin Atlantic, but the search process proved more difficult than with British Airways.
First class to Africa with Chase points
You'll have plenty of options for travel to Africa with Chase point transfers. However, the route options can be limited, or you might need to go the long way through Asia.
We did, however, find a business-class Saver Award with a more direct route through United from Houston to Johannesburg, South Africa, for 160,000 miles and about $64 in taxes and fees.
As you're looking at different airlines for a first-class trip, check the route map to make sure they offer routes to your destination and also consider the path the flights take. Spending time in Singapore Airlines' incredible business class is a bucket-list item for many travelers, but getting to Africa by way of Asia might be too much to ask.
Use a Chase Sapphire Card to get even more value
Transferring points to one of Chase's several airline partners is a great way to maximize the value of your rewards. However, it may be easier just to use points to book first-class flights directly through the Ultimate Rewards program.
For example, if you have the Chase Sapphire Reserve, your points will be worth 1.5 cents apiece when booking travel through Chase. If you have the Chase Sapphire Preferred, your points are worth 1.25 cents each when redeeming this way.
Before you go this route, though, it's essential to keep in mind that you can typically get better redemption rates on first-class travel specifically through partner transfers. So while you'll win in the convenience department, you could end up leaving a lot of money on the table.
Regardless of your destination, take the time to research all of your options for credit cards and consider how you can get the most out of your Ultimate Rewards points. Learning the ins and outs of international travel and the quirks of each airline partner can take time, but it will all be worthwhile when you can book the trip of a lifetime for pennies on the dollar.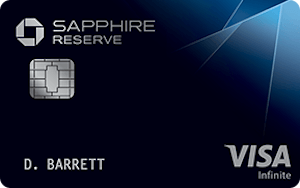 5.0
FinanceBuzz writers and editors score cards based on a number of objective features as well as our expert editorial assessment. Our partners do not influence how we rate products.
Current Offer
Earn 60,000 bonus points after you spend $4,000 on purchases in the first 3 months from account opening
Rewards Rate
5X points on flights and 10X points on hotels and car rentals when you purchase travel through Chase Ultimate Rewards® immediately after the first $300 is spent on travel purchases annually; 3X points on other travel and dining & 1X points per dollar on all other purchases