Part of the fun of having lots of money is getting to spend it on travel to luxurious destinations around the world. From snowy mountains to sandy beaches, the options for holiday vacations are endless for affluent travelers. But that doesn't mean you have to be rich to travel to these places, though it certainly doesn't hurt.
If we can learn anything from the simple things that millionaires do, it's that they're smart and careful with their money. What does that mean for everybody else? For starters, creating a vacation fund or using one or more of the best travel credit cards can help you take the holiday trips you've always dreamed of without costing nearly as much as the millionaires are spending. It may take a little dedication and discipline, but the effort will be well worth it when you're relaxing or having fun in your ideal location by next year at this time.
To inspire you to start making smart money moves, here's how you can vacation like the rich and famous — and 35 exotic and amazing places where they're spending their time.
How you can vacation like the rich and famous
If you want to vacation like you're rich or famous, take advantage of credit cards and their valuable benefits. When you compare credit cards, you'll find many travel cards provide especially useful perks and benefits that can enhance the luxury level of your travel experiences.
Here are a few ways you can use credit cards to improve your travels:
Earn rewards. Travel credit cards earn points or miles that you can redeem for nearly free flights, hotel stays, and more. These rewards take the stress out of paying for travel and you can even travel in ultra-luxury using points and miles.
Skip the airport lines. If you use your credit card's complimentary TSA PreCheck or Global Entry fee reimbursement, you'll be eligible for expedited screening processes at many U.S. airports. The rich and famous never wait in line, right?
Get hotel benefits. The best hotel credit cards offer quality hotel benefits, such as automatic elite status at top hotel brands, which can bring a number of perks and freebies.
Get lounge access. Priority Pass membership and/or Amex Centurion Lounge access are free benefits on certain credit cards. That could translate to a more relaxing time at the airport or even free drinks and meals.
35 places the rich and famous spend the holidays
St. Kitts
As far as Caribbean vacations go, it's hard to beat the island of St. Kitts. Turquoise-blue waters and white, sandy beaches are commonplace throughout the Caribbean, but St. Kitts' laid-back atmosphere is especially inviting.
For a true St. Kitts luxury trip, be sure to check out popular lodging options from major hotel brands such as Hyatt and Marriott. This will ensure you have the most elevated experience possible while on this gorgeous island.
Monaco
Although it may seem like Monaco is a city in France because of its location along the French Riviera, it's actually a sovereign city-state filled with rich residents. The entire area of Monaco is less than 1 square mile, but that doesn't stop rich visitors from frequenting the tiny country throughout the year. Popular activities include boating, gambling, and watching the annual Monaco Grand Prix.
Lake Como, Italy
Located north of Milan and close to the Swiss border, Lake Como is a famously luxurious destination. Picturesque villas dot the hilly landscape along the shores of the lake, which creates a pleasant and romantic atmosphere. One of the most famous part-time residents of Lake Como is George Clooney, who's been seen on many occasions spending time in the area close to his villa.
Lake Tahoe, United States
For a visit to a lake perhaps closer to home, consider the Lake Tahoe paradise that straddles the California and Nevada state lines. This huge freshwater lake is a popular destination for all kinds of activities, including snowboarding, skiing, boating, biking, hiking, and more. The beautiful water and beaches with the backdrop of the Sierra Nevada mountains provide the ideal environment for outdoor enthusiasts.
Swiss Alps, Switzerland
There's no confusion as to why this area attracts visitors from all over the world because the scenery and ambiance are self-explanatory. If you want to feel like you've stepped straight into a fairytale setting, plan a visit to a resort in the Swiss Alps. Pristine mountain lakes, towering cliffs, and sprawling meadows are all part of the welcoming sights, and they pair well with the top-class resort amenities available in the area too.
The Hamptons, United States
Far to the east on Long Island, New York, you'll find the group of communities known collectively as The Hamptons. This area has long been known for the number of celebrities and rich individuals who own homes here. For the rich and famous who want to get away from the hustle and bustle of New York City, The Hamptons provide a welcome retreat of green grass, trees, beaches, and a lot more living space than a Manhattan loft.
Azores, Portugal
The Azores are a grouping of nine Portuguese volcanic islands located in the Atlantic Ocean between the U.S. and Portugal. As with many island destinations, you can expect beautiful vistas as you hike or bike around the area. Not many people live in the Azores and it's a bit of a hidden gem considering how popular many other islands are for tourists around the world. But this is exactly why people are starting to take notice of the beauty of the Azores and the abundance of activities available for visitors.
Ibiza, Spain
The Mediterranean island of Ibiza may be known for its intense party scene, but there's more than the vibrant nightlife that attracts travelers. Blue waters and sandy beaches with mild-to-hot weather year-round is nothing short of optimal if you like to relax outside while catching some sun. Plus, there's plenty of space to spread out and go exploring around the more than 220 square miles of UNESCO World Heritage land if you want to get away from the crowds.
Paris, France
The iconic City of Light can't help but attract tourists from every reach of the globe. You have the Eiffel Tower, the Louvre Museum, the Arc de Triomphe, and many other famous landmarks to visit. In addition, it's hard not to fall in love with the history and culture around every corner as you walk the city's streets, trying authentic French cuisine. You don't need to opt for luxury in Paris, but there's plenty of opportunities to do so if that's what you want.
Hawaii, United States
Hawaii is a much-loved island destination for Americans and other travelers alike. There's no other state within the continental U.S. that can really compare to the unique aspects of Hawaii, whether it's the traditional Hawaiian culture or the diverse range of flora and fauna found throughout the islands. Because Hawaii is located in the middle of the Pacific Ocean, it feels like you're traveling to another country from the U.S. But because Americans are still in the same country, you don't need a passport or have to exchange any currency.
Oman
Oman is located along the Arabian Sea and borders both Yemen and the United Arab Emirates. Although the UAE is home to the super-modern cities of Dubai and Abu Dhabi, not as much is known about Oman. Still, Oman is also home to its fair share of popular seaside resorts and hotels where travelers can enjoy high-quality amenities and experiences while enjoying their scenic surroundings.
Seychelles
The East African island country of Seychelles is located in the Indian Ocean, about 1,000 miles east of Kenya. The climate in the Seychelles islands is pleasant year-round, rarely reaching any extreme hot or cold temperatures. This makes it easy to enjoy the many beaches and hiking trails around the islands as you get outdoors. Or you can simply enjoy the views as you relax by the pool at one of the many available resorts and hotels.
Aspen, United States
The area of Aspen, Colorado, is known for its Rocky Mountain peaks, prime skiing, and luxurious villas. As a ski resort town, Aspen is bustling with visitors during the ski season, though there's still plenty to do and see the rest of the year as well. Cozy mountain lodges provide the perfect retreat in any season, whether it's a home base for skiing, hiking, or simply enjoying the majestic scenery.
Bora Bora, French Polynesia
The island of Bora Bora in French Polynesia may be exactly what you think of when you daydream about a picture-perfect island getaway. Overwater bungalows, white sand beaches, and crystal clear water are all part of your typical day in Bora Bora. Considering its isolated location, this is definitely a more luxurious destination filled with superior hotel options.
Necker Island, British Virgin Islands
When one of the world's most famous billionaires, Sir Richard Branson, owns a private island and opens it up for visits to the public, you know it's going to be a luxurious hot spot. Part of the British Virgin Islands, Necker Island is a Caribbean paradise that's typically hot and sunny all year. Wildlife abounds on the island, including lemurs, flamingoes, and tortoises. It isn't a huge island, but the amenities can more than make up for the lack of space.
Saint-Tropez, France
Located conveniently between Nice and Marseille along the French Riviera, Saint-Tropez is a coastal town famous for its beaches and luxurious accommodations. You can indulge in decadent gastronomic experiences, stay in dreamy hotels or guest houses, and even rent a yacht if you want. It's no wonder the rich and famous are attracted to this particular French town.
Maldives
For an island getaway you won't soon forget and will likely never want to leave, consider a trip to the Maldives, far off the southern coasts of Sri Lanka and India. The Maldives are an island paradise built almost entirely on tourism, so they strive to provide an especially luxurious experience for any visitors to their island nation. You can expect high-class amenities and accommodations at the many available resorts. This is also a prime location for experiencing the wonder of staying in an overwater bungalow.
Napa and Sonoma, United States
Napa and Sonoma Counties in California comprise a popular wine region in the U.S. that people like to say resembles the famous Tuscany region of Italy. In some ways it does, but that shouldn't take away from how unique and pleasant it is to visit either Napa or Sonoma. These areas provide world-class wine tours and are home to multiple Michelin-starred restaurants.
Greece
Greece has a huge amount of travel appeal for a variety of reasons. The mild climate and amazing Mediterranean food are a couple reasons, but you also have a sense of ancient history and mythology that's built into the entire area. Not to mention it's simply a beautiful place to visit. You can explore the nightlife of Mykonos, relax on the beaches of Santorini, or walk through history in Athens. There's something for everyone, so it's easy to do what you want.
South Tyrol, Italy
The province of South Tyrol, Italy, has quickly become a dream destination for international travelers. Here, you can find the UNESCO World Heritage Site of the Dolomites mountain range, which creates a sensational backdrop for skiers, hikers, and photographers. The area is also rich in local South Tyrolean products, like apples, wine, milk, and smoked ham. So if you want an amazing atmosphere to enjoy quality goods, this is the place to be.
Fiji
Fiji is a country in the South Pacific that consists of 333 tropical islands. Because it's more of a remote destination, Fiji can be a difficult place to visit, though there are direct flights from the U.S. If you decide to make the journey, it's sure to be worth it. The climate is sunny and tropical, with warm temperatures for most of the year. Plus, the people of Fiji are known for their happy and inviting nature, which is a huge bonus when traveling to any foreign country.
Los Cabos, Mexico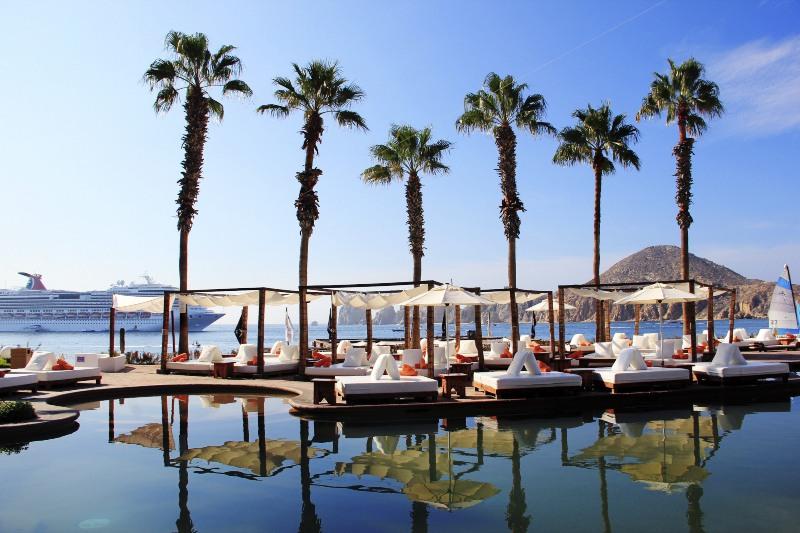 On the very tip of the Baja California peninsula in Mexico, you'll find Los Cabos, an area of beautiful beaches, stunning scenery, and high-class living. Many rich Americans like to visit this area because of its close proximity to the U.S. and the many available amenities provided by the seaside resorts. Swimming, surfing, horseback riding, ATV rides, and much more await anyone who's interested when they visit Los Cabos.
London, United Kingdom
The capital of England is a modern city filled with rich history and architecture. It has everything you'd expect in a large city, including favorite landmarks like Big Ben, Buckingham Palace, the London Eye, and more. In addition, there's no shortage of luxurious accommodation options and top-class dining experiences.
Whistler, Canada
The town of Whistler, British Columbia, is located just north of Vancouver and is home to the famous Whistler Blackcomb ski resort. The magic of Whistler Village and world-class skiing in the winter are some of the main attractions here, though there's plenty to keep you occupied the rest of the year as well. Bear viewing tours, bike tours, hiking, and rejuvenation retreats are sure to evoke multiple senses, whether it's peace, joy, wonder, or something else.
Mallorca, Spain
Although it's close to Ibiza, the Balearic island of Mallorca is much larger in terms of landmass and population. Mallorca is a natural paradise filled with caves, springs, waterfalls, and beaches. It's a popular destination for going out and exploring, though the capital city of Palma provides an ideal location for shopping, dining, and nightlife activities.
Iceland
Since the moment Iceland appeared on the map as a world travel destination, it hasn't let up in popularity. Volcanos, black sand beaches, waterfalls, hot springs, and the aurora borealis all work together to create a unique location that never ceases to amaze. The fact that Iceland is also situated in a location that's not too far from either the U.S. or the rest of Europe makes it an ideal travel destination for all types of people.
Cape Cod, United States
The Atlantic Ocean can provide some rough waters and storms along the New England coastline, but that hasn't stopped droves of travelers from heading to Cape Cod every summer. In some ways, the area of Cape Cod provides the getaway from Boston that The Hamptons do for residents of New York City. An idyllic laid-back lifestyle, plenty of seafood, and lots of beaches await Cape Cod visitors.
Morocco
The North African country of Morocco sits directly across the Strait of Gibraltar from Spain, which brings a European influence into some Moroccan cities. If you decide to visit Morocco, take your pick of beautiful landscapes and landmarks. Be sure to explore Medina of Marrakesh, a UNESCO World Heritage Site, take in the sights and sounds of the port city of Tangier, and marvel at the colorful buildings of Chefchaouen.
Montenegro
The Balkan country of Montenegro is starting to increase in popularity due to its location along the Adriatic Sea and proximity to the popular destination of Croatia. Much of what makes Croatia a big travel hot spot is what's also appealing about Montenegro. You have picturesque coastal towns, medieval-themed villages, and great natural landscapes. The fortified town of Kotor is especially appealing if you're looking for a visit to the coast with stunning mountain views.
Tuscany, Italy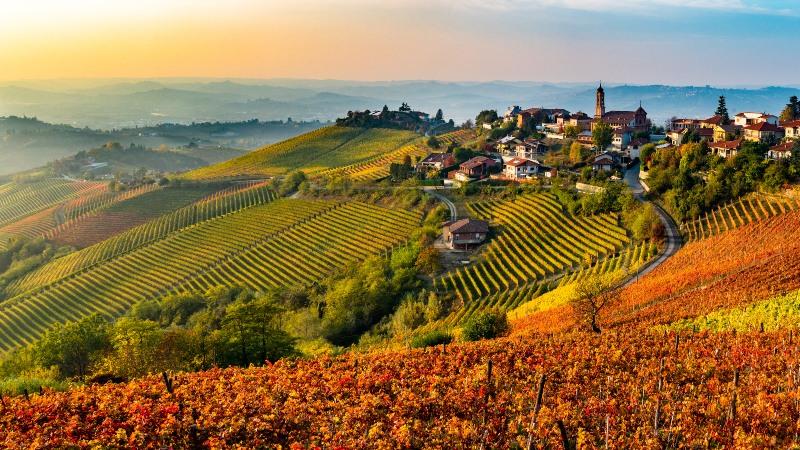 If you've ever been to the Tuscany region of Italy, it's hard to not want to immediately return. Florence and Pisa are located here, but it's the wine-filled countryside that really captures the imagination and hearts of passing travelers. The hilly landscape and dreamy atmosphere evoke a deep sense of romanticism that make you feel inspired. And that's all before you've even tried the local Tuscan dishes.
Miami, United States
Miami is a bustling metropolis located in Southeastern Florida along the Atlantic coastline. It's a popular vacation spot because of its lively nightlife, beautiful beaches, and warm weather. In fact, the temperature rarely gets cold enough to feel uncomfortable, especially if you're used to living in chillier climates.
Kenya
The East African country of Kenya has become a famous destination for natural safaris where you can see unique African wildlife like elephants, lions, giraffes, wildebeests, and more. And even though you might think you'd be hoofing it in the wild, there's no shortage of luxury in Kenya. Luxury safaris make sure you're as comfortable as possible while enjoying the scenery, and the capital city of Nairobi is no stranger to high-class accommodations.
China
The country with the second-highest number of millionaires in the world is a prime location for the rich and famous. Cities like Hong Kong, Shanghai, Beijing, and others provide fantastic areas to go exploring or to relax in an excellent hotel or resort. They also have everything you'd want in the form of modern amenities, so that's nothing to stress about. In addition, China has a much larger population than the U.S., so you can expect much bigger cities throughout China than you'd find in North America.
Las Vegas, United States
A global destination for fun-filled entertainment and loads of conventions, Las Vegas is unlike any other city in the world. It's not often you have a major tourist destination pop up in the middle of nowhere and thrive, but that's exactly what happened with Las Vegas. And although it's often a playground for high-rollers, Las Vegas can also be a generally inexpensive place to visit that also caters to families.
Bordeaux, France
Bordeaux is famous for both its historic architecture and its importance as a wine-growing region within France. Located in southwestern France, close to the Atlantic coast, Bordeaux offers visitors the opportunity to enjoy fine wines at their source. Take tours of the local wineries and vineyards and then enjoy food from any of the many Michelin-starred restaurants in the area.
If you're over 50, take advantage of massive travel discounts and trip-planning resources
Over 50 and love traveling? Join AARP today — because if you're not a member, you could be missing out on huge travel perks. When you start your membership today, you can get discounts on hotels and resorts, airfare, cruises, car rentals, and more.
How to become a member today:
Go here, select your free gift, and click "Join Today"
Create your account (important!) by answering a few simple questions
Start enjoying your discounts and perks!
An AARP membership not only unlocks discounts that could save you hundreds on your next trip, but you'll also have access to deals on vacation packages, guided tours, and exclusive content to help plan your next getaway.
Important: Start your membership by creating an account here and filling in all of the information (do not skip this step!). Doing so will allow you to take up to 25% off your AARP membership, making it just $12 per year with auto-renewal.
Bottom line
Although every location on this list benefits from visits by rich and famous travelers, these places aren't solely meant for people with fame or fortune. If you take advantage of credit card rewards and benefits, you can also travel to exotic locations and have luxurious experiences.
In many ways, the best credit cards for the wealthy can also be the best credit cards for any traveler. You don't necessarily need a lot of money to use these cards, but the benefits they provide can help you travel as if you have a lot of money.
Easy-to-Earn Unlimited Rewards
Earn 25,000 online bonus points after you make at least $1,000 in purchases in the first 90 days of account opening - that can be a $250 statement credit toward travel purchases
Earn 1.5 points per $1 spent on all purchases
Longer intro APR on qualifying purchases and balance transfers
No foreign transaction fees
Earn unlimited 1.5 points per $1 spent on all purchases, with no annual fee and no foreign transaction fees and your points don't expire.
25,000 online bonus points after you make at least $1,000 in purchases in the first 90 days of account opening - that can be a $250 statement credit toward travel purchases.
Use your card to book your trip how and where you want - you're not limited to specific websites with blackout dates or restrictions.
Redeem points for a statement credit to pay for travel or dining purchases, such as flights, hotel stays, car and vacation rentals, baggage fees, and also at restaurants including takeout.
0% Introductory APR for 15 billing cycles for purchases, and for any balance transfers made in the first 60 days. After the intro APR offer ends, 18.24% - 28.24% Variable APR will apply. A 3% fee applies to all balance transfers.
If you're a Preferred Rewards member, you can earn 25%-75% more points on every purchase. That means instead of earning an unlimited 1.5 points for every $1, you could earn 1.87-2.62 points for every $1 you spend on purchases.
Contactless Cards - The security of a chip card, with the convenience of a tap.
This online only offer may not be available if you leave this page or if you visit a Bank of America financial center. You can take advantage of this offer when you apply now.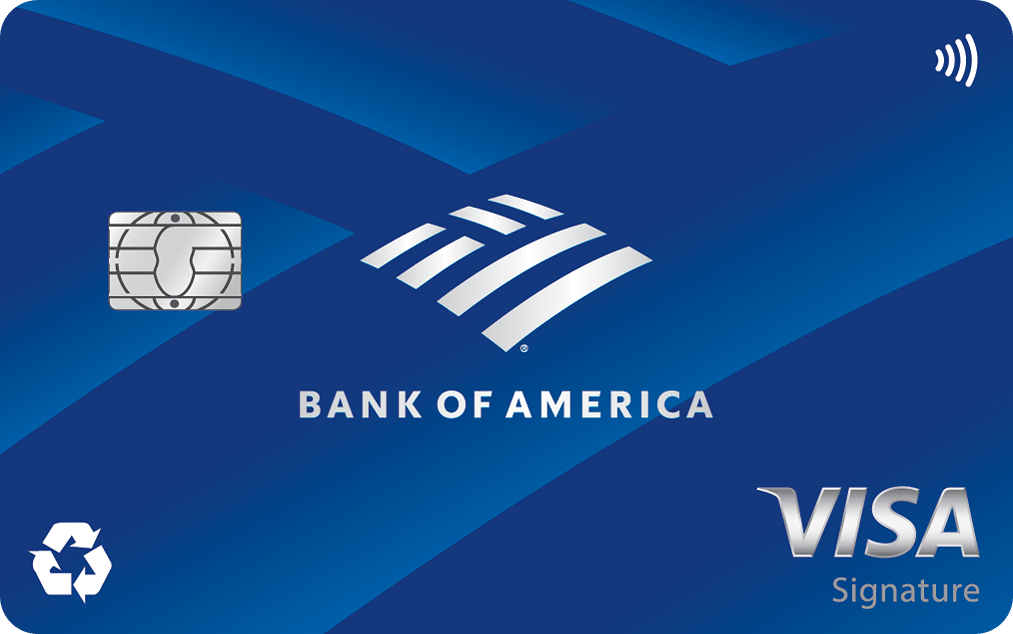 Apply Now
on Bank of America's secure website
Read Card Review
Intro Offer
Earn 25,000 online bonus points after you make at least $1,000 in purchases in the first 90 days of account opening - that can be a $250 statement credit toward travel purchases