Dollar Flight Club might not be a household name yet, but it's a popular tool used every day by many in the travel community. Since even FinanceBuzz's own rewards travel expert, Brandon Neth, considers it a favorite tool, we figured sharing a little bit about what exactly Dollar Flight Club is and how it can help you save money on your next trip made sense.
Let me start by asking you this: When you think about traveling to other countries, how long does it take for you to begin talking yourself out of the idea because of how expensive the trips might be? The cost of travel can easily hold anybody back from seeing the world. Sure, deals exist, but who's got time to spend scouring the internet to find them? Dollar Flight Club does.
Dollar Flight Club is a powerful tool for any busy traveler's arsenal. With a set-it-and-forget-it approach to finding the best deals on airfare, there's no need to spend hours searching for your next flight. Heck, there's no need to spend any time searching for your next flight. Dollar Flight Club will discover your next adventure for you.
What is Dollar Flight Club?
Dollar Flight Club is a flight-deal-alert subscription service that helps people save money on airfare. How? By searching the internet for flight data to find deals that are 60% to 90% below the average round-trip price. After Dollar Flight Club discovers one of these bargains, it sends subscribers an email or text so they can hop on the bargain.
Started back in 2015 by Jesse Neugarten, Dollar Flight Club was conceived after a life-changing experience with a 7.8-magnitude earthquake while traveling in Nepal. Following the earthquake and with a newfound motivation to see more of the world, Neugarten dove headfirst into travel hacking. His first trip was a round-trip flight from New York City to Stockholm, Sweden for only $210.
Friends and family were quick to notice the types of deals Jesse was finding and began asking him to help them enjoy similar inexpensive vacations of their own. Thus, Dollar Flight Club was born.
Today, more than 874,000 travelers rely on Dollar Flight Club to find cheap travel deals. And the Club delivers. With savings of over $500 per ticket on average, not using Dollar Flight Club just doesn't make sense.
How does Dollar Flight Club work?
Dollar Flight Club offers travelers both a free and paid subscription, with paid members getting first dibs on any deals that are found. While you can get deals with the basic membership, you'll only receive 25% of the best ones departing from your home airport. For $69 per year, premium subscribers get four times more of the best international flight deals, including cheap flights to Europe, weekend flight deals in the U.S., the ability to set multiple departure airports, and more.
Here's a breakdown of the perks you get for an annual subscription of just $69 per year:
4X more of best international flight deals
Weekend getaway domestic flight deals (U.S. only)
Premium partner perks and discounts
Set multiple departure airports
No ads
Instant iOS/Android premium alerts so you get deals first
Premium support
All the mistake fares and secret sales
Once you choose your plan, simply pick your departure airport and wait for the deals to start rolling in. That's it.
But don't let the simplicity of this service fool you. Dollar Flight Club does all the hard work of finding you the best deals so you can focus on enjoying the adventure. To give you a taste of the enormous value Dollar Flight Club provides, you can test the water with a 14-day free trial of its premium service.
Example deals from Dollar Flight Club
Once you sign up for Dollar Flight Club, you'll end up on the flight deals page. Here, you'll find the deals currently available, as well as past ones that have already been snatched up. You'll also find a section for international deals and domestic getaways.
After you've settled on a deal that's too good to pass up, go ahead and select it. You'll be shown more details — price, how much you're saving, travel dates, and departures from other cities — and you can decide whether to book or pass on it.
If you want the deal, you won't book directly with Dollar Flight Club. With a click of the mouse, you'll be taken straight to Google Flights to continue the purchase.
Next level moves with Dollar Flight Club
You can enhance your rewards if happen to have one of the best travel credit cards in your wallet. If you want to save the most, head over to your travel rewards credit card's portal and try to replicate the deal. If you can find the same flight and price through the travel portal, you'll not only get the deal Dollar Flight Club alerted you to, but you'll now also have the ability to book it with your points.
How to sign up for Dollar Flight Club
If you're ready to sign up Dollar Flight Club, you can do so either online or through the Dollar Flight Club app. All you need to do is provide your email address and choose your home airport — and voila, you're done. If you go with the premium subscription, you'll need to enter your credit card information as well (but remember that you'll also get a free trial period to test out the service).
Once you're signed up, there's nothing more for you to do. Dollar Flight Club takes over, finds you the best deals, and sends them your way.
Is Dollar Flight Club worth it?
Ask our travel rewards expert Brandon Neth, and he'll be the first to tell you how valuable Dollar Flight Club is. Once he saw the potential of the service back when it launched in 2015, he immediately signed up. Brandon has since used Dollar Flight Club on four different trips. His most recent deal? Philadelphia to Barcelona, Spain for only $380. And better yet, he was able to book the flight with points through the Chase portal.
We asked Brandon if he had any issues with Dollar Flight Club that would be worth mentioning. He did not. The only thing to point out, Brandon explained, was that the deals are often so good that they don't last very long.
To not miss the best deals, consider this: The Department of Transportation requires airlines to hold reservations for 24 hours after the reservation is made. In other words, you have 24 hours after booking a flight to cancel for a refund. So, grab a deal when you see one so you don't miss out. Then decide whether you want to keep it within 24 hours.
The bottom line: Dollar Flight Club is great for anyone who doesn't have the time to scour the internet looking for the best deals. Set it, forget it, and let Dollar Flight Club bring the deals right to your inbox.
Even if you're someone who travels twice a year, with one deal alone you'll have more than paid for the annual fee for Dollar Flight Club's premium subscription. With an average savings of $500 per ticket, anyone can benefit from this service.
Easy-to-Earn Unlimited Rewards
Earn 25,000 online bonus points after you make at least $1,000 in purchases in the first 90 days of account opening - that can be a $250 statement credit toward travel purchases
Earn 1.5 points per $1 spent on all purchases
Longer intro APR on qualifying purchases and balance transfers
No foreign transaction fees
Earn unlimited 1.5 points per $1 spent on all purchases, with no annual fee and no foreign transaction fees and your points don't expire.
25,000 online bonus points after you make at least $1,000 in purchases in the first 90 days of account opening - that can be a $250 statement credit toward travel purchases.
Use your card to book your trip how and where you want - you're not limited to specific websites with blackout dates or restrictions.
Redeem points for a statement credit to pay for travel or dining purchases, such as flights, hotel stays, car and vacation rentals, baggage fees, and also at restaurants including takeout.
0% Introductory APR for 15 billing cycles for purchases, and for any balance transfers made in the first 60 days. After the intro APR offer ends, 18.24% - 28.24% Variable APR will apply. A 3% fee applies to all balance transfers.
If you're a Preferred Rewards member, you can earn 25%-75% more points on every purchase. That means instead of earning an unlimited 1.5 points for every $1, you could earn 1.87-2.62 points for every $1 you spend on purchases.
Contactless Cards - The security of a chip card, with the convenience of a tap.
This online only offer may not be available if you leave this page or if you visit a Bank of America financial center. You can take advantage of this offer when you apply now.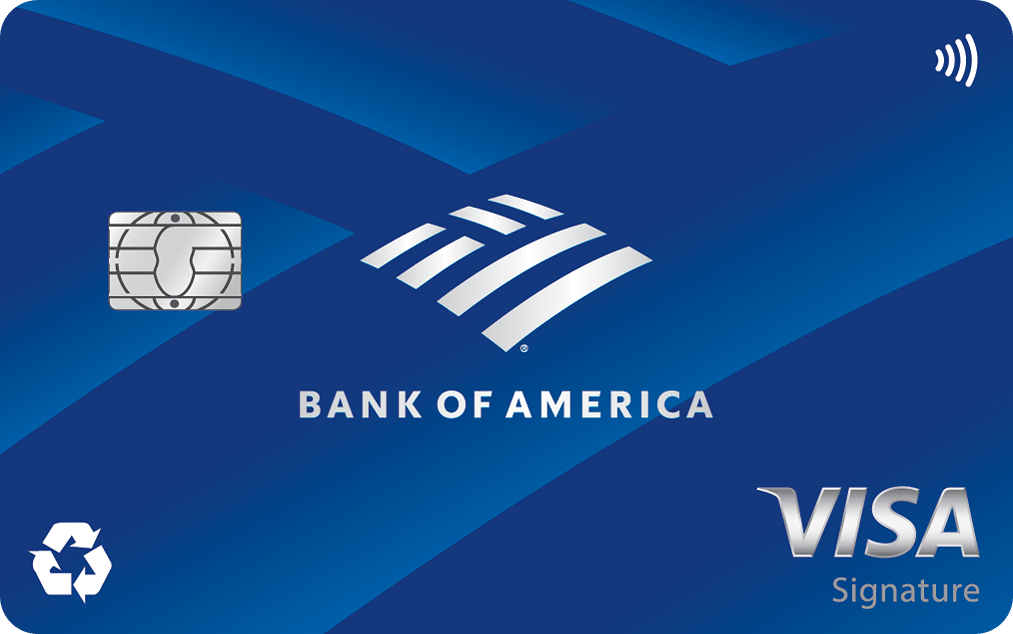 Apply Now
on Bank of America's secure website
Read Card Review
Intro Offer
Earn 25,000 online bonus points after you make at least $1,000 in purchases in the first 90 days of account opening - that can be a $250 statement credit toward travel purchases