With the installation of a new digital radio antenna, the Eiffel Tower is a little bit taller — now standing at 1,083 feet. Although the height of the top observation deck hasn't changed, dreaming of those expansive Paris views from over 905 feet got us thinking: Where in the world could we go for other awe-inspiring vistas?
There are some pretty amazing panoramas from dizzying heights out there: glass-bottom skywalks in China, glacier-carved cliffs in Norway, and viewing platforms over bustling metropolises. Whether you're saving up for 2022 summer travel inspiration, or you're an armchair traveler making your dream bucket list, check out these 10 jaw-dropping views from around the world.
Tianmen Mountain, China
In the north of China's Hunan Province, cable cars make 4,196-foot, sometimes 37-degree ascents up and over the National Forest Park of Tianmen Mountain, offering vast views of misty primeval forests and nearly 40 dramatic peaks.
From there, visitors can traverse the network of skywalks clinging to the sides of the cliffs, climb the 999 — a number representing eternity in Chinese culture — stone steps to "Gateway to Heaven," a dramatic natural archway and grotto in the mountainside, and explore the holy Tianmenshan Temple.
The best months to visit the park are May to October, and the entrance fee including round-trip ticket on the cable car — which leaves from Zhangjiajie City — is around $40 USD.
CN Tower, Canada
From 1,465 feet in the air, visitors to the circular SkyPod in Toronto's CN Tower on a clear day can see all the way to Niagara Falls. And on a blustery day, they feel it sway in the wind. For the adrenaline junkies, there's the EdgeWalk, where you'll be strapped into a harness and connected to a line and then allowed to walk hands-free along the five-foot-wide ledge that encircles the top of the tower — 1,186 feet up.
If that sounds crazy, as it should, may we suggest the 360 The Restaurant at the tower, with stunning rotating views of the Toronto skyline and locally sourced Canadian specialties paired with wines from Ontario.
The tower is open all year round, seven days a week, from 10 a.m. to 9 p.m. (except for the EdgeWalk, which ends at 5:30 p.m.). General admission is $43 for adults, and entrance to the SkyPod is an additional $7. Tickets for the EdgeWalk experience start at $195 per person.
Trolltunga, Norway
Over 3,800 feet above sea level, Trolltunga cliff juts out from the mountain and rises above Lake Ringedalsvatnet like an eagle's head, giving jaw-dropping views of the clear blue lake and much of southwestern Norway's fjord country.
To get to the "Troll's Tongue" — the translated name for this ice-cap-carved geological formation — it's a minimum six-mile hike that officials call "demanding," and that's just on the way up. But along the way, you'll be rewarded with magnificent views of the surrounding granite mountains and Folgefonna glacier in the distance. Recently, the trail was even designated a Norwegian Scenic Hike, only the fourth to be certified by the Norwegian Environment Agency.
The hiking season in this area is June 1 to August 31, and to get to Trolltunga and back before dark, you'll need to start before 8 a.m. Officials recommend using a guide service unless you're an experienced hiker.
Sydney Harbour Bridge, Australia
The largest steel arch bridge in the world rises 439 feet above Sydney's natural harbor, connecting the city's sparkling center with the suburb of North Sydney. Visitors can take the 200 stairs to the Pylon Lookout, with three levels of museum exhibits telling the story of the bridge's history.
The Pylon Lookout provides 285-foot-high views of the beautiful sailboat-dotted harbor, Sydney Opera House, and, on a clear day, west to the Blue Mountains. Or, visitors can don a jumpsuit, get hooked into a safety line, and traverse the very top of Sydney Harbour Bridge's steel arch, all the way to its highest point and back.
As a working public bridge, the safety-fenced pedestrian and cycle paths of the Sydney Harbour Bridge are free and open all the time. For unobstructed views, the Pylon Lookout and Museum is open every Friday, Saturday, and Sunday from 10 a.m. to 2 p.m., with an entrance fee of $19 for adults. There are several guided BridgeClimb tours — including one from an indigenous perspective, the Burrawa — at different times of the month. BridgeClimb ticket prices start at $248 for adults.
Victoria Falls, Zambia and Zimbabwe
At 350 feet, Victoria Falls is the world's tallest waterfall. It's also over a mile wide, and during the rainy season, over 132 million gallons of the Zambezi River go over the edge — every minute.
Straddling two countries, there are numerous vantage points from which to choose. You'll have more front views of the falls from the Zimbabwe side in Victoria Falls National Park, with established lookouts and walkways. But on the Zambia side, there are a few much-photographed spots, such as Devil's Pool, the natural pool that takes thrill seekers right up to the edge of the falls.
Although counterintuitive, the best time of year to visit this majestic sight is actually when water levels are lower, in July and August. During the rainy season, the water levels are so high that the ensuing waterfall mist can actually obstruct your view. There are also more game viewing opportunities in July and August. The entrance fee to Victoria Falls Park is approximately $30 for adults.
Empire State Building, U.S.A.
Have you seen "An Affair to Remember," "Sleepless in Seattle," "King Kong," Jay-Z's "Empire State of Mind"? This 1,454-foot building is an icon of both NYC's skyline and American culture. There's a reason why the Empire State Building strikes a chord with so many people and is the most photographed building in the world. And even though there are taller buildings in Manhattan now, nothing beats its history, preserved art deco architecture, and exhibition spaces.
Although you can pay extra to go to the 102nd-floor glassed-in observatory, the real magic is on the open-air 86th-floor observation deck, where bird's-eye views of Manhattan and the boroughs mingle with distant honking horns and other far-away city noises in the background. Watching this mad city crawl in both the visual and auditory space is quite an experience.
The Empire State Building is open 365 days a year, and at the time of writing, advanced reservations are required, and visiting hours are varied. Please check their website for more information. Adult ticket prices start at $44, but there are many tours and packages available, and entrance can be included with a CityPASS purchase.
Huayna Picchu, Peru
Hiking the hundreds of stone steps up the much-photographed peak that rises behind Machu Picchu is also one of the best ways to appreciate the scale and intricacy of the 15th-century Incan complex thought to be the royal retreat of ruler Pachacuti Inca Yupanqui.
From the top of Huayna Picchu — over 8,000 feet above sea level — you'll have breathtaking views of the winding Urubamba River, green valley, surrounding Andes peaks, and of course, the extensive agricultural terraces, network of stone buildings, and temples of Machu Picchu itself.
Getting tickets to hike to the top requires advanced planning — only 200 people are allowed in per day and tickets must be purchased in advance through Peru's Ministry of Culture. (Access to Huayna Picchu is via Circuit 4.) Making the time slots will also take some bus scheduling prowess, and we recommend checking with a local tour company for the latest information.
London Eye, United Kingdom
At 443 feet, this giant, slow-moving, cantilevered Ferris wheel — also called The Millennium Wheel — is a fun way to get stunning views of the Thames, Big Ben, Buckingham Palace, and the sprawling city of London. With over three million annual visitors, The London Eye is U.K.'s most popular paid tourist attraction.
Each of its 32, gradually rotating glass capsules — slow enough to stand, sit, and move around — can hold 25 passengers, and comes with an interactive guide. For special occasions, there are fun themed capsules, like the Pub Pod and Cupid's Pod.
Opening hours vary but are typically from 10 a.m. to 6 or 8:30 p.m., and timed-entry tickets must be purchased in advance. Admission is approximately $35 for adults.
Oia, Greece
This view atop the volcanic island of Santorini is practically synonymous with "Greek Island vacation." From the Oia Castle area, a quintessential Cycladic village is laid out before you, with its square white buildings and blue-domed churches built into the lava rock, terraced on the edge of the caldera.
The island was occupied before 2000 BCE and in antiquity was called "Kalliste" or "The most beautiful." Not much has changed in that respect, and today tourists flock up the winding white steps for views of the sun as it disappears behind the Aegean Sea.
The best time of year to visit Santorini Island is from the end of August — when most tourists begin to leave — through the end of October. The sea is warmest in August and still swimmable through October, but less crowded. During the winter, be prepared for rough seas and limited ferry service, and rain.
Eiffel Tower, France
Love it or hate it, the Eiffel Tower is perhaps the most recognizable landmark in the world, and at 7 million annual visitors, the most popular paid tourist attraction in the world. There are three floors to visit on this latticed, wrought-iron tower.
The first story is a wide, open-air terrace with an exhibit, outdoor cafe, and a fun, glass-bottom floor overlooking the esplanade. The second floor rises to over 400 feet, with an observation deck, Michelin-starred restaurant, and excellent views of Paris's iconic sights: the Seine, Notre Dame, and the Louvre, among others.
Finally, take a glass-walled elevator ride to "The Top." At over 905 feet, you'll have heart-stopping panoramic views, plus The Champagne Bar, and what could be more iconic than toasting atop La Tour Eiffel?
Opening dates and hours vary by month and floor level, but are generally between 9 a.m. and 11 p.m. Ticket prices for adults start at $18.50.
Pro tip: If you're going to splurge at one of the pricey restaurants or bars here, you'll want to use one of these credit cards with no foreign transaction fees.
Bottom Line
The best thing about these sky-high views is the chance to see the world from a new perspective and learn about engineering marvels, ancient civilizations, and natural wonders. They all make great selfie opportunities, of course, but taking some time to understand their significance as well as the local culture will really deepen your experience of the view.
When it does come time for that photo, plan your visit around the light. Dawn and dusk are the best times of day for landscape photos. Cloudless days around noon, or whenever the sun is directly overhead, are the least flattering for portraits.
Saving up for a trip with views of a lifetime? Don't forget to use one of the best travel credit cards.
Easy-to-Earn Unlimited Rewards
Earn 25,000 online bonus points after you make at least $1,000 in purchases in the first 90 days of account opening - that can be a $250 statement credit toward travel purchases
Earn 1.5 points per $1 spent on all purchases
Longer intro APR on qualifying purchases and balance transfers
No foreign transaction fees
Earn unlimited 1.5 points per $1 spent on all purchases, with no annual fee and no foreign transaction fees and your points don't expire.
25,000 online bonus points after you make at least $1,000 in purchases in the first 90 days of account opening - that can be a $250 statement credit toward travel purchases.
Use your card to book your trip how and where you want - you're not limited to specific websites with blackout dates or restrictions.
Redeem points for a statement credit to pay for travel or dining purchases, such as flights, hotel stays, car and vacation rentals, baggage fees, and also at restaurants including takeout.
0% Introductory APR for 15 billing cycles for purchases, and for any balance transfers made in the first 60 days. After the intro APR offer ends, 18.24% - 28.24% Variable APR will apply. A 3% fee applies to all balance transfers.
If you're a Preferred Rewards member, you can earn 25%-75% more points on every purchase. That means instead of earning an unlimited 1.5 points for every $1, you could earn 1.87-2.62 points for every $1 you spend on purchases.
Contactless Cards - The security of a chip card, with the convenience of a tap.
This online only offer may not be available if you leave this page or if you visit a Bank of America financial center. You can take advantage of this offer when you apply now.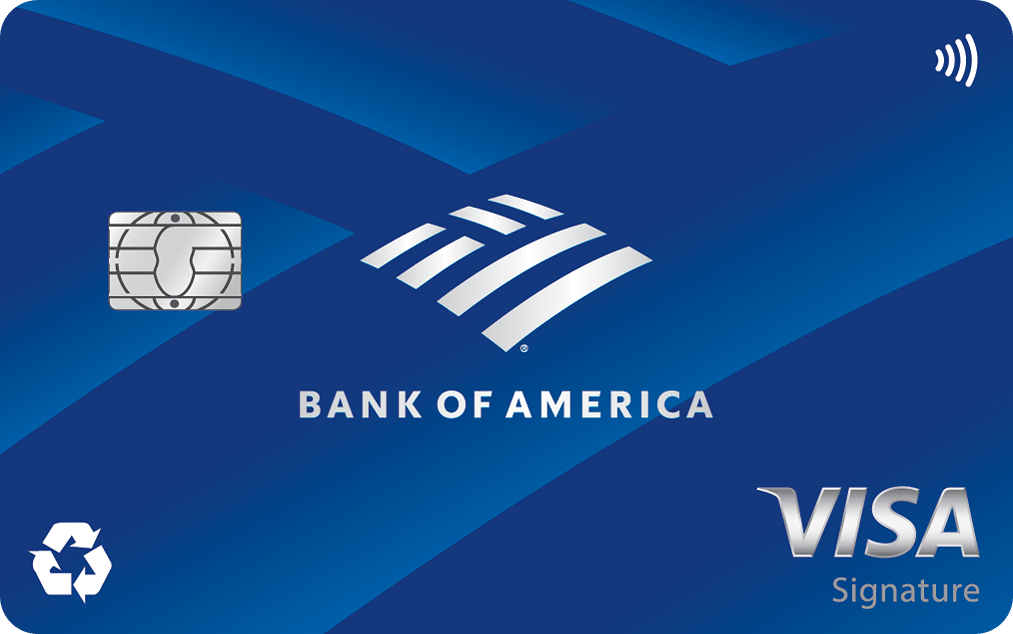 Apply Now
on Bank of America's secure website
Read Card Review
Intro Offer
Earn 25,000 online bonus points after you make at least $1,000 in purchases in the first 90 days of account opening - that can be a $250 statement credit toward travel purchases