Most points-and-miles enthusiasts will tell you the name of this game is "earn and burn." That's because even though you should think of points and miles as currencies, they're not just like cold, hard cash. These currencies don't earn interest, and they can be devalued at a moment's notice. Plus, many points and miles can expire without any account activity.
The earning begins naturally once you open a few rewards credit cards and start spending. You learn which card in your wallet earns the most rewards at the grocery store or gas station, and you swipe accordingly. You start looking for more easy ways to rack up credit card points, and soon you have a healthy stash of points and miles.
But it gets more complicated when it comes time to burn the miles to book the trip of your dreams. If you've gotten stuck trying to figure out the best ways to find these coveted award seats, you're not alone.
Here are some basics to help you search for award availability on major airlines, so you can fly for (almost) free.
Why it's important to understand award availability
The first thing to understand is the importance of airline alliances and partnerships. Becoming familiar with the "Big Three" alliances — Star Alliance, SkyTeam and OneWorld — is the first step to being able to unlock incredible value for your credit card points and frequent flyer miles.
In a traditional redemption, you would use Delta SkyMiles to book flights on Delta. But if you know how to leverage the airline partnerships, you could instead use Virgin Atlantic miles to fly those same Delta flights for substantially fewer miles.
Want to visit Abu Dhabi for some luxurious world-class shopping or a camel ride in the desert? You could fly business class on Etihad Airways from the U.S. for 120,000 Etihad Guest miles. Or, you could fly that same Etihad flight for only 70,000 American Airlines miles.
And just because you see a flight available to book with cash doesn't mean you can redeem miles to book that same seat. Airlines control the amount of seats they allow to be booked with rewards based on supply and demand. The same way the price of a cash ticket can fluctuate wildly, so can the amount of available award seats.
To make it even more complicated, just because you see a flight available to be booked with miles on an airline doesn't mean all its partner airlines have access to that award. In this United Airlines example, only the flights marked "Saver Award" are also released to partner airlines.
That means you could use Avianca LifeMiles to book this Saver Award Economy seat on United and pay 23,000 miles instead of 30,000 United miles because they're both in the Star Alliance. But, because there aren't any Business Saver Awards available on United, you won't be able to use your LifeMiles to book a business class seat.
Knowing how partnerships work and understanding the vast differences in award charts is the first important step in being triumphant with your award booking. But the next steps can be even more daunting. Thanks to alliances and partnerships, it's possible to search on many different websites to find award availability. Unfortunately, you'll also sometimes get different answers.
So how do you know where to find the award seats? When's the best time to look for award availability? Are there any tools that can help jump-start the manual searches?
Keep reading our award availability guide for answers to learn the best way to do your award searches. We've laid out our recommendations for the best sites on which to start your search, organized by region. Then, keep reading to learn more about our best tips, tools, and tricks to help you navigate the wild world of award searches.
How to search North American airlines
| | |
| --- | --- |
| To fly on this airline | Search for flights through this platform |
| Aeromexico | Delta or Air France/KLM (Flying Blue) |
| Air Canada | Aeroplan (Air Canada), United, or LifeMiles (Avianca) |
| Alaska Airlines | Alaska |
| American Airlines | American Airlines or British Airways |
| Delta Air Lines | Delta or Virgin Atlantic |
| Hawaiian Airlines | Hawaiian or Virgin Atlantic |
| Icelandair | Alaska |
| JetBlue | JetBlue |
| Southwest Airlines | Southwest |
| United Airlines | United, LifeMiles, or Aeroplan |
United, Delta, and American
The "Big Three" legacy airlines (United, Delta, and American) are all good places to start your awards search to get the lay of the land. All three websites have great calendar view tools and robust search tools that do a good job of showing partner flights.
These sites are a good place to start your award seat searches across all the major airline alliances. But if you're looking to book these flights using a partner's miles, you'll then want to make sure the partner has that space available too. You can also start earning rewards to use as miles with some of the best travel credit cards that use these partnerships.
Air Canada
Aeroplan, Air Canada's loyalty program, is a points-and-miles fan favorite for booking Star Alliance flights. Its award chart allows business class flights to Europe for 55,000 miles — a considerable savings over other programs.
Make sure you watch out for the taxes and fuel surcharges they'll tack onto your ticket though. This was actually a trick question on our recent points-and-miles quiz. We discovered an $895 CAD fee when booking through Air Canada compared to just $5.60 for the same flight using United miles. Always do the math to make sure the cash you'll have to shell out doesn't outweigh the miles you'll save.
Southwest and JetBlue
Two of the most popular domestic airline options are also the simplest to book. Neither Southwest nor JetBlue are part of any alliances. The best option for flying Southwest with points is to book directly on its website. But, if you're a frequent traveler with this airline, Southwest has some of the best airline credit cards offering top notch rewards. The same scenario goes for flying JetBlue. Just log in to either website and search for flights using points.
How to search European airlines
| | |
| --- | --- |
| To fly on this airline | Search for flights through this platform |
| Aegean Airlines | United, LifeMiles (Avianca) or Aeroplan (Air Canada) |
| Aer Lingus | United, LifeMiles, or Aeroplan |
| Aeroflot | Delta or Air France/KLM (Flying Blue) |
| Air France | Air France/KLM or Delta |
| Alitalia | Delta or Air France/KLM |
| Austrian Airlines | United, LifeMiles, or Aeroplan |
| British Airways | British Airways |
| Brussels Airlines | United, LifeMiles, or Aeroplan |
| Finnair | British Airways |
| Iberia | Iberia or British Airways |
| KLM | Air France/KLM or Delta |
| LOT Polish Airlines | United, LifeMiles, or Aeroplan |
| Lufthansa | United, LifeMiles, or Aeroplan |
| Swiss International Air Lines | United, LifeMiles, or Aeroplan |
| TAP Air Portugal | United, LifeMiles, or Aeroplan |
| Turkish Airlines | United, LifeMiles, or Aeroplan |
| Virgin Atlantic | Virgin Atlantic |
Air France
The Air France website is a great option for searching SkyTeam alliance awards because it's user-friendly with a fairly comprehensive search tool. Just visit the Air France website, select your country, and then click the "Use Your Miles" tab to search for award availability.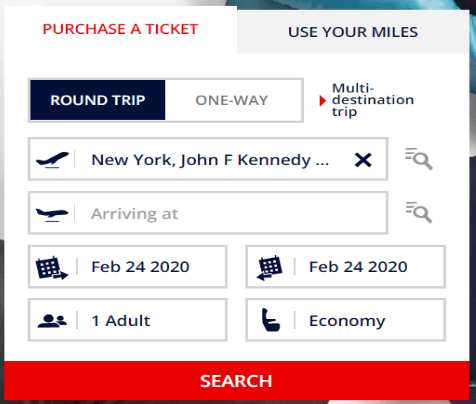 Unfortunately, both Air France and Delta seem to have some blindspots for partner awards. It's best to cross-reference the availability you see to make sure you're not missing any award seats.
If you're looking to use Flying Blue miles to fly on SkyTeam alliance partners, be aware that you should have an established account well before you use your miles. Flying Blue is notorious for shutting down new accounts that receive points transfers immediately upon opening.
Lufthansa
This German airlines first-class experience ranks high on the bucket list for many travelers thanks to its luxurious cabin, first-rate meals, impeccable service, and even private limo service directly to the plane.
But, in order to use miles to book your seat, you'll have to be ready to be spontaneous. Lufthansa only releases first-class award space to partners 15 days in advance. You'll have your choice of using LifeMiles, Aeroplan, or United miles to book your award seat — just make sure to factor in the different fees you'll incur from each program.
How to search Asian airlines
| | |
| --- | --- |
| To fly on this airline | Search for flights through this platform |
| Air China | United, LifeMiles (Avianca), or Aeroplan (Air Canada) |
| All Nippon Airways (ANA) | ANA, United, LifeMiles, or Aeroplan |
| Asiana Airlines | United, LifeMiles, or Aeroplan |
| Cathay Pacific | British Airways or Qantas |
| China Airlines | Delta or AirFrance/KLM (Flying Blue) |
| China Eastern Airlines | Delta or AirFrance/KLM |
| EVA Air | United, LifeMiles, or Aeroplan |
| Garuda Indonesia | Delta or AirFrance/KLM |
| Japan Airlines | British Airways or Alaska Airlines |
| Korean Air | Korean or Delta |
| Singapore Airlines | KrisFlyer (Singapore) |
| Thai Airways | United, LifeMiles, or Aeroplan |
Cathay Pacific
Arguably one of the top airlines in the world, this Hong Kong carrier is an oddball when it comes to award space. Unless you're using Cathay's Asia Miles to book your seat, steer clear of the Cathay site. Instead, you can search British Airways, but you may also consider giving Qantas a shot. Qantas is an Australian Airline that's part of the OneWorld alliance, and it has a robust and user-friendly search interface.
All Nippon Airways (ANA)
Another Asian cult-classic airline, ANA boasts screaming values if you're looking to fly in a lie-flat bed all the way to Japan. You'll pay just 85,000 miles per round-trip ticket from the U.S. to Asia.
ANA has a solid search tool, so this is the best place to start if you're looking to book a trip to Japan using miles. It's important to note that ANA trips must be booked as roundtrip fares. If you're only looking for a one-way ticket, you'll need to find another option.
How to search other airlines
| | |
| --- | --- |
| To fly on this airline | Search for flights through this platform |
| Avianca | LifeMiles (Avianca), United, or Aeroplan (Air Canada) |
| El Al | United, LifeMiles, or Aeroplan |
| Emirates | Alaska Airlines or Qantas |
| Ethiopian Airlines | United, LifeMiles, or Aeroplan |
| Etihad | Etihad Guest, American Airlines, or British Airways |
| Gol Air Transport | Delta or Air France/KLM (Flying Blue) |
| Qantas | Qantas, American Airlines, or British Airways |
| Qatar Airways | British Airways or American Airlines |
If you're looking for supreme luxury in the sky, you'll want to put Middle Eastern airlines such as Emirates, Etihad, and Qatar Airways on your bucket list. The first-class cabins in these opulent planes boast bottomless glasses of the best champagne, fine dining, and even an onboard shower.
Neither Emirates nor Etihad are part of a larger alliance, though they do have partner relationships (you can also transfer Chase Ultimate Rewards to book Emirates). Qatar is part of the OneWorld Alliance, so you'll do best searching on the user-friendly British Airways or American Airlines websites to find availability. If you want to use Etihad Guest miles to book an Etihad flight, just head to the Etihad website for the easiest booking.
The Colombian Star Alliance airline Avianca gets more attention for its attractive LifeMiles program than its flights. If you're looking to book a Star Alliance partner flight, be sure to consider booking with LifeMiles. You can fly to Europe one way in business class for just 63,000 LifeMiles, and they don't pass on outrageous taxes and surcharges the way Aeroplan does.
The downside to LifeMiles is that the website sometimes doesn't show all the award space it should, and customers report nightmarish hold times when trying to contact customer service. Still, it's a great option worth exploring for Star Alliance flights.
Tips, tricks, and tools for finding the best award availability
If all of this seems overwhelming, don't worry. You're not alone. Before you run for the hills, here are some more helpful tools to book your perfect award.
AwardHacker
This free tool is a great place to start before you even start searching for award availability. AwardHacker doesn't find award space, but it does show you what is theoretically possible for the trip you're looking to take.
Just plug in your cities and the cabin type you'd like to fly, and AwardHacker will spit out a list of possibilities. You'll see the airline currency you could book with and how you could transfer miles into that loyalty account (Ultimate Rewards, Membership Rewards, ThankYou Points, or Marriott Bonvoy points).
Remember, this tool just shows you what's possible. Just because you see a booking that works here, doesn't mean you'll find the actual space. But checking out AwardHacker first gives you a great start on ideas of various ways to book your award.
Expert Flyer
This powerful tool is an award searcher's dream come true. Expert Flyer allows you to search for current award inventory across multiple airlines in one (mostly) user-friendly spot. You can use the completely free version of Expert Flyer to create seat alerts so you get notified if a better seat on your flight opens.
But the real power lies in the paid version. For a low monthly fee, you can search Expert Flyer's powerful database extensively to find the award space you need. Better yet, you can choose to receive alerts when space opens up for flights you've been eyeing.
Wikipedia
One of the best ways to build a trip using awards is to break it apart into pieces. Often, you'll come up empty if you're searching only from one specific airport to another specific airport on a journey that requires stops.
A better way to approach it is to search segment by segment, and Wikipedia is a great help in that quest. If you look up an airport on Wikipedia, you'll get a list of every airline that flies to that destination, and all the cities you can get to directly from that airport.
Armed with your list from Wikipedia, you can start to search for award space for the longest segment of your trip, and then tack on additional legs from there to get you where you need to go. Once you think you've found an itinerary that works for you and has award space available on all legs, you can call the airline with all the details and have them book it over the phone.
Sometimes, though, you can't make it all work. You can find award space only starting from Chicago, but you live in Baltimore. In those situations, consider booking a "positioning flight." That's when you book a cheap flight to a larger city in order to take advantage of the award availability you want. Do the math, but paying for a positioning flight can often still save you big because you'll be able to take advantage of the award tickets you see.
When to book
In the hunt for award availability, often the early bird gets the proverbial worm. Most airlines open their flight calendars about 11 months (roughly 330 days) in advance. If you're planning ahead and watching for specific flights to open up, you often have a fighting chance at scooping up the seats you need. Expert Flyer can be a big help here to keep tabs on award availability.
On the flip side, being spontaneous and looking for last-minute availability can often prove fruitful as well. If seats haven't sold and the departure date is approaching, airlines will often open additional award availability rather than have the seat go empty. As we touched on earlier, Lufthansa first class is a great example of award space only being available close-in.
If you're searching for award space in between the two extremes of very far out and very close in, don't get discouraged. Set an Expert Flyer alert so you'll know if and when the seats you want are available. Explore different routing options and airline possibilities. If you're a family of four travelers and looking to fly business class, consider breaking up your family and reserving two seats in business class and two seats in economy, and swapping who gets to sit in the premium cabin on the return flight.
Bottom line on how to search award availability
Learning to leverage partnerships and alliances is the biggest thing you can do if you want to take your points-and-miles game to the next level. When you're starting to plan your next trip, do some research to find several different options that could work for the route you want to take.
Search multiple airline sites to find partner space, and then cross-reference your findings to make sure the award seat you want exists. Be aware that sometimes search tools can show "phantom space" — seats that appear to be bookable using miles, but when you go to reserve them they cannot be found. When in doubt, pick up the phone and call a customer service agent to look for space or make the booking. If you don't think you're getting accurate information from the rep, don't be afraid to hang up and call again to speak with someone different. Everyone is human, and that agent may not be as well-versed in the nuances of the booking.
Don't be afraid to use tools such as Expert Flyer for help, and check out our FBZ Elite - Travel & Points Facebook group for friendly suggestions or advice if you get stuck. Happy award hunting!