If you've ever taken a flight or stayed in a hotel, you likely know what points and miles are, as well as a little about how credit card points work. The majority of airlines and hotels have loyalty programs that offer points or miles as you purchase flights and hotel stays. You can typically also get bonus rewards if you use their credit cards.
The best hotel credit cards offer huge rewards that can be redeemed at popular hotel chains, and the best airline credit cards can help you earn miles for nearly free future travel. In addition, you can also earn access to exclusive perks and benefits within the loyalty programs that you use the most.
The loyalty program system seems beneficial for both parties. You pay for flights or hotel stays and earn extra rewards along the way. In turn, the company receives your service and, because you like the rew1ards, your loyalty as well. Everyone's a winner.
Except, that's not exactly the case. The main issue in this type of system is that the loyalty program is completely controlled by the company that created it. Because it has complete control, it can change the rules and guidelines whenever it wants, and it doesn't have to let you know. The value of your rewards or the level of your perks could change at any time. It's a one-sided system that doesn't offer much flexibility.
Here, we'll dive into why staying loyal to specific travel brands may not be the best strategy for your points and miles. This can help you see how opting for a flexible points and miles program could offer you a lot more value and stability.
1. Perks and status generally aren't attainable for the casual traveler
Nobody would care about travel loyalty programs if there wasn't some sort of benefit in it for them. We all like to get a little something extra for our money, which is what loyalty programs bank on. The promise of free flights and staying at hotels for free is more than enough to gain our support. We like to travel, but "free" travel sounds even better.
(I say "free" because you've paid for flights, hotel stays, or something else to receive rewards. It's typically not a case of a travel brand giving you points or miles for doing absolutely nothing.)
Apart from free travel, loyalty programs offer fairly lucrative rewards for their most loyal members. For example, let's take a look at the Delta SkyMiles program, which has more than 92 million members. You can join the SkyMiles program for free and start earning miles, but you won't get high-end benefits until you're a Medallion member.
There are four tiers of Medallion membership and each one has both its own perks and requirements. In this graphic from the Delta website, each dot represents a status level and the associated requirements are listed below the dot:
Medallion Qualification Dollars are earned as you spend money on Delta and certain partner flights each year
To qualify for the Platinum, Gold, and Silver MQD Waiver, you have to spend $25,000 or more in eligible purchases during the calendar year with eligible Delta credit cards
To qualify for the Diamond MQD Waiver, you have to spend $250,000 or more in eligible purchases during the calendar year with eligible Delta credit cards
Medallion Qualification Miles are earned based on your fare class and distance flown
Medallion Qualification Segments are earned based on the number of flights you take
Diamond Medallion status benefits include:
Complimentary CLEAR Plus membership (worth up to $189 per year)
Highest priority boarding
Unlimited complimentary upgrades
Free first checked bag for you and up to eight travel companions
Delta Sky Club membership
Gift Gold Medallion status to a friend or family member
25,000 bonus miles
$200 Delta travel voucher
$200 Tiffany & Co. gift card
The benefits are clearly valuable for anyone flying with Delta. Your entire airport and flight experience would be changed with some of these benefits. But how attainable is Diamond Medallion status? Well, if you fly a lot and/or spend a lot of money, it's within the realm of attainable. For the average traveler, though, there's little-to-no chance of getting that status.
The casual traveler isn't flying enough to earn status and they aren't spending $250,000 a year to get the Diamond MQD Waiver. Even the lower-tier MQD Waiver requirement of $25,000 in a year is likely too much for the average person. And this is a common theme across most airline and hotel loyalty programs. The best benefits are reserved for the customers who pay the most.
It makes sense from a business perspective, but it doesn't make sense for the loyal members who don't spend a lot each year. What does their loyalty get them? In most cases, not much. So it typically isn't worth it for a casual traveler to stick to one travel loyalty program in the hopes of receiving useful perks and benefits.
You should still earn your rewards from any hotel or airline you use, but you don't have to be loyal to just one brand. In fact, using programs that offer rewards that can be used for multiple airlines and hotels would likely be a lot more beneficial for you.
2. Travel brand loyalty can have a negative impact on your finances
Once you've attained a certain level of loyalty with a travel brand, you get to bask in the rewards and benefits that come with it — at least for the time being. Most membership levels and statuses only last for a year or two, so what happens when your status expires? You usually have to meet certain requirements all over again.
Status requirements might not mean much to frequent travelers. You fly all the time, so the requirements are simply completed during your normal activities. However, not everyone has it so easy. Some travelers have to work to retain their status, which can cause you to make unfortunate financial decisions.
Your travel brand of choice may not always have the cheapest travel options, but you feel a need to earn miles or hotel nights to keep your status. So you opt for the more expensive bookings because you're loyal to a brand. Or you go out of your way to travel so you don't lose your special privileges. And by this I mean, you're traveling more (and spending more) solely because you need to hit certain requirements with your loyalty program.
In these circumstances, you're spending more money because you think your loyalty benefits are worth the cost. In some cases, they may be, but they're often not. If you have to spend more money because of a loyalty program, you may have passed the point at which the program is mutually beneficial. You could now be fueling a program that just promises great things in exchange for more of your money.
You should always take a step back and calculate the value of the relationship. You don't have to cut ties with a program, but you also don't have to attain the highest status every year (if it's not worth it). And it's not worth it to stay loyal to a travel brand if you're paying more money than the value of the rewards you receive.
Instead, consider leveraging loyalty programs to your financial benefit. Take advantage of rewards and bonuses that align with your normal travel and spending habits. Don't stretch yourself financially. Try a loyalty program that isn't tied to a specific airline or hotel, yet still offers amazing travel benefits.
Hint: Credit card rewards programs can be an ideal solution for both frequent and casual travelers.
3. Your points and miles will devalue
There's a common saying in the travel rewards community: "Don't hoard your points and miles." This may not be so apparent when you're first starting out, but points and miles aren't really another form of currency, like cash. They certainly have value, but their value is completely controlled by the companies that create them.
If an airline or hotel decides to make a change in how your points or miles can be redeemed, there's nothing you can do about it. And whenever these changes occur, they're almost always negative for the consumer. These changes take value away from your points and miles, so they're called devaluations. As you gain experience with points and miles, you'll come to realize that it's not a matter of if devaluations will occur, but a matter of when.
Because it's out of your hands, the best strategy to get the most value out of your rewards is to use your points and miles for what they were designed for: travel. Everyone talks about maximizing your rewards so you can get the best travel deals, but they aren't worth anything if you don't use them. They'll eventually lose value, so it's better to use them sooner than later.
It's estimated that at one time more than 30 trillion frequent flier miles were sitting unused in loyalty accounts, according to McKinsey & Company, a management consulting firm. At one point in time, that many miles would have equaled 300 million round-trip business-class flights from the U.S. to Europe on Delta Air Lines (at 100,000 SkyMiles round trip). But after multiple devaluations in Delta SkyMiles over the years and changes to its program, a similar round-trip flight now would likely cost more than 200,000 miles. That's a 100% increase in required miles and 30 trillion miles would now have half the value they used to — in other words, a huge devaluation of SkyMiles.
You never know what the future holds for the travel industry. A worldwide pandemic wasn't necessarily foreseen, but it happened and travel companies have been reeling. We've seen airlines around the world go bankrupt, which has made it hard to make any predictions for travel after coronavirus. One thing is for certain, though: If you hoard points or miles with a specific company and it goes under, you could lose all your rewards. Then all the money you spent and the time you committed will have been for nothing.
Just as you shouldn't put all your eggs in one basket, maybe you shouldn't keep all your rewards with one travel loyalty program. Or, even better, you could reduce your risk by joining a program that isn't tied to any one hotel or airline. Credit card rewards programs offer excellent earning potential and multiple ways to redeem points and miles. And because credit card companies aren't tied to the fate of a particular airline or hotel, their points and miles tend to hold their value over time.
4. Credit card rewards programs are more flexible
Credit card rewards programs bring more benefits to the table than your average travel loyalty program. Cards like the Chase Sapphire Reserve® and The Platinum Card® from American Express earn rewards that work with a variety of airlines and hotels. They're flexible and because of their flexibility, their points can more easily retain value. And if you've wondered how much credit card points are worth, the answer is a lot, especially when redeemed for travel.
The potential value of credit card rewards is best portrayed with a program like Chase Ultimate Rewards. Many Chase credit cards earn Chase Ultimate Rewards points, which you can redeem toward airfare, lodging, and more through the Chase travel portal. Because the Chase travel portal is powered by Expedia, you get hundreds of thousands of options to choose from for your next flight or hotel stay.
In addition, you can also transfer your points to 14 Chase Ultimate Rewards transfer partners. So you can convert your 20,000 Chase Ultimate Rewards to 20,000 points or miles of any Chase transfer partner, for example.
Chase travel partners include:
Aer Lingus
Air Canada
Air France KLM
Iberia
Singapore Airlines
Between booking directly in the travel portal or moving your points over to a transfer partner, you get loads of travel options for your Chase points. And in the unlikely event that all these transfer partners ceased to exist, you could still use your points in the Chase travel portal. Overall, this type of program gives you a lot more flexibility and security in comparison to your average airline or hotel loyalty program.
5. Credit card rewards programs offer greater earning potential
With valuable redemption and transfer options, earning Ultimate Rewards points can be very lucrative. Compared to a brand-specific card, the earning potential on certain Chase cards is much more powerful.
We can display this by putting the Chase Sapphire Preferred® Card against the IHG® Rewards Premier Credit Card:
Chase Sapphire Preferred: Earns 5X points on travel purchased through Chase Ultimate Rewards®; 3X points on dining, select streaming services, and eligible online grocery purchases; 2X points on all other travel purchases, and 1X points per $1 on all other eligible purchases.
IHG Rewards Premier Credit Card: Earns up to 26X points on stays at IHG hotels & resorts; 5X points on travel, gas stations, and restaurants; and 3X points on all other purchases.
Although the IHG Rewards Premier earns a higher rate on IHG hotels & resorts, it earns the same as the Chase Sapphire Preferred in other categories. IHG points are best used for stays at IHG hotels, as transferring them won't give you great value. Because Ultimate Rewards points are flexible, they're much more valuable than IHG points. So booking an IHG stay with your IHG Rewards Premier might make sense, but the earning potential on anything else is better with the Chase Sapphire Preferred.
And Chase isn't the only option out there. You also have:
Many of these credit card companies partner with popular airlines and hotel chains, so you can still use points and miles with your favorite brands. You just aren't as closely connected to travel brands within a credit card loyalty program. So if a specific travel brand loyalty program were to post major devaluations, your credit card points would retain their value, and you could use them elsewhere.
Bottom line
If you're loyal to a specific airline or hotel loyalty program, consider branching out so you don't suffer the consequences when the program issues inevitable devaluations. The best travel credit cards aren't co-branded cards from a hotel or airline. Rather, they're non-brand specific and can work no matter where your travel loyalties lie.
Easy-to-Earn Unlimited Rewards
Earn 25,000 online bonus points after you make at least $1,000 in purchases in the first 90 days of account opening - that can be a $250 statement credit toward travel purchases
Earn 1.5 points per $1 spent on all purchases
Longer intro APR on qualifying purchases and balance transfers
No foreign transaction fees
Earn unlimited 1.5 points per $1 spent on all purchases, with no annual fee and no foreign transaction fees and your points don't expire.
25,000 online bonus points after you make at least $1,000 in purchases in the first 90 days of account opening - that can be a $250 statement credit toward travel purchases.
Use your card to book your trip how and where you want - you're not limited to specific websites with blackout dates or restrictions.
Redeem points for a statement credit to pay for travel or dining purchases, such as flights, hotel stays, car and vacation rentals, baggage fees, and also at restaurants including takeout.
0% Introductory APR for 18 billing cycles for purchases, and for any balance transfers made in the first 60 days. After the intro APR offer ends, 17.99% - 27.99% Variable APR will apply. A 3% fee applies to all balance transfers.
If you're a Preferred Rewards member, you can earn 25%-75% more points on every purchase. That means instead of earning an unlimited 1.5 points for every $1, you could earn 1.87-2.62 points for every $1 you spend on purchases.
Contactless Cards - The security of a chip card, with the convenience of a tap.
This online only offer may not be available if you leave this page or if you visit a Bank of America financial center. You can take advantage of this offer when you apply now.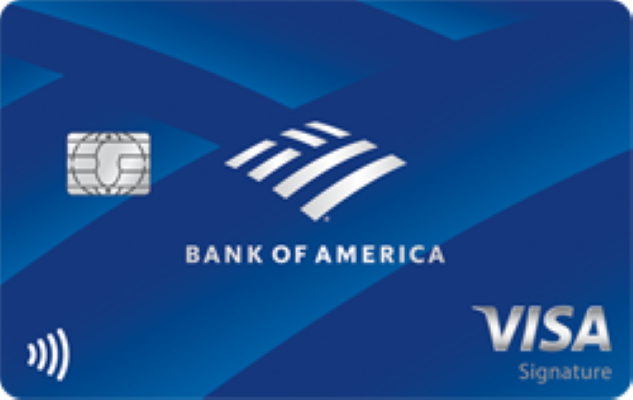 Apply Now
on Bank of America's secure website
Read Card Review
Intro Offer
Earn 25,000 online bonus points after you make at least $1,000 in purchases in the first 90 days of account opening - that can be a $250 statement credit toward travel purchases