DoorDash, Grubhub, Uber Eats, and online food ordering in general have skyrocketed during the COVID-19 pandemic as many Americans opt to stay home to enjoy their favorite foods. Using the DoorDash State of Flavor Report and Grubhub's list of the hottest dishes of 2020, we've compiled a list of 15 of the top foods and drinks getting delivered nationwide. We made our choices based on the overall popularity and rising trend of food delivery items from both DoorDash and Grubhub.
If you're among those who are ordering food frequently, remember to compare credit cards and take advantage of those that offer rewards and benefits with food delivery services. Earning rewards for purchases you're already making is one of many ways to avoid common money mistakes.
Chicken fingers and fries
DoorDash reports chicken fingers and fries as the No. 1 ordered food item on the year. Are you surprised? Maybe, but it's hard to go wrong with this iconic dipping duo. As long as you have plenty of your favorite sauce, it's a one-way ticket to munch town.
Chicken sandwich
Trade the fingers for a perfectly fried chicken sandwich — preferably spicy — and you've got yourself a real winner. Whether you like it simple with a bit of sauce and a few pickles or fully suited up with lettuce, tomato, and cheese — there's no doubt about it, the chicken sandwich is a definite crowd-pleaser.
Mac 'n' cheese
Yes, please. Let me introduce you to the comfort food of comfort foods: the one and only macaroni and cheese. Mac 'n' cheese isn't a hard dish to make, but sometimes it just tastes better from your favorite restaurant. Maybe they get the pasta to cheese ratios just right or they've got a secret ingredient to give it a little extra kick. Whatever it is, we love it. And we also love to support local restaurants, so keep those mac 'n' cheese orders coming.
Sushi
Is all-you-can-eat sushi delivery a thing? If it's not, it should be. Americans love their sushi, which is why this late-night favorite makes the list. The famous California roll pops into DoorDash's No. 9 most-ordered item of the year. Sorry deep-fried sushi connoisseurs, you'll have to order more Vegas rolls to catch up to this sushi classic.
Pad thai
Speaking of late-night favorites, is there anything quite as satisfying as a heaping plate of pad thai for dinner? It's warm, made of vegetables and stir-fried noodles, and coated in an amazing sauce. Sounds like the perfect dish to order when you need a rousing food pick-me-up to get over that midweek slump.
Iced coffee
For a different kind of pick-me-up, let's not forget about our chilled friend, the iced coffee. For many Americans, the morning commute has disappeared with the onset of remote work. You're now working from home, so there's no pit stop at the coffee shop. Fortunately, food delivery services are here to save the day. Iced coffee to keep you energized and focused, delivered right to your doorstep.
Milk tea
If coffee isn't your thing, you might prefer tea instead. One tea in particular, called milk tea or bubble tea, is a popular food delivery item. On Grubhub alone, it's risen 168% in popularity compared with the previous year. Chances are you've seen some colorful variations at a few different drink stops, whether it's the purple taro milk tea or the green matcha milk tea. Try it with boba (tapioca pearls) for some extra goodness.
Veggie burger
Plant-based is in, and it looks like it's here to stay. Grubhub orders for plant-based burgers have risen 291%, nearly catching the spicy chicken sandwich and its 299% growth. If that's not an accomplishment, I don't know what is. Kudos to you, black beans, mushrooms, soybeans, and tofu. We're glad you're making your mark.
Chips and guacamole
Our next entry needs no introduction because it's possibly one of the best appetizers or side dishes ever created. Chips and guacamole is a popular attraction at any type of game night, be it football or board games, which is possibly why it's ordered so much. But really, you don't need a reason other than wanting to eat something delicious.
Tacos and burritos
Mexican food in general is a leading choice for food deliveries, with both tacos and burritos topping the charts. According to the Uber Eats 2020 Cravings Report, tacos and burritos were top recipients of common food requests. Everyone wants limes with their tacos and pinto beans for their burritos.
And let's not forget other popular dishes, like quesadillas and chimichangas. Everyone has their go-to Mexican food dish, and they're all getting ordered recently.
Chicken tikka masala
Creamy, orange chicken tikka masala goodness is just the right thing to order when you're in the mood for some Indian food. Pour it over basmati rice and get your naan ready for this tasty dish. Amp up the spice levels if you dare, but make sure you have a mango lassi ready to help you beat the heat. Many Indian restaurants send enough food for multiple sittings, so this order offers value on multiple levels.
Breakfast sandwich
This list tried to skip the morning foods, but the breakfast sandwich managed to sneak its way in. Actually, the simple sausage, egg, and cheese on a biscuit couldn't have made a better case for how popular it's been. It was the No. 1 food on the rise for DoorDash deliveries, seeing a 2,872% increase in popularity.
Milkshake
It's not all about main or side dishes with food deliveries. Dessert is the extra delicacy at the end of a meal that really wraps things up. So why not go the extra mile in treating yourself by getting your dessert delivered? A lot of other people are doing it. Vanilla milkshakes grew 273% in popularity according to Grubhub.
Cinnamon rolls
Are cinnamon rolls a dessert item or a breakfast item? Or are they a dessert item disguised as a breakfast item? Does it matter? No, they're amazing and we'd eat them whenever. And many Americans seem to agree. Food delivery orders for cinnamon rolls rose 205% on Grubhub and 1,450% on DoorDash.
Donuts
Glazed, frosted, jelly-filled, custard-filled, powdered with sprinkles, or without sprinkles. Donut variations are never-ending, especially when America can't get enough of these little, circular delights. DoorDash donut deliveries rose 902% compared to 2019, easily beating out blueberry muffins at 859% and biscuits at 741%.
How to save money on your delivery food
Remember, if you're going to be ordering food for delivery anyway, you might as well earn some credit card rewards at the same time. The best rewards credit cards make it easy to earn valuable points, miles, or cash back on purchases you're already making. This includes gas, groceries, dining, streaming subscriptions, and other everyday expenses
Some cards offer cash back, which you can use however you want. When you earn cash back on your purchases, it's like everything you buy comes with an automatic discount. Or you can earn points or miles. These are often redeemed for award travel in the form of nearly free flights, hotel stays, rental cars, and more.
Even better, some rewards cards have specific dining or food delivery benefits. You may be able to earn bonus rewards on your dining and food delivery purchases, get statement credits for specific food delivery services, or get free premium food delivery subscriptions. If you often get food delivered or eat out, these types of cards could come in handy.
Here are some of the best credit cards for dining:
| | |
| --- | --- |
| Card | Dining or online food ordering benefits |
| Chase Sapphire Reserve | Bonus rewards points on eligible food delivery, takeout, and dining purchases; complimentary one-year DashPass subscription on DoorDash; statement credits for DoorDash purchases |
| Chase Freedom Flex | Bonus cash back on eligible food delivery, takeout, and dining purchases; complimentary three-month DashPass subscription on DoorDash, then 50% off for the next nine months |
| The Platinum Card® from American Express | Up to $200 in annual Uber credits, including Uber Eats |
| American Express® Gold Card | Bonus rewards on eligible restaurant, takeout, and delivery purchases; up to $120 in dining credit from participating restaurants |
| Capital One Savor Rewards Credit Card | Bonus cash back on dining purchases |
Bottom line
Whether you use DoorDash, Uber Eats, Grubhub, or another food delivery service, the right rewards credit card can help you get the most out of your dining experience. You can earn bonus rewards on your deliveries or get free subscriptions and food because of your card's benefits. That means a lot more chicken sandwiches, tacos, donuts, or whatever types of dishes you like to order.
Easy-to-Earn Unlimited Rewards
Earn 25,000 online bonus points after you make at least $1,000 in purchases in the first 90 days of account opening - that can be a $250 statement credit toward travel purchases
Earn 1.5 points per $1 spent on all purchases
Longer intro APR on qualifying purchases and balance transfers
No foreign transaction fees
Earn unlimited 1.5 points per $1 spent on all purchases, with no annual fee and no foreign transaction fees and your points don't expire.
25,000 online bonus points after you make at least $1,000 in purchases in the first 90 days of account opening - that can be a $250 statement credit toward travel purchases.
Use your card to book your trip how and where you want - you're not limited to specific websites with blackout dates or restrictions.
Redeem points for a statement credit to pay for travel or dining purchases, such as flights, hotel stays, car and vacation rentals, baggage fees, and also at restaurants including takeout.
0% Introductory APR for 18 billing cycles for purchases, and for any balance transfers made in the first 60 days. After the intro APR offer ends, 17.74% - 27.74% Variable APR will apply. A 3% fee applies to all balance transfers.
If you're a Preferred Rewards member, you can earn 25%-75% more points on every purchase. That means instead of earning an unlimited 1.5 points for every $1, you could earn 1.87-2.62 points for every $1 you spend on purchases.
Contactless Cards - The security of a chip card, with the convenience of a tap.
This online only offer may not be available if you leave this page or if you visit a Bank of America financial center. You can take advantage of this offer when you apply now.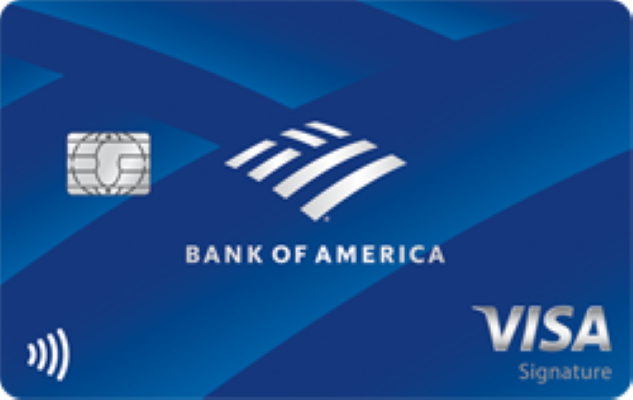 Apply Now
on Bank of America's secure website
Read Card Review
Intro Offer
Earn 25,000 online bonus points after you make at least $1,000 in purchases in the first 90 days of account opening - that can be a $250 statement credit toward travel purchases