There are many opportunities for people over 60, which proves that age is no barrier to meaningful work. If you're looking for a way to make extra money, there may be a job for you.

Employers recognize the tremendous value that experienced professionals bring to the table and are actively seeking mature workers. 
Here are 18 places where the job market is booming for those seeking a second act in their careers.
Earn money online by taking surveys
$55,000 might sound crazy … but with a company called Survey Junkie, it's possible to get your share of it every day by taking their simple surveys.
While it might sound strange, these "market research" surveys are a known way to make extra cash online. Of course, they won't make you rich … but if you have some extra free time, the money you earn could be enough to cover gas, groceries, coffee, and more!
Follow these simple steps to get your share of $55,000:
Take surveys.
Repeat daily and get paid!
Sign up here and share your opinion on these companies with simple surveys. Survey Junkie has paid out over $76 million to date.
P.S.: You can cash out with as little as $5 through PayPal or bank transfer, or transfer to gift cards from a number of stores.
Get your share of $55,000 daily by signing up here
SPONSORED
Ace Hardware
Ace Hardware is one of the many companies that signed on to the AARP's Employer Pledge.
That means if you've accumulated lots of hands-on home improvement experience — and you certainly may have — you could be right at home in roles such as a cashier or customer service representative.
Adecco
The Adecco Group is a talent company that specializes in matching professionals with positions in office, industrial, engineering, technology, and service roles.
It's based in Switzerland and claims to help 3.5 million people across 100,000 organizations and 60 countries annually.
AMC Theaters
Ideally, movies make us all feel like kids again. And AMC is hiring, no matter your age. AMC continually recruits cashiers, concession stand staff, cleaning crew members, team managers, and bartenders in select areas. 
Employees enjoy free movie screenings, complimentary admission for a guest, and a 50% discount on concessions.
Resolve $10,000 or more of your debt
Credit card debt is suffocating. It constantly weighs on your mind and controls every choice you make. You can end up emotionally and even physically drained from it. And even though you make regular payments, it feels like you can never make any progress because of the interest.
National Debt Relief could help you resolve your credit card debt with an affordable plan that works for you. Just tell them your situation, then find out your debt relief options.
How to get National Debt Relief to help you resolve your debt: Sign up for a free debt assessment here. (Do not skip this step!) By signing up for a free assessment, National Debt Relief can assist you in settling your debt, but only if you schedule the assessment.
Census Bureau
The U.S. Census Bureau collects, verifies, and organizes demographic data from millions of Americans every decade.
To accomplish this, it needs qualified individuals. The agency's commitment extends to hiring a diverse workforce welcoming employees from various age groups and backgrounds to genuinely mirror the nation's demographic richness.
Disney
Disney isn't just for kids. If you have a passion for the mouse, a knack for interacting with kids and families, and a preference for outdoor work, Walt Disney World might provide you with the opportunity to secure your retirement while enjoying your ideal job. 
Positions range from park greeters to tram drivers, ticket collectors, and character photo attendants.
DoorDash
If you like being behind the wheel, DoorDash has a place for you. The biggest benefit of working for DoorDash is being able to set your own hours. 
But, more precisely, DoorDash, GrubHub, and UberEats offer opportunities for self-employed contractors. You can choose when to work, select jobs at your convenience, and receive 100% of your tips.
Education
Education is a broad subject, so it'll depend on your locality, but if you're passionate about teaching and enjoy helping others learn, consider a career in education.
The field employed over 850,000 workers in 2022. Even without an education degree, you can get certifications to enhance your skills. Many roles offer training as part of onboarding. High school teachers, for example, earn an average of $62,360 annually.
H&R Block
You probably know H&R Block from seeing their commercials or using them to handle your taxes. They are a giant in the tax service world.
So, give them a look if you've got a good head for numbers and tax law. Not only is it among the biggest tax service businesses, but it's also remote-friendly and has a sweet vacation policy.
Humana
Humana is one of America's largest health insurance providers. It serves millions of members nationwide and offers a variety of health, wellness, and insurance services.
This Louisville, Kentucky-based company is also a signatory to AARP's Employer Pledge. Job openings include contact representatives, analysts, and sales professionals.
Earn up to $75/hour working from home
Bookkeeping is a basic (but powerful) way to earn money online.
And while $75/hour might sound like a lot of money, the data backs it up: Thanks to its high profit, low cost nature, Foundr Magazine has described it as one of the most profitable businesses you can start …
Plus, data from a 2021 survey by Intuit shows that the average hourly rate for this in-demand skill jumped from $69/hour to $75/hour! This unique skill can help you supplement your existing income … or even replace your current job.
Start learning how to launch a bookkeeping business by taking this free 3-class intro from Bookkeepers.com. The classes cover:
How you can own a virtual bookkeeping business.
What it takes to run a profitable virtual bookkeeping business.
How to land high paying clients … even if you've never done bookkeeping!
BTW: You don't need to be a math savant or even have an accounting degree. Like anything, it does take work, but you can be successful even if you're busy with kids, family, or a regular 9-5 job.
ManpowerGroup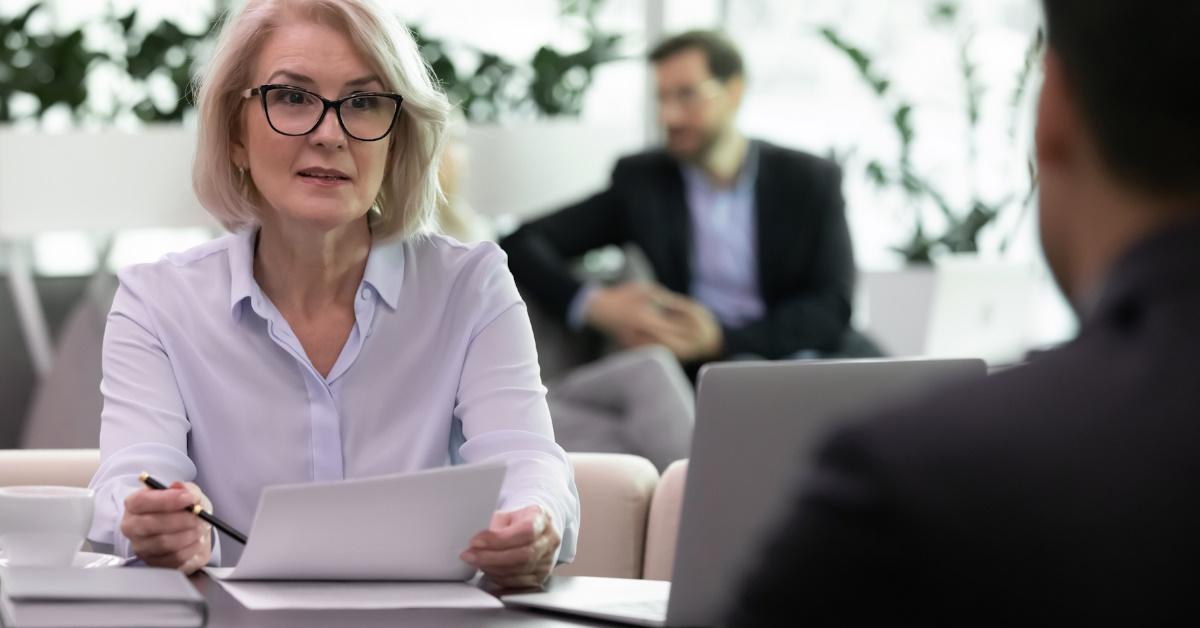 Don't let the name fool you: ManpowerGroup isn't just for gentlemen. It's a workforce solutions provider specializing in supplying businesses with skilled personnel. 
Its services encompass recruitment, talent assessment, training, development, outsourcing, workforce consulting, and career management solutions.
McDonald's
In 2019, McDonald's made history by becoming the first national fast-food chain to collaborate with AARP, working to fill thousands of vacant positions with older adults and seniors.

As one of the 1,000+ companies supporting the AARP Employer Pledge, McDonald's remains dedicated to hiring older individuals, including retirees, in their workforce.
MetLife
MetLife is focused on insurance and financial services, and if you've got the right skills, it could have a role for you.
The company excels in employee benefits, retirement, savings solutions, and life, accident, and health insurance coverage.
Robert Half International
Robert Half International is a global staffing and consulting firm.
It assists businesses in various fields — including legal, HR, recruitment, administration, accounting, finance, and computer technology — in finding suitable candidates for their job openings.
Rover
If you're a pet person, Rover has a job for you. Rover is the gig economy's solution to the perennial challenge of locating a reliable, skilled pet caregiver on short notice. 
If you've got a flexible schedule, can handle responsible pet ownership, and enjoy assisting fellow pet owners, becoming a Rover pet sitter is a promising option.
Staples
If you're looking for a laid-back customer service role at a company known for its healthy work-life balance, consider opportunities at Staples.
Depending on the position, a job at Staples may be just right for you. The retailer is an AARP Employer Pledge signatory dedicated to recognizing the valuable input of mature, older, and retired individuals.
United States Postal Service
Neither rain, nor sleet, nor snow, nor hail prevent the mail from getting through — and your age won't stop you from a job with the United States Postal Service.
In fact, a 90-year-old postal worker in Los Angeles recently made headlines for continuing his federal service and telling the media he has no plans to retire.
Walgreens
Walgreens, another AARP signatory, is dedicated to employing experienced individuals with valuable soft skills — basically, people who are good with others.
Their senior-friendly positions cover pharmacy roles for seasoned technicians and customer service and cashier jobs for those interested in engaging with customers.
YMCA
You don't need to be a "young man" to enjoy going to, and working for, the YMCA. The organization is an equal employer serving diverse communities and individuals. 
Many YMCA and YWCA fitness centers provide specialized athletic courses for older adults. While an instructor from any age group can teach the class, having one who empathizes with the needs of class members is beneficial.
Bottom line
These employment sectors represent just the tip of the iceberg when it comes to jobs for older workers.
The job market is shifting to be more inclusive, recognizing that age can bring a wealth of experience and dedication.
It's never too late to embark on a fulfilling second career, even if you retire early.
National Debt Relief Benefits
No upfront fees
One-on-one evaluation with a debt counseling expert
For people with $7,500 in unsecured debts and up