Renting a car is an inevitable expense while traveling for many people, but as most seasoned car renters know, not all rental experiences are the same.
From receiving a dirty or malfunctioning vehicle to being charged extra fees by the rental agency, many people have horror stories about their experiences while renting a car — whether it was their fault or someone else's. Some of these experiences can be costly.
The FinanceBuzz team surveyed U.S. adults who have rented a car at least once to find out which issues and behaviors they experienced when renting a car.
Key findings
1 in 6 people have changed or canceled vacation plans because of high prices or lack of rental car availability.
Nearly 1 in 4 renters (24%) admit to smoking cigarettes in a rental car. 11% admitted to smoking marijuana.
40% of renters pay for rental car insurance provided by the rental company. 26% pay with a credit card that covers the cost of rental car insurance.
21% of car renters say they've been unable to figure out how to fully operate basic car features (wipers, lights, etc.).
Rental car nightmares
Sometimes, the issues with renting a car stem from the car itself. While rental agencies claim to clean and inspect their vehicles regularly, sometimes things slip through the cracks. Beyond that, there is always a chance that a car will break down on the road, no matter how well-maintained it is. Unfortunately, renters can run into issues with the vehicles themselves.
When it comes to renting cars, issues are more common than you'd think. A whopping 69% of people who've rented cars reported some kind of negative rental experience. For instance, more than one in 5 renters, 21%, said that they had gotten a flat tire in a rental. The same percentage said that they were unable to figure out how to operate critical vehicle functions such as the lights or windshield wipers.
While those issues can be attributed at least partially to the actions and knowledge of the person renting the car, some other problems fall squarely on the rental car companies themselves. One-fifth of people say they received a vehicle that was different than the one they reserved, while 18% were given a rental that was dirty.
Perhaps most distressingly, 17% of people say they experienced mechanical issues in a rental car before, which may indicate that rental companies are not maintaining their vehicles properly before sending them out on the road.
Note
 1 in 6 people said they've had vacation plans ruined or altered due to high rental car prices or lack of rental car availability.
How many people admit to breaking rental agreements?
Of course, rental agencies aren't the only ones contributing to the shape rental cars are in. When asked what kinds of ethical lines renters crossed while renting a car, an alarming 40% identified at least one thing they had done that would give a rental agency pause. Many of these are explicit violations of rental agreements.
17% of renters said they drove more miles than they said they would with their rental, while 13% said they allowed an unauthorized driver behind the wheel.
Note
47% of renters say they treat a rental car better than their own car. Only 6% say they treat a rental worse.
What things do people admit to doing in rental cars?
When it comes to things people do inside a rental car, one activity stands out: 61% of people said that they ate food while driving a rental.
Nearly one-in-four people (24%) said they've slept in a rental car, while the same percentage admit to smoking cigarettes. A whopping 20% of people admit to the always-dangerous act of texting while driving. This is dangerous in any car, but even more so in an unfamiliar vehicle.
How do people pay for rental cars?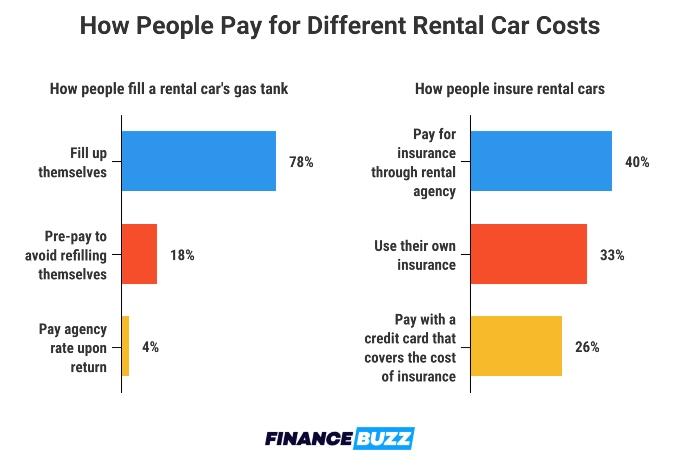 Outside of the costs for the privilege of driving the car itself, rental cars came with some additional costs. Namely, renters need to ensure they have some kind of insurance coverage on the vehicle, and they also need to pay to fill up the gas tank.
When it comes to insurance, the most common approach is to pay extra for insurance coverage offered by the rental company, something that 40% of people chose. One-third of people use their own auto insurance policy to cover the rental car.
Fact
26% of people use a credit card that covers the cost of rental car insurance when renting a vehicle.
In terms of filling the gas tank, nearly four out of five people (78%) opt to fill up the tank on their own before returning the car. A little less than one-fifth (18%) pre-pay an agreed-on price with the rental agency so that they don't need to fill up before turning the car back in, while just 4% return the car without a full tank and then pay the highly marked-up rates that rental companies charge to refill a tank.
Do people rent cars for test drives?
For some people, renting a car is an opportunity to splurge and drive around in the car of their dreams for a few days. For some people, however, it's a chance to do something more practical.
Over one-third of people (35%) say that they have considered purchasing or leasing a specific car model following a positive rental car experience. Almost a quarter of people (23%) are taking a more active role in using rental cars to influence purchasing decisions by intentionally renting a model they were already interested in and using the rental experience as a sort of extended test drive.
Another trend among renters is a turn towards services and apps such as Turo that allow people to rent cars from individual owners instead of renting from traditional agencies and companies. Less than one-third of people (30%) say they would not be open to renting from such a service, meaning that the majority of people have either rented a car from an individual owner before (26%) or would be willing to try it in the future (44%).
Tips for saving money on your next rental car
The cost of renting a car might be high, so planning ahead and booking a rental car as early can help travelers get the best deal possible. Here are a few more ways to save money at the rental counter:
Methodology
FinanceBuzz surveyed 821 U.S. adults that have previously rented a car at least once in November of 2022.
You could save up to $500 with some companies
Compare dozens of providers in under 5 minutes
Fast, free and easy way to shop for insurance
Quickly find the perfect rate for you