Who wouldn't want more ways to earn miles that can be redeemed for free airline tickets or upgrades, especially when you can rack them up simply by dining out? If you're an American Airlines customer (or think you may fly with the airline in the future), you can do just that with the AAdvantage Dining program.
This program allows you to use your own existing debit or credit cards to earn American Airlines AAdvantage miles for purchases made at your favorite restaurants, bars, and clubs. With three different tiers of membership available, you can end up getting as much as five miles for every dollar you spend.
If you're a fan of American Airlines or simply like banking miles for purchases you'd normally make anyway, AAdvantage Dining may be worth checking out. Here's a look at how this program works and how you can earn some serious miles.
What is AAdvantage Dining?
Let's start first by explaining what AAdvantage is. AAdvantage is American Airlines' customer loyalty program, and the AAdvantage miles you earn can be redeemed for fares, upgrades, car and hotel rentals, vacation packages, entry into the Admirals Club, gift cards, and more.
The AAdvantage Dining program allows you to earn even more American Airlines AAdvantage miles when you make purchases at participating restaurants, bars, and clubs. It lets you register one or more credit or debit cards, which it tracks for eligible purchases. You can earn more if you sign up for email communications, complete at least 11 eligible transactions, or use a co-branded American Airlines credit card.
Eligibility of transactions varies from restaurant to restaurant, and the guidelines for which purchases qualify for American AAdvantage Dining points can be found on the participating restaurant's page at AAdvantageDining.com. For example, some limit the amount you can spend to receive points, while others offer points only during certain times of day. It's best to look up a restaurant to see what the terms are beforehand.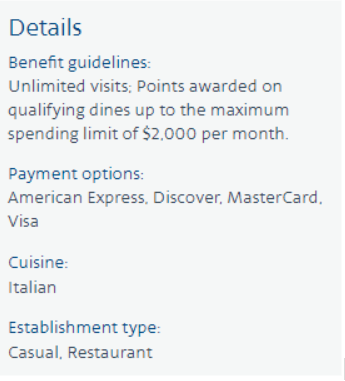 AAdvantage Dining is best for those who frequently fly with American Airlines or who plan to fly with the airline in the future and want to start earning miles. The dining program is only available to U.S. residents, not including Puerto Rico or the U.S. Virgin Islands.
How to get started with AAdvantage Dining
Registering for AAdvantage Dining is easy and free. Go to AAdvantageDining.com and complete the form. You'll need to provide the following:
Name
ZIP code
AAdvantage number (if you aren't an AAdvantage member, you can register here)
Password
You can elect to receive email communications when you register, which will set you up to earn extra miles for every dollar spent (more on that next). If there's a new member bonus at the time you sign up, you can also take advantage of that option.
Once your registration is completed, you'll be asked to link a card to your account. This is so your purchases at participating businesses will count toward earning miles. You can also add more than one card so you won't have to remember which one to use when you're out.
How many miles can you earn with AAdvantage Dining?
AAdvantage Dining has three levels of membership, each enabling you to earn a different number of miles per dollar. The difference between the levels is minimal, simply requiring you to opt into emails and make purchases at participating businesses.
| | | |
| --- | --- | --- |
| Membership level | Requirement | Rewards rate |
| Basic | Basic registration | One AAdvantage mile per dollar spent |
| Select | Opt into emails | Three AAdvantage miles per dollar spent |
| VIP | Opt into emails and complete 11 eligible transactions in a calendar year | Five AAdvantage miles per dollar spent |
If you aren't a fan of receiving marketing emails, just set your email program to automatically filter any American Airlines emails into their own folder. This simple strategy will keep your inbox uncluttered and earn you more miles on every restaurant bill.
AAdvantage Dining sometimes has welcome offers for new members. At the time this article was written (Aug. 20, 2019), the program was offering 1,000 miles for spending $25 in the first 30 days of signing up. Since several local restaurants that I often dine at participate in AAdvantage Dining, I'll be able to earn those miles with one dinner if I join now.
The miles you earn should show up in your AAdvantage Dining account within five days, but it will take six to eight weeks before you'll see them in your AAdvantage frequent-flyer account.
How to find participating restaurants
The AAdvantage Dining website has a search tool for finding participating restaurants. For the most part, you'll find local eateries, pubs, diners, and clubs. You can search by city, ZIP code, or the name of the restaurant.
The number of places where you'll earn miles varies from region to region. For example, Paterson, NJ has about 820 participating restaurants within 30 miles, while Myrtle Beach, SC has around 66. In my search of the Myrtle Beach area, I found mostly locally owned restaurants, like Duffy Street Seafood Shack and Bully's Pub. There were also regional chains on the list, such as Eggs Up Grill, Sticky Fingers Ribhouse, and Dickey's Barbecue Pit. Most searches came back with a wide variety of types of cuisine and dining experiences. So you'll have lots of options to suit your tastes.
How to use your credit cards to earn more miles
One really great thing about the AAdvantage Dining program is that you're earning miles in addition to any you get through other programs or cards. There's a lot of potential for stacking rewards for maximum benefits.
For example, if you have a co-branded American Airlines credit card connected to your AAdvantage Dining account, you can earn up to five miles per dollar spent in the dining program and two points directly to your AAdvantage frequent-flyer account. Having one of these cards can also help you avoid American Airlines baggage fees. This is one of the best airline credit card options if you are a heavy American Airlines flyer.
You can also use a credit card that allows you to transfer points or miles to American Airlines AAdvantage. If you enroll a co-branded Marriott Bonvoy card from Chase or American Express in the dining program, you can earn up to five miles in the AAdvantage Dining program and up to two Bonvoy points per dollar. You can then transfer your Marriott Bonvoy points to your AAdvantage account at a 3:1 ratio (i.e., three Marriott points equal one AAdvantage mile).
Another idea is to connect a rewards card to your AAdvantage Dining account that gives you extra points for using it at restaurants. The American Express Gold Card — a charge card — gives you four points per dollar at restaurants worldwide. Add to that up-to-five miles per dollar with the AAdvantage Dining program and you could be earning some serious rewards. Keep an eye out for opportunities to earn bonus points by eating at featured restaurants that also participate in AAdvantage Dining.
Card
Welcome bonus
Rewards rate
Travel benefits
Annual fee
Citi AAdvantage Platinum Select World Elite Mastercard
Earn 50,000 American Airlines AAdvantage bonus miles after spending $2,500 in the first 3 months
2X miles at gas stations and restaurants, and on American Airlines purchases; and unlimited 1X miles on all other purchases
First checked bag free on domestic American Airlines flights for you and up to four travel companions

Preferred boarding on American Airlines flights

25% savings on inflight food and beverage purchases on American Airlines flights

Earn a $125 American Airlines Flight Discount certificate after spending $20,000 in the first year and then renewing your card

$99 (waived first year)
Marriott Bonvoy Brilliant American Express Card
Earn 75,000 Bonus Marriott Bonvoy points when you spend $3,000 within the first 3 months
6X points on eligible purchases at participating Marriot Bonvoy hotels, 3X points at U.S. restaurants and on flights booked directly with airlines, and 2X points on all other eligible purchases
One annual Free Night Award

Complimentary Marriott Bonvoy Gold Elite status

Up to $300 in statement credits annually for eligible purchases at participating Marriott hotels

Up to a $100 property credit for qualifying charges at The Ritz-Carlton or St. Regis when you meet specific criteria

Statement credit for TSA PreCheck ($85) or Global Entry ($100)

Complimentary Priority Pass Select membership

Annual 15-night credit toward the next level of Marriott Bonvoy Elite status

$450
American Express Gold Card
Earn 60,000 Membership Rewards points after you make $4,000 in purchases within the first 6 months
4X Membership Rewards points at U.S. supermarkets (up to $25,000 per year) and at restaurants worldwide, 3X on flights booked directly with airlines or on Amextravel.com, and 1X on all other eligible purchases
$100 airline fee credit

The Hotel Collection upgrades and credits

Personalized travel service for planning trips

Access to exclusive travel discounts and global assistance

Baggage, car rental (secondary coverage), and damage insurance

Roadside assistance

$250
Chase Sapphire Preferred Card
Earn 80,000 points after spending $4,000 on purchases in the first 3 months
5X on Lyft rides, 2X points on eligible dining and travel, and 1X points per $1 on all other eligible purchases
1:1 point transfer to popular airline and hotel loyalty programs

Trip cancellation and interruption insurance, plus baggage delay insurance

Auto rental collision damage waiver (primary coverage)

Trip delay reimbursement

Travel and emergency assistance

$95
Capital One® Venture® Rewards Credit Card
50,000 miles after qualifying purchases
2X miles on every purchase, every day
Up to $100 credit for Global Entry or TSA PreCheck fee

Transfer miles to 15 travel partners

Auto rental collision damage waiver (secondary coverage)

Travel accident insurance

24-hour travel assistance

$95
The bottom line on American AAdvantage Dining
Though the American AAdvantage Dining program is best for those who are fans of the American Airlines brand or who regularly fly with the airline, it does have the potential to benefit even the casual traveler. Remember, you can also sign up for the American AAdvantage Dining program while using one of the best travel credit cards that isn't co-branded for this airline.
You never know when an American Airlines fare will be your best option. By signing up for AAdvantage Dining, you could earn points while dining out and enjoying life the way you normally would. You'd then end up with a nice bank of points to spend when you're ready to book a flight. Overall, it's not a bad deal.