Whether you're nostalgic for days past or throwing an 80s-themed party, you may be craving some classic snacks.
Costco has plenty of treats to help satisfy your nostalgia for the neon decade so you can save more on groceries on your next shopping run.
Editor's note: Prices are subject to change and may vary by location.
Get a protection plan on all your appliances
Did you know if your air conditioner stops working, your homeowner's insurance won't cover it? Same with plumbing, electrical issues, appliances, and more. Not being able to make repairs could leave you in a bad situation — but a home warranty could protect you against surprise expenses.
Whether you're a brand-new homeowner or you've owned your home for years, a plan from Choice Home Warranty could pick up the slack where homeowner's insurance falls short.
If a covered system in your home breaks down, you can call their hotline 24/7 for assistance to get it repaired. They have a network of over 15,000 technicians that can assist you, making sure any issue can be taken care of swiftly — without breaking the bank.
Not sure if it's for you? Rest easy: they were named one of the "Best Home Warranty Companies" by US News 360 Reviews and were awarded Best Company's 2020 Consumer's Choice Award. For a limited time, you can get your first month free when you sign up for a Single Payment home warranty plan.
Fruit by the Foot
Price: $12.29
This fruit snack has stood the test of time and is a classic even with kids today while helping you find a snack that will keep more money in your bank account. 
Throw it back to your childhood with these fun fruit rolls. And this multi-pack comes in three different flavors, all of which are tie-dye.
Oreida Bagel Bites Pizza Snacks
Price: $10.99
It's pizza on a bagel!
Eighties kids will remember these nostalgic slumber party snacks. And at this low price, you can feel like a kid again without spending too much.
Kellogg's Pop-Tarts Multi-Pack
Price: $9.89
Add some pizzazz to your breakfast with classic Pop-Tarts.
This variety pack has favorite flavors like strawberry and blueberry, so you can start your day right. All this box is missing is the apple-frosted flavor from the 80s!
Stop overpaying when you shop online
Shopping online has its perks. It's super convenient, but it can be time consuming to find the best deals. Instead of hunting for coupon codes (that don't always work!) and opening tons of browser tabs comparing prices, you can try Capital One Shopping.
Capital One Shopping makes saving money effortless. Just add the browser extension and when you check out, it'll scour the internet for coupon codes to help you save cash. And before you check out at 25+ major retailers, Capital One Shopping will notify you with a friendly pop-up if the item you're buying is available cheaper somewhere else.
Capital One Shopping is free to use and won't show you ads. Add it today and stop overpaying!1
Funyuns Onion Flavored Rings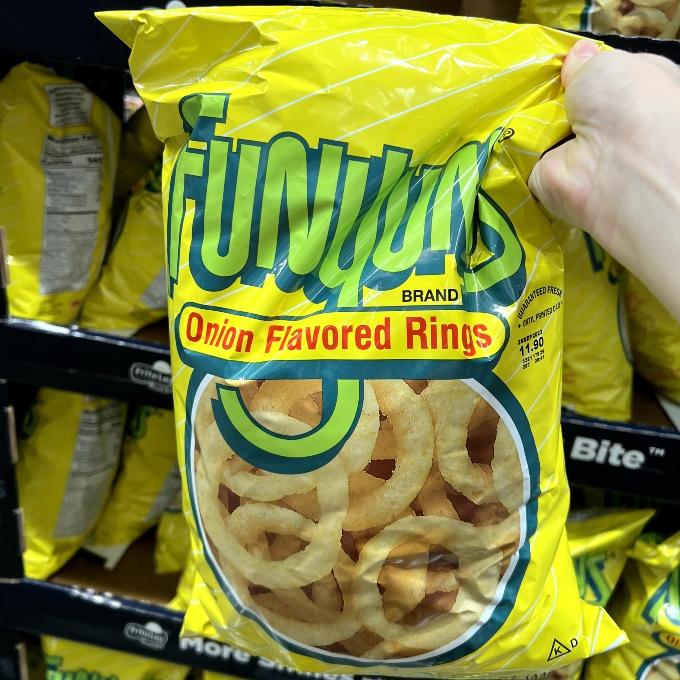 Price: $7.99
Snag this popular snack on your next Costco trip.
These onion-flavored rings took snacking to the next level back in the day. Pick up a party-sized bag and let others share in the nostalgia.
Nestle Nesquik Chocolate Drink Mix
Price: $8.39
Forget New Coke; this was the drink of the 1980s!
Kids and adults love this classic drink mix that makes your milk chocolatey smooth. Now you can add it to your favorite non-dairy milk for a nostalgic treat.
Lunchables Turkey and Cheese 6-Pack
Price: $10.99
Lunchables were all the rage back then, and kids now still love these handy lunch kits.
Get a six-pack of the original charcuterie boards for an affordable lunch the whole family can appreciate.
Hostess Twinkies and Cupcakes Variety Pack
Price: $8.99
Here's one snack that is a "big delight in every bite."
This multi-pack of classic Hostess desserts can take you back to a simpler time. You get 16 of each treat in this value box.
Capri Sun Variety Pack
Price: $9.99
Nothing beats sticking your straw into a cold Capri Sun pouch on a hot day.
This juice drink will transport you to summer vacations and after-school activities. Treat your own kids to a taste of your favorite drink pouch.
Kellogg's Eggo Homestyle Waffles
Price: $11.99
Live like Eleven from "Stranger Things" with this frozen breakfast food.
Just pop a few in the toaster for a warm, crispy waffle that's ready to go. Add butter, whipped cream, or fresh fruit before drizzling your syrup onto this tasty breakfast.
Earn 2% cash rewards at grocery stores and Costco
The Wells Fargo Active Cash® Card(Rates and fees) is a powerful rewards card that allows you to earn unlimited 2% cash rewards on purchases — including on groceries, even at warehouse stores like Costco.

New cardholders can also earn a one-time cash rewards bonus — $200 cash rewards bonus after spending $500 in purchases in the first 3 months!
If you're looking for a powerful rewards card that offers an extended intro APR period, look no further, the Wells Fargo Active Cash® Card checks that box too!
This card also offers an intro APR of 0% for 15 months from account opening on purchases and qualifying balance transfers (then 20.24%, 25.24%, or 29.99% variable). Which is great for someone who wants a break from high interest rates, while still earning rewards.
The best part? There's no annual fee.
Click here to apply for the Wells Fargo Active Cash® Card now.
Nabisco Oreo Multi-Pack
Price: $13.99
This variety pack has three fun throwbacks to different eras.
You get classic, Double-Stuff, and golden Oreos in this value box. Just dip them in milk for a snack that takes you back.
Kraft Macaroni and Cheese
Price: $12.69
Here's an easy dinner that never goes out of style!
Kraft macaroni and cheese was a childhood staple for many families, especially with cut-up hot dogs. And this is one unbeatable price for a cheesy, creamy favorite.
Kellogg's Rice Krispies Treats Variety Pack
Price: $13.99
This snack adds some "snap, crackle, and pop" to your day.
You get three exciting varieties of your favorite Rice Krispies treats in this handy box. This is one bargain you may want to grab on your shopping trip!
Kirkland Brand Microwave Popcorn
Price: $14.99
Did you know microwave popcorn first hit the shelves in the 80s?
This popular snack made at-home movie nights with a Blockbuster rental that much better. And with this affordable bulk box, you can relive the nostalgia with your favorite 80s movies.
Welch's Fruit Snacks
Price: $12.19
Fruit snacks saw an increase in sales in the 1980s, and these treats prove why.
Welch's fruit snacks are made with real fruit for an authentic taste. Plus, they're gluten-free, so anyone can enjoy them.
Kellogg's Frosted Flakes Cereal
Price: $8.99
Tony the Tiger has been around for decades, and that's for a good reason.
This crunchy, tasty cereal has been a favorite for children of all ages. And here's a fun fact: "Sugar" was dropped from the name of this cereal in the 80s to make it just Frosted Flakes.
Buying it in larger quantities is one of many Costco hacks that are delicious and worth it. 
Bottom line
So many amazing treats and snacks came from this classic decade. And Costco has plenty of popular snacks from bygone eras that won't make you break the bank.
Some local stores even offer special discounts or exclusive products, so grab your best Costco credit card and see what eighties-favorites you can find.
Lucrative, Flat-Rate Cash Rewards
Current Offer
$200 cash rewards bonus after spending $500 in purchases in the first 3 months
Rewards Rate
Earn 2% cash rewards on purchases