Whether you're hunting for cheap flights to Europe or an affordable hotel for your next staycation, cutting costs on travel in these core areas frees up more funds to enjoy your time away.
Hotwire, a third-party travel booking site, is known for offering frugal travelers deep discounts on expenses like flights and hotels. With so many competing offers from other companies, however, you'll want to know whether you're getting the lowest price for your trip.
Here's what you need to know about booking flights and hotels on Hotwire.
How to use Hotwire for flights
Booking flights on Hotwire is straightforward. On the homepage, you'll see a box that lets you start your search. Click on the "Flights" tab and toggle between round-trip or one-way search results. Then enter your basic flight details, like:
Departure city or airport
Destination city or airport
Departing and returning dates
Number of adult and child passengers
When you're ready to see your flight options, click "Find a flight."
From here, you'll see available departing flights in order of cheapest flights to most expensive. The results default to "economy/coach" seating. To change your seating class, click the "Show options" dropdown at the top of the page and use the seating-class options to select your preferred class.
To help you narrow your results, additional filters are available along the left side of the page. Filter categories include:
Number of stops
Preferred airlines
Departure and arrival times
Alternate departure airports nearby
Your active filters will appear in black toward the top of your search page, and you can modify your filters at the left side of the screen. Each flight option offers basic information you should know before making your flight selection. These details include the expected departure and arrival time, the price, and inflight amenities.
Clicking on "Details & baggage fees" gives you more information about the flight details and baggage restrictions. The "Rules and restrictions apply" dropdown offers quick-glance information about seating selection availability, baggage restrictions, and cancellation policy.
If you've decided on the flight you want, click the red "Select" button to the right. The "Rules and restrictions apply" dropdown automatically opens to ensure you're aware of these details before proceeding. After reviewing the rules and restrictions, click the red "Select this fare" button.
You'll then be taken to a similar page and go through the same process to select your return flight. Follow the steps above to filter your search and learn more about return flight details.
After selecting your return flight, you'll have a chance to review your trip details. Make sure all the information is correct, including the dates and times of your flight as well as details such as seating class and pricing.
From here, you can also modify your seating class and choose add-ons like a car rental. Once you confirm that your trip details are correct, click on the red "Continue booking" button at the bottom of the screen.
You'll arrive at a page that will ask for the basic information for each traveler and payment details. You can also choose to select trip cancellation insurance at this stage for an additional cost. Don't forget to enter your email address toward the bottom of the page so a confirmation can be sent to your inbox. When you're ready to finalize your booking, click the red "Complete booking" button at the bottom of the page.
Hot Rate flights
You might come across less-detailed listings when searching for flights. These are Hotwire's "Hot Rates," which can offer cheaper rates. But there's a catch — you won't know the name of the airline or the exact itinerary until your booking is complete.
These are typically last-minute flights on which airlines are looking to sell the remaining unclaimed seats. According to Hotwire, Hot Rate fare discounts can be as high as 40%.
After you finalize a Hot Rate flight booking, you'll learn which airline you've booked and key details, like precise flight times and scheduled layovers. Since flight details can vary, this option is best for travelers with a flexible travel schedule.
Hotwire's Low Price Guarantee
Regardless of where you book your flight, whether directly through the airlines or on Hotwire, flight fares are constantly changing. Hotwire offers a Low Price Guarantee, but it's limited to a 24-hour period from the time you book your trip.
To help maximize your savings on your next trip, track fares on Hotwire, competing travel booking sites, and directly through your airline for the following 24 hours after you book. If you find an identical fare at a lower price, Hotwire will refund you the difference.
How to use Hotwire for hotels
Unless you have family or friends in your arrival city who will offer a room, you'll likely need a place to stay during your trip. Hotwire can offer great deals to make your hotel stay more affordable, if you know where to look. On the homepage, click on the "Hotels" tab in the search box.
Enter your destination city, airport, address, or landmark to get started, then select the dates of your stay and the number of guests in your party. Finally, click "Find a hotel."
From here, you'll find listings for specific hotels, as well as "Hot Rate" hotels (more on this later). You'll also see a map on the right which displays shaded areas where there's an available Hotwire hotel. There are also available filters at the top of the page, allowing you to sort by price range, hotel class, amenities, and TripAdvisor ratings to help you narrow your search.
You can choose to either go down the list and browse all the available options or select a specific area on the map to see what hotels are available in that zone.
Along with the per-night rate, each listing includes the following information about the hotel:
Neighborhood it's located in
Distance from search location
Hotwire rating
TripAdvisor rating and number of reviews
Amenities included
For this walk through, we'll take a closer look at regular-rate listings. If you're interested in moving forward, click anywhere on the listing.
You'll see a page with in-depth information about the hotel, such as a brief description of the hotel and surrounding area, check-in and checkout times, available room types, and nightly prices. You'll also find detailed policies and rules, such as whether a listing is refundable. When you've decided on a room type, click the corresponding red "Reserve" button next to the room.
Next, you'll fill out your name and phone number, select whether you want travel protection for an additional cost, and provide payment information as well as your email to receive your confirmation. After filling in the fields, check to see that the details of your stay are correct, including the dates and pricing. Click "Complete booking" at the bottom of the page when you're ready to finalize your reservation.
Hot Rate Hotels
Like Hot Rates for flights, Hotwire offers vague hotel listings that are featured as Hot Rates. These deals exist as a way to fill empty rooms at hotels at a dramatically reduced nightly rate. What you see before booking your stay includes:
The hotel's star rating
General area
Hotwire's user rating
TripAdvisor rating and number of reviews
Amenities included
Nightly rate
You'll also be able to see which hotel you might get upon confirming your reservation. Click on the "What's the name of the hotel?" button to see up to four possible hotels you could book. Hotwire guarantees your room will be at one of the hotels shown here.
To proceed with booking a hotel Hot Rate, click on the listing and select a room type that's available. At the bottom of the page, you'll also see a map with points of interest near your mystery hotel. Choose the room type you like and click "Book Now."
You'll go through the same booking process as with a regular-rate hotel and enter your basic information, decide on optional trip insurance, and provide payment information. After confirming the details of your reservation are correct, click "Book now."
Pros and cons of Hotwire
Hotwire gives flexible travelers the benefit of finding cheaper rates on both hotels and flights, most notably through its Hot Rate offerings.
Despite the mystery bookings you find through on Hot Rates listings, travelers may find that guessing which hotel or airline you'll ultimately get is a bit easier on Hotwire compared to competitors. This is all thanks to the ability to see a list of specific hotels where the listing is guaranteed.
Armed with this information, you can compare the amenities list and TripAdvisor ratings against Google searches for each potential hotel to narrow down the possibility. Some travelers even use travel bidding review sites like BetterBidding to see the booking details of other Hotwire customers and what they ended up with.
Some drawbacks to using Hotwire is its very restrictive cancellation policy for Hot Rates. Whether you book Hot Rate flights or hotels, your booking can't be canceled, refunded, or changed unless you paid for extra travel protection. Your ability to cancel regular rate bookings varies based on the specific provider and booking.
This makes the site less ideal if you're not willing to commit to keeping the reservation or if an unexpected emergency arises and you need to cancel your trip.
How to use a credit card to maximize your Hotwire booking
Before searching for hotels and flights for your next trip, leverage rewards credit cards for extra travel savings.
For example, you can use Hotwire to find the cheapest flights and hotels available, then pay with one of the best travel credit cards to earn additional points on travel. This is especially true if your credit card offers point accelerators on broad travel categories, like third-party travel sites.
The Chase Sapphire Reserve®, for instance, offers a $300 travel credit each year, so at least a portion of your booking on Hotwire could be credited back to your account. 
In addition, you can earn 5X points on flights and 10X points on hotels and car rentals when you purchase travel through Chase Ultimate Rewards® immediately after the first $300 is spent on travel purchases annually; 3X points on other travel and dining & 1X points per dollar on all other purchases.
If you don't mind doing a bit of investigative work and can be flexible about your flight times or hotel, Hotwire can be a good way to cut costs on travel.
Easy-to-Earn Unlimited Rewards
Earn 25,000 online bonus points after you make at least $1,000 in purchases in the first 90 days of account opening - that can be a $250 statement credit toward travel purchases
Earn 1.5 points per $1 spent on all purchases
Longer intro APR on qualifying purchases and balance transfers
No foreign transaction fees
Earn unlimited 1.5 points per $1 spent on all purchases, with no annual fee and no foreign transaction fees and your points don't expire.
25,000 online bonus points after you make at least $1,000 in purchases in the first 90 days of account opening - that can be a $250 statement credit toward travel purchases.
Use your card to book your trip how and where you want - you're not limited to specific websites with blackout dates or restrictions.
Redeem points for a statement credit to pay for travel or dining purchases, such as flights, hotel stays, car and vacation rentals, baggage fees, and also at restaurants including takeout.
0% Introductory APR for 15 billing cycles for purchases, and for any balance transfers made in the first 60 days. After the intro APR offer ends, 18.24% - 28.24% Variable APR will apply. A 3% fee applies to all balance transfers.
If you're a Preferred Rewards member, you can earn 25%-75% more points on every purchase. That means instead of earning an unlimited 1.5 points for every $1, you could earn 1.87-2.62 points for every $1 you spend on purchases.
Contactless Cards - The security of a chip card, with the convenience of a tap.
This online only offer may not be available if you leave this page or if you visit a Bank of America financial center. You can take advantage of this offer when you apply now.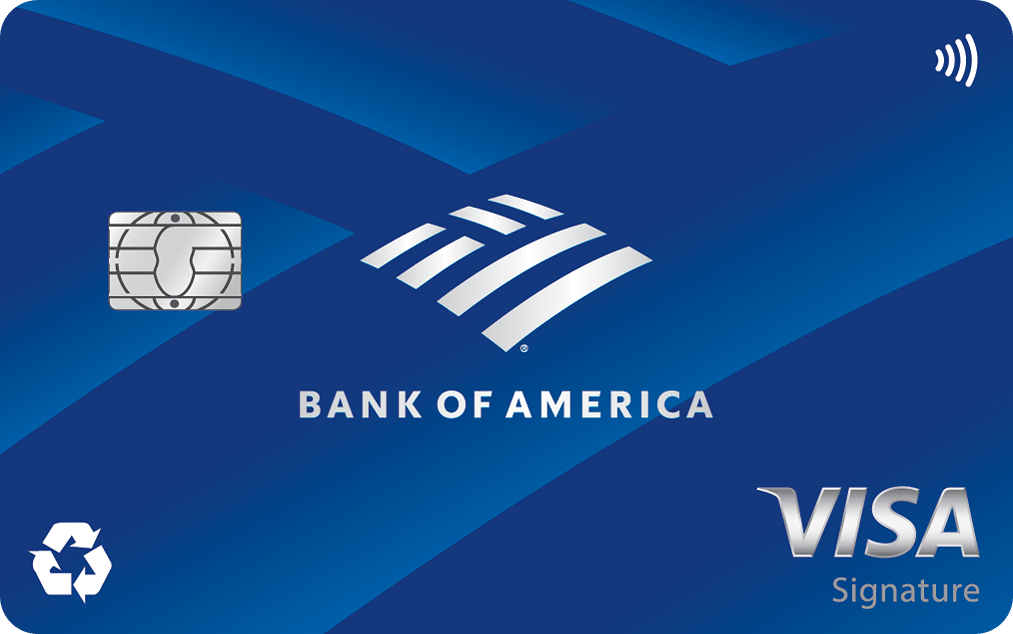 Apply Now
on Bank of America's secure website
Read Card Review
Intro Offer
Earn 25,000 online bonus points after you make at least $1,000 in purchases in the first 90 days of account opening - that can be a $250 statement credit toward travel purchases