Our family loves to travel; it's one of the experiences we value most. But as a family of six, we often run into challenges that smaller families don't face. And although the term large family can be interpreted in many ways, we define it as a family that doesn't fit in a standard hotel room.
Finding ways to save for trips is certainly a challenge, but the challenges extend beyond finances. Despite the obstacles, our family has been fortunate enough to travel frequently, creating lasting memories and strengthening our bonds. Planning awesome trips for large families is possible, whether you're staying local or venturing far.
Here's a look at some challenges that many large families face when traveling, how we've solved them, and how to save on your next trip.
7 challenges of large family travel
1. Racking up enough credit card points
Paying for a family vacation using only points and miles is difficult for large families, but not impossible. We've been able to pay for most of our travel expenses (except for food) for several years using rewards points earned from credit cards. Keep in mind that points won't pay for everything, though. Although we've put miles toward most of our flights, we still had to pay taxes and fees on each ticket.
The main expenses we try to cover with rewards points are flights, accommodations, and rental cars. If we can cover those expenses through points and miles, we're OK with paying cash for everything else.
There's no secret to using points for large family travel — it's just simple math. The more people traveling, the more points and miles you need to save up. That doesn't mean there aren't ways to maximize your rewards. Here's how we earn and use rewards points to fund travel for our family of six:
Take advantage of welcome bonuses. The key to saving enough points to fund large family travel is to focus on cards with generous welcome bonuses.
Have each adult sign up. Both my wife and I sign up for new credit cards. Opting for two-player mode helps us maximize our travel rewards.
Stick to brands we like. There are certain hotels and airlines we prefer as a family. We stick to credit cards that earn points we can use with those brands, whether directly or through rewards programs that allow you to transfer points.
Use versatile rewards programs. Some rewards programs, like Chase Ultimate Rewards, have portals where you can book travel directly. We can stick with our favorite brands or book travel based on current deals elsewhere. Chase Ultimate Rewards also allows you to transfer points to more than a dozen travel partners.
2. Earning enough cash to make it happen
Although most of our travel expenses are paid for using rewards points, other expenses are paid for with cash. Additional costs include food, attraction and event tickets, souvenirs, and more. We tend to use points for larger trips, opting to pay for weekend getaways and shorter road trips with cash.
Traveling with a large group gets costly. We had our share of struggles paying for vacations in the past until we created a separate travel fund. We budget money each month for travel and transfer it to a separate bank account. That way, it doesn't get mixed up with everyday funds or other savings goals. Plus, we can see our progress by tracking it online or through the bank's app.
By budgeting money specifically for travel, we ensure that we have money set aside to book our trips without stretching our everyday budget.
If you have trouble finding room in your current budget for travel, you may need to find other ways to make money. Starting a side hustle or picking up a temporary part-time job could be exactly what you need to afford to take your large family on vacation. Think about any skills or talents you have that you can use to make money. Before going full-time, freelance writing was my side hustle. We used most of my writing income to pay for multiple family trips. The list of best side hustles is almost endless.
Tax refund checks and work bonuses are also great ways to build your travel fund quickly. If your current job offers overtime, why not work a few extra hours each week to pay for future travel?
3. Coordinating our schedules
Sometimes paying for travel is easier than scheduling a trip. This is one of the biggest travel challenges for our family. We have four teens in public school, and my wife is a teacher, so we can't just take off whenever we want. Our travel dates are limited to school breaks — Thanksgiving, Christmas and New Years, spring break, and summer. Of course, these are typically the busiest travel times of the year.
We also deal with our kids' involvement in extracurricular activities like sports and music. We try to not let these things take priority over travel, but the reality is that they often do.
Although we haven't completely solved the scheduling problem, we have taken steps to deal with it better more recently. Here are a couple ways to navigate travel around busy work and school schedules:
Create a family calendar. Everyone in our family is connected to Google Calendar. When school, sports, and work schedules are released, we input important dates into our calendar. This allows us to plan and book travel as early as possible.
Be flexible. Having a flexible travel schedule often means cheaper travel, fewer crowds, and more options. Even though we travel during busy seasons, that doesn't mean we have to book a vacation somewhere that's going to be crowded. You can find plenty of travel deals by visiting destinations during their offseason.
Take mini trips. Not all family travel needs to be an all-out vacation. If your work or other schedule doesn't allow you to plan a big vacation, try planning several weekend trips. If you stay local or regional, you'll cut down on costs like flights and travel time. Sometimes these short trips end up being our family's favorite travel adventures.
4. Finding the right lodging
We outgrew standard hotel rooms years ago. We love staying in hotels, but our options are sometimes limited, depending on where we travel. Some hotel chains offer suites that sleep more than four people at select locations. Many also come with a full kitchen or kitchenette, which helps us save money on meals with a quick trip to the grocery store.
Some of the family-friendly hotels we've found suitable accommodations at include:
Residence Inn by Marriott
Holiday Inn Club Vacations
Homewood Suites by Hilton
Staybridge Suites
TownePlace Suites by Marriott
Hyatt House
Wyndham Hotels & Resorts
Choice Hotels International
Sheraton Hotels & Resorts
Some of these hotels allow you to book suites using points, but it's often hit or miss. Sometimes, it's just easier (and cheaper) to book a vacation rental through Vrbo or Airbnb. Plus, having larger accommodations comes in handy halfway through the trip when everyone needs a little extra personal space.
5. Getting seats on flights
Most of our family air travel is done on Southwest Airlines. Its flights tend to be more economical than most other airlines. But Southwest doesn't have assigned seats.
Getting seats together on flights used to be a bigger issue when our kids were younger. Now that they are teens, we're OK with them not sitting right next to us. If you have young kids, this is pretty much a non-negotiable. Depending on where and when you are flying, finding more than a handful of seats next to each other is difficult. Here are some things you can do to improve the odds of getting seats together:
Book flights early. The easiest way to ensure you get seats together is to book your flight as early as possible. The longer you wait, the more likely your family will need to split up to end up on the same flight.
Look at multiple airlines. Look at numerous airlines any time you are flying in case there are deals. But you should also do this to check for available seats, especially if the airline allows you to see available seats during the booking process.
Pay for upgrades. Southwest Airlines doesn't have assigned seats, which means you want to end up in an early boarding group to ensure your family sits together. Boarding earlier also gives you earlier access to overhead bins. When we fly together on Southwest, I pay extra for EarlyBird Check-In, which automatically checks you in 12 hours before general boarding access is available. EarlyBird Check-In starts at $15 one-way per passenger.
Pair up family members. One thing we've done since our kids were little is pair up family members. We used to have one parent with each of the youngest children and then the two oldest kids together. That way, everyone has a flight buddy, even if we don't get seats in the same row. Now that they are older, they naturally pair off boys and girls and let us adults sit together.
Some airlines grant early boarding to families with young children. Check with your airline to see whether this is an option.
6. Managing luggage
Traveling as a larger family also means more luggage. The last thing you want to do is add costly baggage fees to your travel costs. This is another reason we fly Southwest — it allows two free checked bags per person.
There are plenty of ways to avoid baggage fees, including signing up for select airline credit cards, buying a premium fare, and avoiding overpacking.
7. Finding the right rental car
We typically rent a car for any trips that include flights. That usually means renting a minivan or SUV that holds at least six people. Depending on where you travel, rental cars can get pricey. We've addressed this two ways in the past:
Booking with points. Many rewards programs allow you to use points or miles to book rental cars. Is this the best value for your points? Probably not, but I also value saving money and time. Booking a rental vehicle with points is easy and keeps money in your wallet.
Using Autoslash. We've also saved money on rental cars using Autoslash. It's a car rental comparison site that not only compares prices but also searches possible discounts. Autoslash even lets you track price drops on existing car rentals.
Our recommended credit cards for large family travel
Card name
Rewards rate
Annual fee
Why it's good for large family travel
Chase Sapphire Preferred® Card
5X points on travel purchased through Chase Ultimate Rewards®; 3X points on dining, select streaming services, and eligible online grocery purchases; 2X points on all other travel purchases, and 1X points per $1 on all other eligible purchases
$95
Flexible rewards that can be used for flights, hotel stays, car rentals, and more
Chase Sapphire Reserve®
5X points on flights and 10X points on hotels and car rentals when you purchase travel through Chase Ultimate Rewards® immediately after the first $300 is spent on travel purchases annually; 3X points on other travel and dining & 1X points per dollar on all other purchases
$550
Flexible rewards like the Chase Sapphire Preferred, plus premium travel perks
The World of Hyatt Credit Card
up to 9X points on stays at Hyatt hotels (4 bonus points plus 5 base points as a World of Hyatt member); 2X points on restaurants, airline tickets purchased directly from the airlines, local transit and commuting and on fitness club and gym memberships; and 1X points on all other purchases
$95
Rewards that can be used for hotel stays
The Platinum Card® from American Express
5X points per dollar spent on eligible airfare (on up to $500,000 per calendar year, after that 1X) and eligible hotel purchases, and 1X points per dollar on all other eligible purchases
$

695

Terms apply
Flexible rewards that can be used for travel redemptions, plus luxury travel perks
Chase Sapphire Preferred® Card
The Sapphire Preferred offers a generous welcome offer, excellent earning potential, and your points are worth 25% more when redeemed for travel through Chase. You also get $50 in annual statement credits for hotel stays through Chase Ultimate Rewards.
The points you can earn with this card can help cover large travel expenses for your family, including flights and hotel stays.
Read our Chase Sapphire Preferred review
Chase Sapphire Reserve®
The Sapphire Reserve offers $300 in annual travel credits, and your points are automatically worth 50% more when redeemed for travel through Chase Ultimate Rewards. This can help you stretch your points further when redeeming them for flights and hotel stays.
In addition, you also get free Priority Pass airport lounge access, which can be helpful for families wanting to relax away from busy terminal gates. Many airport lounges also provide complimentary food and drinks to members. Cardholders and authorized users can each bring up to two guests in for free, but you'll be charged $27 for each additional guest.
Read our Chase Sapphire Reserve review
The World of Hyatt Credit Card
The World of Hyatt Credit Card could be ideal for families that like to stay at Hyatt properties. It can help you earn valuable Hyatt points on your purchases, and it provides a free award night each year for stays at Category 1-4 Hyatt hotels. If you earn enough points, you can redeem them for more award nights, further offsetting the cost of hotel stays.
Read our World of Hyatt Card review
The Platinum Card® from American Express
The Amex Platinum is a top-tier travel card that offers value from various perks and benefits. Many of these are credits that could help offset common travel expenses, including ordering meals or paying for hotels.
You also get complimentary Marriott Bonvoy Gold Elite status and Hilton Honors Gold status. And while this card gives you free Priority Pass and Centurion Lounge access, you can only bring in one guest at no cost. Select benefits require enrollment.
Read our Amex Platinum review
FAQs
How do you travel with a large family?
Prepare for your trip as much as possible. Find a destination that appeals to the whole family and book a hotel or house rental that works for your family size. If a hotel, consider connecting or adjoining rooms. (Learn more about Hilton's connecting rooms option.)
House rental services, such as Airbnb and Vrbo, might make more sense in some cases because there's more room to spread out while still being together. Also, weigh the pros and cons of flying vs. driving.
How can you travel with a large family on a budget?
Here are a few money-saving travel tips for large families on a budget:
Do your research and plan well in advance of your trip
Choose a time that's during the offseason for your destination, if you have flexible travel dates
Compare costs of flights, hotels and other lodging options, car rentals, and activities between multiple providers
Buy groceries if possible instead of eating out
Use credit card rewards to cover big travel expenses
Which credit cards can help you save on large family travel?
These are some of the credit cards that can help you save on large family travel:
The bottom line on large family travel
Traveling as a family is a wonderful way to strengthen your bonds, whether you're headed to Disney or taking a weekend road trip to a nearby National Park. If you want to pay for part or all of your trip using rewards, look for the best travel credit cards that line up with your family's needs. Find ways to be flexible with your travel plans to find deals. Keep your family engaged and excited by including them in the planning process.
It can be a challenge to travel as a big family, but planning a trip doesn't have to be a burden. With extra planning and creativity, you can provide life-changing travel experiences for your kiddos without breaking the bank.
Easy-to-Earn Unlimited Rewards
Earn 25,000 online bonus points after you make at least $1,000 in purchases in the first 90 days of account opening - that can be a $250 statement credit toward travel purchases
Earn 1.5 points per $1 spent on all purchases
Longer intro APR on qualifying purchases and balance transfers
No foreign transaction fees
Earn unlimited 1.5 points per $1 spent on all purchases, with no annual fee and no foreign transaction fees and your points don't expire.
25,000 online bonus points after you make at least $1,000 in purchases in the first 90 days of account opening - that can be a $250 statement credit toward travel purchases.
Use your card to book your trip how and where you want - you're not limited to specific websites with blackout dates or restrictions.
Redeem points for a statement credit to pay for travel or dining purchases, such as flights, hotel stays, car and vacation rentals, baggage fees, and also at restaurants including takeout.
0% Introductory APR for 15 billing cycles for purchases, and for any balance transfers made in the first 60 days. After the intro APR offer ends, 18.24% - 28.24% Variable APR will apply. A 3% fee applies to all balance transfers.
If you're a Preferred Rewards member, you can earn 25%-75% more points on every purchase. That means instead of earning an unlimited 1.5 points for every $1, you could earn 1.87-2.62 points for every $1 you spend on purchases.
Contactless Cards - The security of a chip card, with the convenience of a tap.
This online only offer may not be available if you leave this page or if you visit a Bank of America financial center. You can take advantage of this offer when you apply now.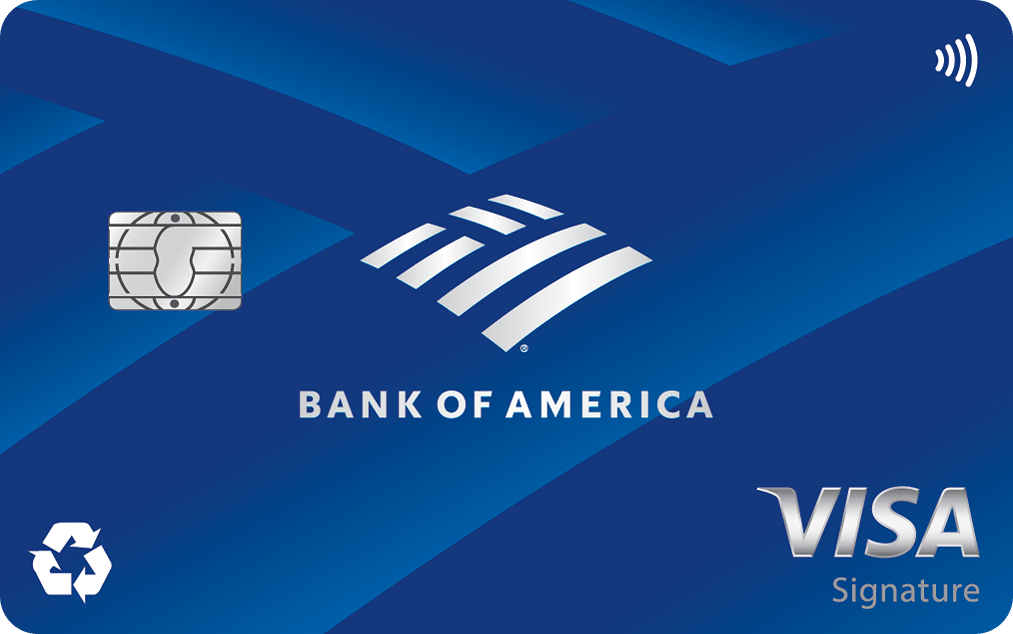 4.1
FinanceBuzz writers and editors score cards based on a number of objective features as well as our expert editorial assessment. Our partners do not influence how we rate products.
Apply Now
on Bank of America's secure website
Read Card Review
Intro Offer
Earn 25,000 online bonus points after you make at least $1,000 in purchases in the first 90 days of account opening - that can be a $250 statement credit toward travel purchases