If you're a fan of horror movies, have you considered visiting haunted places in real life?
Many films draw inspiration from actual events and eerie destinations. But being in a location where potentially sinister deeds took place is different from watching a creepy story unfold from the comfort of a theater or living room.
To help plan your frightening dream trip, add these 13 haunted mansions to your travel bucket list.
Henderson Castle
Location: Kalamazoo, Michigan
Accessibility: Open to the public for lodging, dining, and events
Tours: Walking history tour ($12.95 for adults and $9.50 for children)
Henderson Castle was established by Frank Henderson, a successful businessman, in 1895. Unfortunately, Henderson didn't live long to enjoy his new home, as he died in 1899. He and his wife, Mary, are buried nearby in the Mountain Home Cemetery, but they tend to make a ghostly visit from time to time, according to guests and employees of the now Henderson Castle Inn — a reportedly haunted bed and breakfast.
Henderson Castle has appeared in multiple horror movies, the Discovery Channel, and "House Hunters."
Lemp Mansion
Location: St. Louis, Missouri
Accessibility: Open to the public for lodging, dining, and events
Tours: The Lemp Experience ($35) and haunted history tour ($25)
The Lemp Mansion is much of what remains of the once-prominent and wealthy Lemp family, known for their Lemp lager beer that made them millionaires in the 1800s and early 1900s. Unfortunately, the Lemp history is filled with tragedy, including the loss of the family fortune, multiple deaths of family members, and rumors of an illegitimate son hidden in the attic until his death.
The tragic history turned into haunted tales as later residents and workers began to hear and see signs of ghostly visitors, which is reported to continue in recent times. The Lemp Mansion and Brewery have been featured on an episode of "Ghost Adventures."
Lizzie Borden Bed & Breakfast
Location: Fall River, Massachusetts
Accessibility: Open to the public for lodging and tours
Tours: House tour ($25), ghost tour ($25), ghost hunt ($35), virtual tour ($5 per hour)
The Lizzie Borden House, now a bed and breakfast, is the location where Andrew and Abby Borden were found hacked to death with a hatchet on Aug. 4, 1892. Lizzie Borden, their daughter, was the main suspect in the murder, but she was later acquitted at trial. The double murders remain a mystery to this day, but visitors are now welcome to visit (and even stay) at this grim site.
The story of the Borden murders has been featured many times in popular works, including the recent movie, "Lizzie."
McCollum-Chidester House Museum
Location: Camden, Arkansas
Accessibility: Open for museum visits
Tours: Museum tours ($5 or $3 for students)
The McCollum-Chidester House was once used as a private home in the 1800s, as well as headquarters and lodging for multiple military officers. The house is now a museum that still contains evidence of bullet holes and cannon fire damage resulting from surrounding Civil War battles. Civil War casualties reportedly haunt the location over 150 years later.
Molly Brown House
Location: Denver, Colorado
Accessibility: Open for visits and tours
Tours: From $10 to $16; free for members and children aged five and under
Margaret "Molly" Brown was a millionaire, world traveler, Titanic survivor, and recipient of the French Legion of Honor award. Her former home, now the Molly Brown House Museum, is listed on the National Register of Historic Places — and strange happenings have been reported within. This includes paranormal sightings of Molly and other family members in the home.
The Stone Lion Inn
Location: Guthrie, Oklahoma
Accessibility: Open for lodging and events
Tours: Possibly available upon request and with murder mystery nights ($181 to $229 per couple) and overnight stays
The Stone Lion Inn is a mansion built in 1907 that once housed a large family, including 12 children, one of which died at eight years old. The mansion later became a boarding house and then a mortuary, but today it's a bed and breakfast. Multiple reports talk of apparitions and voices in the house, including sightings of the young child who passed away.
The House of Death
Location: New York, New York
Accessibility: Private residences
Tours: Only street tours
The House of Death is a brownstone building in New York with a famed and sordid history. Sam Clemens, otherwise known as Mark Twain, was once a tenant of the house and is reported to still wander its halls. Overall, the building has witnessed 22 deaths, including that of a six-year-old girl, Lisa, beaten by her illegally adoptive father. Some of the ghosts in the building are reported to be friendly, such as Twain. But others aren't so nice.
The LaLaurie Mansion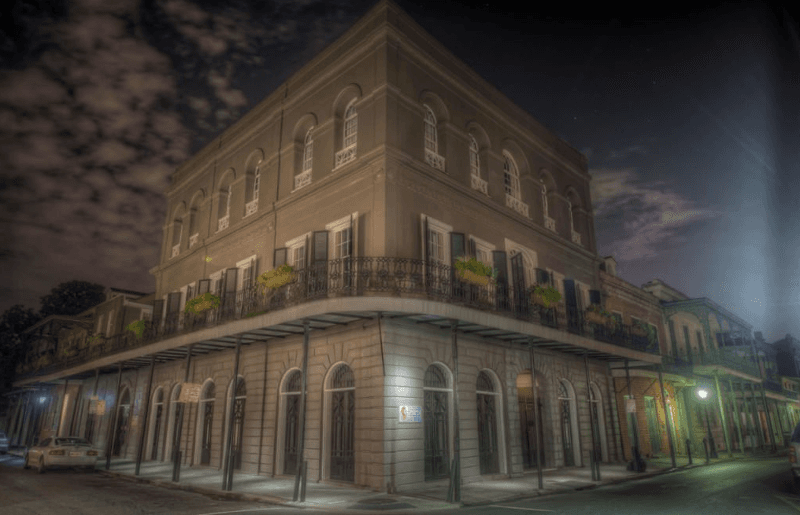 Location: New Orleans, Louisiana
Accessibility: Private residence
Tours: Only street tours
The LaLaurie Mansion is reportedly a hotbed of paranormal activity, likely thanks to its history of human torture and death. The LaLaurie family tortured and killed several of their slaves, hiding the bodies in the attic. The hidden bodies were only found after a slave woman, chained to the kitchen stove, set fire to the house.
The story of the LaLaurie Mansion was depicted in "American Horror Story" and Nicholas Cage once owned the home.
The Stanley Hotel
Location: Estes Park, Colorado
Accessibility: Open for lodging, dining, and events
Tours: Day tours ($17 to $24) and night tours ($25 to $28)
The Stanley Hotel is a sprawling complex of buildings nestled into the Rocky Mountains of Colorado. It's likely most famous for its appearance in "The Shining" with Jack Nicholson, but the hotel already had a history with ghost sightings and strange happenings in hallways and rooms.
Villisca Axe Murder House
Location: Villisca, Iowa
Accessibility: Open for tours
Tours: Daylight tours ($5 to $10) and overnight tours ($428 for a group of six and $75 for each additional person)
The Villisca Axe Murder House is the site of a brutal event where two adults and six children were murdered in their beds on the night of June 9, 1912. The murderer or murderers were never caught, though there were plenty of suspects. Like many scenes of horrific crimes, the house is reported to be haunted.
Whaley House
Location: San Diego, California
Accessibility: Open for tours and events
Tours: Whaley House after-hours paranormal investigation ($94.05+), Whaley day and haunted tour package ($28+), trolley tour and Whaley House day tour package (%56+)
Thomas Whaley arrived in California during the Gold Rush (around 1849) and eventually built Whaley House after becoming a successful businessman. The house served as a home, commercial theater, courthouse, and general store during different times of its life. However, the home was built on the site of a famous public execution and Violet Whaley, one of Thomas' daughters, died here. These events have led to increased paranormal activity in the house.
Winchester Mystery House
Location: San Jose, California
Accessibility: Open for tours and events
Tours: Mansion tour ($19.99 to $41.99), explore more tour ($19.99 to $41.99), garden tour ($9.99 to $19.99), ADA tour ($19.99), and virtual tour ($8.99)
The Winchester Mystery House was once the home of Sarah Lockwood Pardee Winchester, heiress to much of the Winchester Repeating Arms fortune. Her infant daughter and husband died within a few years of each other, prompting Sarah to move to California and then start construction on a sprawling mansion — a build that continued for 36 years until her passing in 1922.
The house was allegedly built to appease the spirits of individuals who were killed with Winchester rifles, and paranormal activity has been reported since. The Winchester Mystery House and its story have been featured in popular works, including the recent movie, "Winchester."
Woodburn Mansion
Location: Dover, Delaware
Accessibility: Currently under construction (as of October 2022)
Tours: Garden visits (free)
Woodburn Mansion was built in 1798 by Charles Hillyard III and has served as a home for farmers, landowners, U.S. senators, an abolitionist, doctors, a judge, and more. The home has since served as the official residence of the Governor of Delaware since 1965. Notable ghost sightings in and around the home have included Charles Hillyard III and a girl in a gingham dress and bonnet.
Bottom line
If you want to save money on your spooky trip, consider using some of the best travel credit cards to lower your travel expenses. These cards offer valuable rewards that can help pay for flights, hotel stays, and rental cars. The best part? You can earn these rewards from purchases you make on a daily basis.
One of the most popular travel cards is the Chase Sapphire Preferred® Card. This card offers a generous welcome offer, excellent earning potential, and a $50 annual credit that can be used for hotel stays. Overall, it could be the ideal card for jump-starting your eerie vacation.
For more details, check out our Chase Sapphire Preferred review.
Great for Flexible Travel Rewards
Current Offer
Earn 60,000 bonus points after you spend $4,000 on purchases in the first 3 months from account opening
Rewards Rate
5X points on travel purchased through Chase Ultimate Rewards®; 3X points on dining, select streaming services, and eligible online grocery purchases; 2X points on all other travel purchases, and 1X points per $1 on all other eligible purchases