If the Christmas season starts well before Thanksgiving in your household, major retailers like Costco are right there with you. 
Starting in October, Costco discounts holiday items like Christmas trees, wrapping paper, outdoor wreaths, gift boxes, and everything else you need to fill your house with some Christmas cheer.
We've compiled the best holiday deals for those of you with Christmas in your heart (and a Costco credit card in hand). Kick off the most wonderful time of the year by adding these 14 holiday treats to your shopping list.
Holiday lantern globe (LED lights)
Looking for a decoration kind of like a snow globe with a little less kitsch? The holiday figures in these lanterns are hand-painted and incredibly detailed. 
Plus, unlike a snow globe, you don't have to give the lanterns a shake to start a swirling snowstorm: a water blower keeps the shimmering flakes gently falling as long as you keep the lantern on.
Apple AirPods (3rd Generation)
It's never too early to start buying your Christmas presents. That's especially true during a year when supply chain issues could mean stockouts for some of your favorite holiday items by the time December rolls around. 
If anyone on your holiday list wants one of the year's latest gadgets (like these third-generation Apple AirPods), Costco has you covered early in the season.
Kirkland double-sided gift wrap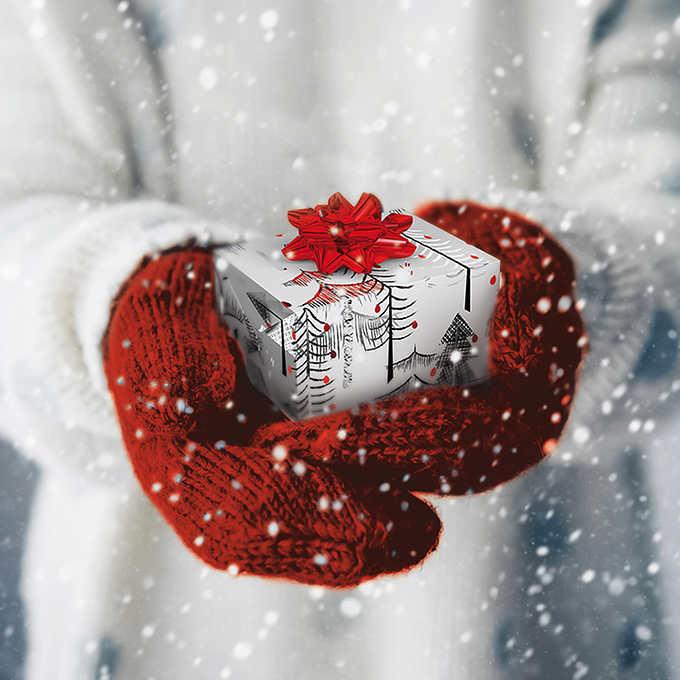 Wrapping paper is a perfect Christmas essential to buy in bulk. Stocking up now means you won't run out of paper on Christmas Eve when your local grocery store's shelves will be empty of all things gift-related. 
And with double-sided paper, you get twice the patterns without paying double the cost.
Pre-lit LED decorated artificial garland
Don't feel like stringing up Christmas lights yourself? A pre-lit garland fit for both indoor and outdoor use is an easy way to bring greenery and light to your home without a lot of time and effort on your part.
Like most of Costco's Christmas decorations, this pre-lit, pre-decorated garland qualifies for Costco's Buy More, Save More seasonal promotion. Get $20 off for every $100 you spend on qualifying products or $50 off for every $200 you spend.
Shatter-resistant ornaments
Tired of choosing between a well-decked tree and your beloved pet's ornament antics? Just hang these lovely decorations back up and give your confused cat a merry smile.
Your kitty can swat at these shatter-proof, hand-made ornaments all she wants. You still won't be grabbing for the vacuum cleaner with a sign, hoping you can suck up every last shard of glass. 

Holiday gift bags
Save some time this year by choosing (reusable) knit gift bags to wrap presents. This set of six comes in different patterns and sizes and double as decorations once they're placed around the tree.
Hickory Farms Meat and Cheese Gift Box
Savory gift baskets from Hickory Farms are always a nice Christmas treat, and Costco's baskets are already on sale. 
Tasty crackers, sausage, and mustard are shelf-stable and flavorful right up until Christmas, which makes Hickory Farms gift baskets the perfect present to stock up on early in the holiday season.
Swarovski Crystal Christmas Ornament 2022
If you're a long-time bargain hunter, you know all of Costco's best tips, tricks, and deals, including the bargains you can get on its limited member-only items. 
This year's Swarovski Christmas ornament is only available until supplies run out. So, if nabbing a one-of-a-kind Christmas gift is important to you, snag this one sooner than later.
Tree decorating kit
Decorating a tree from scratch this year? You don't have to hop from store to store buying individual lights, ornaments, and decorations. In true Costco style, here is a massive 170-piece kit that includes every tree-decking essential in one handy box. 
With a box full of poinsettia blooms, pinecone ornaments, gold and silver balls, and traditional stars, you only need to bring the tree.
Red bow with twinkling LED lights
Want to add some festive cheer to your house but not light up every eave with Christmas lights? Compromise with one of these sparkling red bows, which can hang from your home's exterior to turn the building into a beautifully packaged Christmas present.
Holiday greeting cards
Along with wrapping paper and gift tags, holiday greeting cards are the most important paper goods of the holiday season. Individual cards are expensive, as are sets from traditional paper and gift stores like Hallmark. 
Costco's 40-pack of Christmas cards includes four designs and matching envelopes so you can send yearly updates and season's greetings to every name in your address book without overspending.
Starbucks Traditional Hot Cocoa Mix
Instead of dashing through the snow for a cup of hot cocoa, recreate Starbucks' scrumptious chocolate drinks from the comfort of your warm, cozy home. 
Each tin makes 42 cups of hot chocolate, so you're getting 84 steaming mugs for less than $35 — the equivalent of maybe five drinks ordered directly from the Starbucks drive-through window.
Advent calendar for dogs
Get your canine companions in on the Christmas fun with dog-friendly, chocolate-free advent calendars. Costco's calendars for dogs include a fun mix of toys and tasty treats for 24 total mini-gifts for your pup.
Flocked LED birch trees
Hoping to transform your home into a less traditional, more natural winter wonderland? A set of flocked LED birch trees invites the great outdoors inside without letting in the chill in the air. 
These faux-snow-dusted birches offer a nice alternative to the traditional artificial Christmas tree.
Bottom line
With its affordable wholesale prices, members-only deals, and holiday treats galore, Costco is the perfect one-stop shop for a wallet-friendly Christmas. 
Save even more by getting into the holiday vibe as early as possible—as a Costco insider, you can take advantage of the retailer's pre-seasonal specials and check off every decoration, treat, and gift on your Christmas list.
Lucrative, Flat-Rate Cash Rewards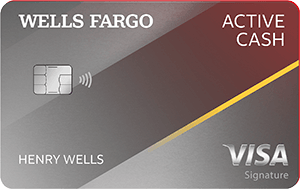 5.0
FinanceBuzz writers and editors score cards based on a number of objective features as well as our expert editorial assessment. Our partners do not influence how we rate products.
Current Offer
$200 cash rewards bonus after spending $500 in purchases in the first 3 months
Rewards Rate
Earn 2% cash rewards on purchases