In certain situations, guests are permitted to bring alcohol on board cruise ships, but the rules are very restricted as the cruise lines want passengers to buy alcohol packages.
But many people plan to have more drinks aboard a cruise and don't want to shell out cash for the alcohol package. Even when booking with the best travel credit cards, adding many extras to a cruise package can add up.
To keep costs low, people devise creative (sometimes unbelievable) ways to sneak alcohol on board. Here are 15 of the most outrageous.
Bringing a 'boozebrella'
It's shocking how many everyday items can be transformed into flasks. Cruisers can now purchase flasks that look like very convincing umbrellas with sealable mugs to conceal booze.
The "boozebrella" on Amazon also comes with leak-proof seals, so you don't have to worry about spills when throwing it in a bag. It could be a way to keep more money in your pocket.
Using a concealable pouch (rum runners)
One of the top creative ways people sneak booze onto cruise ships is with plastic, collapsible flasks, sometimes known as "rum runners."
If you're shopping on Amazon before vacation, a quick search for "concealable cruise flask" or "rum runner" will turn up many options for pouches or kits.
Kits often come with several pouches and a funnel to pour the booze of your choice through. The pouches are discreet, and the big seller is they're made of material that won't set off X-ray scanners or other detectors.
Hiding alcohol in fake tampons
Another clever way budgeting cruisers conceal their booze is with "tampon flasks." The mini flasks are tube-shaped and really do look like tampons, with wrappers and all.
The idea seems to be that anyone looking at luggage isn't going to think twice when they see a few tampons packed among someone's clothes.
These are very small flasks but can be purchased in packs of five.
Pouring it into bottles of soap or shampoo
Small bottles used to carry shampoo, soap, and more when traveling can be repurposed as flasks.
This may be a particularly cost-efficient option since many people have empty, leftover travel bottles after vacationing.
There are also kits available on Amazon that look like bottles of various toiletries but are actually discreet flasks.
Hiding it in a hairbrush
The idea here is that no one will look twice at someone bringing a hairbrush onto a cruise. They now make brushes with hollowed-out handles that can hold up to six ounces of liquor.
The flask brush, also available on Amazon, looks like a typical paddle brush — and functions like one as well (with the added bonus that the bottom screws off and can be filled with booze).
Restocking at foreign liquor stores
Sometimes passengers traveling on international cruises can save money by purchasing cheap booze when they get to overseas destinations.
There is a chance that the staff won't be patting passengers down when they get back on board. Commonly, passengers are asked to walk through a metal detector, so savvy cruisers may have better luck sticking to plastic, easily concealable bottles.
Disguising it in a bra
Hiding booze in undergarments is an old trick people attempt at concerts, sporting events, and boarding cruises. There are now bras explicitly made for this purpose.
Amazon sells a sports bra with a pouch that can hold up to 25 ounces of alcohol. The bra even comes with a valve with an on/off switch so you can drink while wearing it.
Pouring wine into a purse
A classy tote bag can double as a way to smuggle booze onto a cruise. Amazon sells a tote with a 1.5-liter pouch — meaning it can fit two whole wine bottles if its wearer chooses.
Considering the purse holds quite a bit of liquid, getting it past any scanners on a cruise may be more difficult — but that doesn't mean people haven't tried it!
Using multiple bags
This method only works if you're going on a cruise that allows each passenger to bring a specific amount of alcohol.
Like the Royal Caribbean policy mentioned above, many cruise ships have a rule that passengers can bring one bottle of wine each (or one bottle in general).
Some passengers work around this rule by packing multiple bags. For example, couples may take two small suitcases and pack one bottle in each.
Disguising liquor with a wine bottle
When cruise ships allow passengers to bring bottles of wine on board, some people skirt that rule by disguising liquor in wine bottles.
This can save passengers money in the long run since 750 ml of liquor can go towards making many more mixed drinks.
This method can be tricky, as passengers will have to reseal the wine bottle to look like it's never been opened, which is much easier with twist-off bottles of wine.
Using a binocular flask
Binoculars are another bizarre item that have now been turned into flasks. A set of binoculars is not likely to set off any alarms while getting your bags checked.
Plenty of people bring these fake binoculars to enjoy the sights on board and when the cruise gets to its destination.
Amazon sells a pair of binoculars with two discrete barrels that can be filled with the liquid of your choice, which is convenient for those looking to smuggle two different types of booze.
Pouring booze into mouthwash bottles
Pouring the liquor of your choice into miniature mouthwash bottles (that have been thoroughly washed out) is another old trick people use to get alcohol on board.
Some passengers even get so creative that they fill the bottles with a clear liquor, then drop some green or blue food coloring into them so that it appears the typical minty color of mouthwash.
Wearing a 'booze bracelet'
A boozy bracelet is another way to sneak alcohol onto a cruise by wearing it. While not the most fashionable, these bracelets can hold 3.5 ounces of liquor.
Amazon sells the bracelets in two packs, so some creative passengers may stack them or wear one on each arm.
The pair of bangles also comes with a funnel, making filling up with booze easier.
Avoiding obvious containers
Obviously, the discrete flasks listed here are not your typical alcohol containers.
People bringing extra booze with them don't always choose the outrageous flask route; many don't wish to spend money on these decoys, either.
Some people simply try sneaking on booze by putting it into a water bottle or sports drink container.
Dividing hidden flasks into different bags
Putting a bunch of liquid into one bag may spark some suspicions when boarding — even if those liquids are divided into binoculars, shampoo bottles, and hairbrush flasks.
Passengers trying to conserve some cash on cruises sometimes try to avoid detection by splitting up their alcohol bottles or flasks in different bags.
Bottom line
Trying to sneak alcohol onto a cruise ship is not recommended, but that doesn't mean people don't regularly attempt it.
For those who want to enjoy the many perks of taking a cruise vacation but do so in a frugal way, cruises have a huge range of price points.
Cost-savvy cruisers can book complete packages (including alcohol) for just a few hundred dollars and save even more if you use a rewards or cash back credit card.
Easy-to-Earn Unlimited Rewards
Earn 25,000 online bonus points after you make at least $1,000 in purchases in the first 90 days of account opening - that can be a $250 statement credit toward travel purchases
Earn 1.5 points per $1 spent on all purchases
Longer intro APR on qualifying purchases and balance transfers
No foreign transaction fees
Earn unlimited 1.5 points per $1 spent on all purchases, with no annual fee and no foreign transaction fees and your points don't expire.
25,000 online bonus points after you make at least $1,000 in purchases in the first 90 days of account opening - that can be a $250 statement credit toward travel purchases.
Use your card to book your trip how and where you want - you're not limited to specific websites with blackout dates or restrictions.
Redeem points for a statement credit to pay for travel or dining purchases, such as flights, hotel stays, car and vacation rentals, baggage fees, and also at restaurants including takeout.
0% Introductory APR for 15 billing cycles for purchases, and for any balance transfers made in the first 60 days. After the intro APR offer ends, 18.24% - 28.24% Variable APR will apply. A 3% fee applies to all balance transfers.
If you're a Preferred Rewards member, you can earn 25%-75% more points on every purchase. That means instead of earning an unlimited 1.5 points for every $1, you could earn 1.87-2.62 points for every $1 you spend on purchases.
Contactless Cards - The security of a chip card, with the convenience of a tap.
This online only offer may not be available if you leave this page or if you visit a Bank of America financial center. You can take advantage of this offer when you apply now.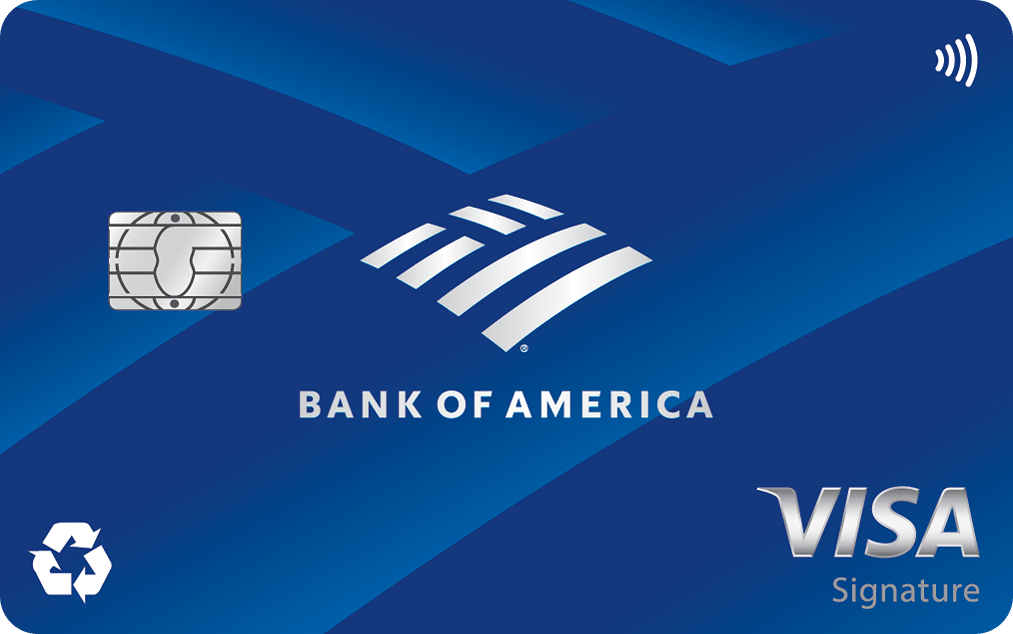 Apply Now
on Bank of America's secure website
Read Card Review
Intro Offer
Earn 25,000 online bonus points after you make at least $1,000 in purchases in the first 90 days of account opening - that can be a $250 statement credit toward travel purchases