Buc-ee's is a popular destination for travelers and locals alike as more branches of the convenience store open across the country.
But are you taking advantage of everything you can when you shop at Buc-ee's? With a few handy facts, you can maximize your Buc-ee's experience and keep more money in your bank account.
Whether you've loved your local Buc-ee's for years or are a new customer, here are things you need to know to get the most out of your shopping experience.
Get a protection plan on all your appliances
Did you know if your air conditioner stops working, your homeowner's insurance won't cover it? Same with plumbing, electrical issues, appliances, and more. Not being able to make repairs could leave you in a bad situation — but a home warranty could protect you against surprise expenses.
Whether you're a brand-new homeowner or you've owned your home for years, a plan from Choice Home Warranty could pick up the slack where homeowner's insurance falls short.
If a covered system in your home breaks down, you can call their hotline 24/7 for assistance to get it repaired. They have a network of over 15,000 technicians that can assist you, making sure any issue can be taken care of swiftly — without breaking the bank.
Not sure if it's for you? Rest easy: they were named one of the "Best Home Warranty Companies" by US News 360 Reviews and were awarded Best Company's 2020 Consumer's Choice Award. For a limited time, you can get your first month free when you sign up for a Single Payment home warranty plan.
Listen for the 'fresh brisket' call
One of the more delicious items on Buc-ee's menu is its beef brisket, which you can buy by the pound, in sandwiches, or added to your breakfast taco.
The brisket is so good that you may decide to stop throwing money away on similar food items at popular restaurants.
So keep an ear out as Buc-ee's announces, "Fresh hot brisket on the board!" That's when a new one is pulled out and ready to be freshly sliced for shoppers.
Get a Buc-ee's credit card to save money
Yes, there's a Buc-ee's credit card that can help you save money if you're a frequent Buc-ee's shopper.
The card includes 5% off when you shop in Buc-ee's stores, and you can save that same amount of money if you fill up your tank at Buc-ee's gas stations.
Pro tip: Drivers can find plenty of ways to save money on their cars by using things like gas credit cards, gas apps, and auto insurance price-comparison tools.
Buy some Buc-ee's apparel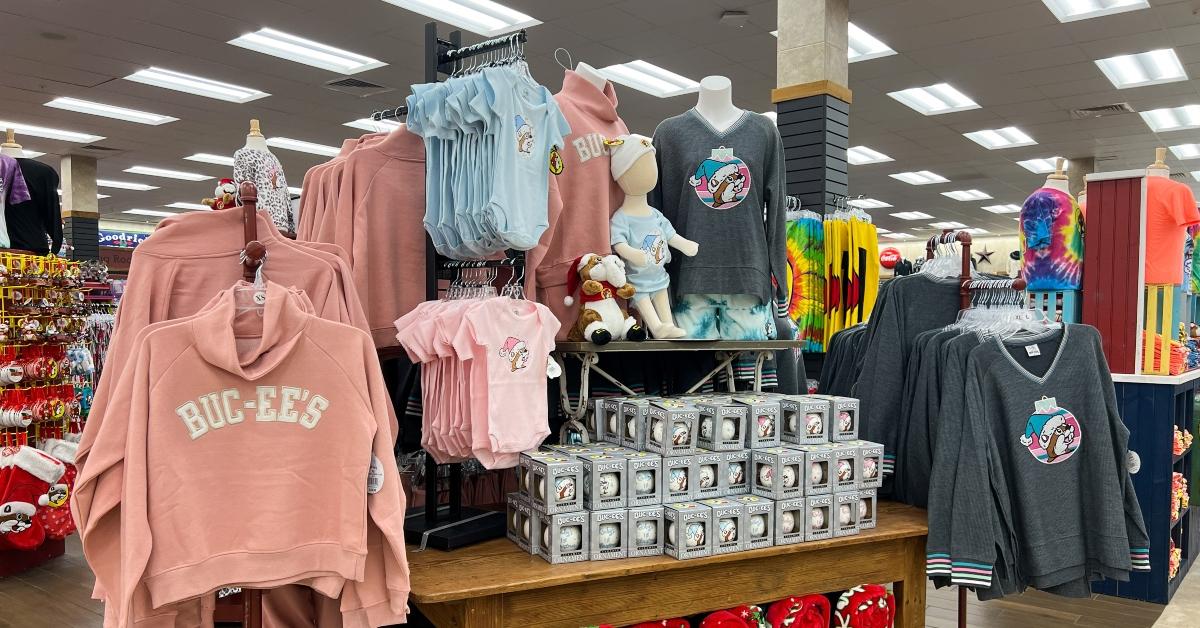 Buc-ee's is well known for its different food options, but there are plenty of other items you can pick up at your local store.
Want to show your love for Buc-ee's? Buy some clothes featuring the company's name or its well-known beaver logo to show your love for the store.
Stop overpaying when you shop online
Shopping online has its perks. It's super convenient, but it can be time consuming to find the best deals. Instead of hunting for coupon codes (that don't always work!) and opening tons of browser tabs comparing prices, you can try Capital One Shopping.
Capital One Shopping makes saving money effortless. Just add the browser extension and when you check out, it'll scour the internet for coupon codes to help you save cash. And before you check out at 25+ major retailers, Capital One Shopping will notify you with a friendly pop-up if the item you're buying is available cheaper somewhere else.
Capital One Shopping is free to use and won't show you ads. Add it today and stop overpaying!1
Add some flavor to your coffee
Buc-ee's has plenty of fresh coffee to keep you going throughout the day, but it's not your typical black coffee if you don't want it to be.
Check out Buc-ee's coffee counter, which includes plenty of flavored syrups, creamers, sugars, and more to personalize your coffee and make it perfect before you head out the door.
It's always open
Craving some brisket in the middle of the night? Or do you need to grab something quick on a holiday? Buc-ee's has you covered.
Not only can you eliminate some money stress by shopping at the store, but you can also gain peace of mind by knowing it will always be available to you. Its stores are open 24 hours a day throughout the year.
Enjoy some fresh roasted nuts
Another staple that you can find in any Buc-ee's is its roasted nuts.
There are a few nutty options at Buc-ee's. The story has almonds and cashews, but your best bet may be the Buc-ee's roasted pecans. They're candied with sugar and toasted in the store, so you can always find some fresh choices.
Pick up some toys for the kids
Buc-ee's is a great place to stop on a road trip to let everyone get out of the car, stretch their legs, and get some tasty treats.
But the store also carries plenty of toys. So stop by and check out your options if you're in the middle of a road trip with bored kids in the backseat.
You may be surprised at the Buc-ee's products that can help you out when you're on the road.
The stores are known for their clean bathrooms
Road trips also mean plenty of rest stops, which may be a bummer when you find a gross gas station bathroom or a rest area that hasn't been cleaned recently.
But Buc-ee's will take care of you. The chain prides itself on its clean bathrooms in its stores throughout the South, so you can always trust you have a clean place to stop if there's a Buc-ee's on your route.
Buc-ee's are big
You may be surprised when you step foot into a Buc-ee's for the first time. After all, it's just a convenience store on the road. So why is it so big?
Buc-ee's is big because it has plenty of things you need, not just one or two quick items to grab like a typical gas station.
In fact, the Buc-ee's location in New Braunfels near San Antonio, Texas, holds the world record for the largest convenience store, coming in at 66,335 square feet of retail space.
Earn 2% cash rewards at grocery stores and Costco
The Wells Fargo Active Cash® Card(Rates and fees) is a powerful rewards card that allows you to earn unlimited 2% cash rewards on purchases — including on groceries, even at warehouse stores like Costco.

New cardholders can also earn a one-time cash rewards bonus — $200 cash rewards bonus after spending $500 in purchases in the first 3 months!
If you're looking for a powerful rewards card that offers an extended intro APR period, look no further, the Wells Fargo Active Cash® Card checks that box too!
This card also offers an intro APR of 0% for 15 months from account opening on purchases and qualifying balance transfers (then 20.24%, 25.24%, or 29.99% variable). Which is great for someone who wants a break from high interest rates, while still earning rewards.
The best part? There's no annual fee.
Click here to apply for the Wells Fargo Active Cash® Card now.
It's more than convenience store finds
You may think Buc-ee's is just a big but typical convenience store, but there are plenty of atypical products you can grab from its shelves.
Get some cast iron pans to make the cooks in your life happy, or grab a few souvenirs tailored to each Buc-ee's location as you travel across the South.
Treat your furry friends
Buc-ee's isn't just for humans, so stop by to pick up treats and toys for your family members with four legs.
There are different options depending on the location, but you're sure to find something that will make your dog or cat happy that you went to Buc-ee's.
There's a wall of jerky
Buc-ee's, like other retailers, has its own in-store brand that covers several convenience store items, but not many convenience stores have a whole wall of jerky.
Check out all of the different beef jerky flavors, including lemon pepper, teriyaki, and more, to find the best option for you.
And feel free to grab more than one when you shop at Buc-ee's if you want to mix up your options.
You need to get the Beaver Nuggets
Buc-ee's has a special snack called Beaver Nuggets, and you need to pick up a bag for the full Buc-ee's experience.
The corn-puffed treats are covered in caramel, giving them a sweet and satisfying taste with every mouthful. You won't be able to eat just one.
Pro tip: The more you shop at Buc-ee's, the more you realize you can save on everyday purchases in addition to traditional gas station fare.
Bottom line
Buc-ee's can be a great place to shop and save, especially if you know the tips and tricks to maximize your Buc-ee's experience.
It's also a good idea to check your wallet for the top credit cards so you can earn extra points and perks when you shop at Buc-ee's.
And remember that Buc-ee's is expanding beyond its home state of Texas, so check to see if you're getting a Buc-ee's in your neighborhood soon.
Lucrative, Flat-Rate Cash Rewards
Current Offer
$200 cash rewards bonus after spending $500 in purchases in the first 3 months
Rewards Rate
Earn 2% cash rewards on purchases