Having pets can be one of the most rewarding experiences in your life, but it isn't without its disadvantages.
They're incredibly costly and time-consuming, from food, toys, training, grooming, pet insurance, vet bills, and more.
One way you can reduce the financial stress of pet ownership is by finding cost-effective and time-saving products. Walmart is a great store to seek out deals on basic needs like food, litter, and other items.
Editor's note: Prices are subject to change and may vary by location.
Get a protection plan on all your appliances
Did you know if your air conditioner stops working, your homeowner's insurance won't cover it? Same with plumbing, electrical issues, appliances, and more. Not being able to make repairs could leave you in a bad situation — but a home warranty could protect you against surprise expenses.
Whether you're a brand-new homeowner or you've owned your home for years, a plan from Choice Home Warranty could pick up the slack where homeowner's insurance falls short.
If a covered system in your home breaks down, you can call their hotline 24/7 for assistance to get it repaired. They have a network of over 15,000 technicians that can assist you, making sure any issue can be taken care of swiftly — without breaking the bank.
Not sure if it's for you? Rest easy: they were named one of the "Best Home Warranty Companies" by US News 360 Reviews and were awarded Best Company's 2020 Consumer's Choice Award. For a limited time, you can get your first month free when you sign up for a Single Payment home warranty plan.
Self-cleaning litter box
When it comes to taking care of business, cats are arguably simpler than dogs. They often take care of themselves and can also save money in your wallet over keeping up with a dog. 
Instead of letting them outside every couple of hours, you just need to provide a clean and accessible litter box. The issue comes when you have to clean it up.
If you're a little squeamish, consider upgrading to a self-cleaning litter box. Omega Paw sells one at Walmart for just $73.99, making the task much easier.
Cat puzzle feeder
A common problem cat owners may face is dealing with speed eaters. When cats eat too quickly and consistently, it messes with their digestive system.
Instead of cleaning up vomit all the time or dealing with costly vet bills, deal with the problem itself.
Walmart sells a cat puzzle feeder for $27.99, which causes your kitten to slow their eating while engaging their mind and staving off boredom.
Toothbrush chew toy
Anyone with a big dog knows the struggle to satisfy their need to chew. Usual chew toys won't do the trick for bigger breeds. It can also be challenging to keep up with their dental health.
Walmart sells a MASBRILL bone chew for aggressive chewers and big breeds for just $10, which is already a great deal.
However, there's also a spot in the back for puppy toothpaste, killing two birds with one stone.
Stop overpaying when you shop online
Shopping online has its perks. It's super convenient, but it can be time consuming to find the best deals. Instead of hunting for coupon codes (that don't always work!) and opening tons of browser tabs comparing prices, you can try Capital One Shopping.
Capital One Shopping makes saving money effortless. Just add the browser extension and when you check out, it'll scour the internet for coupon codes to help you save cash. And before you check out at 25+ major retailers, Capital One Shopping will notify you with a friendly pop-up if the item you're buying is available cheaper somewhere else.
Capital One Shopping is free to use and won't show you ads. Add it today and stop overpaying!1
Rolling pet backpack
Getting your furry friends in the car can be a difficult task for some. Whether you need to take them to the vet, groomer, boarding, or elsewhere, not all pets are eager to leave the house.
Pet carriers can be incredibly pricey and uncomfortable to carry. This pet carrier from Paws & Pals only costs $16.98 at Walmart and can be carried as a backpack or rolled on wheels.
Cat tree
Cat trees are a great way to combine a few needs into one — something to climb, something to rest on, something to play with, and a scratching post.
They can be very pricey, though, and a bit of an eyesore. This PAWS five-tier cat tree only costs $62 at Walmart and has a cute and trendy cactus design.
Pro tip: Whenever you can combine multiple uses into a single product it can help eliminate a lot of money stress from your pet upkeep.
Pet fountain
If you tend to be forgetful when refilling your pet's water bowl throughout the day, consider getting a pet fountain.
Veken sells a pet fountain at Walmart for $23.99, which can hold enough water for six days for small dogs and 11 days for cats. It also has a filtration system.
Dog gate
If you're tired of having to keep an eye on your dog 24/7 or worry if they've wandered into the kitchen, kid's room, or other off-limit areas, you'll need a puppy gate.
Walmart sells a half-height dog gate for just $24.99, which adjusts to fit the width of your doorframe, and is much cheaper than most gates.
Grooming kit
Aside from feeding and entertaining your furry friends, you also have to worry about their grooming needs. Dogs are particularly difficult, especially breeds with coarser or curlier hair.
Getting your dog groomed can cost anywhere from $40 to $75 on average. However, Walmart sells a Oneisall dog grooming kit for only $61.99, which can pay for itself in one use.
Purina Friskies party mix
For being so small, many kittens have quite demanding appetites. Little bags of treats go quickly, and add up even faster — especially if you have multiple cats.
Walmart sells a large, 30-ounce canister of Purina Friskies party mix seafood-flavored treats for only $12.98 (or $0.43 per ounce) so you can pamper your cats without breaking the bank.
Earn 2% cash rewards at grocery stores and Costco
The Wells Fargo Active Cash® Card(Rates and fees) is a powerful rewards card that allows you to earn unlimited 2% cash rewards on purchases — including on groceries, even at warehouse stores like Costco.

New cardholders can also earn a one-time cash rewards bonus — $200 cash rewards bonus after spending $500 in purchases in the first 3 months!
If you're looking for a powerful rewards card that offers an extended intro APR period, look no further, the Wells Fargo Active Cash® Card checks that box too!
This card also offers an intro APR of 0% for 15 months from account opening on purchases and qualifying balance transfers (then 20.24%, 25.24%, or 29.99% variable). Which is great for someone who wants a break from high interest rates, while still earning rewards.
The best part? There's no annual fee.
Click here to apply for the Wells Fargo Active Cash® Card now.
Milk-Bones
Similarly, Walmart also sells a giant 25-ounce container of Milk-Bone treats for your dogs. The entire canister costs around $14.48, or $0.58 per ounce.
This is the brand's soft and chewy line — as opposed to the typical biscuit treats — made with beef, filet mignon, and chuck roast.
Pet stairs and storage
Little dogs can be very demanding of your attention, especially whenever they want up on your bed or couch.
Instead of dealing with their constant yapping and commands, make life easier for both of you with pet stairs.
This small staircase from Walmart costs just $36.99 — a relatively nominal price for a permanent solution. Plus, the stairs have storage underneath for toys or other supplies.
Canned food cover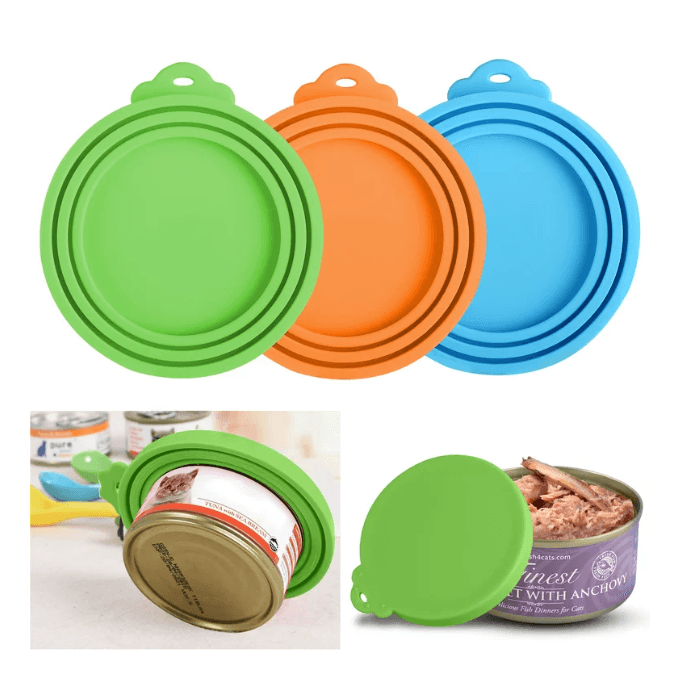 If you feed your dog or cat with canned food, you'll likely run into the issue of what to do with half-full cans.
While scooping it out and placing it in a plastic container is an option, it's messy, inconvenient, and dirties up dishes.
Walmart sells a set of three silicone lids that stretch to fit food cans for this exact purpose for $8.48.
Surgical recovery onesie
Whether your dog got spayed or neutered or had any number of other surgeries, you want to make sure they're both comfortable and safe during the recovery process.
Cones are uncomfortable and make daily tasks difficult for your furry friend. Instead, give them a stylish and snuggly recovery onesie, like the Walmart selection starting at $16.99.
Carpet cleaner
No matter how well your dog or cat is potty trained, they will have the occasional mishap.
Walmart sells OxiClean carpet and rug cleaner for pet odors and stains for only $4.98.
This saves you the money you'd spend on professional carpet cleaning, and the spray bottle application is incredibly convenient.
Car cover
If you take your dog in the car with you frequently, odds are your backseat is covered in fur, slobber, dirt, and perhaps even torn up.
You'll also need to ensure your dogs are buckled in just like a child for safety precautions while in the car. Keep your car clean and your pup safe with a car seat cover like this one for only $29.99 at Walmart.
You can stop throwing money away and just remove and wash it as needed — much cheaper than detailing your backseat.
Bottom line
All any pet parent wants to do is give their furry family member a comfortable life. Fortunately, you can provide your pets with food, treats, comfort, and entertainment and keep more money in your wallet.
Next time you're shopping at Walmart, keep an eye out for these products and more for your cats and dogs to make their life better and your life easier.
Lucrative, Flat-Rate Cash Rewards
Current Offer
$200 cash rewards bonus after spending $500 in purchases in the first 3 months
Rewards Rate
Earn 2% cash rewards on purchases