Do you love Fixer Upper stars Chip and Joanna Gaines as much as we do?
Have you ever wonder how much is Chip and Joanna Gaines net worth?
We've done a little research for you, and here's what we found.
There's no doubt a lot of wealth lies in flipping houses and other real estate in general.
Chip and Joanna Gaines have been flipping, remodeling and fixing up homes together for the past 12 years as owners of Magnolia Homes in Waco, Texas, and have been flipping on more than 100 homes together, combining Chip's great instinct on real estate and the unique designs of Joanna Gaines.
After they got married in 2003, Joanna opened up a local boutique, Magnolia Market while Chip continued working in real estate by buying, renovating, and selling homes to the Baylor market.
After a few years and four children later, Chip's experience with real estate and Joanna's eye for design eventually merged into one company: Magnolia Homes.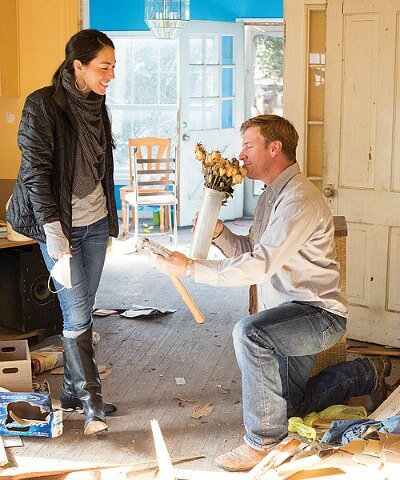 Fixer Upper debuted on HGTV since a year ago and instantly became very popular show in the United States.
The first season's episodes nabbed about 2 million viewers a week, and it continues to grow: "It ranks as a Top 5 cable program in its time period among upscale women in the coveted 25-to-54-year age range."
Season 2 of Fixer Upper premiered on the HGTV channel in the United States on January 6, 2015 and consisted of thirteen episodes.
The second season of Fixer Upper finished on March 31, 2015 as a top-ratings performer for HGTV.
The show drew in more than 24 million viewers to the small screen since the first episode was aired on January 6.
Overall, Fixer Upper grew 72% in viewership as compared to its first season.
HGTV has already revealed that a highly anticipated season 3 of Fixer Upper is scheduled to premiere in the United States Tuesday, December 1, 2015 at 9 p.m. ET/PT.
To date, the Gaineses have remodeled more than 100 homes, nearly all in Central Texas. They have a small paid staff, but also have a cadre of 25 to 30 subcontractors who have indicated they would follow the Gaineses around the state to tackle work featured on HGTV."
Their joint net worth is approximately $1.5 million in 2015 and increasing instantly.
That's impressive, especially if you consider that the show started in May 2013.
We can conclude Chip and Joanna are earning handsome money by their show.
More information can be found about them from their official site http://magnoliahomes.net or you can find 'Fixer Upper' in social networking sites also, like Facebook, Instagram and Twitter.
They have a crazy amount of fan following in all these social sites.
Do you watch the show? Share your thoughts with us in the comments!
Read This Next: