There's something special about a lake town trip. From the soft breeze that blows in off the water to dipping your toes into the water even on a cool fall day, the lake itself is enjoyable.
The towns, though, go further, providing an opportunity to step back in time, taste-test local cuisine, or just relax on the waterfront.
To help you earn travel rewards and plan your next trip, here's our list of the best lake towns across each state throughout the country.
Alabama: Guntersville
Guntersville is noted as the home to locations like Bucky's Pocket State Park and the Guntersville Dam. You can stop throwing money away by traveling to the beach and enjoying this lake town instead.
A hike to High Falls Park to see the rushing water is an excellent way to explore the area. A massive lake, a fantastic marina for boating fun, lavish wineries, and a few brewing companies make it a must-visit.
Alaska: Talkeetna
Talkeetna, in south-central Alaska, is a fabulous town just 115 miles north of Anchorage but a world apart.
Built on gold miner dreams, this town's most significant population peak was in the mid-1900s when about 1,000 people called it home.
From local brews to mountain climbing fun and restored historical buildings, there's plenty to do here.
Arizona: Page
Quite the stunning landscape around the Glen Canyon Dam and Lake Powell, Page, Arizona, has much to offer those looking for a basecamp that lets them explore the outdoor adventures throughout the region.
A small town, it's within a short drive of Antelope Canyon and Horseshoe Bend. Take a guided trek into the canyon, a boat tour of the lake, or a Jeep tour into the high desert.
Arkansas: Hot Springs
Hot Springs near the Ouachita Mountains is the perfect lake retreat noted for its stained-glass and marble bathhouse with thermal baths.
This is the ideal city to explore for those looking for a spa vacation, along with some outdoor fun at Garvan Woodland Gardens and Magic Springs.
California: South Lake Tahoe
South Lake Tahoe has long been considered the resort town in California for lake lovers, tucked into the Sierra Nevada mountains.
Noted for its wooded trails and fabulous beaches, including El Dorado Beach, it's the type of destination you visit when you want luxury in the wilderness.
Colorado: Grand Lake
With about 400 people calling it home, Grand Lake is truly the best small lake town in the state.
It has incredible views of the Rocky Mountains, wildlife of all types, and some of the best fishing in the area.
Home to the largest lake in the state, along with the Trail Ridge Road path, it's a wilderness lover's dream destination.
Connecticut: New Milford
Just 14 miles from Danbury and about 90 miles from Manhattan, New Milford is greatly removed from the urban jungle.
Instead, enjoy trails through Lovers Leap State Park or swimming in Lake Waramug. The fishing is great here, too.
Delaware: Dover
Silver Lake in Dover is a relaxing place to spend some time with walking paths, grills, and playgrounds.
It's easy enough to take a boat out into the water to fish, do some water skiing, or see the layout of the 67.5-hectare lake.
Florida: Mount Dora
Mount Dora is located in Central Florida, home to Palm Island Park, a nature preserve, and lots of history, including the Donnelly House and Modernism Museum.
You can check out the 1940s-era gas station or fish in Lake Eustis, which is noted for its bass. It also has relaxing waterfront restaurants to watch the sunset each evening.
Georgia: Helen
Helen is an alpine town in Georgia, noted for the mountain trails through Chattahoochee National Forest.
Helen is a must-experience community for trout-fishing, waterfall explorers, or history lovers (the 1870s homestead here is phenomenal).
Hawaii: Kailua
Many of Hawaii's actual lakes are deeply remote or inaccessible, but some waterfront areas create a lake town-like feel.
One is Kailua, a historic town noted for its water sports opportunities. The crystal blue waters and white sand is also an attractive reason to visit.
Idaho: Coeur d'Alene
Lake town living is much more enjoyable in Coeur d'Alene, a resort community noted for its golf course, entertainment, and casino fun.
The McEuen Park may be more desirable for the kids, but with its direct waterfront access, Tubbs Hill is fun for the whole family.
Illinois: Galena
Noted for its preserved 19th-century buildings, including the Italianate Ulysses S. Grant Home. 
Galena is also a stunning outdoor lake community with championship golf, wineries, beautiful hiking trails, and balloon rides.
Indiana: Culver
On the shores of Lake Maxinkuckee, Culver is most well-recognized as a railroad town that's become a tourism destination.
Fun shopping and dining and over 1,800 acres of lake for fishing, jet skiing, water fun, and many community events make for a delightful getaway destination.
Iowa: Clear Lake
Clear Lake sits on a spring-fed lake noted for its marina and state parks. It offers plenty of fishing opportunities with walleye, yellow bass, channel catfish, and bullhead.
Many also come for the relaxing sailing, swimming, concerts by the waterfront, and small-town shopping at its best.
Kansas: Manhattan
Manhattan sits right where the Kansas River and Big Blue River meet and is home to over 50,000 residents.
However, it's still very much a wilderness-driven community noted for its horse trails, shopping ranges, butterfly gardens, zoo, and miles of lake for swimming and boating.
Kentucky: Grand Rivers
Grand Rivers sits on both Lake Barkley and Kentucky Lake, providing some of the best fishing possible and a stunning lakefront resort marina.
There's good food, fun theater on the waterfront at Badgett Playhouse Theater, and quirky artisan shops to explore.
Louisiana: Lake Charles
Lake Charles is noted for many things, including the 1911 Historic City Hall Arts & Cultural Center with exceptional local art and Prien Lake Park, a beautiful place for long walks at sunset.
It's also home to the Golden Nugget Lake Casino, which is noted for its rhythm and blues music events, probably more so than winning it big.
Maine: Rangeley
In Maine, Rangeley is a small town known for its good fishing. While the coast may be known for lobster, Rangeley is noted for its salmon and brook trout.
It's also possible to spend some time hiking the mountains surrounding the lake or looking for the Northern Lights in the nighttime sky.
Maryland: Deep Creek Lake
Deep Creek Lake has 69 miles of shoreline, 20 miles of paved hiking and bike trails, and fantastic swimming beaches.
Spending a lazy day boating in the summer or skiing in the winter may be the best way to unwind.
It's also quite easy to spend that time kayaking, rafting, golfing, or in the cool space of an arcade. Deep Creek offers it all.
Massachusetts: Pittsfield
Pittsfield is home to Onota Lake, a 617-acre lake with much to offer, including sailing, jet skiing, unique shops, and museums.
Pittsfield is a large town with world-class theaters perfect for an elegant night out and some of the state's best gastro pubs. Still, a tranquil walk around the lake is certainly in order.
Michigan: Traverse City
Sitting on the banks of Lake Michigan, Traverse City is another big city with something to offer everyone.
From wine tours to the Sleeping Bear Dunes National Lakeshore exploration by dune buggy, there's a lot of adventure to have here.
Couple that with tours of the Grand Traverse Lighthouse, fabulous beaches, and good food, and you have a long, relaxing trip ahead of you.
Minnesota: Stillwater
The kids may love Teddy Bear Park, and history lovers are sure to enjoy the Stillwater Lift Bridge, but Stillwater is also known as a fabulous waterfront community on the St. Croix River.
Choose a romantic bed and breakfast or a boutique downtown hotel to take in this city's many amenities.
Mississippi: Bay St. Louis
Bay St. Louis is an extraordinary waterfront community known for its resorts, casinos, and beaches.
Yet, there's more here, including history like at the Alice Moseley Folk Art Museum, fishing charters into the Gulf, golfing at championship courses, and antique stores packed with old-world treasures.
Missouri: Lake Ozark
A noted premier lake resort, Lake Ozark is a popular boating, fishing, and swimming destination.
Take a canoe out for more of a challenging experience, spend the day in a houseboat, or go horseback riding.
With 1,100 miles of shoreline, there's plenty of opportunity to see wildlife, explore the beach for treasures, and even sip wine at one of the waterfront wineries.
Montana: Whitefish
Whitefish sits near Glacier National Park, creating incredible mountain views in every direction. The lake is a popular water skiing, swimming, and boating destination.
You can RV or tent camp near the water, do some paddleboarding, lake fishing, or canoeing while here, and enjoy a town noted for its luxury resorts, artisan shops, and tasty restaurants.
Nebraska: Valentine
Valentine is a small city of about 2,700 people noted as a remote, beautiful destination on the banks of the Niobrara River.
Hiking and horseback riding are ideal ways to spend the day, but there's much more to explore. Some come for the kayaking, others for the history at locations like the Cherry County Historical Society Museum or Centennial Hall Museum.
There's also the food at destinations like Bulldogger's BBQ and Bordertown Steakhouse.
Nevada: Incline Village
Incline Village sits on the shores of Lake Tahoe. During the winter months, Diamond Peak Ski Resort makes this a popular destination.
But during the summer, people come for the championship golf courses and the Tahoe East Shore Trail, with both biking and walking trails to take in.
Fabulous shops like the Talbot Fine Art Gallery are perfectly paired with local comfort food destinations like Austin's Restaurant.
New Hampshire: Wolfeboro
Wolfeboro, on the shore of Winnipesaukee Lake, the largest freshwater lake in the state, is a community with a history.
Explore it at the New Hampshire Boat Museum or the Wright Museum of World War II. There are public docks, boat rentals, fishing opportunities, and a ski area for the colder months.
New Jersey: Smoke Rise
Smoke Rise, on Lake Kinnelon, is a resort community noted for its 2,500 acres of beautiful natural outdoors.
It's the type of place to come for sailing and horseback riding. It's also within a short drive of the historic Morris County area, with numerous small, family-owned diners and bars.
The tent camping under the stars is fabulous, especially being just 30 miles from New York City.
New Mexico: Elephant Butte
Elephant Butte is a small community but a big outdoor area perfect for fishing, boating, kayaking, and water skiing.
Some come to hunt, while others come to take on the 15 miles of hiking and mountain biking trails. Beach camping is also an option here.
New York: Lake George
Lake George is a town with plenty to do, whether it's walking along the shores of the lake at Shepard Park or exploring the Fort William Henry Museum, which has a resorted 1755 British fort in place.
Grab a meal at one of the smaller restaurants downtown, take in the playgrounds and amusement parks nearby, or spend some time climbing through the Adirondack Mountains.
North Carolina: Asheville
Asheville is a large city with several lakes, including Beaver Lake and Lake James.
Aside from boating, fishing, and swimming, you can also spend time at the North Carolina Arboretum or tour the Biltmore Museum.
There's the River Arts District that's hard to ignore and the historic architecture around every turn.
North Dakota: Devils Lake
Devils Lake is noted for its nightlife and adventure. Romantic sunsets and exceptional fishing also make this a destination city.
Take a deep dive into history at the Fort Totten Historic Site, explore the natural habitats in White Horse Hill, try your luck at the Spirit Lake Casino, or watch some live entertainment at the Fort Totten Little Theater.
Ohio: Put-in-Bay
Put-in-Bay is a small village on South Bass Island in the middle of Lake Erie, making it a lakefront town.
It's noted for its nightlife throughout the warmer months. Yet, with a golf cart rental, you can also check out the area's best attractions, including Perry's Monument, the Benson Ford Ship House, and Peery's Caves.
Oklahoma: Grove
Grove is a city of about 7,000 people on the waters of the Grand Lake o' the Cherokees.
A long-time fur trading town, today, those who visit get to explore the waterfront for boating, fishing, and swimming excursions.
There are a few fantastic restaurants here, like Checkenellas, Braum's, and Wolf Creek Park, to hike through on a warm day.
Oregon: Bend
Bend is home to the iconic Sparks Lake, the perfect place for a long kayaking trip.
The city is quite large, with over 102,000 people, providing residents and visitors with much to do, including exploring the Deschutes National Forest, the Old Mill District, and the Bend Ale Trail.
Pennsylvania: Erie
Erie is on the banks of Lake Erie and boasts a modern, urban lifestyle filled with things to do.
Check out the Erie Zoo, spend time on the Presque Isle State Park beaches, or tour the Erie Maritime Museum to learn about the manufacturing industry here.
Rhode Island: Newport
Near Long Pond, Newport is a fabulous destination for those who want to explore lake and seaside living.
It's known for the sailing regatta, the Gilded Age mansions along the waterfront, and exceptional natural beauty near Cliff Walk.
South Carolina: Greenville
You could fish or sail on Lake Cooley, but Greenville offers even more onshore.
Often referred to as America's Friendliest City, it's quite the tree-lined community with a cosmopolitan feel.
Stop at the art galleries, visit the craft breweries, and hike to Falls Creek Falls and Wildcat Wayside to see the waterfalls.
South Dakota: Custer
Custer is a community of under 2,000 people in the Black Hills of South Dakota. With over 71,000 acres of wilderness to explore surrounding it, it's an adventurer's dream.
Sylvan Lake provides fishing opportunities, but Black Elk Peak is perfect for true mountain climbers seeking a view.
Tennessee: Chattanooga
Chattanooga is an excellent community for fun, including along the Tennessee River that flows from the Appalachian Mountains.
Climb to Ruby Falls or Point Park for a stunning view. Visit the Tennessee Aquarium, take a guided whiskey-tasting tour, or explore the Hunter Museum of American Art.
Texas: South Padre Island
South Padre Island is a resort town on an island with plenty to see and do. Start with a day at Gravity Park for the amusement park fun.
Take on the nature preserve at Laguna Madre Nature Trail. Then, visit the five-story watchtower at the South Padre Island Birding and Nature Center.
Enjoy the food, the boat tours, and the sea turtle rehabilitation areas in this community.
Utah: Moab
While the Jackson Reservoir is nearby, Moab is best known for its stunning carved canyons, red rock, and exceptional views.
You can find dinosaur tracks along Bull Canyon Overlook or take the easy way out and see their collections at the Museum of Moab.
Vermont: Burlington
The city of Burlington is most noted for Church Street Marketplace, the perfect area for artisan and antique shopping, quick bites, and great drinks.
You can also take in some history at locations like the Ethan Allen Homestead Museum and Historic Site or head to the waterfront for a fresh seafood dinner with a view.
Virginia: Smith Mountain Lake
Smith Mountain Lake is between Roanoke and Lynchburg but seems worlds away, thanks to the area's remoteness.
The Blue Ridge Mountains frame this lake, and there's much to do, including antique and art galleries and dozens of museums and heritage sites, like the Blue Ridge Institute & Museum, Thomas Jefferson's Poplar Forest, and the Virginia Museum of Transportation.
Washington: Leavenworth
For quite a unique adventure, check out Leavenworth, a town on the Wenatchee River.
The natural area is noted for its eagle and osprey habitats, but the Alpine-style community is best known for its German beer and food, especially along the Front Street area.
West Virginia: Summersville
Summersville, a community of about 3,400 people, boasts the natural beauty of Summervsville Lake, perfect for fishing, boating, lazy days of lounging on the beach, and kayaking.
The waters are pristine as they flow from the mountains, and the city is home to fun restaurants and smaller shops, too.
Wisconsin: Lake Geneva
Lake Geneva, a city noted for its lakeside Shore Path area with Gilded Age mansions and high-end shops, is also fantastic for adventure seekers.
There are hiking trails, zip-lining challenges, and plenty of golf outings to be had, and that's not even including the paddleboarding, kayaking, and fishing in the lake itself.
Explore a petting zoo, take in the surrounding area on horseback, or tour the area museums.
Wyoming: Jackson Hole
Wyoming's Jackson town is most noted for its remoteness and the National Elk Refuge here.
This mountain resort is perfect for exploring the Grand Teton National Park and Yellowstone National Park.
From shopping to snowboarding, there's fun around every peak here. Save even more money when you travel here by using a credit card that gives you rewards, like earning cash back. 
Bottom line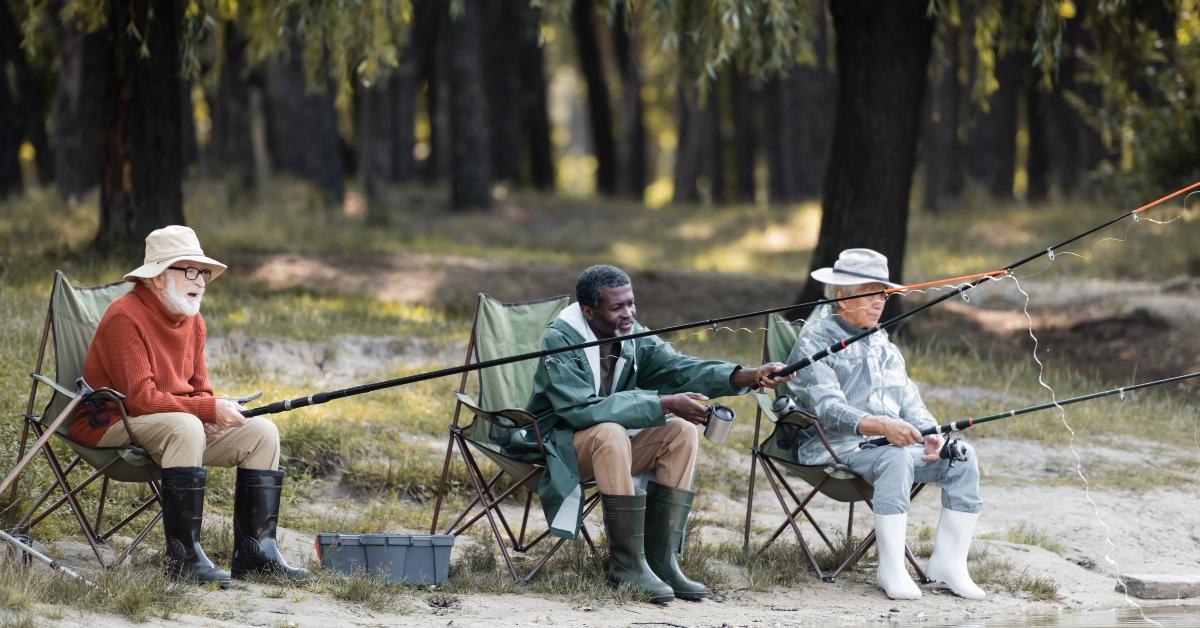 Lake towns are different no matter where you travel in the U.S. They always bring relaxation, rejuvenation, and perhaps a few memories with your favorite people.
Grab one of the best travel credit cards and make it a point to take a tour of the best lake towns throughout the country.
Easy-to-Earn Unlimited Rewards
Earn 25,000 online bonus points after you make at least $1,000 in purchases in the first 90 days of account opening - that can be a $250 statement credit toward travel purchases
Earn 1.5 points per $1 spent on all purchases
Longer intro APR on qualifying purchases and balance transfers
No foreign transaction fees
Earn unlimited 1.5 points per $1 spent on all purchases, with no annual fee and no foreign transaction fees and your points don't expire.
25,000 online bonus points after you make at least $1,000 in purchases in the first 90 days of account opening - that can be a $250 statement credit toward travel purchases.
Use your card to book your trip how and where you want - you're not limited to specific websites with blackout dates or restrictions.
Redeem points for a statement credit to pay for travel or dining purchases, such as flights, hotel stays, car and vacation rentals, baggage fees, and also at restaurants including takeout.
0% Introductory APR for 15 billing cycles for purchases, and for any balance transfers made in the first 60 days. After the intro APR offer ends, 18.24% - 28.24% Variable APR will apply. A 3% fee applies to all balance transfers.
If you're a Preferred Rewards member, you can earn 25%-75% more points on every purchase. That means instead of earning an unlimited 1.5 points for every $1, you could earn 1.87-2.62 points for every $1 you spend on purchases.
Contactless Cards - The security of a chip card, with the convenience of a tap.
This online only offer may not be available if you leave this page or if you visit a Bank of America financial center. You can take advantage of this offer when you apply now.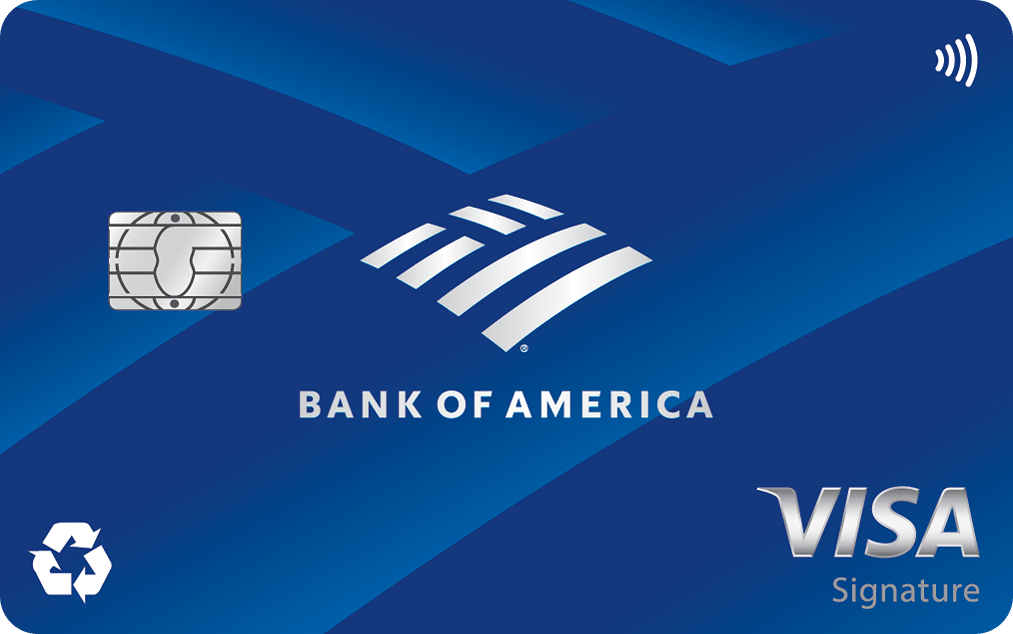 Apply Now
on Bank of America's secure website
Read Card Review
Intro Offer
Earn 25,000 online bonus points after you make at least $1,000 in purchases in the first 90 days of account opening - that can be a $250 statement credit toward travel purchases