For many, there's one coffee shop that always gets it right. It could be the best environment, a smiling face on an early morning, or a cup of joe that's brewed right every time.
When you're traveling, it's critical to know where to stop to get the coffee that will fuel your day to avoid wasting money on a disappointing cuppa.
These are the most iconic coffee shops in the U.S. — the shops that are most loved and recommended by their patrons. Which will you visit first?
Alabama: Prevail Union (Montgomery)
Prevail Coffee spent years honing its coffee-making skills to ensure every cup is crafted the way its drinkers desire. Relax in the cool air inside or on the patio with a view.
The cappuccino is legendary, as is their selection of natural flavor options like cinnamon and honey. They'll even recommend which coffee beans are best for your preferences.
Alaska: SteamDot Coffee & Espresso Lab (Anchorage)
When in Anchorage, visit SteamDot Coffee & Espresso for an elegant, refined coffee. They offer house-roasted drinks, along with some tasty baked goods.
The menu is simple but refined and carefully crafted, and the results are fantastic. Sit down at the pour-over bar to enjoy your coffee and some lively conversation.
Arizona: Lux Central (Phoenix)
Sometimes, a stop at Lux Central is all about the wine and cocktails, which they also do very well In the morning. The eclectic selection of finely roasted coffees is a must-have.
It's a bit loud due to the music in the main area, but there's a relaxing TV room and beautiful art to relax in with your cup.
Enjoy a freshly made-your-way latte with your sweet Dutch pancake and house-made pork belly while you're there.
Arkansas: River City Coffee (Little Rock)
The baristas at River City Coffee know their stuff, with consistently good coffee in an unassuming coffee shop. It's the type of place you'll find friends reconnecting and students studying.
There's plenty to try, from the dirty chai to the lavender latte, but many rave about the raspberry mocha. What's not to love with that flavor profile?
California: Blue Bottle Coffee (Oakland)
Blue Bottle Coffee offers ethically sourced coffee that's roasted to order when you sign up for an online subscription. The coffee shop in Oakland is quirky and welcoming with a modern feel.
Quality matters here, as these single-source coffee beans are specifically selected for their decadent, rich flavors. They also serve oat milk as the standard.
Colorado: The Laughing Goat (Boulder)
The Laughing Goat is a vibe unto itself with its nightly live music and shows and organic, locally roasted coffee. With friendly people, it's the type of pick-me-up location you want to visit.
Stop in with a laptop, grab some brunch with your Café Florentine, or come in in the evening for a late-night espresso to some fabulous music.
Connecticut: Perkatory Coffee Roasters (Middletown)
The Perkatory Coffee Roasters location in Middletown is a funky-themed location with old skateboard decks transformed into furniture.
As for the brew, it's handcrafted, artisan-roasted, single-origin coffee. Try out the iced lavender latte on a hot day for the perfect pick-me-up that will cool you down.
Delaware: Brew HaHa! (Wilmington)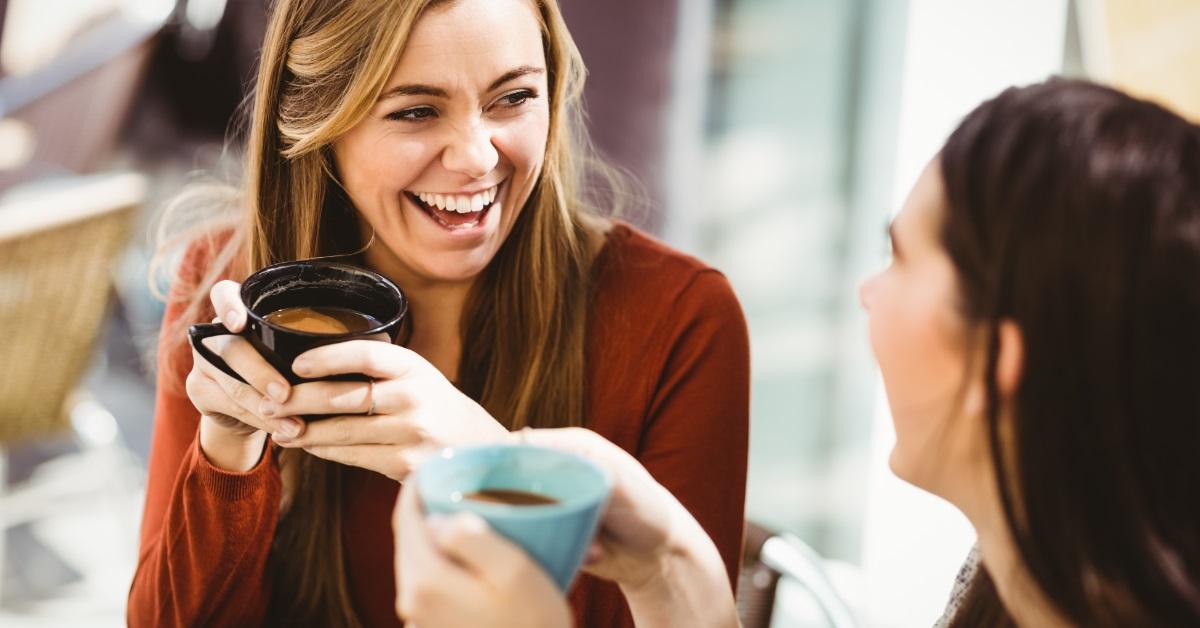 Notably, the best coffee in all of Delaware, according to patrons, Brew HaHa! is a busy, always-moving location that makes a serious cup of coffee.
It's a premier Italian coffee bar offering a welcoming environment in the heart of a busy area. It's bright, airy, and the perfect place to people-watch with a steaming hot cup of espresso.
Florida: Panther Coffee (Miami)
Panther Coffee in Miami is noted for its "evolving coffee," which is grown, harvested, and cared for better than in the past.
They focus on small-batch roasting to ensure richness of flavor (and that's why they are also noted for their whole bean wholesale options).
Check out Panther Coffee for some grub and get it with a simple drip coffee from their rotation options (or if it's a not-so-coffee day, the rosemary macadamia hibiscus team is fabulous).
Georgia: The Foundry Coffee House (Athens)
The Foundry Coffee House in Athens is noted for its locally roasted espresso drinks and positive vibe. The location hosts mic nights, the perfect way to relax with friends.
It's quiet, peaceful, and the perfect place to grab a quick coffee to start the day.
Hawaii: Island Brew Coffeehouse (Honolulu)
Premium coffee and organic food make Island Brew Coffeehouse an easy choice when traveling or looking for a new destination shop.
The waterfront patio makes enjoying that coffee even easier. With a menu that's much more than just coffee, it's easy to make this a routine stop.
From Hawaiian cold brews to the Maui Mokka Peaberry blends, there's never a bad cup here.
Idaho: Flying M Coffee House (Boise)
Flying M Coffee House is an eclectic location with freshly made pastries and fun and unique gifts, but people come back for the coffee as often as every day.
Whether you go for their house blend or espresso blend, it's the best cup you can find here, especially since they are roasting it in-house (just take a big whiff when stepping inside).
Illinois: The Wormhole Coffee (Chicago)
With a bit of a rustic theme mixed with an 80s vibe, The Wormhole Coffee destination in Chicago is the type of place you tell a friend about.
Some rave about the chai tea lattes and ham and cheese croissants, but it's the daily brew — which could be an El Salvador blend or one from Peru — you need to come for.
Make sure to check out the Apple computer in the corner and the Ghostbuster's movie posters while you're here.
Indiana: The Quirky Feather Confectionery (Muncie)
If you're in Muncie, stop at The Quirky Feather Confectionery, where you'll find exceptional teas, wines, and cocktails, not to mention handmade chocolates and cookies.
As for the coffee, you can't go wrong with the freshly roasted espresso, no matter which tasty treat you dunk into it.
Iowa: Horizon Line Coffee (Des Moines)
Horizon Line Coffee is in an industrial building renovated into a funky, chic eatery with an exceptional coffee bar.
An excellent selection of dairy-free, vegan options makes this a welcoming space for anyone.
For unique options, check out the crunch berry latte or go with the smooth elegance of a freshly roasted cappuccino.
Kansas: PT's Coffee Roasting Co. (Topeka)
PT's has 25 years of coffee brewing experience, and it shows. The award-winning location is recognized for its single-origin products and must-have subscription services.
A favorite is the brown sugar syrup latte made with Flying Monkey espresso. For those who love something sweet, it's the best.
Kentucky: Third Street Stuff & Coffee (Lexington)
Third Street Stuff & Coffee is a fun, quirky coffeehouse that's always the perfect place to find an interesting gift.
It's not uncommon to see a business meeting taking place here over a good cup of free trade coffee, but it's also the location to go for activism, art, and excellent lattes.
Louisiana: Spitfire Coffee (New Orleans)
Located right in the French Quarter, Spitfire Coffee is the place to go when you want something special, like a nice strong cappuccino or a latte sprinkled with rose petals and lavender.
It's a small nook in the wall, but this urban destination makes some of the best pour-over coffees from small roasters in the area. The espressos are pretty smooth, too.
Maine: Bard Coffee (Portland)
The single-origin brews at Bard Coffee start with in-house bean roasting and are finished with exceptional attention to detail, including homemade vanilla syrup.
The only drawback is that this destination is super comfortable and welcoming and has such a positive vibe that people tend to take a table and stick around for a long time getting work done.
Maryland: Ceremony Coffee Roasters (Annapolis)
Ceremony Coffee Roasters is a fabulous, rustic location with huge floor-to-ceiling windows offering a view of the natural beauty of Annapolis.
It's the type of place to meet friends for a drink, enjoy some granola and toast, and even bring your dogs with you to enjoy the patio with the daily special coffee.
Massachusetts: Thinking Cup (Boston)
Thinking Cup, in the Downtown Boston area, is an award-winning, nationally recognized coffee shop thanks to its dedication to superior service, starting with super knowledgeable baristas who educate guests about coffee.
It's a cozy location noted for its specialty coffees, like the Hazelnut latte or Macchiato, but it also offers breakfast and lunch sandwiches.
Michigan: Madcap Coffee (Grand Rapids)
The owners of Madcap Coffee in Grand Rapids are quite particular about what they service. They tested a wide range of products before developing their single-origin coffees and espressos menu.
If you're looking for a drink, check out the Ope! All Berries, which uses a nitro cold coffee and then syrup with malted blueberry cream. It's more of a dessert!
They also offer a full retail store with everything you need to brew at home.
Minnesota: Spyhouse Coffee Roasters (Minneapolis)
Spyhouse Coffee Roasters is truly passionate about quality and impressing their patrons with an always-good cup of joe.
The cafe's ambiance wins for its turn-of-the-century brick, historic timber-based warehouse with original wood floors.
The Spy Girl Latte is a fabulous choice, but it's hard to pass up on the matcha latte when you want something more intense.
Mississippi: Strange Brew Coffeehouse (Starkville)
Superior service and specialty coffees make Strange Brew Coffeehouse a must for anyone in the area.
They also have some fantastic lunches to pick up on the way to work, like the Ham & Chedd or The Sage Wrap.
As for coffee, their signature blend is a popular option, but when you want options, the frozen coffees are fabulous, including the birthday cake frappe or the Key lime pie frappe.
Missouri: The Mud House (St. Louis)
Grab pour-over, order an English breakfast, and then sit on the patio watching the people go by at The Mud House for one of the best overall experiences to start the day.
The Mud House is noted for being a small coffee shop, but it offers some outstanding brews, including an exceptional chai latte. Also, check out the Gibraltar with its espresso and milk combo.
Montana: Black Coffee Roasting Company (Missoula)
The full menu of non-coffee drinks will make your non-coffee drinker happy, but for those wanting a special, freshly roasted coffee first thing in the morning, Black Coffee Roasting Company is where to go.
Check out the freshness of the Mint Cold Brew here.
Nebraska: Urban Abbey (Omaha)
A bookstore and giftshop combined with a fair trade coffee shop is always good, and that's what Urban Abbey brings to you. They're noted for their fairly sourced and locally roasted blends.
There's plenty on the menu, including tea and cocoa, but for a solid pick-me-up, go with the Mocha Java Frappe or simply the Americano.
Nevada: PublicUs (Las Vegas)
PublicUs is a canteen-style coffeehouse with a super chill design that services not only single-source coffee but also a menu of pastries and sandwiches that are all prepared locally with vegan options included.
As a full restaurant, there's plenty of good food, but for just a cup of coffee, check out the mocha blends.
New Hampshire: Flight Coffee Co. (Dover)
A purpose-focused café, Flight Coffee Co. is passionate about providing award-winning coffee and supporting the community in multiple ways.
This popular woman-owned coffee shop is the place to be for a scratch-match breakfast, lively music, and locally roasted coffee and espresso. It's also noted for its craft teas.
New Jersey: Rook Coffee (Long Branch)
Rook Coffee roasts in-house and grinds just before their brew, creating a very fresh cup of coffee. The New Orleans Cold Brew is a favorite option for those looking for freshness with some zing.
You can easily get a cold brew on a hot day and couple that with some gelato while you're at it.
New Mexico: Zendo Coffee (Albuquerque)
In Albuquerque, Zendo Coffee is the hip, artisan-focused coffee shop and nook that offers organic backed goodies and locally roasted coffee.
This busy place offers very limited seating, but it's worth stopping in for the Zia Latte (with white or dark chocolate with cinnamon) or The Regis, a double espresso over sparkling water and stopped with luxurious whipped cream.
New York: Stumptown Coffee Roasters (New York City)
Stumptown Coffee Roasters, in the Ace Hotel in Midtown, is the coffee shop people stop at on their way to start their day in NYC.
Super trendy and cool, the location offers a full espresso bar and brew-by-the-cup options, but you have to pair that with the King David Tacos, an Austin-style breakfast taco, for a filling start to the day.
North Carolina: Counter Culture Coffee (Durham)
Counter Culture Coffee is a specialty roaster that treats coffee more like a fine wine, even offering tastings for small groups of people.
Everything here, even the coffee, is sustainably sourced and transparently traded, with their dark roast being a popular option.
North Dakota: Twenty Below Coffee Co. (Fargo)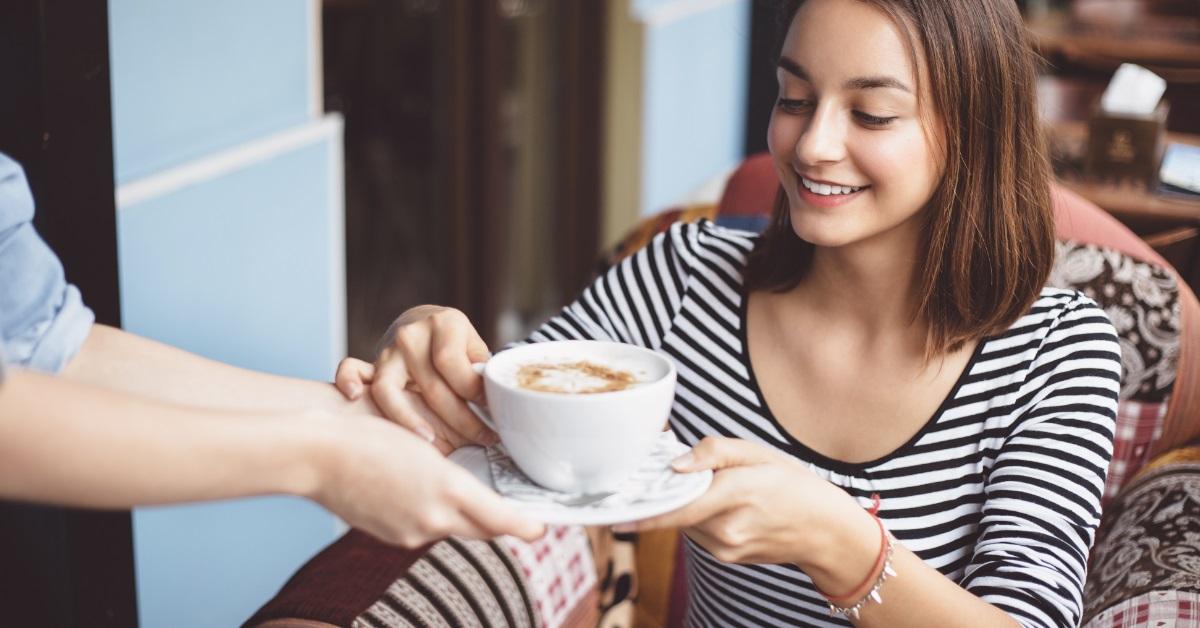 Twenty Below Coffee Co. is a cozy destination with stylish, art-inspired surroundings that also makes an excellent cup of coffee.
The freshly roasted coffee, which is so good they even cater it (along with their fabulous lunches) for offices, is noted for its espresso. The chai is also quite the fresh treat.
Ohio: Press Coffee Bar (Dayton)
When in Dayton, stop at Press Coffee Bar, a small coffee shop noted as the place to go when you need free Wi-Fi, something sweet to get you through the afternoon, and espresso drinks.
A small location, it serves only single-origin coffees, including a stellar macchiato and cappuccino.
Oklahoma: Elemental Coffee (Oklahoma City)
A passionate minimalist cafe that offers craft coffee roasted in-house, Elemental Coffee brings things back to their roots.
This small-batch roastery has a full coffee menu, including pour-overs and espressos.
Be sure to check out the breakfast and lunch menus, too. It's the ideal quick stop on the way off to start your day in Oklahoma City.
Oregon: Heart Coffee Roasters (Portland)
A busy coffeehouse noted for its espresso drinks, this destination has a positive energy to it with a minimalistic interior.
Heart Coffee Roasters has several locations throughout the area, but all offer the highest quality coffee drinks.
The friendly baristas are sure to offer something unique, with options like coffee soda and cardamom lattes that are hard to beat.
Pennsylvania: La Colombe Coffee Roasters (Philadelphia)
La Colombe Coffee Roasters wants to make everyone's "coffee life better!" They even brew their own draft latte cold brew in a can.
The Philadelphia warehouse-style destination offers a wide range of new products, tempting goodies to share, and a stunning environment. Pick up some breakfast or lunch here, too.
Rhode Island: The Shop (Providence)
Located in an industrial-chic destination, The Shop offers a relaxing, quiet space to work with the organic, gluten-free menu you need to keep moving through your day.
A fantastic blend of single-origin coffees, there's always something fabulous, whether it's espresso, cortado, or lattes.
South Carolina: Watusi Cafe (Hilton Head Island)
Hilton Head Island's Watusi Café is a casual coffee shop perfect for breakfast before hitting the water. This family-owned location features a range of gourmet coffee blends.
Their coffee bar — which offers goodies from Batdorf & Bronson Coffee Roasters — has some fantastic options, including the medium, sweet Bohemian coffee and the Dancing Goats, a medium house blend.
South Dakota: Sturgis Coffee Company (Sturgis)
A happening destination in Sturgis, this coffee shop is noted for its consistently good coffee.
Sturgis Coffee offers some excellent choices, including a white mocha and dirty chai that locals rave about.
You can also get many flavor additions like English toffee, toasted marshmallow, and Irish cream to change up your favorite coffees.
Tennessee: Barista Parlor (Nashville)
Founded in 2011, Barista Parlor in Nashville is an excellent option for locally roasted, single-source coffee. They set out for the "betterment of coffee!"
The menu is extensive, with options like bourbon vanilla, honey lavender, and a bloom pour-over that's fabulous with its smooth, rich flavor.
Texas: Houndstooth Coffee (Austin)
A locally owned coffee shop, Houndstooth Coffee in Austin is a busy cafe known for its pastries, beer, and wine.
With several locations throughout the area, the North Lamar location, their small original cafe, offers a range of fantastic coffees, including a flat white and matcha that's hard to beat.
Utah: The Rose Establishment (Salt Lake City)
A hip coffee shop with an in-house bakery, The Rose Establishment is a destination unto itself. They offer brunch, lunch, and afternoon snacks, including vegan-friendly, farm-to-table options.
As for the coffee, check out the baklava latte, which has a pistachio paste with some bold cardamom, coconut cream, orange blossom mist, and espresso.
Vermont: Scout & Co. (Burlington)
Stop in at Scout & Co. for coffee and ice cream. What could be better? The Burlington location has some excellent choices (on both menus).
Their curated coffee menu features small-batch roasted coffees, including Uncommon Coffee and Black & White Roasters.
Virginia: Lamplighter Coffee Roasters (Richmond)
Lamplighter Coffee Roasters in Richmond offers a no-frills cafe but some of the freshest coffee in the area. Their menu of smaller bites and big coffee flavors is often changing.
They also have options like an espresso tonic and Black Eye (a double shot of espresso with hot batch brewed coffee) that make this destination a true pick-me-up.
Washington: Elm Coffee Roasters (Seattle)
Elm Coffee Roasters in Seattle has a lot of competition in this tech-trendy town, but it comes to the game ready to play with single-origin, house-roasted coffee options.
A cute place for a good Americano or flat white with oak milk, it's easy to sit, talk, and watch your Saturday morning improve with each sip. There's no charge for subs like oat milk, either.
West Virginia: The Wild Bean (Lewisburg)
The Wild Bean is a funky, put-a-smile-on-your-face coffee shop noted for its fair trade brews and vegetarian goodies.
This Lewisburg coffee shop has some great coffee but also some freshly baked goodies that are hard to pass up (check out the vegan chocolate peanut butter bars).
Wisconsin: Colectivo Coffee (Milwaukee)
The Colectivo Coffee shop in Milwaukee is the place to go for a fantastic cup of joe. It's in an 1888-built Milwaukee River Flushing Station that has such a relaxed vibe to it.
The espresso will become a favorite, especially while you relax on the patio, where there are often live events.
Wyoming: The Rose (Jackson)
Stop at The Rose in Jackson for some craft cocktails and linger over a fabulous meal and a good cup of coffee.
It's the type of location where most come for a drink, relax, and unwind after a long day.
Located at Pink Garter Theatre, this upscale coffeehouse isn't for those who want a bland brew. A favorite on the menu is the strong espresso.
Bottom line
When you need your coffee fix while away from home, you don't have to settle for the big national chains and boring, rushed service.
Instead, grab one of your best travel cards and enjoy one of these iconic coffee shops offering good vibes and great brews.
Easy-to-Earn Unlimited Rewards
Earn 25,000 online bonus points after you make at least $1,000 in purchases in the first 90 days of account opening - that can be a $250 statement credit toward travel purchases
Earn 1.5 points per $1 spent on all purchases
Longer intro APR on qualifying purchases and balance transfers
No foreign transaction fees
Earn unlimited 1.5 points per $1 spent on all purchases, with no annual fee and no foreign transaction fees and your points don't expire.
25,000 online bonus points after you make at least $1,000 in purchases in the first 90 days of account opening - that can be a $250 statement credit toward travel purchases.
Use your card to book your trip how and where you want - you're not limited to specific websites with blackout dates or restrictions.
Redeem points for a statement credit to pay for travel or dining purchases, such as flights, hotel stays, car and vacation rentals, baggage fees, and also at restaurants including takeout.
0% Introductory APR for 15 billing cycles for purchases, and for any balance transfers made in the first 60 days. After the intro APR offer ends, 18.24% - 28.24% Variable APR will apply. A 3% fee applies to all balance transfers.
If you're a Preferred Rewards member, you can earn 25%-75% more points on every purchase. That means instead of earning an unlimited 1.5 points for every $1, you could earn 1.87-2.62 points for every $1 you spend on purchases.
Contactless Cards - The security of a chip card, with the convenience of a tap.
This online only offer may not be available if you leave this page or if you visit a Bank of America financial center. You can take advantage of this offer when you apply now.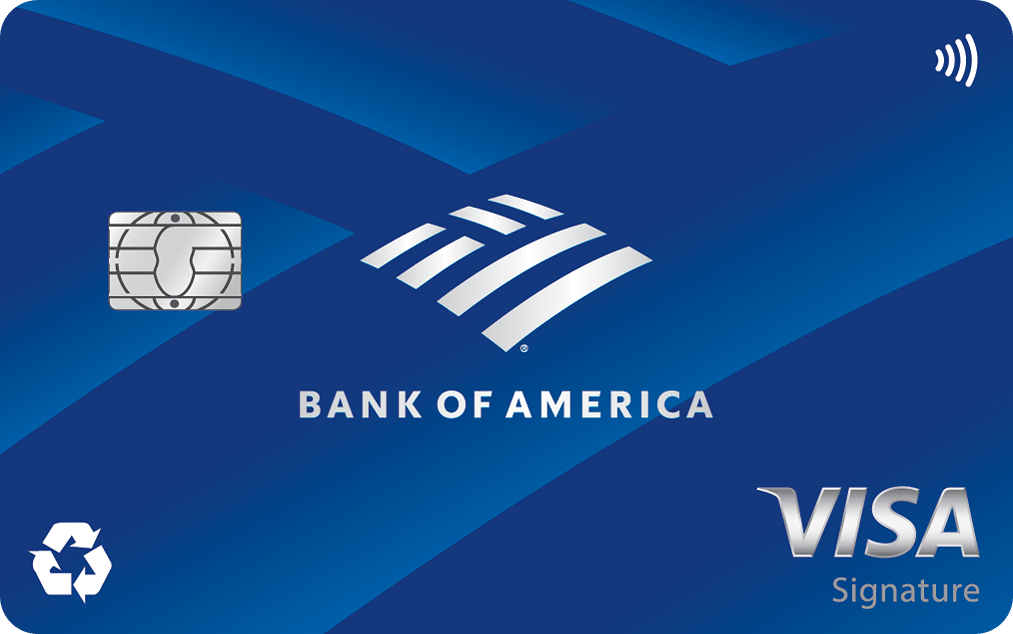 Apply Now
on Bank of America's secure website
Read Card Review
Intro Offer
Earn 25,000 online bonus points after you make at least $1,000 in purchases in the first 90 days of account opening - that can be a $250 statement credit toward travel purchases