I've been accumulating credit card points and miles for over seven years now, and I've lost count of how many dollars in award flights, hotel stays, rental cars, and more that I've earned — all I know is it's in the tens of thousands of dollars.
Despite what I've already earned and redeemed, however, my total rewards balance remains robust, with almost 1.4 million points and miles across 11 different rewards programs. In some ways, I enjoy having such a large cache of rewards, but on the other, it's not always the best strategy to hold onto points and miles this way.
Here's how I've amassed so many travel rewards and the advantages and disadvantages of the situation.
How I earned 1.4 million points and miles
Over the years, I've earned far more than 1.4 million credit card points and miles, but that's my current balance as of August 2020. If I were to redeem those rewards at the average rate of 1 cent per mile, they're worth $14,000. But as I learned from booking a dream trip to Vienna, where I earned 5.2 cents per mile on a business class flight with Delta, I can get far more value than that.
Most of the rewards I've earned come from credit card welcome offers, but I've also earned a lot through regular everyday spending and other promotional offers. Here's a breakdown of each of the programs in which I have balances and how I earned them.
American Airlines AAdvantage: 118,350 miles
I've owned several American Airlines credit cards over the past seven years, some of them more than once.
My first AAdvantage miles-earning card was actually a U.S. Airways credit card, which I got approved for shortly before the two airlines merged. That card was converted into the AAdvantage® Aviator® Red World Elite Mastercard®. I currently have the business version of that credit card.
I've also had the Citi® / AAdvantage® Platinum Select® World Elite Mastercard® and its business version, the CitiBusiness® / AAdvantage® Platinum Select® Mastercard®, as well.
American Express Membership Rewards: 376,190 points
One of my favorite rewards programs is the Amex Membership Rewards program because it allows me to transfer points to several airline and hotel loyalty programs.
I've been racking up MR points for several years using what's known as the Amex trifecta of cards: the The Platinum Card® from American Express, American Express® Gold Card, and The Blue Business® Plus Credit Card from American Express. I use these cards for much of my everyday spending, which has allowed me to slow down on new credit card signups over the past couple of years.
I also registered for the cashback website Rakuten and opted to earn Amex points with Rakuten instead of cash back because I can usually get more than 1 cent per point on redemptions via transfers to partner programs. That makes my Rakuten rewards more valuable as Amex rewards than as cash.
Amtrak Guest Rewards: 42,495 points
When the Amtrak Guest Rewards® World Mastercard® was running a limited-time offer for a 40,000 sign-up bonus in 2019, I jumped on it. I don't often travel by train, but I figured it might be good to have some train points in case I want to mix up my travel experience sometimes. Even if I don't, Amtrak allows you to transfer your points to other programs, including Hilton Honors.
Delta Air Lines SkyMiles: 183,640 miles
Delta Air Lines is one of my favorite airlines, primarily because my home airport, Salt Lake City International Airport, is one of its hubs, and there's a Delta Sky Club in the airport. I've earned many of my SkyMiles through a few Delta credit cards, including the Delta SkyMiles® Gold American Express Card, the Delta SkyMiles® Gold Business American Express Card, and the Delta SkyMiles® Platinum American Express Card.
But about half of my current SkyMiles balance came from a transfer from my Membership Rewards account, specifically for the Vienna trip I mentioned earlier — unfortunately, I had to cancel that trip because of the coronavirus pandemic.
Hilton Honors: 341,069 points
I'm pretty sure I've owned almost every Hilton credit card, including the ones Citi issued before American Express became the exclusive Hilton card issuer in 2018. The American Express Hilton cards I've had over the years include the Hilton Honors American Express Card, Hilton Honors American Express Surpass® Card, and Hilton Honors American Express Aspire Card. I still have the Aspire card and plan to hold onto it because of its premium perks and Hilton Diamond status.
All information about Hilton Honors American Express Surpass® Card has been collected independently by FinanceBuzz.
All information about Hilton Honors American Express Aspire Card has been collected independently by FinanceBuzz.
IHG One Rewards Club: 87,453 points
My first IHG credit card was the IHG Rewards Club Select, which is no longer available to new applications. Then, when the IHG One Rewards Premier Credit Card was launched, I added it to my wallet as well. Both cards came with large welcome offers and free anniversary nights — like most of the best hotel credit cards — so I've managed to hold onto a lot of the points I've earned by using my free night certificates.
Marriott Bonvoy: 20,636 points
I've earned and burned hundreds of thousands of Marriott Bonvoy points over the years, including 200,000 points in 2019 for an insanely cheap trip to Hawaii to celebrate my mom's retirement.
I currently have three Marriott credit cards. The list includes the Marriott Premier Credit Card and the Marriott Premier Business Credit Card (both no longer available but are now the Marriott Bonvoy Boundless® Credit Card and the Marriott Bonvoy Business® American Express® Card), as well as the Marriott Bonvoy Brilliant® American Express® Card.
Radisson Rewards: 140,689 points
Radisson Rewards are easy to come by with the program's set of credit cards. I opted for the Radisson Rewards Premier Visa Signature Card, which came with a sizable welcome offer plus a large points bonus every year when I pay my annual fee.
Southwest Airlines Rapid Rewards: 5,183 points
Although this balance is my lowest, it's deceptively valuable and good enough for at least one round-trip flight. I earned welcome offers with the Southwest Rapid Rewards® Premier Credit Card and Southwest Rapid Rewards® Plus Credit Cards years ago, which gave me the Southwest Companion Pass and a boatload of points, which I've been slowly using since 2015.
World of Hyatt: 23,884 points
I opened the original Hyatt Credit Card (no longer available but superseded by the The World of Hyatt Credit Card) in 2017 and earned a decent welcome offer. Because I have so many hotel credit cards, though, I've been able to rely on free anniversary nights and still hold onto some of my World of Hyatt points.
Wyndham Rewards: 33,368 points
I signed up for the Wyndham Rewards Earner Plus Card when it had a 45,000-point welcome offer because stays at any Wyndham property worldwide were just 15,000 points per night at the time, including at all-inclusive resorts. Unfortunately, all-inclusives were removed from the award chart shortly thereafter, and I still have a couple of nights' worth of points left over.
Why I like to have a big points-and-miles balance
In my experience, there are a lot of good reasons to have so many points and miles, especially across so many rewards programs:
Diversification
With three frequent flyer programs, six hotel rewards programs, and a general travel rewards program, I don't have to worry too much about issues arising with any single one. Rewards programs change, and many tend to lose value over time. But as with my investment portfolio, I can reduce my exposure to those risks with each individual program by diversifying my efforts. This is one of the reasons brand loyalty is not a good points-and-miles strategy.
Flexibility
As a points-and-miles millionaire, I don't need to worry about where I'm going to get the rewards to cover my next trip. I can plan a trip months in advance or for next week if I want to. In fact, before the coronavirus pandemic hit, I had already taken four trips in January and March 2020 and had five more booked, many of them with points and miles.
It feels good
For most of my adult life, I've barely scraped by financially, so I love the idea of a growing balance in my bank and investment accounts. The same goes for my rewards accounts. It's not necessarily a rational thing because I know I can go out and earn more points and miles when I need them. But in a way, it makes me feel less stressed about planning my trips.
Why my strategy may not be the best one
I'm a proponent of having a wealth of rewards to draw on when I need them, but I know many other travel rewards experts have a more aggressive earn-and-burn approach. Here's why being a points-and-miles millionaire may not be the best way to do things:
Devaluation risk
As I mentioned before, rewards programs tend to lose value over time. Although I've diversified my rewards across several platforms, that arrangement also means it takes longer for me to burn through my balances, exposing me to more devaluation events over time.
It's money on the table
Most of the rewards programs I use won't allow me to convert my points and miles into cash. But I still have thousands of dollars in value on the table that I'm not using right now.
I've limited some of my options
I've earned these rewards by applying for a long list of credit cards over the course of just a handful of years — I even applied for five cards in less than a month during my divorce (and turned my divorce expenses into free travel). Because recent accounts and hard credit inquiries are factors lenders consider when you apply, being so aggressive has made it difficult to get approved for other credit cards that I want and would use on a regular basis.
For example, Chase's 5/24 rule has understandably made it impossible for me to get approved for a Chase credit card in several years. As a result, I missed out on the Chase Sapphire Reserve®'s enormous 100,000-point welcome offer when the card was first launched in 2016.
Bottom line
For now, my rewards balances likely won't budge much until the end of the coronavirus pandemic, but I'm looking forward to no longer being a points-and-miles millionaire. Although there are some benefits I've enjoyed by hoarding my points and miles, I've realized the drawbacks outweigh the benefits.
So what's the right amount of rewards you should have at any given time? It depends. Do you want to put yourself in a position in which you have to get a new sign-up bonus every time you want to travel? Or do you want more points than you need?
It's important to find a balance based on your situation, goals, and comfort level. For me, I plan to take things more slowly to avoid leaving too much value on the table and also to give myself more options when limited-time offers from some of the best travel credit cards come up.
Easy-to-Earn Unlimited Rewards
Earn 25,000 online bonus points after you make at least $1,000 in purchases in the first 90 days of account opening - that can be a $250 statement credit toward travel purchases
Earn 1.5 points per $1 spent on all purchases
Longer intro APR on qualifying purchases and balance transfers
No foreign transaction fees
Earn unlimited 1.5 points per $1 spent on all purchases, with no annual fee and no foreign transaction fees and your points don't expire as long as your account remains open.
25,000 online bonus points after you make at least $1,000 in purchases in the first 90 days of account opening - that can be a $250 statement credit toward travel purchases.
Use your card to book your trip how and where you want - you're not limited to specific websites with blackout dates or restrictions.
Redeem points for a statement credit to pay for travel or dining purchases, such as flights, hotel stays, car and vacation rentals, baggage fees, and also at restaurants including takeout.
0% Introductory APR for 15 billing cycles for purchases, and for any balance transfers made in the first 60 days. After the intro APR offer ends, 18.24% - 28.24% Variable APR will apply. A 3% fee applies to all balance transfers.
If you're a Bank of America Preferred Rewards® member, you can earn 25%-75% more points on every purchase. That means instead of earning an unlimited 1.5 points for every $1, you could earn 1.87-2.62 points for every $1 you spend on purchases.
Contactless Cards - The security of a chip card, with the convenience of a tap.
This online only offer may not be available if you leave this page or if you visit a Bank of America financial center. You can take advantage of this offer when you apply now.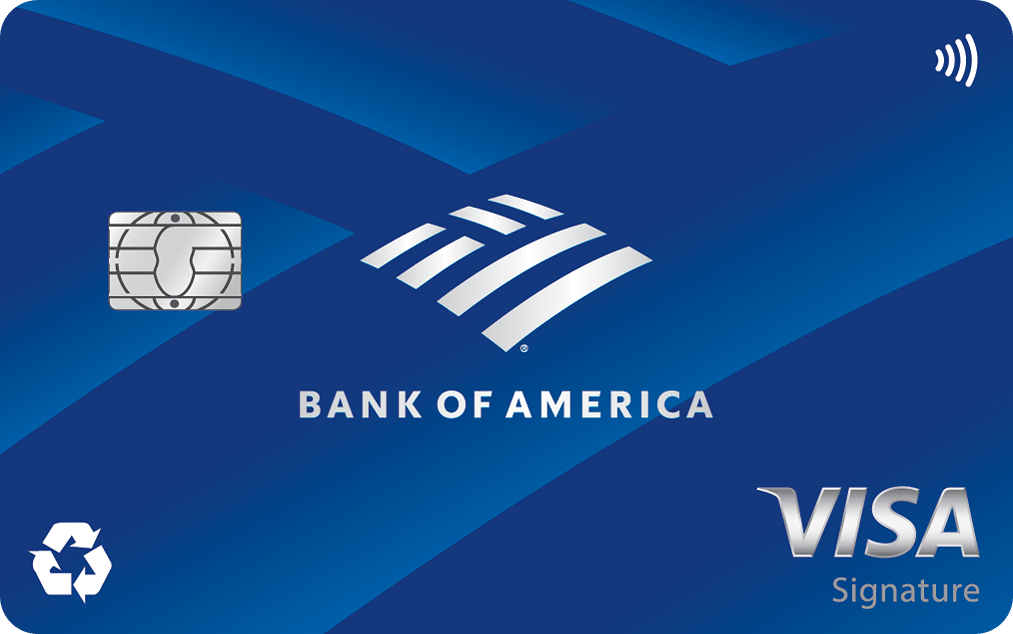 4.1
FinanceBuzz writers and editors score cards based on a number of objective features as well as our expert editorial assessment. Our partners do not influence how we rate products.
Apply Now
on Bank of America's secure website
Read Card Review
Intro Offer
Earn 25,000 online bonus points after you make at least $1,000 in purchases in the first 90 days of account opening - that can be a $250 statement credit toward travel purchases