If you're considering getting a new credit card, you may be feeling overwhelmed by the sheer volume of cards available. And if you're looking for the one card that rises above the rest, you'll be disappointed. That's because the answer to the question "what credit card should I get next?" is "it depends."
To help you narrow down your selection, here are some factors and top credit cards to consider depending on your situation.
Deciding factors
Before we jump into specifics, there are a handful of factors you should think about before you even start looking at credit cards.
Your credit score
Your credit score is one of the most important factors credit card issuers consider when determining whether to approve your application. While there are credit cards available for all credit types, most of the best cards available are designed for people with a good or excellent credit score — we're talking a credit score of 670 and above.
Check your credit score with a free service like Credit Karma or Credit Sesame, or through your current credit card issuer if it offers that benefit. If your score is below where you want it to be, consider improving it before you apply for your next card.
Features that are important to you
The answer to the question "which credit card is the best?" largely depends on what you're looking for in a card. For example, do you want to travel or earn cashback rewards? Are you looking for a card that offers an introductory 0% APR promotion or one that provides perks in other ways?
As you think about these questions, you'll get a better idea of what's important to you and which features to watch out for when shopping around.
Credit card application rules
Many major credit card issuers have various credit card application rules that can affect your chances of getting approved.
With Chase, for instance, you'll have a hard time getting most of the bank's credit cards if you've opened five or more credit card accounts in the last two years (also known as the Chase 5/24 rule), so it's a good idea to use those spots wisely.
With American Express, you can only earn one welcome bonus per card per lifetime, so it may be better to wait until there's an increased welcome offer on a card.
Understanding these rules can help you form a good strategy to improve your chances of getting approved and to maximize the value you achieve.
Your thoughts on paying fees
Every credit card has a cost of some kind, whether it's fees, interest, or both. As you consider which card you should get next, the important thing is to know what costs you're OK with taking on.
With annual fees, for instance, many credit cards offer rewards and benefits that can offset the yearly cost. Not all do, however.
And while there are plenty of cards without an annual fee, they may not provide as much value as some of the cards that do. As a result, it's critical that you run the numbers to understand the net benefit of each card.
If you want to travel
If earning travel rewards is your top priority, think about what types of travel you're most interested in. For example, do you primarily visit domestic destinations, or do you prefer international jaunts? Are you fine flying economy, or do you want a first-class experience? Or do you prefer to focus on getting free hotel stays?
Whatever it is, there are some cards, such as the Chase Sapphire Preferred® Card and the Chase Sapphire Reserve®, that are a good fit for all types of travel. But to ensure you pick the right one, let's dig a little deeper into each travel type.
Domestic travel
If you prefer getting to know the U.S. better over exploring new countries, the Chase Sapphire Preferred may be a good fit because of its flexibility and ability to transfer points to travel partners with wide domestic networks, including Southwest Airlines, United Airlines, Marriott, and Hyatt.
If you're an airline loyalist, it may be worth getting one of your favorite airline's co-branded credit cards to help you build status and get perks every time you fly. With Delta, for instance, there are several Delta credit cards from which you can choose. If you prefer United, the United℠ Explorer Card could be a good fit.
And if Southwest Airlines is your favorite, signing up for one of the airline's credit cards could help you score the highly sought after Southwest Companion Pass.
International travel
If breaking out of your comfort zone and getting to know new cultures sounds appealing, international travel may be what you're looking for.
If this is the case, there are certain credit card features you'll want to have. For example, you'll want a card that offers expedited security screening, especially when you're returning to the U.S. and need to go through customs. And it's a must to have a credit card with no foreign transaction fees — thankfully, many travel cards offer this benefit, so you won't have to look far.
Finally, it can be helpful to have a credit card that offers complimentary access to Priority Pass and other airport lounges. The Priority Pass network alone has more than 1,200 lounges worldwide, giving you a place to relax and recharge in an unfamiliar place.
For international travel, the Chase Sapphire Reserve may be better than the Chase Sapphire Preferred because it offers airport lounge access. It also provides valuable insurance protections, including emergency medical and dental benefits, and evacuation and transportation insurance, which could save you tens of thousands of dollars if something goes wrong on your trip.
First-class travel
If it's a VIP experience you're looking for, there are some cards that can help you earn first-class travel faster. They do this primarily by partnering with domestic and foreign airlines and allowing you to transfer your points to book first-class tickets at great rates.
For example, the Capital One Venture Rewards Credit Card allows you to transfer miles to 15 domestic and international airlines.
Some first-class travelers also like the idea of carrying a metal credit card, which can add more prestige to your experience. The Platinum Card® from American Express — a card with plenty of luxury benefits — is a good choice for this because it provides a suite of elite travel benefits, as well as a metal design.
For example, you'll get up to $500 in annual credits, access to multiple airport lounge networks, elite status with select hotel brands and car rental companies, and more.
Hotel loyalty
If prioritizing hotel loyalty and status is your thing, learn more about the co-branded credit cards that are available for your brand of choice. Many of these cards offer elite status with the hotel brand, plus a free anniversary night, which can be much more valuable than the annual fee.
If you're not sure yet and you're under Chase's 5/24 rule, consider cards like the IHG One Rewards Premier Credit Card, The World of Hyatt Credit Card, and Marriott Bonvoy Boundless® Credit Card.
If you're over 5/24, other hotel credit cards to consider include the Hilton Honors American Express Card and Hilton Honors American Express Surpass® Card.
General travel
If you're not certain what type of travel you want to do or you want to keep your options open, you may be better off with a general travel card. Cards like the Capital One Venture Rewards Credit Card or the Chase Sapphire cards are solid choices for this.
With the Venture card, for example, you can book just about any type of travel you want, and then use your rewards to get a statement credit for the purchase. That said, you may not get as much value with a statement credit as you might get transferring your points to a travel partner instead.
If you want cash back
While cash back credit cards typically don't provide as much value as travel rewards cards, the flexibility they offer can help make up for that — after all, you can use cash back earned for anything, including travel.
If you're under Chase's 5/24 rule and want a flat-rate rewards credit card, consider the Chase Freedom Unlimited®. The card has a generous welcome offer: Unlimited matched cash back. Use your card for all your purchases and at the end of your first year, Chase will automatically match all the cash back you earned (there is no limit to how much you can earn; every dollar in cash back rewards you earn is a dollar Chase will match).
If you're over 5/24, solid options include the Blue Cash Everyday® Card from American Express for everyday spending, the Blue Cash Preferred® Card from American Express for groceries and gas, and the Capital One Savor Cash Rewards Credit Card for dining and entertainment.
If you're eligible for business credit cards
If you have business expenses, you'll have the choice between consumer and business credit cards.
Business credit cards can be great because most major card issuers don't report the account to the consumer credit reporting agencies, which means they don't count toward Chase's 5/24 rule. The exceptions are Capital One and Discover, which report all account activity to both the consumer and commercial credit bureaus.
Also, there are some business credit cards that simply offer a lot of value. If you're currently under 5/24, consider getting one of the Chase business credit cards.
If you're over 5/24, solid choices include the Capital One Spark Miles for Business, The Blue Business® Plus Credit Card from American Express, and the The Business Platinum Card® from American Express.
Choosing the best option
Choosing the right credit card for you is a highly personal decision, and there's no one-size-fits-all solution, even if some come close to fitting the bill.
When deciding what top credit card to get next, these tips can help you find the one that best fits your needs and preferences.
If you want to take advantage of the benefits of multiple credit cards, though, consider some of the options we've shared — but avoid signing up for too many cards at once. Doing so can raise big red flags to card issuers and can make you feel overwhelmed with all the spending required to earn the cards' sign-up bonuses.
There's no hard-and-fast rule for how long you should wait between card applications, but it's best to avoid getting so many that it becomes hard to keep track of each account. Also, you want to avoid putting yourself in a position where you have to overspend to get a bonus. Find what works best for you and go with it.
Easy-to-Earn Unlimited Rewards
Earn 25,000 online bonus points after you make at least $1,000 in purchases in the first 90 days of account opening - that can be a $250 statement credit toward travel purchases
Earn 1.5 points per $1 spent on all purchases
Longer intro APR on qualifying purchases and balance transfers
No foreign transaction fees
Earn unlimited 1.5 points per $1 spent on all purchases, with no annual fee and no foreign transaction fees and your points don't expire.
25,000 online bonus points after you make at least $1,000 in purchases in the first 90 days of account opening - that can be a $250 statement credit toward travel purchases.
Use your card to book your trip how and where you want - you're not limited to specific websites with blackout dates or restrictions.
Redeem points for a statement credit to pay for travel or dining purchases, such as flights, hotel stays, car and vacation rentals, baggage fees, and also at restaurants including takeout.
0% Introductory APR for 15 billing cycles for purchases, and for any balance transfers made in the first 60 days. After the intro APR offer ends, 18.24% - 28.24% Variable APR will apply. A 3% fee applies to all balance transfers.
If you're a Preferred Rewards member, you can earn 25%-75% more points on every purchase. That means instead of earning an unlimited 1.5 points for every $1, you could earn 1.87-2.62 points for every $1 you spend on purchases.
Contactless Cards - The security of a chip card, with the convenience of a tap.
This online only offer may not be available if you leave this page or if you visit a Bank of America financial center. You can take advantage of this offer when you apply now.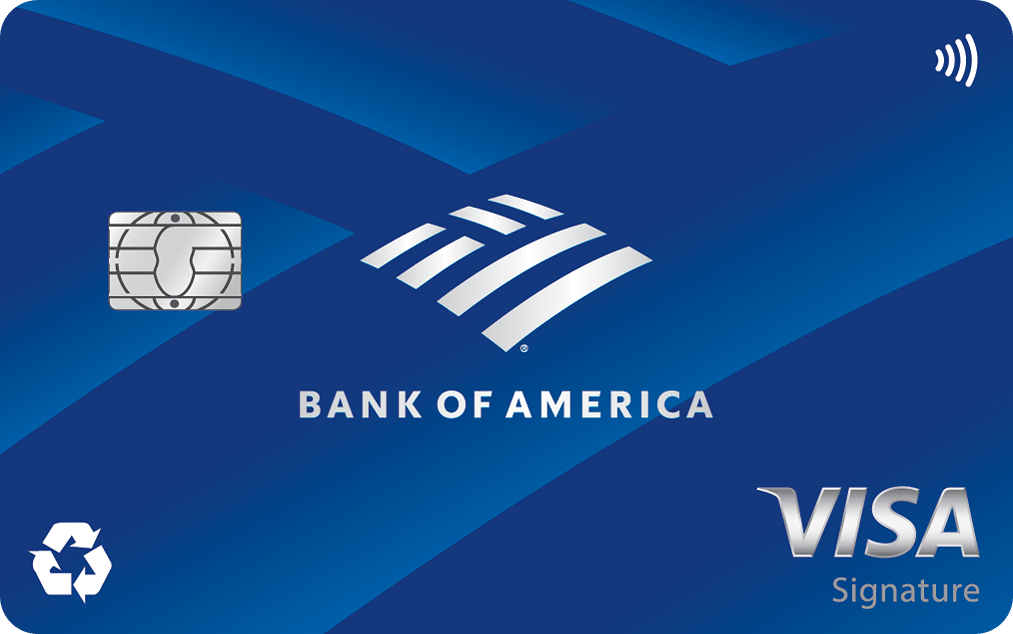 4.1
FinanceBuzz writers and editors score cards based on a number of objective features as well as our expert editorial assessment. Our partners do not influence how we rate products.
Apply Now
on Bank of America's secure website
Read Card Review
Intro Offer
Earn 25,000 online bonus points after you make at least $1,000 in purchases in the first 90 days of account opening - that can be a $250 statement credit toward travel purchases